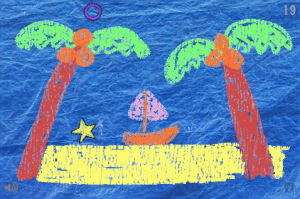 Gamez 4 Touch has recently released a physics-based sketch game known as Touch Physics [App Store].
Are you up to the challenge? Can you take on the laws of physics to complete all 30 levels? Touch Physics is an innovative game that allows you to be in control of the wheel's destiny. Change the laws of physics to suit your game play!
Touch Physics presents the player with a crayon-drawn level filled with various crayon-drawn objects with which to interact, the most important being a wheel.  At the end of each level is a star.  The object of the game is to draw shapes with your crayon that will cause the objects on-screen to move the wheel to the star.
The developer's demonstration video illustrates this.
Touch Physics has received a positive reaction from our forum members and is currently available for the "limited time introductory price" of $0.99 [App Store].