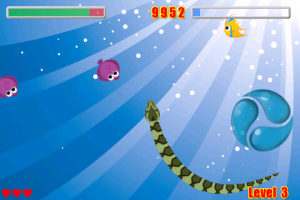 Paul van Dijk of CirkelSoft wrote in to make us aware of a game he is developing that will soon make its debut in the iTunes App Store.  Python is a "snake game" that follows the typical formula: navigate a playfield, dodge obstacles, grow yoru snake by eating things along the way, don't run into your tail, etc.  While there is no shortage of these titles in the App Store presently (there are 10 or so), Python appears to bring a richer experience than most, featuring a variety of large scrolling playfields with animated obstacles and clean looking graphics.
Python is accelerometer / tilt controlled and features vibration feedback when played on an iPhone.
See the developer's gameplay demonstration video:
UPDATE: We have just received word that Python will retail for $2.99 in the App Store.