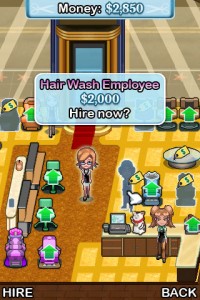 Real Networks has released a port of their game Sally's Salon to the iPhone [App Store] tonight.
The $4.99 game is a time management game in the style of Diner Dash in which you must manage customer flow and services within a business:
Manage your own virtual beauty salon! Help Sally spread her salon savvy from the shopping mall to the glittering lights of Hollywood in this stylish and engaging challenge based on the hit online game. Work with Sally to revamp everyone, from little old ladies to punk rockers to impatient celebrities, in five unique salon locations.
Real Networks provides this brief gameplay video which shows the game in action: