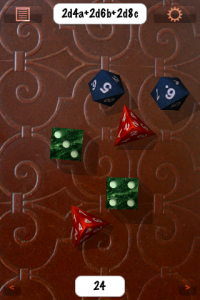 Last we heard from iPhone developer Mach Kobayashi, he had impressed us with his simple but effective dice roller called Mach Dice [App Store].
The $0.99 dice roller provided a realistic dice simulator that allowed you to choose how many dice you want to roll and how many sides (up to 100) each die should have. It was simple but effective.
Well, Kobayashi hasn't been sitting idle. In fact, we're amazed by the dedication this developer has to his app. The latest 2.0 update offers an impressive number of new features.
colored dice
multiple backgrounds
dice locking
dice throwing
history of rolls
settings window
6-sided pips or numbers
4-sided graphics fix
2-sided coins
One-Roll Engine
and more
Watch the developer demoing 2.0: