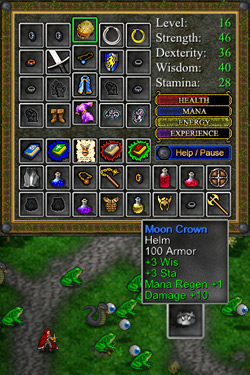 Mobile developer Digital Concepts has released a pick-up role playing game (RPG) for the iPhone called Loot Master [App Store].
And when I say "pick-up," I mean it.  Loot Master is the most abbreviated RPG I've ever seen.  At first these sound like harsh words, but after playing a few rounds, I think Loot Master hits the intended mark, which is to deliver an RPG experience to the mobile player who is looking to kill 3-4 minutes waiting in line at the bank.
The game screen consists of a stats readout and various character equip slots at the top and a playfield at the bottom.  The objective is simple: Monsters are trying to cross the playfield from left to right–do not let them.
Tap a roving monster to attack it.  When killed, some monster leave behnd a weapon, shield, spell or ring that can be dragged up to an equip slot to strengthen your player.  Spell items can be dragged from holding slots at the top down onto a group of monsters to unleash its destruction.
Features as listed by Digital Concepts:
Original title developed exclusively for the iPhone and iPod touch
Captivating gameplay and beautiful graphics
Thousands of equipable items
Variety of spells and skills to learn and use
Gameplay feels like a mix of Tower Defense and action RPG
Loot Master is simple (and I mean simple) RPG fun on the go.  However, at $5.99 [App Store], all but the most die-hard RPG hounds may find the title a bit pricey.
Game Details

Name:

Loot Master (v1.00)

Price:

$5.99 [Buy]

Developer:

Digital Concepts


Size:

4.0 MB
Loot Master is either an RPG ridiculously simple in scope or a perfect pick-up experience for the mobile gamer. At $5.99, however, it may only appeal to RPG fans.