Apple, today, released the much anticipated iPhone 2.1 firmware update.  This is a major update that addresses a number of issues, not the least of which is the app crashing problem plaguing certain users that have lots of 3rd party apps loaded on their device (myself included).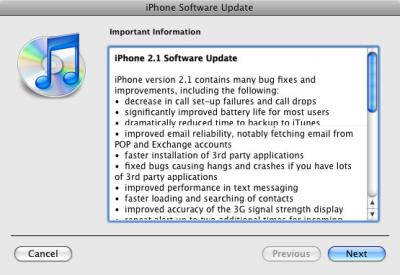 Features include:
decrease in call set-up failures and call drops
significantly improve battery life for most users
dramatically reduced time to backup to iTunes
improve email reliability, notably fetching email from POP and Exchange accounts
faster installation of 3rd party applications
fixed bugs causing hangs and crashes if you have lots of 3rd party applications
improved performance in text messaging
faster loading and searching of contacts
improved accuracy of the 3G signal strength display
repeat alert up to two additional times for incoming text messages
option to wipe data after ten failed passcode attempts
Genius playlist creation
Any significant OS update brings with it the chance that certain applications will break due to under-the-hood changes.  The iPhone is no exception to this rule, and so far we've seen one application break under firmware 2.1: Zen Pinball: Rollercoaster from ZEN Studios.
Seeing this, we expect to find a number of other apps similarly afflicted by this latest update.  Developers of applications so affected will certainly post updates that restore compatibility soon, and we will keep readers updated of which apps require an update as we encounter them.
Please let us know of any such incompatibilites you encounter.
( Thanks Raphael Salgado for the initial report )