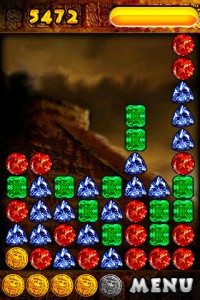 Astraware has released Golden Skull [App Store] today to the App Store.
The $2.99 game is a variant of the "match the same" type of games wrapped in a loose story. The gameplay is described:
Touch groups of sparkling gems to make them disappear and earn the 5 gold coins you'll need to progress on your search for the Golden Skull. Remove larger groups to earn your coins more quickly but don't run out of moves or your journey will end.

Golden Skull has 4 levels of difficulty, automatically saves your progress on exiting the game, and allows you to listen to your own music while you play!
The developer provided video shows a walkthrough of what appears to be a visually attractive game: