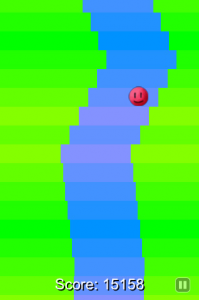 If, like us at Touch Arcade, you think that PapiJump [App Store] is one of the best games on the App Store, you'll be ecstatic to learn that Sunflat has just released PapiRiver [App Store].
The free download brings back the curious Mr. Papi character, but instead of a burning desire to jump higher and higher, Mr. Papi finds himself traveling down a river:
Mr. Papi (red ball guy) is going down a river. Tilt your iPhone to left and right to lead him along the river!

If he hits the bank of the river, he is pushed back. The game ends if he goes out of the upper edge of the screen. Note that you can get more score when he gets closer to the bottom edge of the screen.
The river scrolls up in the game and Mr. Papi is controlled by the accelerometer. There is a bit of "looseness" to the control, so you can't turn on a dime.
Overall, we're not sure if the gameplay lives up to the strangely addictive nature of PapiJump, but it's worth a download.