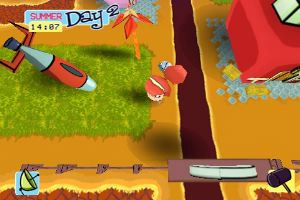 Animal Crossing: Wild World, a life simulation game, was one of the Nintendo DS' most significant early titles.  It alone moved many DS units.  It looks like the iPhone has it's own take on this theme set to land in the App Store early next year.
As Pocket Gamer reports, Astro Ranch from TAG Games is basically Animal Crossing meets Harvest Moon set in a 1950's sci-fi universe.
You play Sindy Starlight, an intrepid space explorer who crash lands on an alien planet, and has to start her own ranch, while exploring the planet and making nice with its inhabitants.

It'll be part strategy game, with you building up your ranch, and part action title, with sections where you pan for gold by shaking the iPhone, and also build fences and lasso runaway animals by tapping the screen.

The game will feature a user-controlled camera, and an original music score. But here's another exciting element: connected features will let you trade items, and send presents and messages to friends who're also playing the game.
Astro Ranch is slated for a March release on the iPhone with versions for the Nintendo DS and N-Gage handset to follow.
As Pocket Gamer reports, TAG Games is also working on an iPhone port of Rock'n'Roll, which will debut sometime in the next few months.