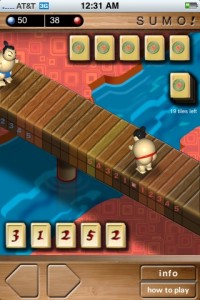 It doesn't surprise me that Stinkbot's Sumo [App Store] game has been seemingly ignored in the iTunes Store.
The title of the game likely attracts those looking for an action packed Sumo-wrestling game when in actuality Sumo is a card-based strategy game.
Unlike the numerous puzzle game clones out there, this one is an original game concept that was birthed as a Shockwave game in 1997. The Shockwave game reportedly gained a bit of a following and was later ported to the Palm. Fortunately for us, the developers have ported the game to the iPhone and priced it at a fair $2.99.
I suspect that card players (Hearts, Bridge) will take to the game most quickly. In essence, Sumo is a card game with a specialized deck of tiles. Tiles are numbed 0 through 5 and there are 5 of each numbered tile in the deck. This gives you a total of 30 tiles.
Each player (you vs. the computer) gets dealt a 5 tile hand. You are each also represented by a Sumo wrestler on the screen. Each player alternates taking turns by selecting a tile and choosing to move forward or backward. Your Sumo wrestler will move forward the corresponding number of steps and you can't move past the other Sumo wrestler.
If you wish to "attack" the other Sumo wrestler, you simply play a tile that will move you to the exact same spot as the other Sumo wrestler. When "attacking" you can select multiple tiles of the same value to strengthen your attack. The defending Sumo wrestler can successfully hold his position only if he is holding the same tiles used, otherwise he will be thrown back.
In the end, this is a game of position. The game ends when a Sumo wrestler is pushed out of bounds or has the best (most advanced) position after the 30 tiles are dealt.
While the game sounds rather simple, once you start keeping track of which tiles have been played, it becomes clear how your strategy may change depending on the outstanding tiles.
I found myself playing this game again and again and highly recommend it. My only real disappointment with the game is the inability to play against other people. At present, this is an entertaining and addictive game of solitaire.
In the future, however, I could easily see this becoming a very popular online tournament game. While Stinkbot has revealed to us that a multiplayer version is in the plans, it will have to wait until Apple releases background/push notifications which is due in September. While a few other minor issues remain (awkward dialog boxes, for example), these are expected to be addressed in a future release and don't detract significantly from the gameplay.
This video shows a full match (first player to 80 points):

Game Details

Name:

Sumo (v1.0.1)

Price:

2.99 [Buy]

Developer:

Stinkbot, LLC.


Size:

0.8MB

In Brief:

Sumo is an original and addictive strategy game played against the computer. Card players, in particular, will likely take to this highly recommended game.