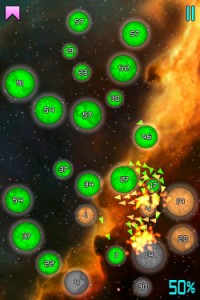 Hassey Enterprises has released an update to their space-based strategy title Galcon for the iPhone.  Version 1.1 [App Store] can presently be downloaded from the iTunes App Store.
Galcon is a fast-paced arcade strategy game set in space. The game begins with a galactic playfield filled with planets of varying size. The green planets belong to the player, neutral planets are grey, and planets of any other color belong to the enemy. The goal is to take over all the planets.
While the Galcon App Store page simply indicates that the v1.1 update brings audio support to the title, we've noticed the following specific changes:
game now features sound effects
any music playing from the iPhone's song library will continue to play during a game session
A new bot present on higher play levels capable of redirecting the computer opponent's fleet.
The newly added sound effects do add a certain degree of depth to the gameplay and the ability to effectively pick your own soundtrack is nice.
We previously reviewed this title and found it to be a near-perfect pick up strategy game. See our full review which has now been updated to incorporate changes found in this latest version.
Thanks VeganTnT