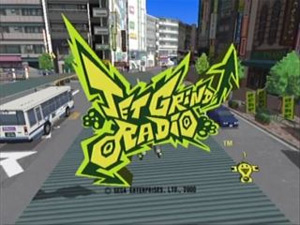 The SEGA Dreamcast was (and is) an amazing games console. Released in late '99, the Dreamcast was the first sixth generation console to hit market and, for the first time really, brought arcade level 3D gaming to the home. Sadly, the shadow of the forthcoming Playstation 2 from Sony and the ease with which its copy protection could be circumvented doomed the console to a short market life. The Dreamcast enjoys a cult following of gamers who today enjoy its catalog of over 325 high-quality titles. Of those 325, one of the very best is SEGA's Jet Grind Radio.
Jet Grind Radio (known as Jet Set Radio outside of North America) was announced at the Tokyo Game Show in 1999 and cause quite a stir with its distinctive, visually impressive cel-shaded rendering.  Gameplay is unique and at times frantic.  The player starts out in the role of Beat, a 17-year-old "rudie" who is leader of the GG's, a skate gang.
The city of Tokyo-To is broken up into multiple portions, each of which is controlled by a different gang of inline skating graffiti artists. You control a gang called the GGs, and you must protect your turf from being sprayed up by rival gangs and venture into the other sections of the city to mark up your rivals' turfs. The game is tied together by Jet Set Radio, a pirate radio station run by DJ Professor K. K appears between levels to advance the plot, similar to Lynne Thigpen's role as the radio DJ in the classic gang film, The Warriors. Unfortunately, Professor K never wishes your clique luck as they bop all the way back to Coney.

Each level gives you a time limit, a life meter, and a ton of areas that must be tagged before you can proceed. You'll encounter resistance in the form of gangs tagging over your tags and various levels of response from law enforcement officials. The law starts out small – a ragtag bunch of keystone cops who run after you with nightsticks. But as you move forward, the law gets more and more severe. Eventually, you'll face tear gas-launching cops in full riot gear, tanks, or find yourself surrounded by gunship helicopters that launch skater-seeking missiles in your direction. You also have to deal with the ever-present Officer Onishima, a roughneck cop with a gigantic pistol and a bad case of five o'clock shadow. Should you get caught in Onishima's sights, he'll chase after you, firing off rounds that will send you flying to the ground.
Gamespot gave Jet Grind Radio an Editor's Choice 9.0 rating.  And based on Kotaku's recent Comic-Con report, it seems that this beloved title may soon make its way to the iPhone.
At the fan convention last week, Kotaku heard indication that SEGA is planning on bringing back the franchise.  Rumor has it that it will be landing on the Wii, but a few additional details show hope of an iPhone conversion.
SEGA recently filed a new Jet Grind Radio trademark application with the USPTO.  Within are references to "game programs for use with mobile phones," "game programs for use with hand-held game machines," and "downloadable game programs."  Add to this the fact that SEGA of America president Simon Jeffery recently expressed his opinion that the iPhone is basically the next Dreamcast and that the company has many titles currently in development for the iPhone platform.

YouTube video of Dreamcast version
The chances of this title gracing the App Store in the future seem pretty solid.  Gamespot's review of the Dreamcast original indicates that "Jet Grind Radio is one of those 'something for everyone' games that really make a perfect addition to the Dreamcast library."  Its standing in the iPhone library would certainly be no different. Our fingers are certainly crossed.