Neon Surge has released an iPhone port of their open source, multi-platform 3D side scroller SolarQuest [App Store] through the iTunes App Store. Winner of uDevGames 2004 Mac Game Programming contest (Macintosh version), SolarQuest for the iPhone features multitouch controls and makes use of the iPhone's vibration feature for in-game rumble effects.
At its core, SolarQuest is a simple title. It's basically a graphically updated version of the classic 2D side scroller Snake / SFCave in which the player controls an object moving through an ever-scrolling corridor filled with obstacles, the only control being an upward thrust (yes, upward) which is either on or off. Thanks to gravity, the player weaves a sinusoidal path through the levels while dodging obstacles by applying well-timed thrusts.
To this equation, SolarQuest adds a 3D spacecraft, 3D obstacles, a parallax scrolling 2D/3D landscape, bonus pick-up items, and afterburner control for two rates of forward travel. In the iPhone version, the player controls thrust on/off with one thumb and afterburner on/off with another.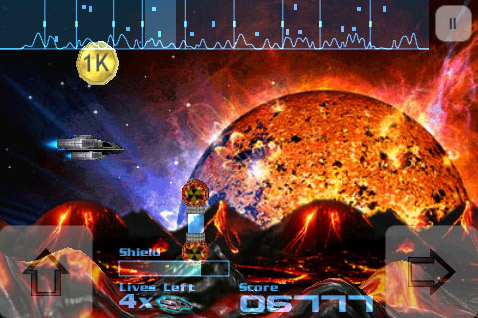 While SolarQuest is the most graphically impressive rendition of this formula I've seen, I must in all honesty say that despite all the bells and whistles, I actually find the simpler, graphically bland versions to be more entertaining. A very simple web version of the game gives you a taste of the gameplay.
Readers may also want to be aware that I encountered occasional graphical glitches in the game and a few unexpected quits.  The developer seems to be working on these issues, however.
I will call $2.99 a fair price for this title when the glitches are ironed out, and I'm guessing that will be soon.
Game Details
Name: SolarQuest (v1.0)
Developer: Neon Surge
App Store Link: Buy
Price: $2.99
Size: 3.0MB