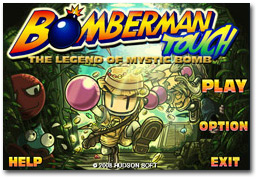 Veteran game developer Hudson Soft is breathing new life into its classic arcade-style maze game Bomberman with the forthcoming release of Bomberman Touch: The Legend of Mystic Bomb for the iPhone and iPod touch.  Originally released in 1983 for MSX and the ZX Spectrum, Bomberman and its clones have landed on most every platform out there and the game's cute, friendly appeal has gained it a notable cult following among gamers.
While, this go-round, the action is set in the ancient ruins of Ka-Boom Temple, Bomberman Touch is more or less built on the basic gameplay of the original:
The eponymous character, Bomberman, is a robot that wants to be free from his job at an underground bomb factory. He must find his way through a maze while avoiding enemies. Doors leading to further maze rooms are found under rocks, which Bomberman must destroy with bombs. There are items that can help improve Bomberman's bombs, such as the Fire ability, which improves the blast range of his bombs. Bomberman will turn human when he escapes and reaches the surface.
As the YouTube video demonstrates, Bomberman Touch utilizes a control system built around flicking and tapping the iPhone's touchscreen as well as tilting the device in order to control Bomberman.  Each stage features a variety of devices to interact with and original Bomberman power-ups and special items are also represented.
Bomberman Touch is the best looking version of this classic we've seen.  We're impressed with how well the control system seems to work and are quite anxious to grab this at the App Store and get flicking.