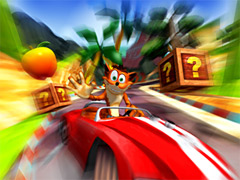 Do you suffer from the dreaded and painful Floating Steering Wheel Grip, bane of the hardcore Wii gamer?  Do you weep when you must power off Mario Kart and head out the door for school or work?  Well, if you're an iPhone or iPod touch user, Polarbit is here with the answer: Crash Bandicoot Nitro Kart 3D.
The nefarious Nitrous Oxide has joined forces with evil genius Dr. Cortex and his demented side-kick Ripper Roo, in a plot to beat the Bandicoots into submission once and for all, and at long last clear the way for world domination. In order to lure Crash and his gang out in the open, they stage a Kart tournament. The winners will be crowned "Kings Of Kart Racing For All Eternity", the losers will be banished from N. Sanity Island.

Join the zany inhabitants of N-Sanity Island as they slip, slide and skid their way around wild tracks set in environments ranging from the Egyptian desert to Outer Space! Dodge rockets, falling meteorites and boulders as you fight for your place at the top of the podium.
Polarbit, the development house responsible for the popular iPhone jailbreak title Raging Thunder, is developing a high-end, 3D version of Vivendi's Crash Bandicoot Nitro Kart 2 for the iPhone, to be published by Vivendi.  Pocket Gamer had this to say about an earlier smartphone version of the title,
…Nitro Kart is a massive game with plenty to unlock, which gives you enough of an incentive to want to keep playing. Not only are there four cups to play through – each of which has four tracks – there's also a Challenge mode where you complete specific tasks, many of them unrelated to racing, in order to collect Wumpas to buy new karts.

These challenges provide loads of variety, and while we struggled with some due to their demanding criteria, they're a welcome diversion from a straightforward bout of karting.
Given the degree to which the iPhone is the superior gaming platform relative to any other smartphone, it seems this will be a rather solid addition to the iTunes App Store's games lineup from a developer that's clearly excited about the platform.
Gameplay is simple and straightforward: tap the screen to start, tilt left and right to steer, tilt forward and back to control speed.  As can be seen from the demonstration video, the graphics are rich, the framerate is fluid, and the music and sound effects aren't lacking.
Key features, as Polarbit tells it:
Stunning, console quality graphics
Twelve beautifully crafted tracks
The famous Crash Bandicoot cast of characters
A host of weapons, items and power-ups
Fully configurable controls
So, thanks to Polarbit, you'll never need to leave the kart behind…