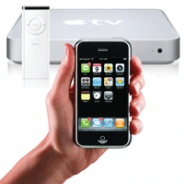 Industry watchers indicate that Apple, thanks to both the iPhone and the Apple TV, is set to become "the next big thing" in the games market.
While mobile gaming has struggled to fulfil its potential thanks to handset fragmentation and compatibility issues, Apple's iPhone looks set to change all that thanks to a far clearer distribution system and the sheer power of its much-hyped touchscreen handset.

"We are very much supporting the platform – we've been quite vocal in our support of it in the past and we are backing it with three forthcoming titles that have yet to be announced based on our major console IPs," said VP of international at THQ Wireless Adam Comiskey.

"It's a great proposition – we're very excited. I think it's a very credible gaming platform and from what we've seen it is very powerful."
While another prognostication that the iPhone is going to be huge news in gaming won't come as a shock to most of our readers, the notion of the Apple TV playing a notable role in the company's gaming future, may.
Analyst Jason Schwartz of Line Peak Asset Management believes that, based on hints over the past year, it may be only a matter of time before the Apple TV joins the iPhone and iPod in doing double-duty as a gaming console.
Earlier this month, Apple Insider reported that Apple is conducting research on a Wiimote-like 3D controller that would bring certain multi-touch features to the Apple TV.
[ via MCV ]