The developers at Mobileage are readying two new iPhone game titles to appear in the iTunes App Store: Blackjack 21 and touchTile Mahjong.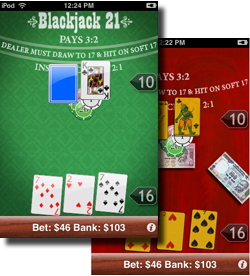 Blackjack 21 brings the words most popular cardgame to your iPhone/iPod with compelling realism. Incorporating actual game play gestures, true-to-life animation and high resolution graphics Blackjack 21 plays like the real thing.

Tap the chips to quickly place a bet, Swipe down to hit, double tap to double down and as the cards glide onto the table you swipe across to stand. Gameplay is super fluid and the perfect way to fill in that extra five minutes.
Blackjack 21 offers customized cards and tables, score tracking through an online Blackjack community, several gameplay variations and built in achievements.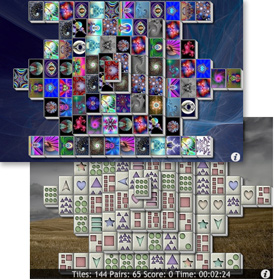 touchTile Mahjong brings the ancient Chinese game of skill, strategy, and calculation to the iPhone and iPod touch.
The classic tile matching game for iPhone and iPod Touch. Finally you can transform those brief moments of downtime into extended moments of downtime. Choose from hundreds of layouts and stacks of alternative tile and background art.