Hello gentle readers, and welcome to the SwitchArcade Round-Up for September 26th, 2023. In today's article, we've got a few short reviews to get things rolling. Super Adventure Hand, Anna Holinksi Saves The Universe, and Wartales get their evaluations in our usual manner. After that, we have a handful of releases to look at. It seems to be a farming/slow life day today, so if that's your flavor you'll have lots to eat. After that, we check out the new and expiring sales. Let's get to it!
Reviews & Mini-Views
Super Adventure Hand ($12.99)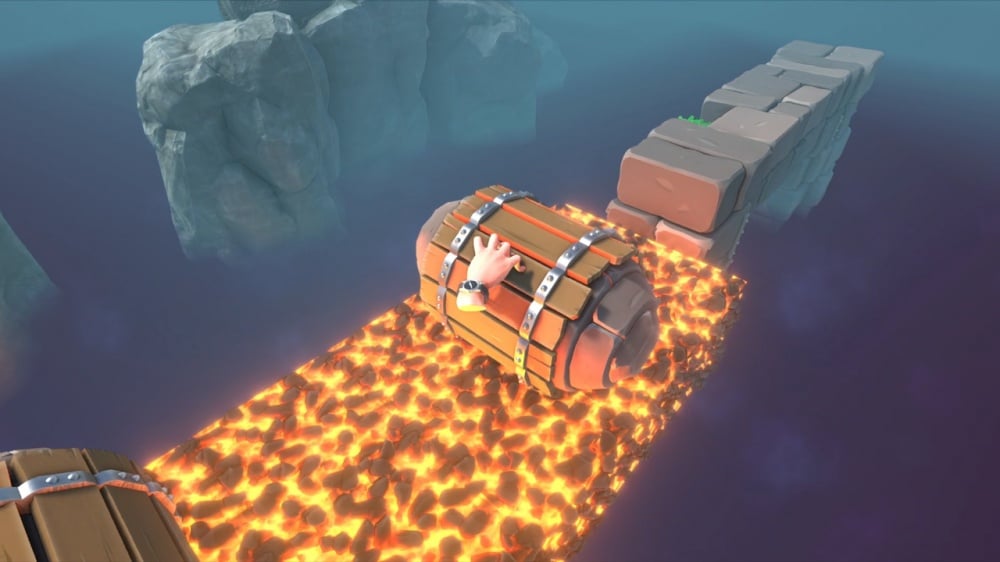 Mechanically speaking, this game reminds me a lot of a PlayStation 1 game. Like, it is aware of 3D space and wants to explore it, but it's also very claustrophobic and fiddly in how it does things. Its silly premise sees you as a disembodied hand that is on a quest to rescue its arm from the nefarious clutches of the feet. In order to accomplish that, you'll have to guide hand through fifty or so levels filled with tricky platforming bits and light puzzles. Your aim is to read the coffee mug at the end of each level, because what better friend could there be for a hand? The game sprinkles in a healthy amount of gimmicks as you play through, including some nifty vehicles.
Your hand moves a lot like Thing from The Addams Family, skittering around like a spider and sticking to pretty much everything. That stickiness can be annoying at times, as can the odd angles your leaps sometimes result in. There's something of a three-stars system at play here, plus some collectible thimbles hidden around. If you want to find everything and get three thumbs up on each stage, you've got your work cut out for you. Otherwise, it has a fairly lenient difficulty curve. Something feels a bit off with the platforming at times, but checkpoints are frequent enough that dying isn't much of a hassle.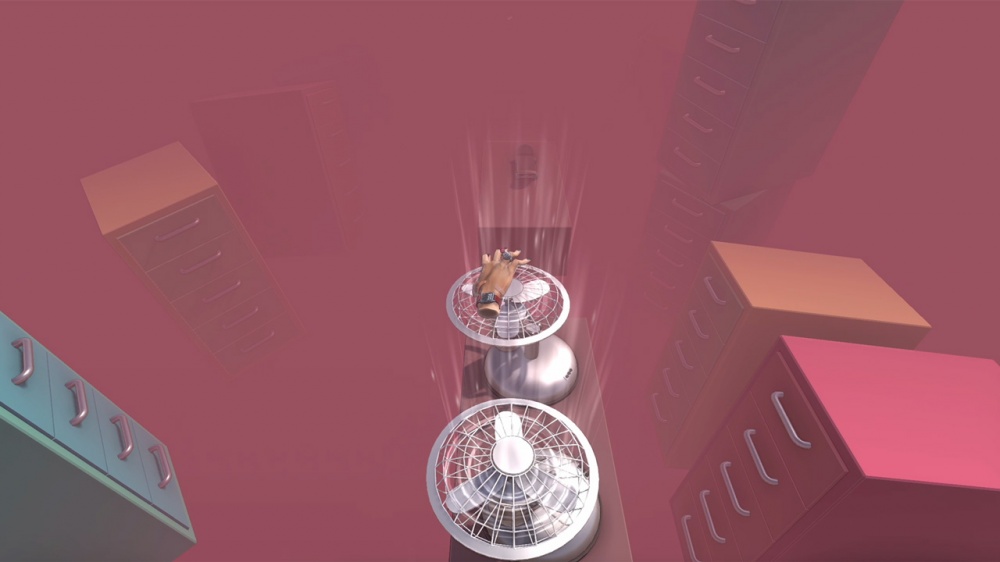 While the animation on the hand is good and rather humorous, the rest of the game looks really bland. There just isn't a lot of visual variety as you make your way through the stages, and you find yourself wishing it would mix things up a little more often that way. Some of the gameplay mechanics are used too frequently, and you'll likely get tired of particular types of set-ups before the game is finished. Still, it's not a bad little game by any means. It has enough charm that it's easy to forgive its occasional missteps.
Super Adventure Hand is a quirky platformer that is well-suited to fans of the genre looking for something a little bit different. Those who demand precision or are easily frustrated might find the game vexing, and if you're looking for visual treats you'll find little to chew on here. If, on the other hand, you're in the mood for a platformer that plays around with physics and refuses to take itself too seriously, this might be up your alley.
SwitchArcade Score: 3.5/5
Osyaberi! Horijyo! Gekihori: Anna Holinski Saves The Universe, Alright?! ($16.99)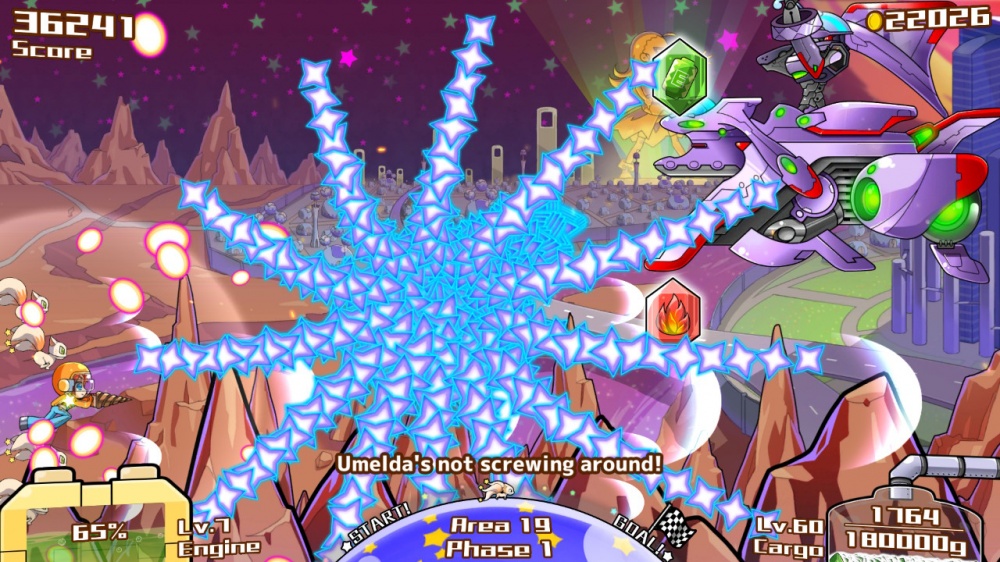 First there were shoot-em-ups. Then there were cute-em-ups. After that, someone got the idea of shut-em-ups. I just made that up right now, sorry. But the idea was a shooting game where either the character or a narrator will not stop talking. It can be funny or irritating, depending on your preferences. Anna Holinksi Saves The Universe is the follow-up to a more straightforward action game built in Pixel Game Maker Studio, and it's a horizontal shooter with plenty of charm. And you can turn off the chattering, if it bothers you. Peace in our time.
Anyway, I'd classify this as a shooter that is friendly to a wider audience than the usual. It not only features a permanent upgrade system that allows you to grind Anna's capabilities up if you can't get through on skill, but also allows you to take multiple hits before you fail the stage. Add in the colorful presentation and expressive characters, and you've got something I think a lot of people can enjoy even outside of the shoot-em-up fan circles. As for the more hardcore genre fans? Well, I don't think this will replace Cave shooters on anyone's altars, but it's a fun game to try to learn to 1cc.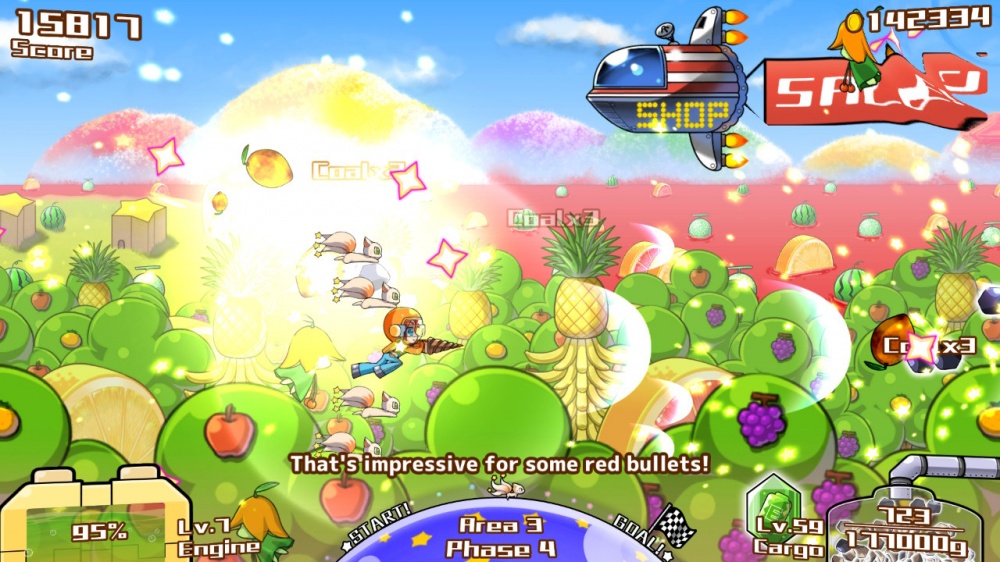 Anna Holinski Saves The Universe, Alright?! is an enjoyable horizontal shooter with wide appeal. It's approachable for newcomers but also challenging enough for experts to get their fill. There's quite a lot to enjoy here, and it even includes the DLC that was a separate charge in the Japanese version. Those hunting for an orthodox take on the genre might be turned off, but in general I think most people are going to be more than alright with Anna.
SwitchArcade Score: 4/5
Wartales ($39.99)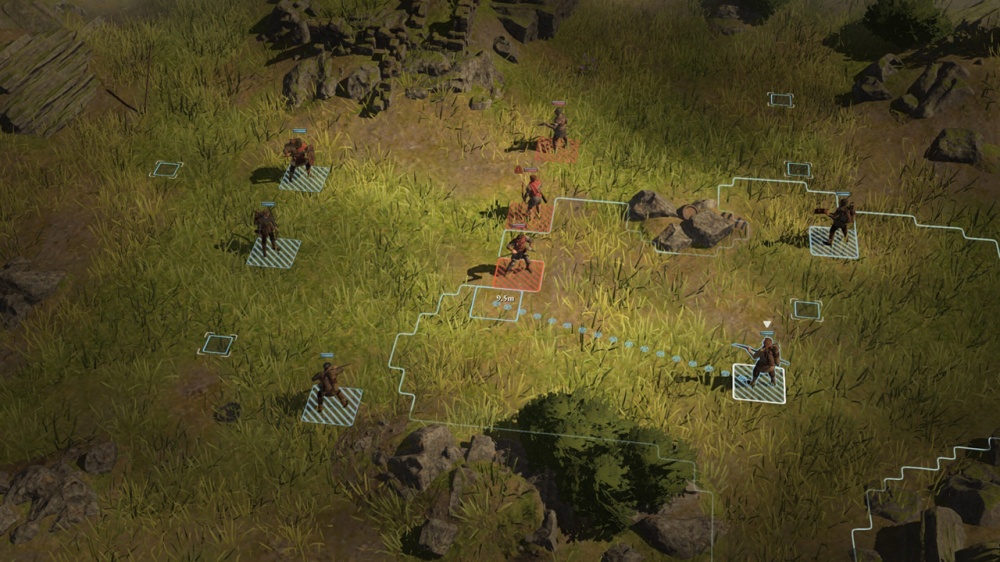 Wartales is the kind of game I could really get into if it would let me. But at least here on Switch, it won't. The game was so unstable and messed up at launch that I decided to wait for a patch or two before reviewing it just to see if things could be fixed. Well, we're a patch or two later, and this game still has severe issues. Forget things like lengthy loading times or decreased visual fidelity. I can get past those things easily enough. Wartales has deeper problems. It freezes up randomly during battles. It crashes in all kinds of situations. It gets weird errors that mess up the display and prevent you from doing anything within the game. There are particular combat scenarios or actions that will crash the game with 100% certainty, and they aren't obscure or esoteric things.
When Wartales is behaving itself, it's an enjoyable game. I'd love to lose hours to it. Maybe someday, after more patches, I'll be able to. I hope this review is eventually useless. But the reality is that this game is on sale right now at a fairly high price, and it's fundamentally broken worse than just about any other Switch release I've seen. Was it worth shadow-dropping a game in this kind of state? Do not buy Wartales on Switch until it's properly fixed. It's a waste of your money and of your time.
SwitchArcade Score: 2/5
New Releases
Mineko's Night Market ($19.99)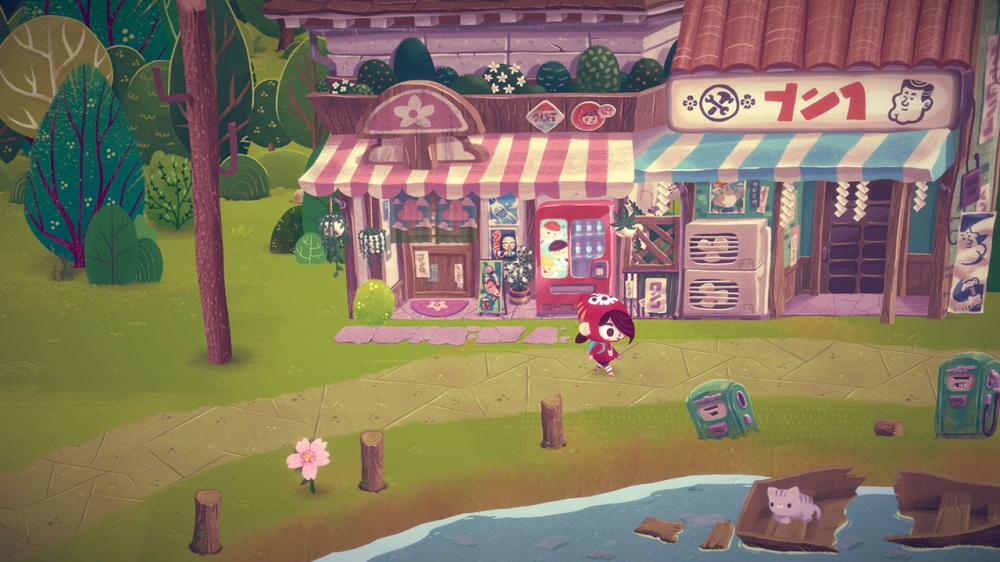 The much-anticipated Mineko's Night Market is finally here, bringing a unique brand of social sim adventure with it. You've moved to a Japan-inspired island where the local people worship the seemingly mythological Sun Cat Nikko. Business as usual, but people have actually been spotting the Sun Cat here and there lately. Well, that's a mystery. See if you can solve it while also restoring the island and its village to its past glory. Complete various odd jobs and side quests, craft items, and show your finest at the weekly Night Market. Early reports are that this isn't running too well on the Switch at the moment, so hopefully it can get patched up into proper fighting shape before long.
Paleo Pines ($29.99)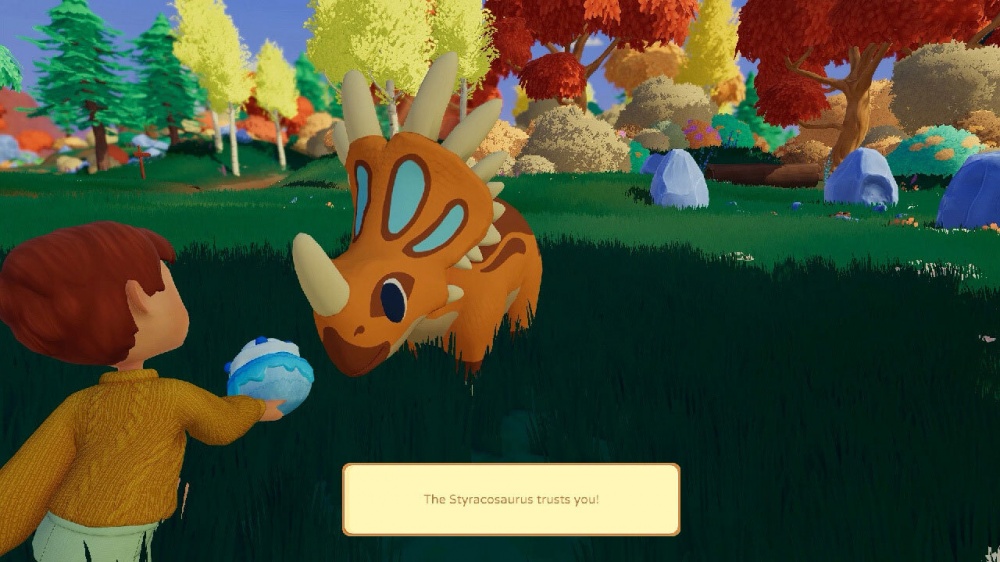 It's a slow life/farming game! But with dinosaurs! If you're going to differentiate your game from the pack somehow, adding dinosaurs isn't a bad way to do that. You do the usual stuff in this, like growing crops and making friends with the locales, but you also get to ride around on dinosaurs and make friends with other dinosaurs. Cute dinosaurs, I might add. Just the most adorable terrible lizards you ever did see. Our pal Mikhail is on this one and will let us know in a full review if it's as cool as it sounds.
Harvest Moon: The Winds of Anthos ($49.99)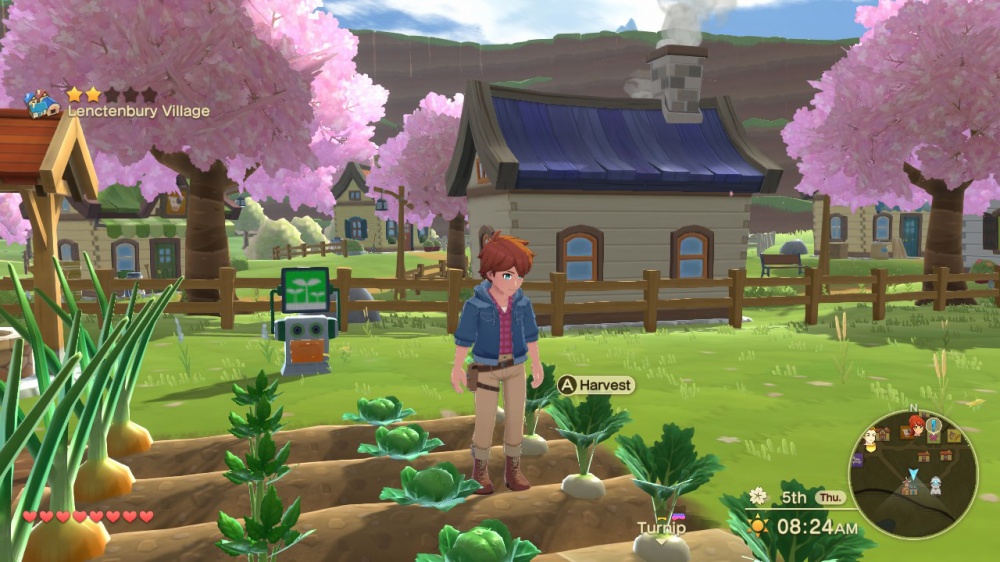 Here we go again. Natsume's been having a lot of trouble putting together a decent game to attach its Harvest Moon trademark to since the split with Marvelous and the Bokujou Monogatari series. The Winds of Anthos is looking to be the one to break that losing streak, and it certainly seems more promising than the last few. You've found a special message in a bottle that brings you to the world of Anthos and tasks you with reviving the Goddess of Harvest. No bigs. Farm anywhere and everywhere, raise livestock, try to hook up with your NPC of choice, and keep a cool pet or two. I've got my fingers crossed for you, Harvest Moon.
Ty the Tasmanian Tiger 4: Bush Rescue Returns ($19.99)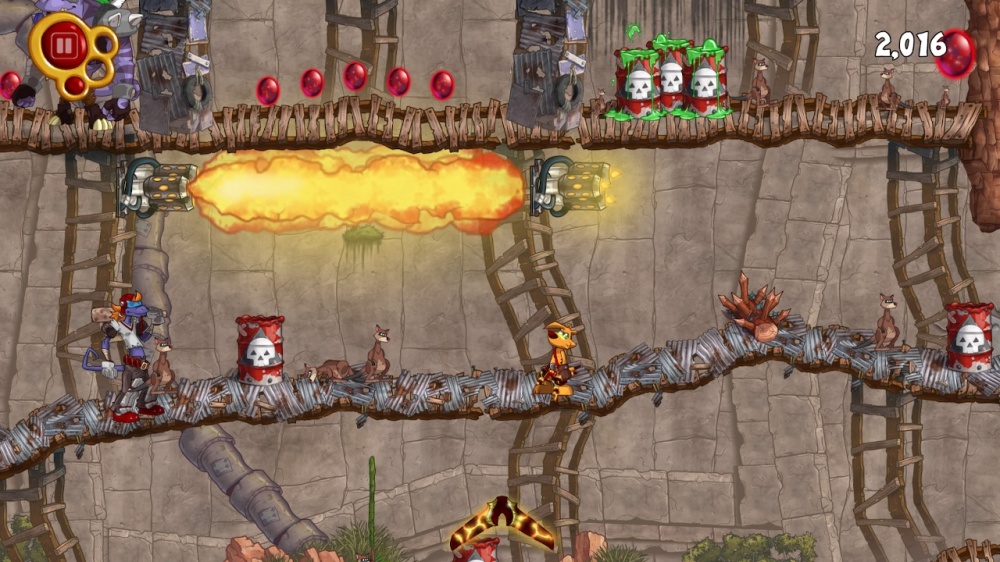 It's been eighteen long years since the last new entry in the Ty the Tasmanian Tiger series, but here we are with a fourth chapter. This is a a bit more indie than the first three games were, which could be why it has shifted from a 3D platforming framework to a 2D platformer. But it looks good, and no matter what dimension you're coming from Krome knows how to make a decent platformer. How decent, though? You'll find out when I post my review in the coming days. Or when you buy it yourself, I guess. Either-or.
The Bin Bunch
Autumn Hike ($4.99)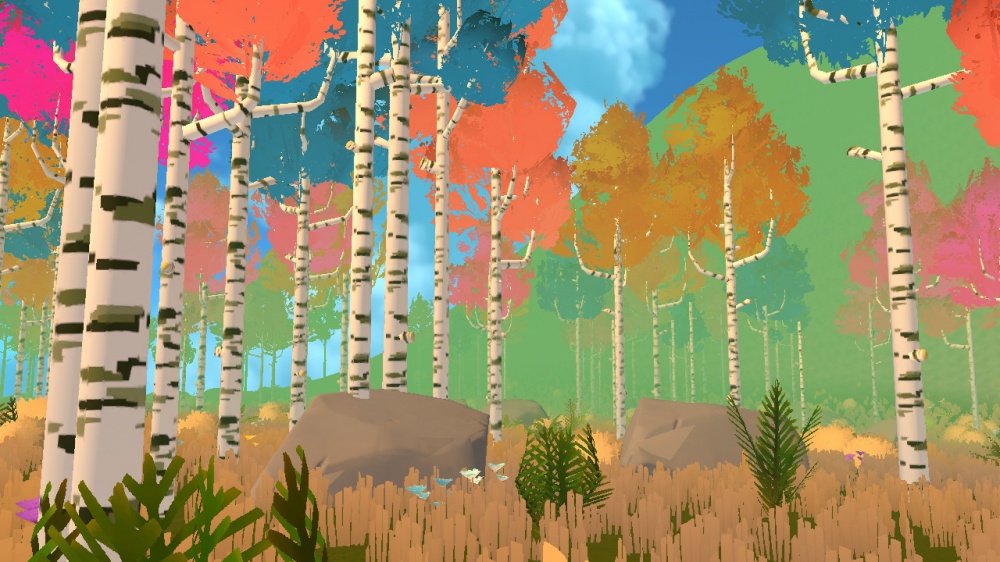 Sales
(North American eShop, US Prices)
We don't have Baldur's Gate 3 on Switch and we almost certainly won't ever. But if you want to play a really good RPG made by the same people, Divinity Original Sin 2 is on sale for a fine price. Aside from that, you've got plenty of 2K games and a few other bits and bobs to consider. Over in the outbox, there are some cool games like DEEMO and Filmechanism finishing up their latest discounts. Have a look at both lists and make your decisions!
Select New Games on Sale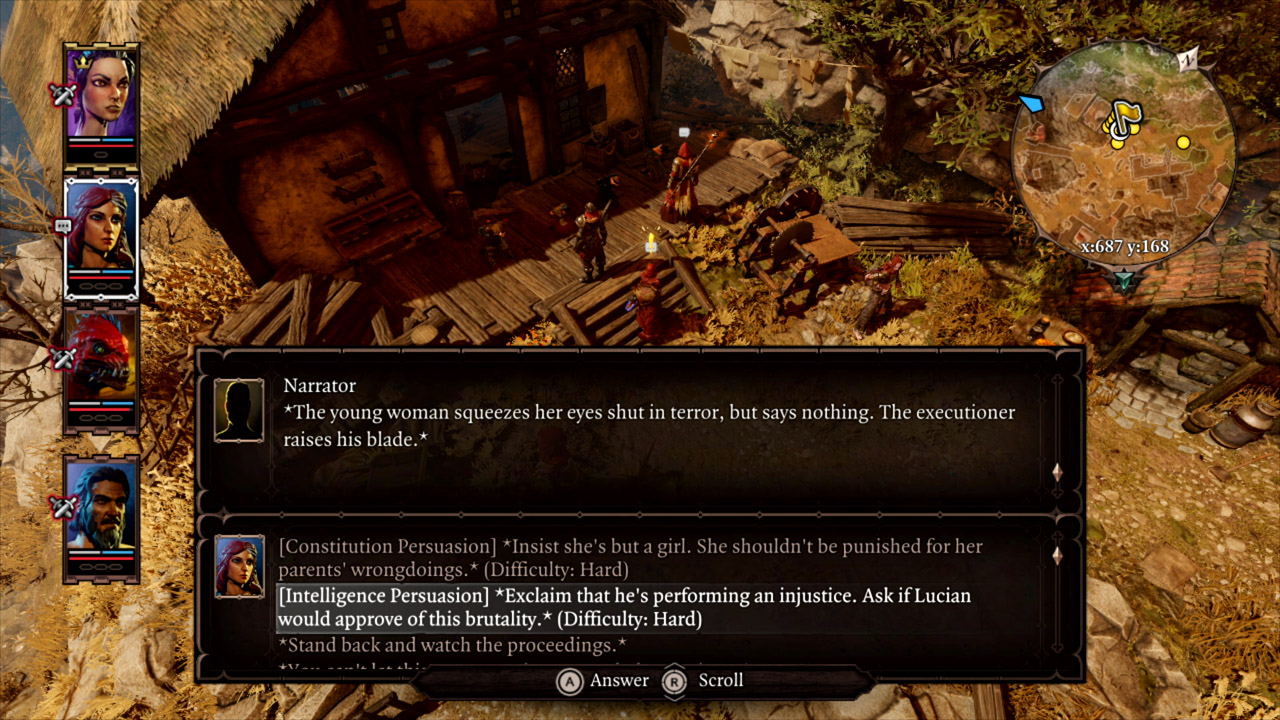 Divinity Original Sin 2 ($24.99 from $49.99 until 10/2)
Hell Blasters ($5.99 from $14.99 until 10/2)
Tangle Tower ($3.99 from $19.99 until 10/2)
Gimmick! Special Edition ($11.99 from $14.99 until 10/3)
BroodStar ($5.50 from $11.00 until 10/3)
Marble It Up! Ultra ($24.99 from $29.99 until 10/3)
GTA The Trilogy Definitive ($29.99 from $59.99 until 10/5)
LEGO 2K Drive ($40.19 from $59.99 until 10/5)
BioShock: The Collection ($9.99 from $49.99 until 10/5)
Borderlands Legendary Collection ($9.99 from $49.99 until 10/5)
OlliOlli World Rad Edition ($24.74 from $44.99 until 10/5)
Carnival Games ($7.99 from $39.99 until 10/5)
Sid Meier's Civilization VI ($5.99 from $29.99 until 10/5)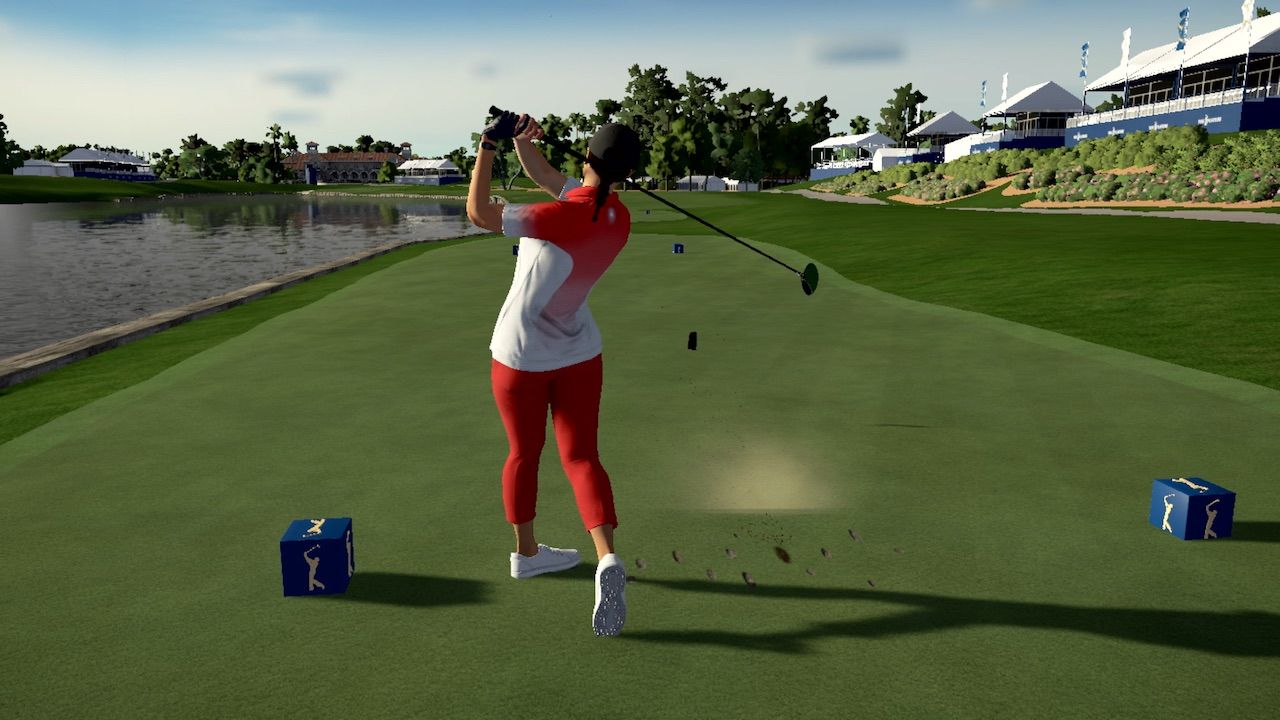 PGA Tour 2K21 ($14.99 from $59.99 until 10/5)
The Outer Worlds ($19.79 from $29.99 until 10/5)
L.A. Noire ($24.99 from $49.99 until 10/8)
Sumire ($1.99 from $9.99 until 10/9)
The Legend of Tianding ($9.99 from $19.99 until 10/9)
Totally Accurate Battle Simulator ($13.99 from $19.99 until 10/11)
Summum Aeterna ($17.99 from $19.99 until 10/16)
Tiny Troopers: Global Ops ($12.99 from $19.99 until 10/16)
Moorhuhn Pirates: Crazy Chicken Pirates ($2.09 from $6.99 until 10/16)
Moorhuhn Knights & Castles ($2.09 from $6.99 until 10/16)
Sales Ending Tomorrow, Wednesday, September 27th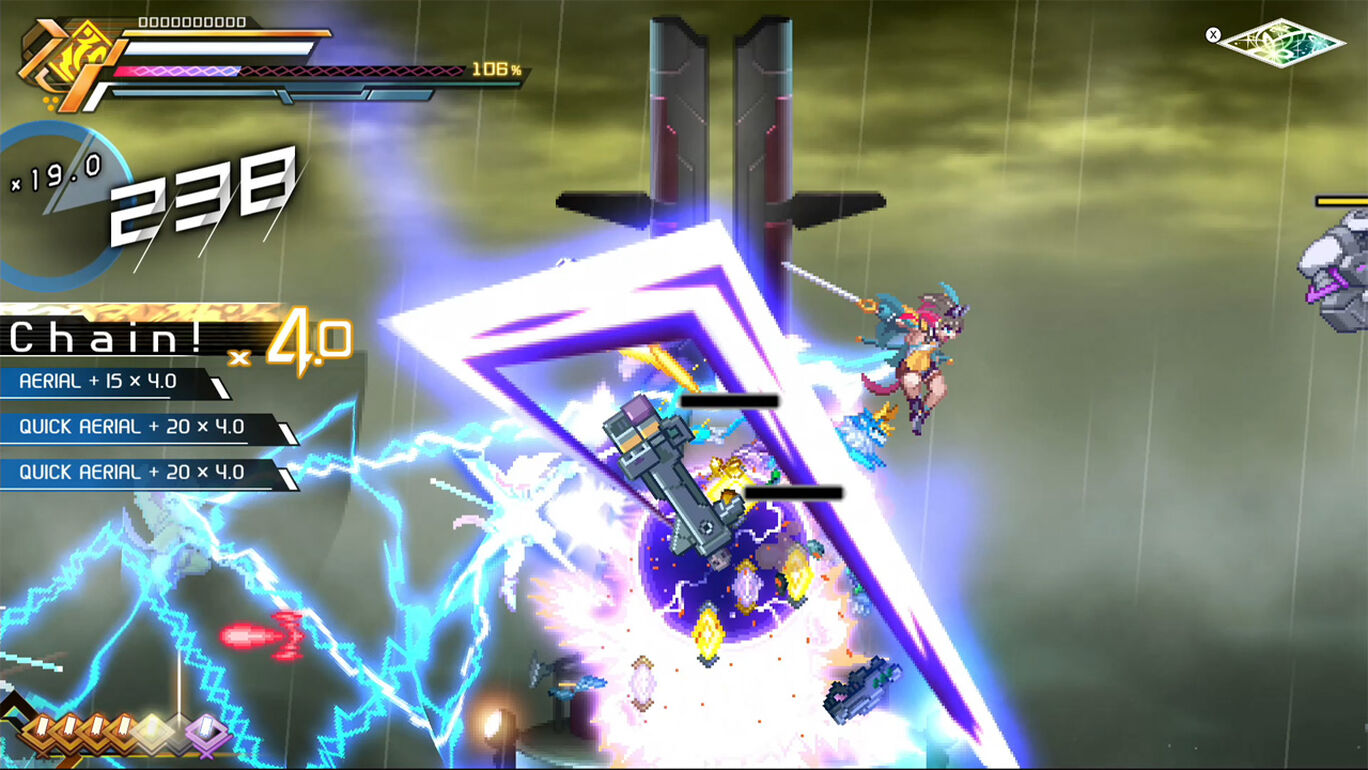 Azure Striker Gunvolt 3 ($22.49 from $29.99 until 9/27)
DEEMO -Reborn- ($15.00 from $25.00 until 9/27)
Disney Speedstorm ($19.49 from $29.99 until 9/27)
Dungeon & Bombs ($2.49 from $4.99 until 9/27)
Filmechanism ($11.99 from $19.99 until 9/27)
Gal Guardians: Demon Purge ($19.99 from $24.99 until 9/27)
GC: Luminous Avenger iX 2 ($13.74 from $24.99 until 9/27)
Gnome More War ($1.99 from $2.99 until 9/27)
Goosebumps: Dead of Night ($9.89 from $29.99 until 9/27)
Grand Guilds ($1.99 from $19.99 until 9/27)
High Noon Revolver ($1.99 from $2.99 until 9/27)
Metal Dogs ($9.90 from $22.00 until 9/27)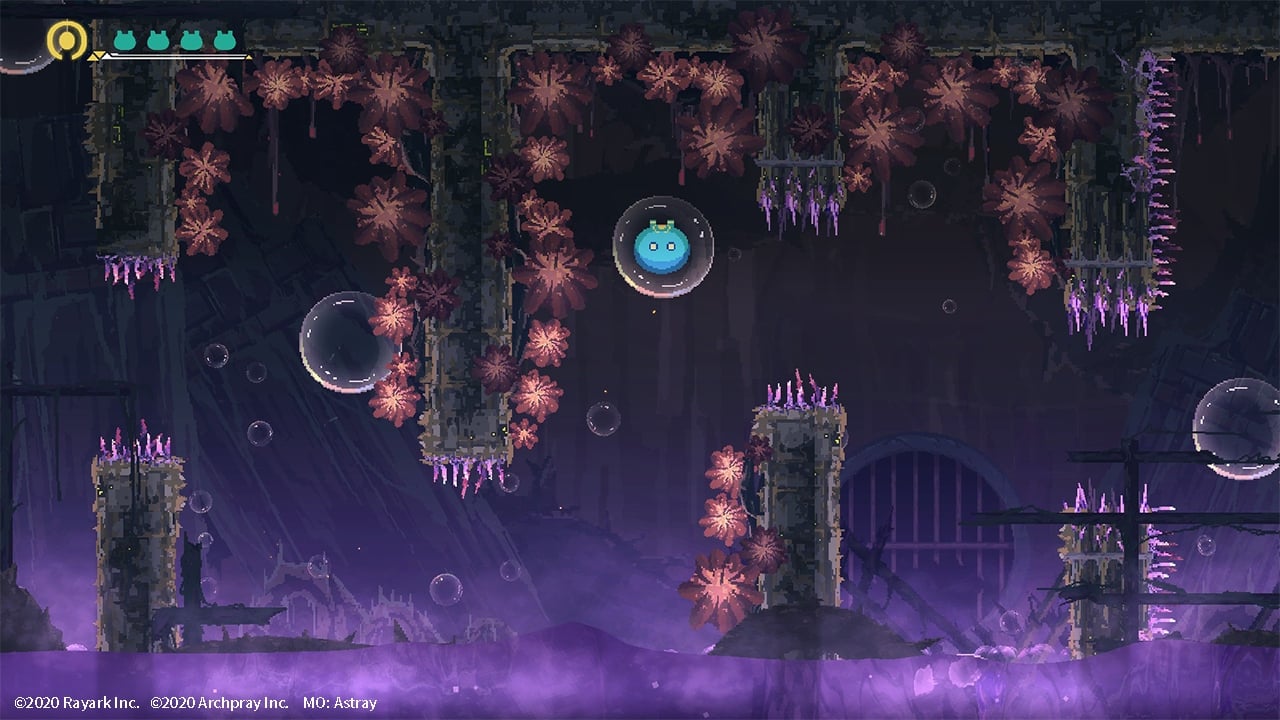 MO: Astray ($7.49 from $14.99 until 9/27)
NeverAwake ($19.99 from $24.99 until 9/27)
No Son of Mine ($13.49 from $14.99 until 9/27)
Pinball FX Star Wars Thrill of the Hunt DLC ($4.99 from $9.99 until 9/27)
Potion Party ($1.99 from $9.99 until 9/27)
Railways ($2.49 from $4.99 until 9/27)
Shadows Over Loathing ($17.71 from $23.00 until 9/27)
Star Wars Pinball ($14.99 from $29.99 until 9/27)
Steam Tactics ($4.99 from $9.99 until 9/27)
Towertale ($1.99 from $9.99 until 9/27)
That's all for today, friends. We should be back tomorrow with more new games, more sales, and perhaps a review or two. Maybe some news, too. I actually have to go to the fancy hospital tomorrow, so things could potentially go completely ca-ca pending the results of some tests. But most likely, I'll be back with plenty of time to deliver the SwitchArcade as you like it. I hope you all have an excellent Tuesday, and as always, thanks for reading!