Luck be a Landlord ($4.99) from developer TrampolineTales hit iOS and Android last week following its PC release. When Jared wrote about it it reminded me to try it out on Steam because I had it on my wishlist since I interviewed Superbrothers. I tried the demo on Steam, and was instantly sold on the game to the point where I just bought it on iOS and spent an hour playing it on my iPhone. The first few hours of the game reminded me of this Vince McMahon GIF. The slot machine meets roguelike deckbuilder is a game I feel like I'll have on my homescreen for a while, but it has a few things holding it back on iOS right now.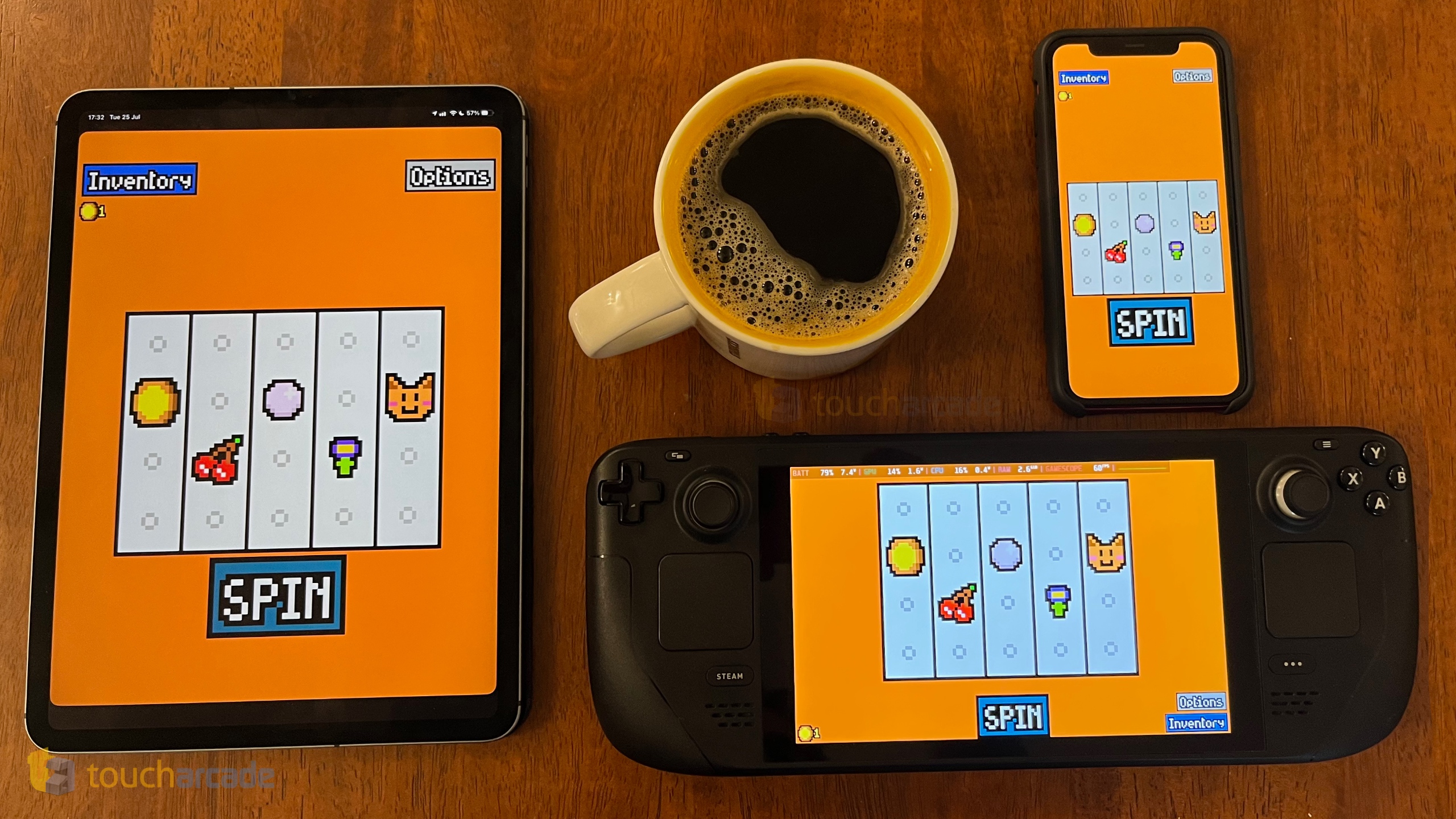 Luck be a Landlord has you trying to defeat your landlord by earning more through slot machines to pay your ever-increasing rent. Despite the aesthetic and it involving slot machines, Luck be a Landlord is a premium game with no in app purchases. Initially, Luck be a Landlord felt like a decent time waster that I might get bored of in an hour or so, but the hooks were in after a few attempts at defeating the landlord. You see, each spin gives you things to add to your deck, or in this case slot machine. These change how much you earn, synergize with other items, and can turn the tide of a spin as you inch your way towards your rent target for that cycle. After every rent payment, your rent increases and you eventually need to keep track of many items or symbols so you know what to pick next to make the most of the situation.
There are so many combinations of items and symbols that I sometimes feel like I'm playing The Binding of Isaac. Luck be a Landlord also has loads of achievements though the developer couldn't add as many on Game Center thanks to a limitation on Apple's side. The in-game achievements match other platforms though. One quality of life feature I'm glad to see included from the start, is the ability to increase the speed or turn off animations and go for instant results in spins as you earn coins. This makes it even better to just pick up and play on iPhone when you have a few minutes spare.
On PC, Luck be a Landlord has support for mouse and controller inputs. On iOS, it only has touch controls. I wouldn't use a controller for a game like this given the touch option, but it is worth keeping in mind for those who plan to play on iPad where I prefer using controllers in most games. The interface has been brought over very well to touch, but you will need to tap on a few things more often to understand mechanics in the early hours of playing. For accessibility, Luck be a Landlord lets you adjust font, maximum frame rate including 120fps on my iPad Pro, various colors including that of the main background, item text, symbol text, and more.
As I played more, I started discovering specific items and symbols that I found working better, but the randomness element is going to constantly make you think on your toes with each spin. This is a positive or negative depending on who you ask. As someone who enjoyed the randomness element in games like Hearthstone to the point where I only focused on those joke decks by the end of my time with it, I've enjoyed being screwed over by a bad spin in Luck be a Landlord as weird as that sounds. Since this involves slot machines, you need to expect and welcome that, but it still might not be a positive for some players. The other aspect some might be put off by is the sheer number of items and possibilities making the early hours feel a bit daunting to progress, but this learning by experience is what gets me deeper into games like Luck be a Landlord and Slay the Spire.
Visually, I like the Luck be a Landlord aesthetic a lot. It has great pixel art for various objects, animals, and more. Animations are also very nice and smooth on my devices. Given the amount of different characters and items in the slots, the pixel art is still quite varied and recognizable. The music from Vincent Colavita is surprisingly catchy as well.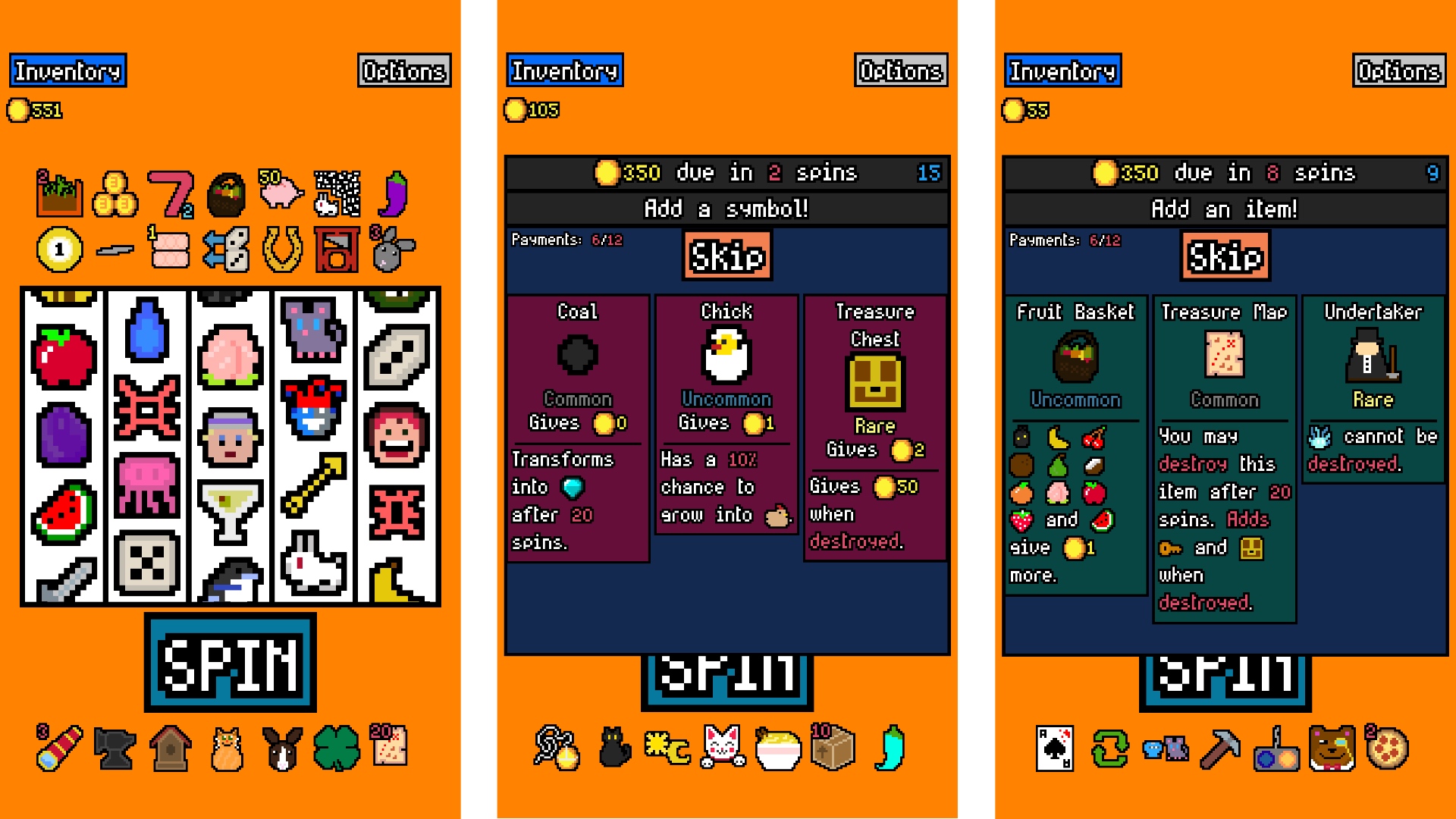 If you've already played Luck be a Landlord on PC, and are wondering how the mobile port is, it is fantastic if you're ok with portrait gameplay on iOS. Barring that, I saw nothing in the PC version that would make me want to play it there over my iPhone. You can play it on Steam Deck without issues if you prefer playing there over mobile, but the iPhone version is my favorite way to play Luck be a Landlord.
In its current state, the only thing holding Luck be a Landlord back on iOS is seemingly lack of cloud save support between devices and the lack of landscape support which the developer has already commented on. Everything else about Luck be a Landlord on iOS is fantastic. This is easily my favorite way to play it, and I hope the patch with landscape mode does end up releasing soon after the engine adds support for it on iOS.
Luck be a Landlord manages to perfectly blend slots with a deckbuilding roguelike. I never thought those two would work, but just like Peglin taught me recently, the developers that manage getting genres like these working together are the real ones to keep a watch over for future games. Luck be a Landlord is a game I'll have on my iPhone homescreen for a long time. I just hope the update with landscape support arrives in the near future. I liked it enough to buy it at full price on Steam soon after playing the iOS version. It is that good.