Hello everyone, and welcome to the week! It's time once again for our look back at the noteworthy updates of the last seven days. Pretty much an even mix of Apple Arcade updates and free-to-play updates this time, friends. I tried poking around for some premium stuff, but got tired and gave up after three minutes and twelve seconds. Nevertheless, I believe the following list represents the best, brightest, and most immediately available new updates this week. Enjoy! Of course, you can keep an eye out for updates yourself by participating in the TouchArcade forums. This weekly summary is just here to fill you in on the things you might have missed. Let's go for it!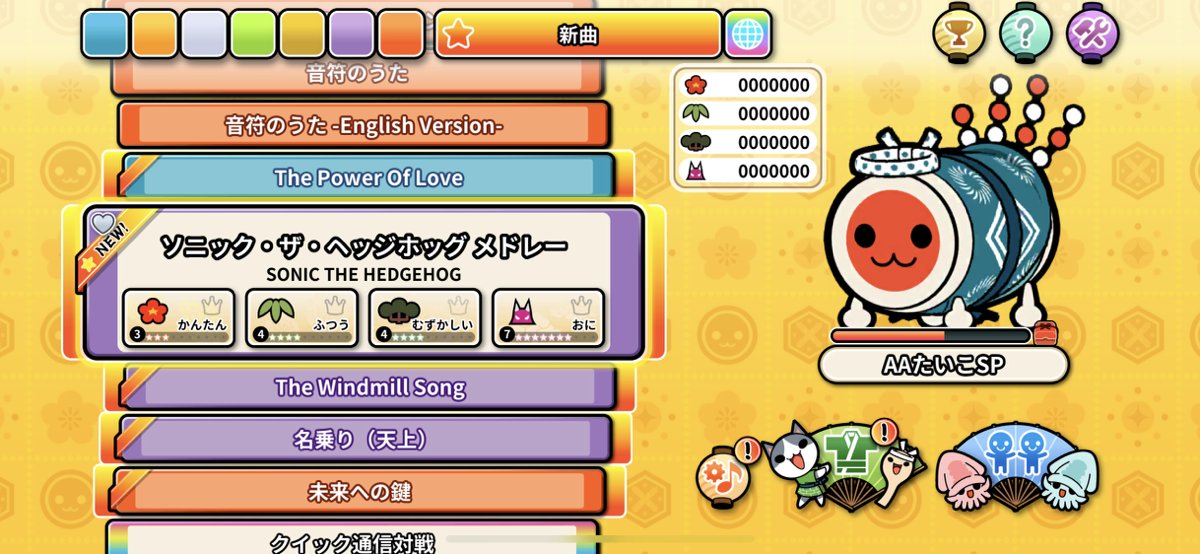 Taiko no Tatsujin Pop Tap Beat, Am I allowed to give out the coveted UMMSotW award to the first game in the list? I suppose I have before, so there's really nothing stopping me. So yes, Taiko no Tatsujin has some new songs to play. Celebrating SEGA's famous blue hedgehog, you can now play a Sonic The Hedgehog Medley. Back to the Future's The Power of Love by Huey Lewis and the News is here, along with The Windmill Song from Klonoa: Door to Phantomile. Rounding out the selection is Nanori (Tenjou) from Namco's arcade game Mirai Ninja, and Mirai e no Kagi by Miki Tsuchiya. Klonoa, Sonic, and Back to the Future? How could I not hand out the award to this update?
Grindstone, This update to the ever-popular Grindstone adds a New Game Plus mode in the form of the Cosmic Darkside, a very difficult parallel dimension to the comparatively fluffy Grindstone Mountain. Battle the Cosmic Creeps and you'll find some Cosmic Gear and a new resource to mine. Big risks, big rewards. I hope you didn't think you could stop playing this game?
Cut the Rope Remastered, Gosh, the update notes are pretty small for this one. Well, let's wing it and see how it goes. Summer! It's a season! Some people on Earth are experiencing it right now! Others are not! And it is the theme of the latest update for the Apple Arcade version of Cut the Rope. You get nine new levels to play, and they are apparently summer-themed. Maybe the small green fellow eats some ice cream or something. There's only one way to find out.
Oceanhorn 2, Rare to see a major content update for Oceanhorn 2. Let's see what's in the box. Hmm. Two new side quests to complete, two new game modes for Arcadian Tarock, some improvements to the radar and quest system, general improvements to the controls, and a challenge for completing 100% of Gaia's map. A bunch of bug fixes and enhancements, too. We all love to see those. They're calling this the Secrets of Gaia update, and that sure sounds compelling. A good reason to dive back into this game if you haven't played it in a while.
Spire Blast, Well, it's another puzzle game. As such, you can probably imagine what any given update will look like. New levels, mainly. But you do get forty of them, which is a fairly healthy number. Beyond the new content, you're mostly seeing the typical bug fixes, performance improvements, and extra polish. Essentially, it's more Spire Blast for people who need more Spire Blast in their lives. And that is fine.
MARVEL Strike Force: Squad RPG, Free Wow, this is a big fella of an update. Five new playable characters will be added over the course of this update: Deathlok, Viv Vision, Abomination, Hulkbuster, and Brawn. What an odd mix of characters that is. Along with them come new synergies for Vision and Iron Man to create a new Bionic Avenger team, and they'll come in handy to unlock the Fourth Horseman. Morgan Le Fay, Valkyrie, and She-Hulk get new costumes, mostly to tie in with MCU stuff. There's a new Doom III Raid, some new Cosmic Crucible Leagues, and a whole lot more. Just dive in and check it all out if you're interested, it really is quite substantial.
Disney Mirrorverse, Free Some new Guardians are arriving to the Mirrorverse, with Simba and Wall-E joining the fray. Story Mode gets some new content in the form of Chapter 8, and some improvements have been made to Supply Runs and Dangerous Dungeons. Several Guardians have been tweaked for balance purposes, and a number of other fixes and enhancements have been made. It's still really hard to make any progress, but I'm hoping the team is working on finding that sweet spot between letting the players play and trying to make them pay.
Royal Match, Free And here's the obligatory free-to-play matching puzzle game update of the week. Royal Match is back, and its regal presence brings us a sports-themed update with a whopping one hundred new levels to play in a new area called the Football Field. Hunh, I guess American football is an older sport than I realized. Unless I've misunderstood the premise of this game, in which case… I regret my words and my deeds.
Hungry Shark World, Free Shark Week is back in Hungry Shark World! Let's see what that adds up to for us this time around. There's a new shark in the form of the Abyssal Shark that can apparently explore the land, the sea, and the air. Holy bananas, that is one over-powered shark. Probably the second most powerful, after Gawr Gura. The Coral Event is also back, and you can reach a whole new level of purification this time if you're persistent. You're not fully pure until you're Cosmic pure!
Asphalt 9: Legends, Free Let's finish up this time with a look at the newest version of Gameloft's popular racer. You've got a new location to zip around now, with Greenland joining the list of countries to race in. With ice-covered roads, exploding geysers, and volcanic vents you'll have your hands full trying to keep your ride in one piece, never mind finishing first. There are some new cars including the Bugatti Centodieci, the McLaren 765LT, and the Pagani Huayra R. Throw in some new events and other tweaks and that's that.
That about wraps it up for last week's significant updates. I'm sure I've missed some, though, so please feel free to comment below and let everyone know if you think something should be mentioned. As usual, major updates will likely get their own news stories throughout this week, and I'll be back next Monday to summarize and fill in the blanks. Have a great week!