Hello gentle readers, and welcome to the SwitchArcade Round-Up for July 18th, 2022. It's a holiday here in Japan. Yes, today we celebrate the sea because it is Umi no Hi. I am celebrating it by working, and also playing some Mega Man games. Just as the people in old times did, really. For today, I have a few reviews for you! Capcom Arcade 2nd Stadium, Overrogue, and Super UFO Fighter are today's lucky contestants. After that, it's sales time. The usual lists of new and expiring sales, naturally. Let's dive in!
Reviews & Mini-Views
Capcom Arcade 2nd Stadium ($39.99)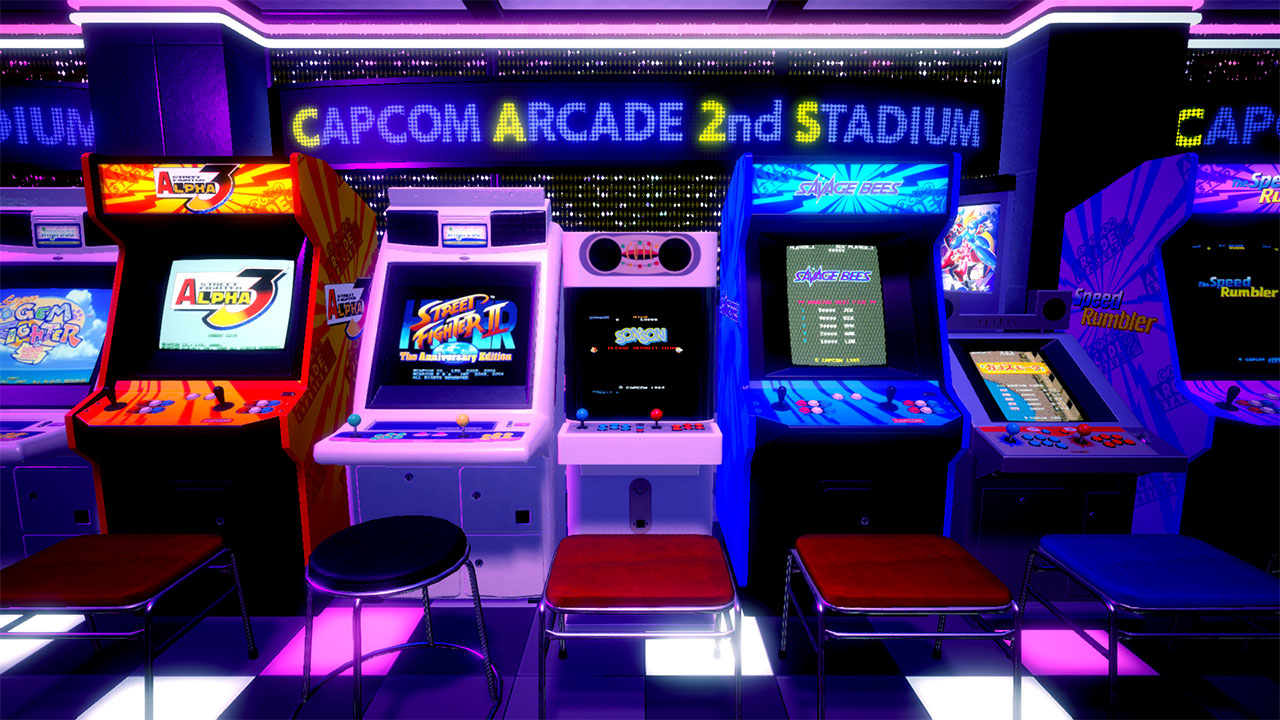 Capcom has been quite good about putting out a lot of stuff from its back catalog on the Nintendo Switch, often via compilations. Early last year, it brought us Capcom Arcade Stadium, a collection of thirty-two of the company's arcade classics that included a number lesser-seen titles among the usual suspects. While the idea of adding more games via downloadable content was talked about, it seems that Capcom opted to just go ahead and do a second collection. Enter Capcom Arcade 2nd Stadium, which offers up an additional thirty-two titles.
This time Capcom has opted to skip the multiple game bundles. The basic app is free to download, and like the first set you get one game for free. This time, it's the 1984 action game SonSon. Perhaps not as iconic as 1943: The Battle of Midway, the free game included with the first Arcade Stadium, but it's a lot of fun and sets the stage for this more eclectic batch of titles. Beyond that, you can buy each of the games a la carte for $3.99 each or go all-in and pick up everything for $39.99. The latter is the best deal by a long shot, making the per-game price just $1.29. That's just over five quarters per game, a stunning value for those of us old enough to remember playing these on the real cabinets.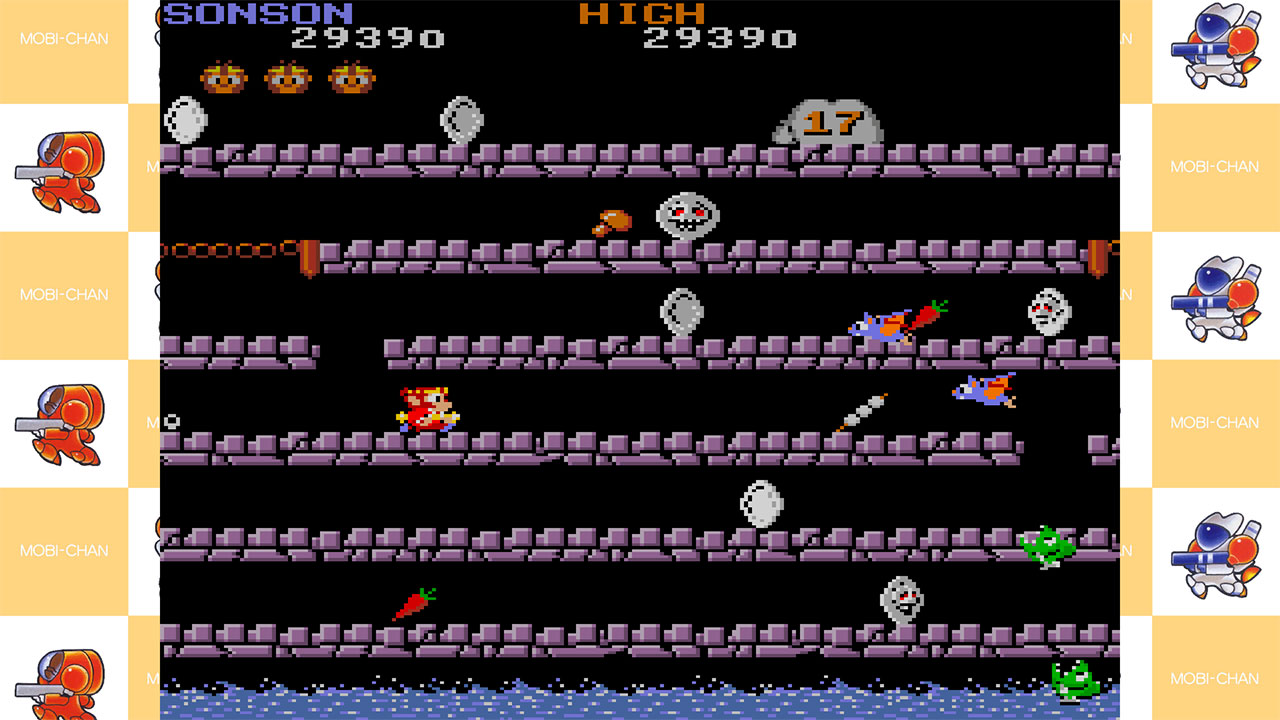 In terms of the shell the games exist in, it's almost exactly the same as the original. All of the same options, extra modes, challenges, and so on. This is a good thing in just about every way. The constant rotation of events and the CAPSO system tying the experience together encourages you to try out all of the games, even ones you might otherwise neglect. The emulation is good, and input lag is less of an issue here than it was in the launch version of the first Arcade Stadium. There are a couple of ways where I wish it hadn't taken after the original, however. There is no online multiplayer here, and that is the biggest strike. I'm also not a fan of some of the scaling and screen orientation options for a few games. The filter options also aren't as robust as we saw in the recent Capcom Fighting Collection.
So let's look at the selection of games on offer, shall we? I can't go into detail on every game, but let's hit some highlights. One of the criticisms of the first set was that it didn't have a terribly wide selection of Capcom's fighting games. Well, that's certainly solved here. A whopping nine of the thirty-two games are straight-up one-on-one fighters, and an additional three could fit a looser definition. There is massive overlap here with the Street Fighter 30th Anniversary Collection and the Capcom Fighting Collection. The main three Darkstalkers games, the original Street Fighter, the three Street Fighter Alpha games, Super Gem Fighter Mini Mix, and Hyper Street Fighter II: Anniversary Edition all repeat here.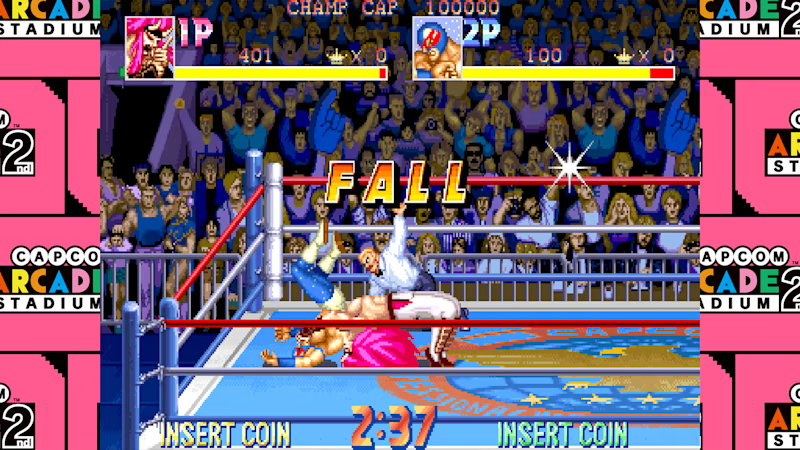 Those three more loosely-defined fighters are ones fans really wanted to see, at least. The two Mega Man arcade games are here, which haven't seen rereleases since the PlayStation 2/GameCube/Xbox era. They're amusing novelties for Mega Man fans, with some truly lush graphical representations of characters and scenes that had only been seen in 8-bit style before. We've also got Saturday Night Slam Masters here, a wrestling/fighting hybrid that rarely gets reissued due to its character designs requiring a license from the original artist, Fist of the North Star creator Tetsuo Hara. It's an incredible game, and I'm glad to see it pop up again.
In terms of other overlapping titles from other Switch collections, we've got the excellent puzzler Super Puzzle Fighter II Turbo from the Capcom Fighting Collection, and both The King of Dragons and Knights of the Round from the Capcom Beat 'Em Up Bundle. Those are also the only pure beat-em-ups in the set, which makes sense as the original Capcom Arcade Stadium went heavy on them. That also affects the shooter line-up. Most of Capcom's big hits in the genre have already been deployed, leaving us with six-ish titles ranging from well-known titles like Gun.Smoke (now known as Gan Sumoku, presumably to sidestep issues with the famous TV show) to obscurities like Last Duel.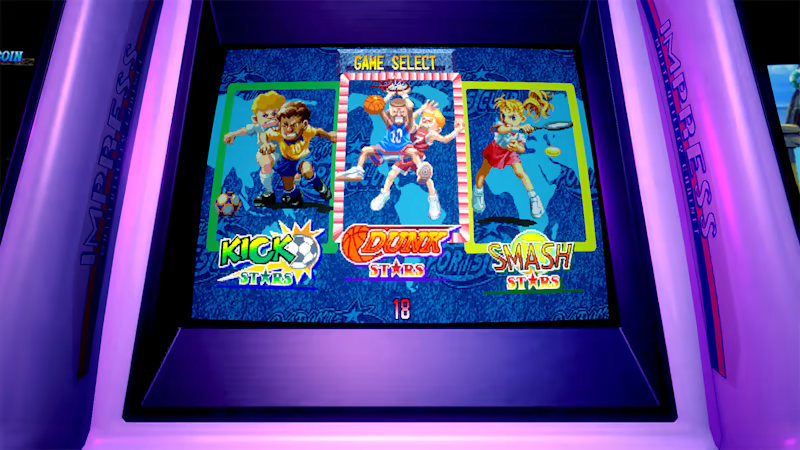 The rest of the games cover a mix of genres, with a few puzzlers, some action games, and even a sports game. It sometimes feels like the leftovers after the more famous games found in the original Capcom Arcade Stadium, but even among the lesser-known titles there is some gold to be found. I particularly enjoyed the puzzler Pnickies and the sports multi-game Capcom Sports Club. There are only one or two real turkeys here, but even those tend to be interesting experiments that don't quite come together rather than being completely bad. Capcom didn't become a legend by accident, after all.
Overall, the selection of games on offer here is strong and varied, but the significant overlap with other collections does harsh the buzz a little. And while I can comprehend the many reasons why it's so, it's unfortunate that Capcom can't include some of its incredible licensed games like Aliens Vs. Predator, The Punisher, Dungeons & Dragons, X-Men: Children of the Atom, and so on. Perhaps one day. For now, this collection essentially includes most of the Capcom originals you could want that weren't on the first Capcom Arcade Stadium.
Despite the repeat titles and lack of online multiplayer, Capcom Arcade 2nd Stadium is an easy recommendation to fans of classic arcade games. With a solid range of titles across multiple titles and levels of fame, this set is bound to include plenty of games for everyone to enjoy. The first Capcom Arcade Stadium had a lot of cool features, extras, and options, and this follow-up doesn't deviate from that. I'd strongly suggest grabbing the full-game bundle, but it's nice to have the option to dabble in the specific games you want if you're on a budget. It's a quality package at a great price, and I wish Capcom's arcade rivals would take some notes from these sets.
SwitchArcade Score: 4/5
Overrogue ($14.99)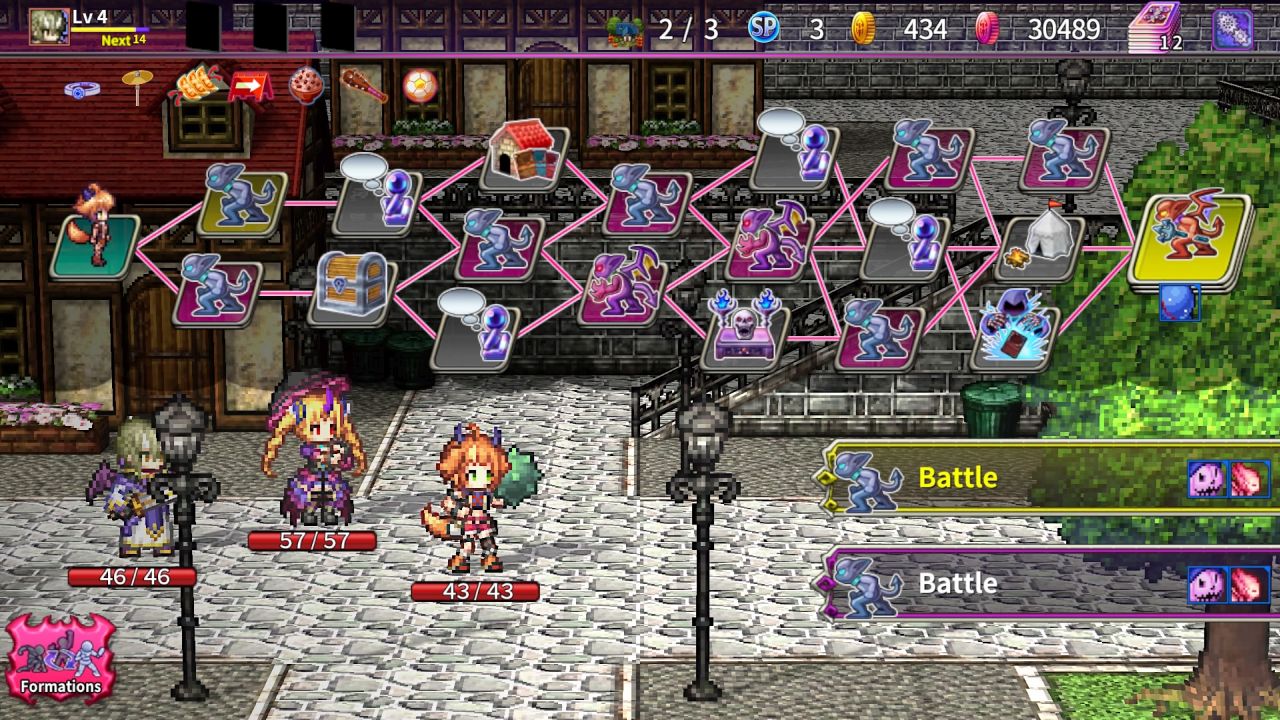 KEMCO and EXE-Create, eh? Time to break out the ol' template and… wait, this isn't anything like the usual product of this pairing! Instead of doing another of its usual generic JRPGs, the developer has instead put together a deckbuilding roguelite along the lines of things like Slay The Spire or Monster Train. That new style of gameplay is packed along with a lot of more familiar elements to create the most interesting game from these folks in a very long while. In this case, it's the good type of interesting. While it never gets close to the heights of the aforementioned games, it's probably closer to those than KEMCO's usual JRPGs are to the kings of that genre.
The 444th Overlord has had a pretty good run ruling the underworld, but all things come to an end. He's ready to retire to whatever place monsters retire to, and so a special event called a Selection Battle is called to determine who will take his place on the throne. Among the challengers is the Overlord's son, Sael. To take over his father's legacy, Sael has to venture into labyrinths to gather Sagan Crystals. He'll eventually be joined by a twin-tailed tsundere doll named Elize and a chipper yet money-hungry wolf-girl named Narba. He also has his sheep-like familiar Monty, who is ready to sell Sael out to literally any pretty face that strolls along.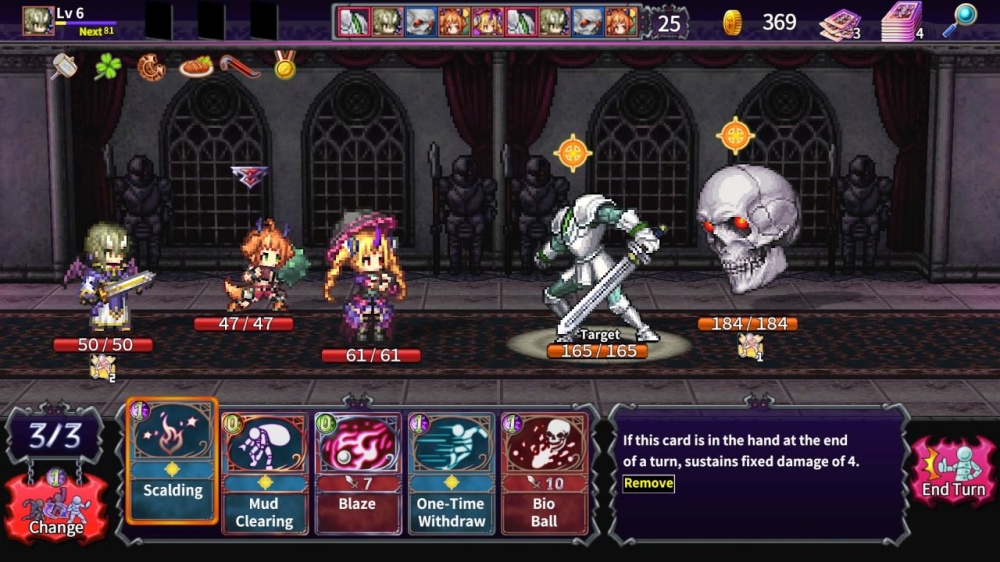 I'm talking about the story because it's one of the more distinctive elements of this game when compared to its peers. There is a proper plot here with named characters, and you'll be seeing a lot of cut-scenes as you make your way through it. Indeed, outside of the labyrinths, this sometimes feels very much like a more standard KEMCO RPG. You can explore little areas, talk to NPCs, and so on. Your party feeds into the battle mechanics, with the position of each member playing a major role in your strategy. Just one element of a simple yet robust card-based battle system that stays fun for a surprisingly long time.
That's critical, because you're going to be doing a lot of battling. The labyrinths basically consist of a series of nodes, each one containing some kind of event or battle. You'll get different things on each run, which helps keep things lively. The battles themselves are going to feel familiar if you've played a deckbuilder before. Each turn gives you some cards from your deck and a limited number of action points with which to play them. You can earn new cards and get new decks as you go along, allowing you to tweak your strategies to fit your style of play.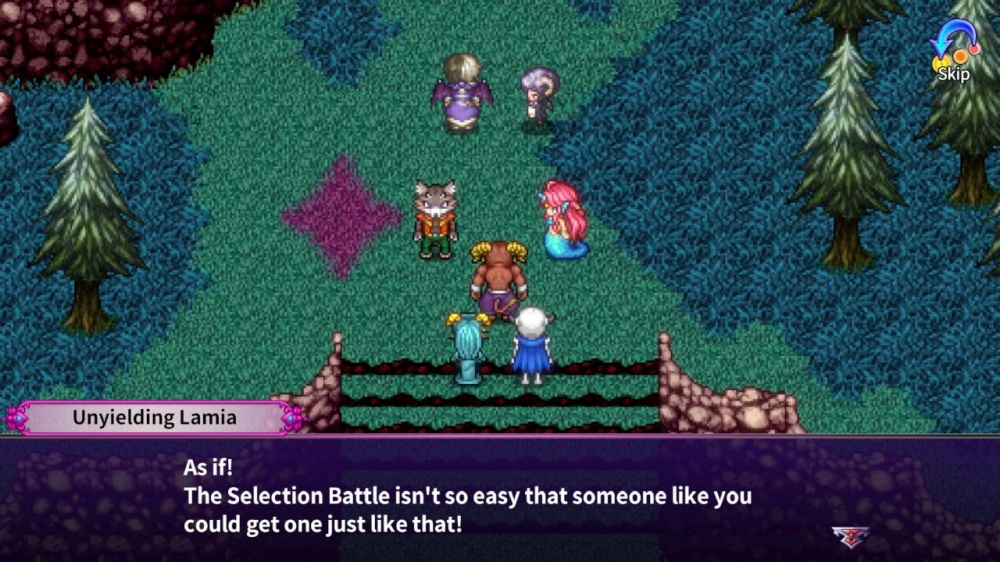 Overrogue can feel a little on the grindy side at times, but it's generally pleasant as that sort of thing goes. The game offers some IAPs that you can buy that might speed things up a little, but you can make your way through the game easily enough and even eke out just about everything without touching those extra purchases if you're persistent. I don't particularly like their presence and the game is a little pushier about them than the average KEMCO game. But the proof of the pudding is in the eating, and I was able to get through to the end without buying them or even feeling like they would be a remotely good idea.
At the absolute minimum, Overrogue shows that KEMCO and EXE-Create can do some good work when they venture outside of their usual comfort zones. There's an energy and thoughtfulness to this game that makes it feel like the developers were actually sinking their teeth into making it. The best of the best in this style of game are tough to touch, but this game is good enough that deckbuilding roguelite fans should put it somewhere on the shopping list even if not necessarily at the top.
SwitchArcade Score: 4/5
Super UFO Fighter ($11.99)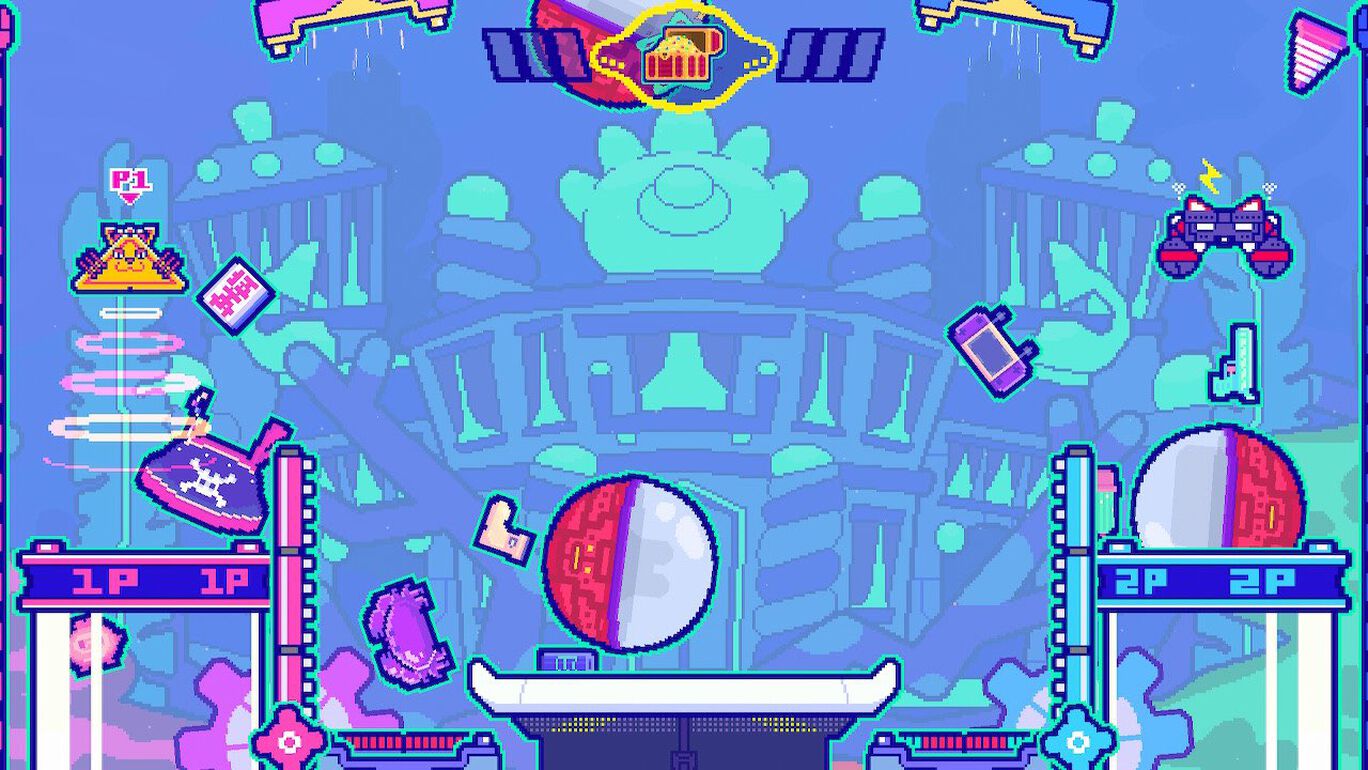 Some games feel more like minigames, and I regret to say that Super UFO Fighter is one of them. The basic idea here is fun. It's like a competitive UFO catcher/crane game with bright, attractive visuals and a few extra hooks that aim to keep things fresh over time. In true competitive game fashion, you have a few ways to mess with your opponent as they go about their business of trying to get the target item before you do. There are some different stages that throw out a gimmick or two, but by and large there isn't much on the bone here.
Super UFO Fighter is enjoyable for a short while, but in testing this with my family we'd had our fill after about a half hour. The gameplay got stale quickly, and every match started to feel the same. The single player mode exhausts its ideas equally quickly, and while I appreciate that there is an online multiplayer mode here, I wasn't able to find a single opponent in all of my attempts. I didn't have a bad time playing the game, but it's all just too thin to recommend regardless of whether you mean to play alone or with others.
SwitchArcade Score: 3/5
New Releases
Raging Blasters ($14.70)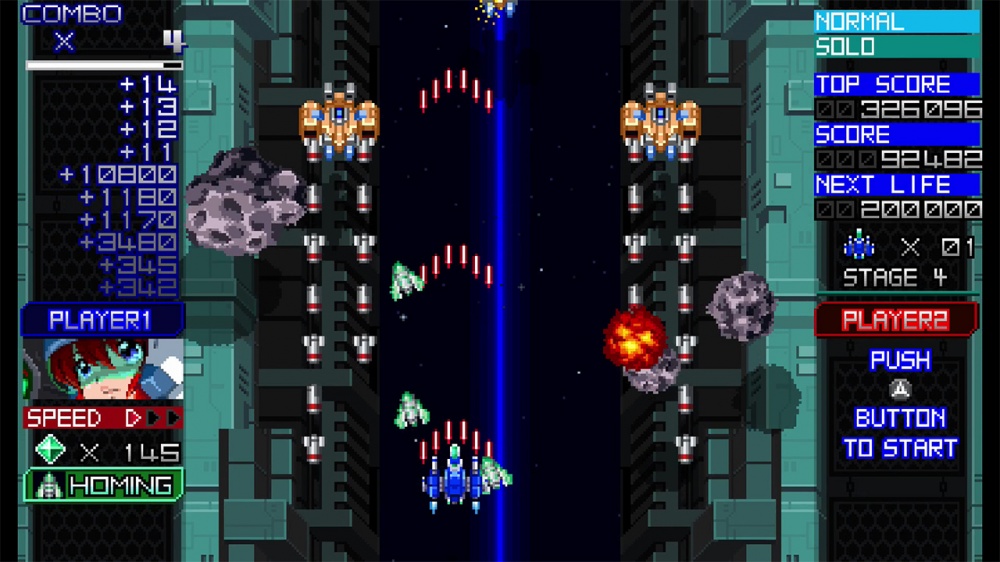 SwitchArcade Highlight!
Fans of TurboGrafx-16 shoot-em-ups, face front: this latest Switch release from Terarin Games is an homage to the games you love. Either solo or in local co-op, you'll blast your way through eight wild stages of action using two different shot types and five different sub-weapons. You've got multiple difficulty modes, and a Caravan-style mode where you have three minutes to score as many points as you can. It's been available in the Japanese eShop for quite a while now, so I can say with absolute confidence that it is awesome.
Mojito the Cat ($9.99)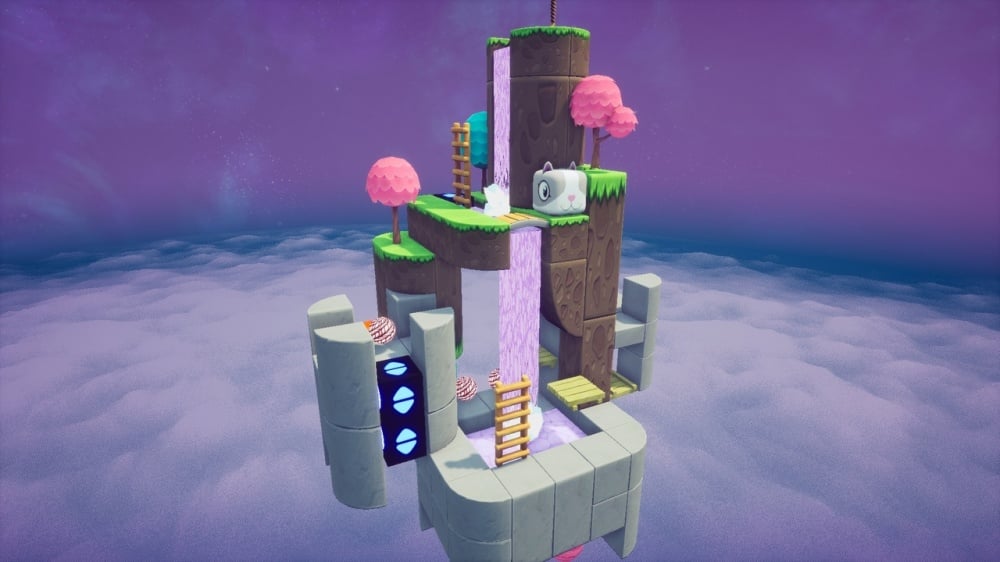 This is one of those puzzle-ish action games where you are playing as a cube that tumbles about on its sides. There are sixty different levels included, with some unlockable characters to use as skins. Nothing big that we haven't seen in other games before, but if you're in the right mood and the price is right, you could do worse.
Driving Quest ($9.99)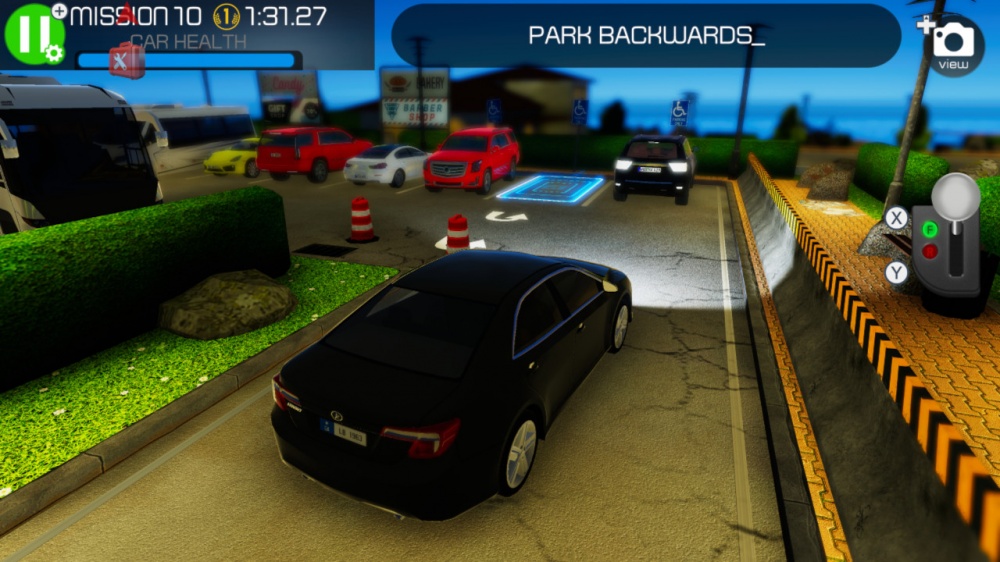 The lead image for this one on the eShop made me think BoomHits was trying a new spin on its prolific ventures into driving games. But no, this is for the most part the same old perspective with the same old gameplay and the same old structure. You can switch to an overhead view if you want, at least. Anyway, choose from different vehicles, drive around, and complete missions. This will likely receive a deep discount in about a month, and another game very similar to this will probably be released by the publisher next week.
Sales
(North American eShop, US Prices)
MLB The Show 22 is the latest free game trial for Nintendo Switch Online subscribers. As such, the game has its deepest discount yet to entice those who liked what they tried to put a ring on it and permanently add it to their libraries. There are a few other interesting games in the list, but I'll let you have a look on your own because there isn't anything I feel terribly strongly about. In the outbox, it's Furi and some Orange Pixel games! Grab them if you want them, but they'll probably be back around sooner or later.
Select New Games on Sale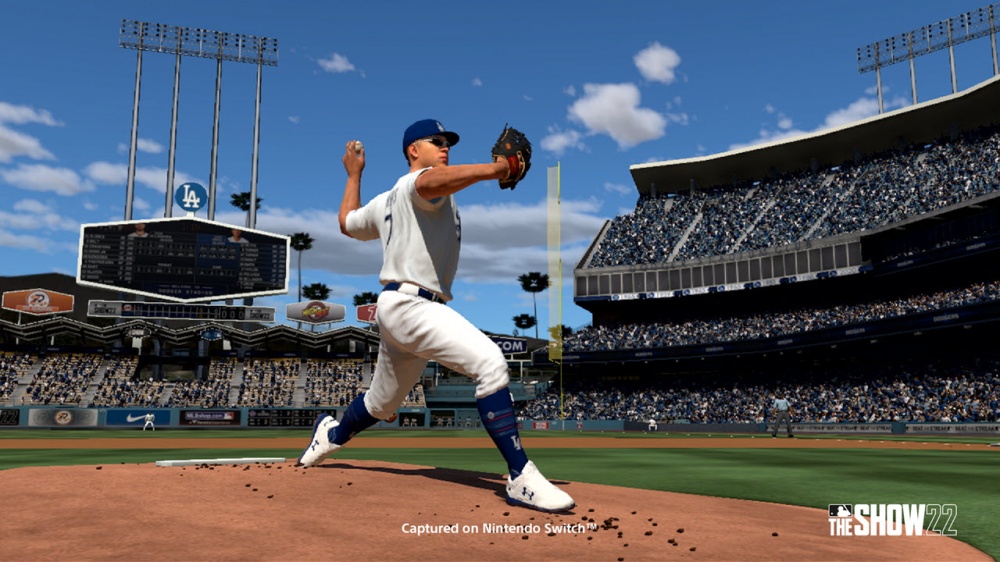 MLB The Show 22 ($29.99 from $59.99 until 7/22)
MLB The Show 22 DE ($49.99 from $99.99 until 7/22)
Timber Story ($3.49 from $4.99 until 7/23)
My Universe: Interior Designer ($17.99 from $29.99 until 7/24)
My Universe: Puppies & Kittens ($17.99 from $29.99 until 7/24)
Agatha Christie: Hercule Poirot ($17.99 from $29.99 until 7/24)
The Sisters: Party of the Year ($17.99 from $29.99 until 7/24)
Grand Mountain Adventure Wonderlands ($20.99 from $34.99 until 7/24)
Marsupilami Hoobadventure ($17.99 from $29.99 until 7/24)
Beyond a Steel Sky ($23.99 from $39.99 until 7/24)
Asterix & Obelix: Slap Them All ($17.99 from $29.99 until 7/24)
Knight Squad 2 ($10.49 from $14.99 until 7/25)
Devastator ($4.89 from $6.99 until 7/29)
Inferno 2 ($1.99 from $4.99 until 7/29)
Luckslinger ($2.99 from $9.99 until 7/29)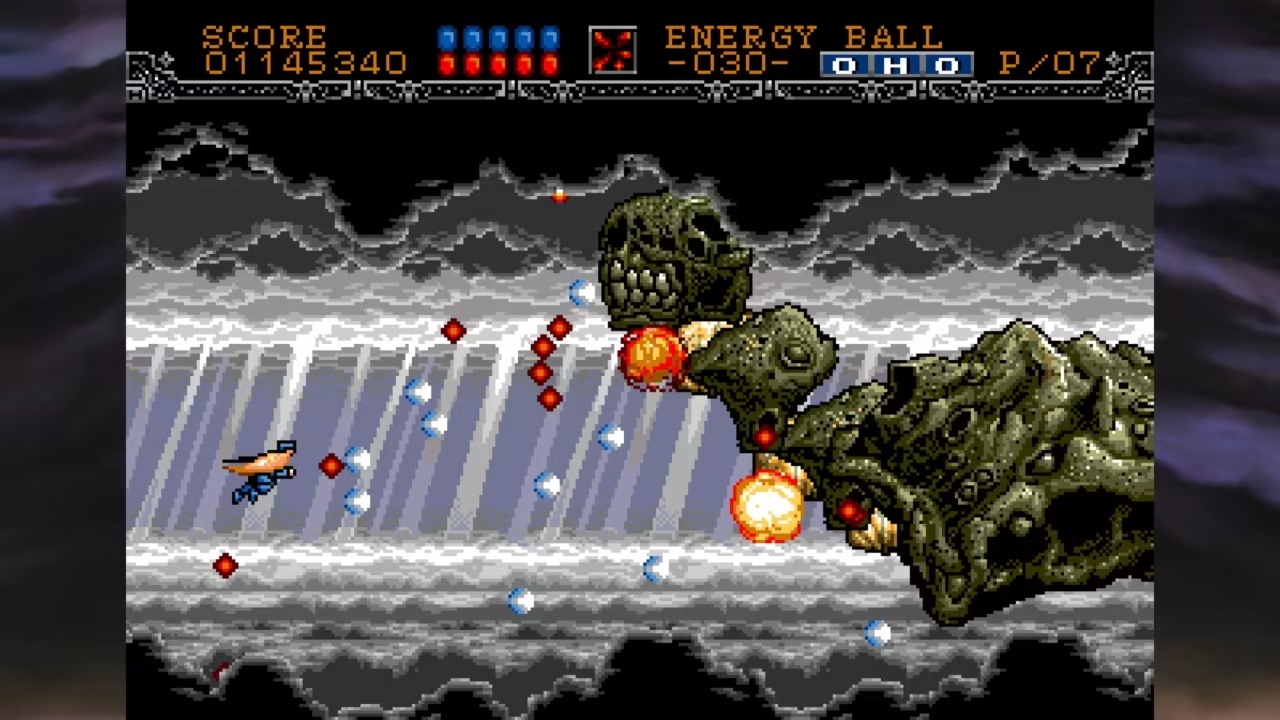 Gynoug ($4.89 from $6.99 until 8/1)
Gleylancer ($4.89 from $6.99 until 8/1)
Moto Roader MC ($4.89 from $6.99 until 8/1)
Nicole ($7.59 from $18.99 until 8/1)
Orbibot ($1.99 from $4.99 until 8/1)
The Song Out of Space ($2.99 from $4.99 until 8/1)
Wuppo: Definitive Edition ($1.99 from $14.99 until 8/1)
Star Horizon ($1.99 from $9.99 until 8/2)
Lost Castle ($2.49 from $9.99 until 8/2)
Sinner: Sacrifice for Redemption ($3.79 from $18.99 until 8/2)
Game Dev Story ($7.00 from $14.00 until 8/4)
Golf Club Wasteland ($1.99 from $9.99 until 8/5)
What Lies in the Multiverse ($5.99 from $14.99 until 8/5)
Arise: A Simple Story ($7.99 from $19.99 until 8/5)
Tools Up! ($1.99 from $19.99 until 8/5)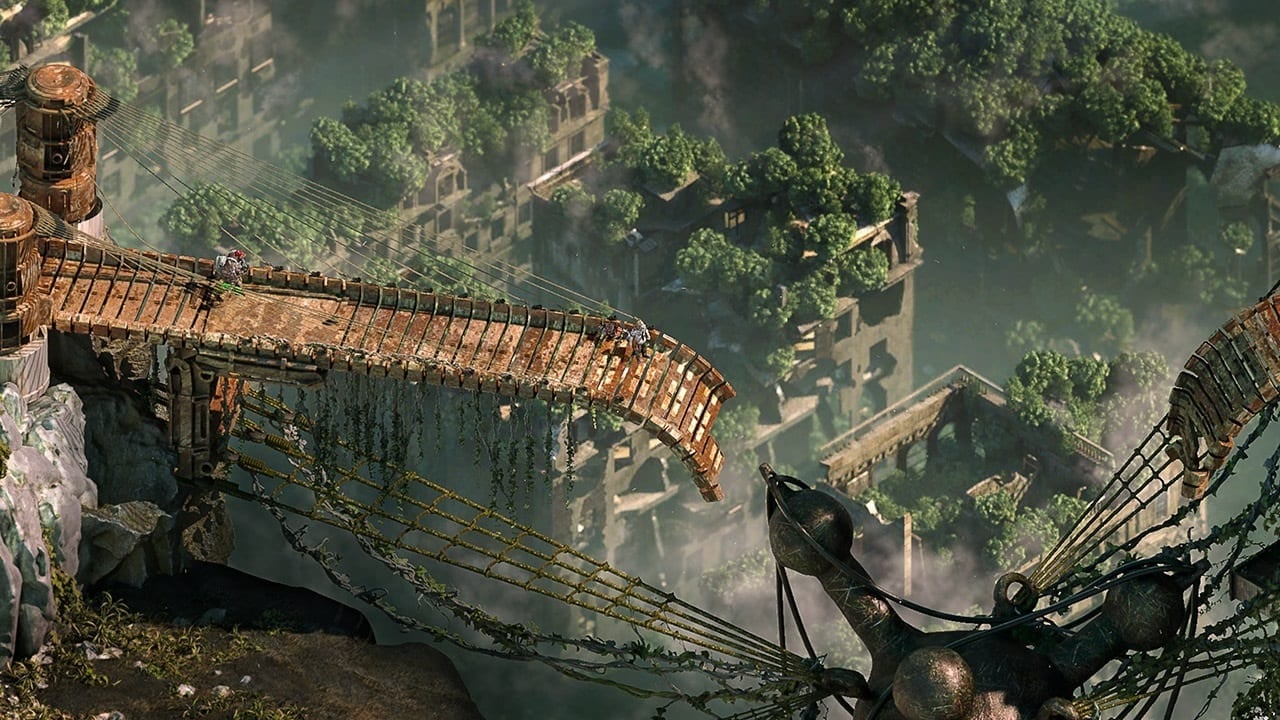 Beautiful Desolation ($1.99 from $19.99 until 8/5)
Niche: A Genetics Survival Game ($5.99 from $19.99 until 8/5)
Car Racing Trials ($7.79 from $12.99 until 8/5)
Long Live the Queen ($7.99 from $9.99 until 8/5)
SteamWorld Heist ($4.99 from $19.99 until 8/5)
SteamWorld Dig ($2.49 from $9.99 until 8/5)
SteamWorld Dig 2 ($6.99 from $19.99 until 8/5)
SteamWorld Quest: Hand of Gilgamech ($8.74 from $24.99 until 8/5)
Anthill ($1.99 from $9.99 until 8/5)
Curious Expedition ($5.24 from $14.99 until 8/5)
The Hong Kong Massacre ($2.99 from $19.99 until 8/5)
Badland: GotY Edition ($1.99 from $5.99 until 8/5)
Mind Scanners ($9.34 from $16.99 until 8/5)
Ultimate Bumper Cars: Dodgems ($3.59 from $11.99 until 8/5)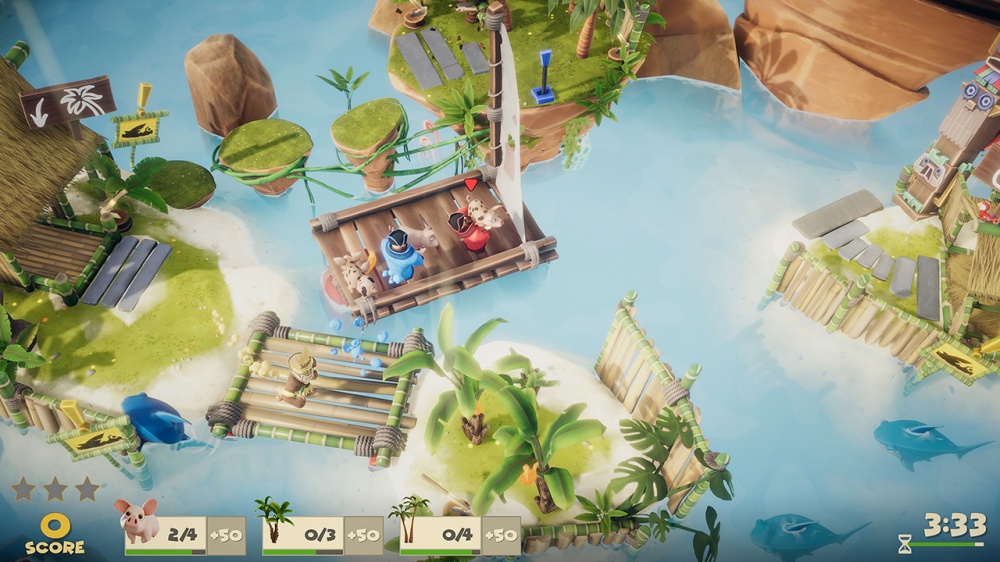 Lumberhill ($8.99 from $14.99 until 8/5)
Metamorphosis ($4.99 from $24.99 until 8/5)
Paradise Lost ($4.99 from $14.99 until 8/5)
Fort Triumph ($7.99 from $19.99 until 8/5)
Red Wings: American Aces ($2.99 from $11.99 until 8/5)
Slingshot Stunt Driver & Sports ($2.99 from $9.99 until 8/5)
Super Hero Driving School ($2.99 from $9.99 until 8/5)
Base Jump Wing Suit Flying ($2.99 from $9.99 until 8/5)
Jump Into The Plane ($2.99 from $9.99 until 8/5)
Sales Ending Tomorrow, Tuesday, July 19th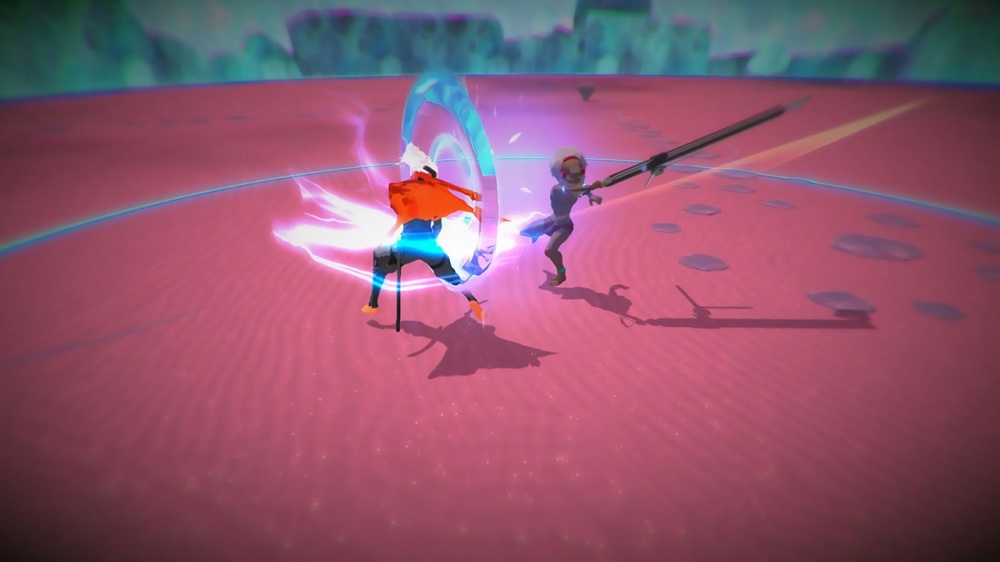 Furi ($6.99 from $19.99 until 7/19)
Groundskeeper2 ($1.99 from $4.99 until 7/19)
Gunslugs ($3.19 from $7.99 until 7/19)
Gunslugs 2 ($3.19 from $7.99 until 7/19)
Heroes of Loot ($3.19 from $7.99 until 7/19)
Heroes of Loot 2 ($3.99 from $9.99 until 7/19)
Meganoid ($3.59 from $8.99 until 7/19)
Space Grunts ($5.59 from $13.99 until 7/19)
Squids Odyssey ($2.24 from $14.99 until 7/19)
Stardash ($3.99 from $9.99 until 7/19)
That's all for today, friends. We'll be back tomorrow with a handful of new releases, a few more reviews, and whatever news and sales come along in the next day. I hope you all have a fantastic Monday, and as always, thanks for reading!