Given the time and place the NEOGEO occupied, it's surprising that it didn't have more shoot-em-ups than it did. I mean, I know it had no small number of them, but the number pales next to how many fighting games were on the platform. Blazing Star is one of the better-remembered ones, and the Aero Fighters games certainly had a following. One that came somewhat early in the system's long life supposedly came by way of some ex-Irem folks, and if that story is true it really shows. Last Resort ($3.99) is a staple of many of SNK's NEOGEO reissue projects, so it's not surprise it has also made its way to the mobile Arcade Archives line.
Originally released in early 1992, Last Resort is pretty plainly informed by Irem's legendary R-Type. It's a horizontal shooter where the main type of power-up comes in the form of various satellite bits that you can position as you like. This enables you to shoot in multiple directions, fling the satellite out, or guard your vulnerable flanks as needed, and the game expects you to learn how to take advantage of that very quickly. Where R-Type only had one type of bit that you could power-up, Last Resort offers a few different variants, each with their own attack patterns. The setting has a cool post-apocalyptic vibe that is often directly ripped from Akira, and both enemies and bosses have interesting designs and solid attack patterns.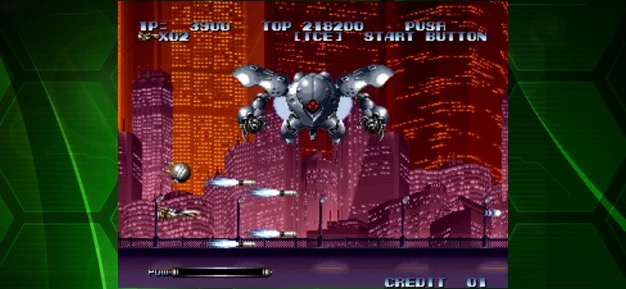 So yes, this is a rather good game. It may not be as celebrated as Blazing Star, but I think it's certainly worth checking out if you enjoy more strategic shoot-em-ups. It's not quite as devilish as R-Type, but it's not that far from it in terms of difficulty. Fans of that game will want to give Last Resort a look if they've missed it in the past, as it gives off a lot of the same vibes. There are five stages in total, but you'll have to play through them twice to see all this game has to offer. When things get tense, there are bouts of slowdown and flicker, but I suppose the game is in good company with that trait in tow. No matter how high you raise the tech ceiling, someone will hit their head on it.
We've been through enough of these Arcade Archives releases now that regular readers will probably be familiar with how Hamster has handled this port. It emulates just as it should, and offers both Japanese and International versions to play. You get two extra modes in the form of Score Attack and Caravan Mode, putting your ability to rack up points to the test. This isn't a great score attack shooter, but extra options are still nice. Speaking of options, you've got all of the usual ones for adjusting video, audio, difficulty, controls, and more. There is leaderboard support, and you can make use of external controllers if you have one. This also allows you to play the game's two-player mode.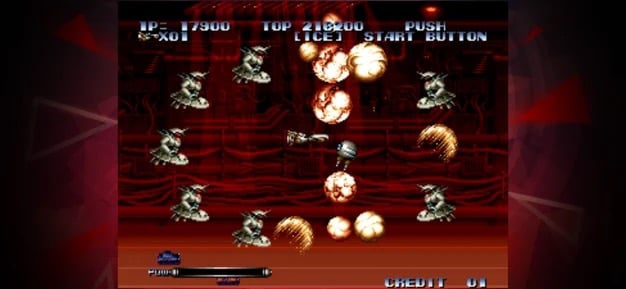 While Hamster's efforts on each of these games are largely identical, not all of these NEOGEO games suit the mobile experience well. That is particularly the case if you aren't using an external controller and have to rely on the touch controls. Well, I'm happy to report that Last Resort takes to touch gameplay like a fish to water. There are probably better set-ups for this sort of thing than a virtual pad and virtual buttons, but I didn't have any trouble getting to grips with the game and playing it just like I would on a controller. It's also a fine single-player experience, so not being able to access that shouldn't be a major concern for most players either.
Some of you out there are probably buying all of these ACA NEOGEO releases, and at these prices I can't blame you. Very collectible and all that. But for those who are taking a more pick-and-choose approach to the offerings, Last Resort is one of the games you'll want to strongly consider. As long as you're okay with the fact that this is a tremendously challenging shoot-em-up, you'll probably have a great time with it. The visuals are good, the gameplay is intriguing and enjoyable, the soundtrack is great, and Hamster has wrapped it all up in its usual high-quality package. Certainly worth the price of admission.