Hello everyone, and welcome to the week! It's time once again for our look back at the noteworthy updates of the last seven days. I could probably have done an entire article on St. Patrick's Day updates, but that's just too much green considering the holiday is already in the rear-view mirror for this year. Instead, I've tried to include a balanced plate of updates to celebrate the rainbow of weird and lovable colors that is the App Store. Metaphor! Of course, you can keep an eye out for updates yourself by participating in the TouchArcade forums. This weekly summary is just here to fill you in on the things you might have missed. Let's go for it!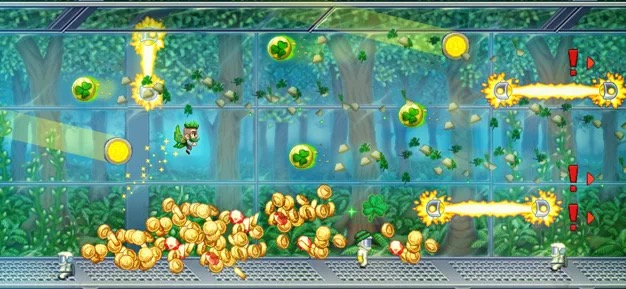 Jetpack Joyride, Free After all that bluster, I'm still starting things off with a St. Patrick's Day update. I mean, people like them. They like the holiday where everyone gets very drunk and wears the green. I cannot blame them. I cannot blame Jetpack Joyride either. You can still get in on its event for a little while, where three holiday-themed Jetpacks are up for grabs along with the amazing Celtic Teleporter. Toss in a SAM skin and some wild outfits for Barry and you've got plenty to keep you busy until the next event starts.
Vigil RPG, $2.49 This is a little update. Just a little update, and there isn't a whole ton of new stuff in it. But I really like Vigil RPG and I am heartened to see its developer keep supporting the game after so many years. This update fixes the text formatting on iPhone 12 Pro Max and iPhone 13 Pro Max, while also adding some new interesting comments for Bo the Bartender to throw out. The only catch is that you have to be fairly low level to see those new sage words. A good excuse to roll a new character, I suppose.
NBA 2K22 Arcade Edition, A big update for Apple Arcade's premier hoops game, that's what this is. The MyCareer and The Association modes get a new NBA All-Star 22 court, plus matching jerseys. All of the NBA team rosters have been updated, with adjusted player attributes and ratings. Nice and up to date, at least for this week. In terms of new features and other additions, we've got a new replay mode so you can review your highlights, and a handy language toggle in the settings menu so that you don't have to reset the game. There are also a ton of bug fixes, which is never a bad thing.
Angry Birds Reloaded, There was a time where your only hope of getting past a tough stage in Angry Birds was to bang your head against it until you got it. Then came the Mighty Eagle, and Wallet Warriors rejoiced. But how do you introduce the Mighty Eagle when you aren't selling IAPs anymore? You make it a daily login bonus, apparently. Angry Birds Reloaded will now give you some Mighty Eagles as long as you show up to play. Use them for the particularly vexing levels, or save them up for a rainy day that will never come. The power is yours.
Horizon Chase, Free Tired: Weekly challenges. Wired: Daily challenges. That's the story with this latest update for the incredible racer Horizon Chase, allowing you to earn more rewards and give you an excuse to play every day. And who doesn't want to play Horizon Chase every day? Fire it up, run through four tracks, and collect your goodies. It's win-win. Your brain will love you for the dopamine hit, and isn't life mostly about keeping Brain-san happy? It sure is.
Temple Run: Puzzle Adventure, Standing in for the obligatory free-to-play matching puzzle game update this week is another Apple Arcade game, which technically isn't free-to-play. I am tired of thinking up clever things to say about Toon Blast, sorry. Not that this is much different, I suppose. You get sixty new levels to play, plus a new set of tournaments. There's also a new Treasure Trove feature that sees you earning stars to restore the relics in a valuable collection. Sure, that's reasonable enough incentive to play.
Subway Surfers, Free There's a certain fascination with cherry blossoms when spring rolls around and, as we all know, when you think of cherry blossoms you think of… Vancouver? Well, whatever. Any excuse to get some of my home country in my life, I suppose. Surf your way through the gorgeous blossoming trees using new Surfer Pink, and no, it isn't that Pink. No relation at all, I'm sure. Grab the tree-tastic Spring Board, score the Stealth Outfit for Zayn, and slide your way into the New York Marathon Challenge to score even more rewards.
Brawlhalla, Free Perhaps you thought the St. Patrick's Day updates were one and done with the Jetpack Joyride stuff. Fools! Absolute fools! Of course there is another. One to open, one to save! You know this. Wait, what am I talking about? Let's keep moving. Some new holiday-themed items are available in Luck o' the Brawl, which is an event probably nearing its end as you read this. This update also brings in a new Legend in the form of Arcadia the Fairy Queen. She has a spear, a great sword, and a giant beetle. What more could you want? I hope not much more, because that is basically the update. Next!
MARVEL Future Fight, Free Gosh, you can really tell who offered up their likeness rights and who didn't here. The latest event in Marvel Future Fight is centered around the Disney Plus Hawkeye TV show, which was pretty darned good in my books. That means new uniforms for Hawkeye, Kate Bishop, and Maya Lopez, plus a new Tier-3 Hawkeye and Potential Transcended versions of Kate and Maya. There's a new collectible in the form of S.H.I.E.L.D. (previously Strategic Hazard Intervention Espionage Logistics Directorate, now Strategic Homeland Intervention Enforcement and Logistics Division) Archives. As a nice bonus, there are now Repeat and Auto Play options in the Story mode. No Pizza Dog? Boo, no coveted award for you!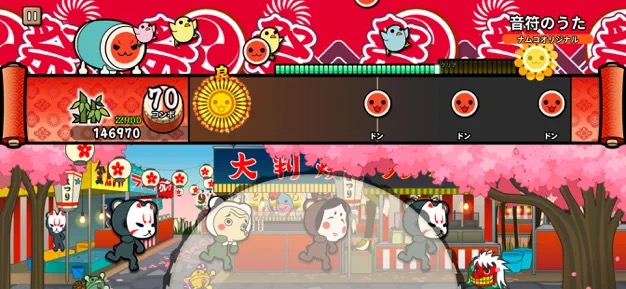 Taiko no Tatsujin Pop Tap Beat, Well, this is the last game. By default it's getting the coveted UMMSotW award for this week, so let's hope it lives up to it. There are a couple of new tweaks and features, but let's be real, we're here for the new songs. There's a massive hit in this new version: Baby Shark. Ha ha ha, oh no! Also in this update is You've Got A Friend In Me from Toy Story, Rhapsody in Blue, and a few other songs. Baaaaby Shark, do-do-do OH NOOOOOOOOO!
That about wraps it up for last week's significant updates. I'm sure I've missed some, though, so please feel free to comment below and let everyone know if you think something should be mentioned. As usual, major updates will likely get their own news stories throughout this week, and I'll be back next Monday to summarize and fill in the blanks. Have a great week!