Hello everyone, and welcome to the week! It's time once again for our look back at the noteworthy updates of the last seven days. Quite the menagerie of updates this time around, friends. A little Apple Arcade, a little free-to-play, and a few standard paid games. Things are full enough that I even skipped the obligatory free-to-play matching puzzle update this time around. Wait a minute, is that legal? Looks like I'm going back to detention again. Of course, you can keep an eye out for updates yourself by participating in the TouchArcade forums. This weekly summary is just here to fill you in on the things you might have missed. Let's go for it!
Marvel Contest of Champions, Free Isn't it always the way it goes? You're having a nice time battling your rivals, and then the Omega Sentinel crashes the party and ruins everything. Geez, Omega Sentinel. Geez. Also in this update, Kang meets an alternate Kang. Regular comic readers know that never ends well. The man just cannot agree with himself on anything. Toss in some new challenges and a few UI improvements and that's the business. A stunning lack of new Spider-Mans, but I guess everyone is Spider-Manned out for a while now. Almost everyone, anyway. Not me! Back up that beep-beep dump truck and fill my room with Spider-Mans! Oh dear, I lost my composure again. Sorry you had to see that.
SimCity BuildIt, Free I've noticed that SimCity BuildIt likes to swing around to Japan in the spring season. And here it is again. Decorate your own city with pretty buildings and attractions like the Seaside Village, Mountain Onsen, and the traditional Ryokan. You'll find that stuff in the Mayor's Pass Season, along with some other cool themed goodies like the lovely Sakura Roads. Yeah, cherry blossoms always look nice. They improve everything. I was out looking at the plum blossoms yesterday and while they aren't as pink, they're quite nice too.
TRANSFORMERS: Tactical Arena, Oh dear, I don't know much about this game at all. Well, let's see if I can fake it well enough to fool all of you. Oh no, I definitely shouldn't have said that out loud. Broken delete key, nothing to be done now. This update adds in the Champion League for high level players to battle it out for some wild rewards. You'll earn Arena Crates that unlock new cards and give out some Ore-13 by making your way through arenas, and there are new Arena Tiers to ascend to. And a new arena called the Pit of Judgement, which sounds like a nice place to plan your child's next birthday party. There are some new cards, some gameplay improvements, and lots of bug fixes naturally. All in all, not a bad bunch of additions.
Disney Magic Kingdoms, Free There's a weird vibe to 1970s Disney films, but as someone who grew up on those movies I can't help but feel some nostalgia for them in particular. My favorite of that lot when I was a kid was Robin Hood, being that I also liked Robin Hood as a character. I never really understood why they were animals, but whatever. It's fine. Sometimes people are animals, and that is okay. Anyway, that's the update for Disney Magic Kingdoms. New Attractions in the form of Nottingham and Sherwood Forest, new Concessions in the form of the Blackberry Pie Stand and Robin Hood's Hat Stand, a new Robin Hood Parade Float, and of course new characters Robin Hood, Little John, Maid Marian, Prince John, and Sir Hiss. Cool.
PAC-MAN Party Royale, Okay, you've played some Pac-Man. But have you ever played Pac-Man in a sushi restaurant? Alright, I see a few of you raising your hands. Curse the ubiquity of sushi in the modern age, stepping all over my gags! Well… have you ever played Pac-Man where the maze is done up in a sushi restaurant theme? Ah, there we go. Now you can! That's the big thing in this update. And a Bunny outfit. And a new way to check out your leaderboard ranking from the main menu. Just a random scattershot of stuff, but that's alright.
Jetpack Joyride, Free Jetpack Joyride is doing another re-run, and it's not a particularly exciting or interesting one. But it is here because Jetpack Joyride brings all the boys to the yard, even though it's about as old as that reference. At any rate, the Bling event is back. Collect the gold bars, try to earn the Golden Tophat and the Golden S.A.M., and if you miss it don't worry because it will be back again before too long.
Solitaire Stories, How about a little star power in this article? I'm not sure how this happened, but Ben Schwartz is the star of the latest Solitaire story, titled The Museum of Really Fine Art. You might know him from Parks & Rec, or perhaps as the voice of Sonic the Hedgehog in the Hollywood movies. Anyway, this is a silly and enjoyable framing device to play some Solitaire to. If you have an Apple Arcade subscription, give it a go. And go see that new Sonic movie I guess. Idris Elba as Knuckles may be one of the best casting choices ever. Ever-ever.
CHRONO TRIGGER (Upgrade Ver.), $9.99 Chrono Trigger recently celebrated its 27th birthday, and the current version of the game got a big update on all platforms to commemorate it. For mobile users, that translated to proper full-screen support, improved touch controls, some new battle speed and auto battle options, an expansion of save slots to allow up to twenty saves, and a new Extras option on the main menu. Those Extras consist of movies, illustrations, a sound mode, and a log of the endings you've reached. Not bad, but they didn't put in the one thing I really wanted: a way to turn off that insufferable graphic filter that makes everything look a bit melted. Oh well, you can't always get what you want. Still quite a nice update, all things considered. I reckon I'll give it the coveted UMMSotW award for this week.
Zookeeper World, We may not have the obligatory free-to-play matching puzzle update this week, but we do have a semi-obligatory subscription-based matching puzzle update. It's Zookeeper World, one of my little time-filling joys in recent months. This latest version adds a second special event, this time in celebration of Easter 2022. Beat the stages and collect some appropriately-themed rewards. There's also a new minigame, the Prize Claw. You know how it goes: position the claw, let it drop, and try to grab some stuff toys. Beyond that, it's just some balance adjustments and bug fixes. But hey, that should be plenty to keep you busy for a bit.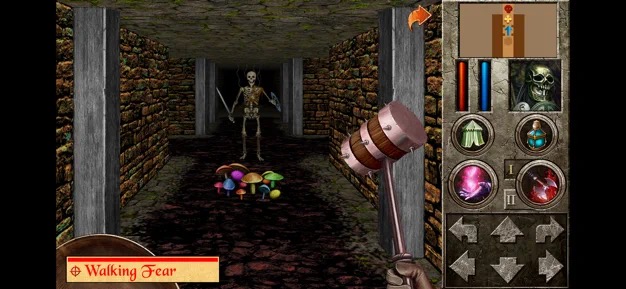 The Quest, $7.99 And we'll finish up this week with a look at the latest version of the excellent RPG The Quest. A new expansion for the game has arrived titled Curse of Linmore, and this latest version adds support for it. You also get some bug fixes, as is often the case with these expansion-enabling updates. As usual, you'll want to buy and install the separate app for the expansion and enable it via the main menu in this app to access it. Your goal this time is to remove a mysterious curse that is afflicting the people of Linmore. But what could be the cause of it? You'll have to get to the bottom of that question if you want to fix the situation. Yes, more Quest. Give it all to me.
That about wraps it up for last week's significant updates. I'm sure I've missed some, though, so please feel free to comment below and let everyone know if you think something should be mentioned. As usual, major updates will likely get their own news stories throughout this week, and I'll be back next Monday to summarize and fill in the blanks. Have a great week!