We've finally hit the lucky bingo with one of these ACA NEOGEO releases. There are two scales that need to be looked at with each of these. The first, and perhaps most important, is the quality of the game itself. Not every SNK game was a winner, and some of the good ones were better than others. But we're playing on mobile, so the other consideration that is nearly as important is how the game plays if you're using the stock touch controls. And again, that's a belt with a lot of notches on it. Some games are okay, some are a disaster, some are pretty good.
Big Tournament Golf ($3.99), formerly known as NEO Turf Masters, is the first of these releases where I can say it scores as high as possible on both scales. It's an amazing game, one of the best to grace the NEOGEO hardware. At the time of its release you wouldn't necessarily have thought a golf game could work in an arcade format, but it sure did. It perfectly rode the line between satisfying depth and accessibility, and its course designs were great fun. And wouldn't you know it? This is one game designed around button controls that works perfectly well with touch controls.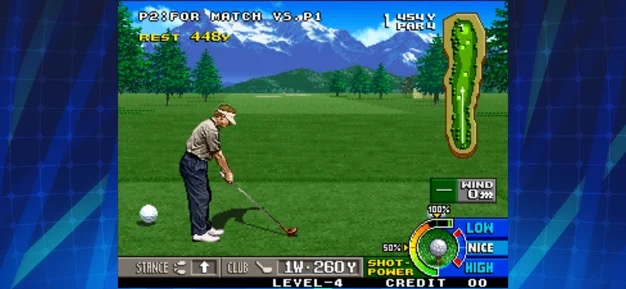 There is a fly in the ointment, however. Big Tournament Golf is also the first of these releases that isn't making its debut on iOS with this release. Dotemu actually brought out a mobile version of NEO Turf Masters all the way back in 2016, part of a line of NEOGEO mobile releases handled by the company. It featured custom touch controls and was generally a good way to enjoy the game. Unlike some of the other mobile ports from Dotemu, NEO Turf Masters no longer walks among us. It was pulled from the App Store a few years back when it stopped working. This new version has no connection to that one, so even if you owned the previous port, you'll have to buy it anew if you want it.
Well, Big Tournament Golf is worth a few bucks every several years, I suppose. To tell the truth, I think Hamster's "one size fits all" approach has resulted in a better version of the game for us. Naturally, this one works on modern versions of iOS. That's a big plus right out of the gate. The standard virtual controls have been used here instead of a system of swipes and taps, but it turns out they work nicely.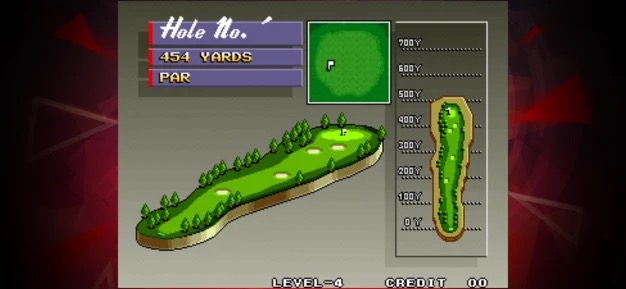 You also get a lot more options here than in Dotemu's port, covering gameplay elements, button mappings, video options, and more. There are save states, both international and overseas versions of the game, plus online leaderboards and the usual extra modes. Oh, and you naturally get external controller support too, in case you want to play with buttons or just want to enjoy the multiplayer.
Anyway, this is a great version of the game, and the improvements over Dotemu's version make it a little easier to swallow buying it a second time. This is the MVS version of the game, which means you get as many continues as you like. There are six different golfers to choose from, each with their own abilities, and four fictional golf courses set around the world. The mechanics are as traditional as it gets. Pick your club, set your direction, and tap the button to set your shot power and elevation when the meter is in the right position. You have three different shot buttons you can use for a standard, hook, or slice shot. Simple? Sure. But it works, and it works well.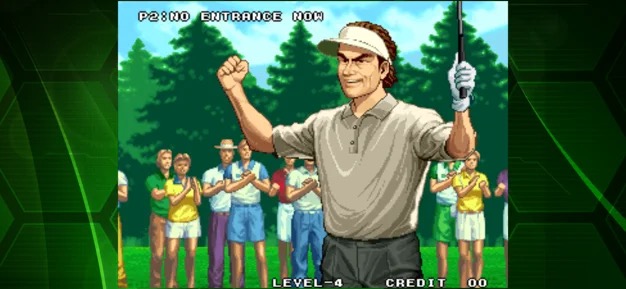 Part of the fun of Big Tournament Golf that can't really be replicated at home is in how its credits work. One coin buys you a few holes, and if you can manage to score under par reliably you'll keep getting extensions. Now, you can just feed in more coins in this version, so that's not so important. But if you discipline yourself you can still enjoy the zesty feel of trying to stretch your coins as far as possible. Or you can ignore all of that and simply have a nice time attempting to get as best a score as possible.
There isn't much more I can add, really. Big Tournament Golf is an amazing game that is well-suited for mobile. Hamster has done its usual outstanding job bringing it to the platform, loading it up with all the options and features you could ask for. While some may chafe at buying a new version of a game they may have bought before, the reasonable price and improvements make that less of an annoyance than it may have otherwise been. Even if you don't like golf, this is one game you'll want to add to your collection.