Historically speaking, SNK isn't shy about spreading its NEOGEO catalog around. Even when the console was active, ports of SNK's biggest hits made their way to other consoles. Mobile devices have seen their fair share of NEOGEO love from SNK, largely through a line of releases handled by Dotemu. Still, that's nothing compared to what we've seen on consoles and PC from Hamster through its Arcade Archives line. The company has managed to get just about every NEOGEO game possible up on those platforms, and it seems it's bringing its show to our mobile shores.
Rather than retread old (and surprisingly still functional) ground, the opening salvo from Hamster fills out a few gaps left in some of the more popular series. One of those, and perhaps of most interest, is Metal Slug 5 ($3.99). Dotemu handled ports of Metal Slug, Metal Slug 2, Metal Slug X, and Metal Slug 3 for mobile devices. It was a reasonable stopping point. There's a whole big story in it, but the long and short of it is that those games were as far as the original developers behind the series went and are generally the most well-liked. Another developer took over for Metal Slug 4 before the series went back to SNK with Metal Slug 5.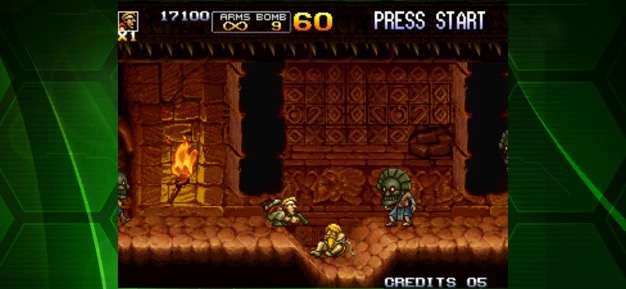 As such, Metal Slug 5 can be seen as something of a homecoming for the legendary run-and-gun series after a somewhat tepid chapter. It is not as tight and smartly-paced as Metal Slug. It isn't as perfectly silly or bombastic as Metal Slug X. It's not as epic in scale or scope as Metal Slug 3. But it's a good romp. It has five cool stages, and some really neat boss battles. There are a couple of branches to be found, but nothing on the level of Metal Slug 3. Whether that is a good thing or a bad thing is up to you. You get a few new Slug vehicles to go with some returning ones, and a completely bananas final boss. Nothing too revolutionary, but a regular ol' home-cooked dinner was a fine enough step after Metal Slug 4.
So yes, as a game it is worth plunking sixteen quarters or so into. But how about the package? I won't say that Hamster is the absolute top of the heap when it comes to retro rereleases, but it's generally known for doing a good job in terms of both emulation quality and breadth of options. In terms of the former, this release is up to the usual standards. The game runs as it should, and I doubt anyone will find many nits to pick with that end of things. Of course, the same could be said for Dotemu's NEOGEO releases. NEOGEO emulation isn't arcane sorcery at this point, so what it really comes down to is what kind of options we've been presented with.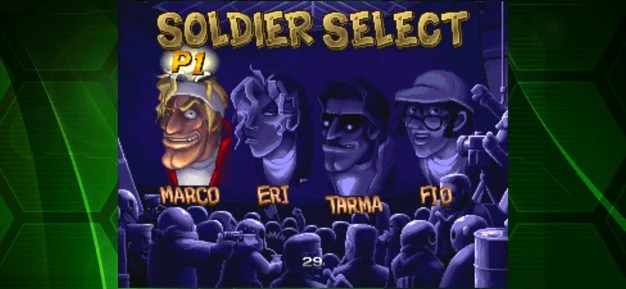 The interface used in these mobile releases differs in appearance from that seen in Hamster's Arcade Archives releases on other platforms, but the basic functions are familiar. You can dive into either the Japanese or Overseas versions of the game and get playing, or you can try the special High Score and Caravan modes. The first challenges you with racking up as high of a score as possible on one credit, while the second sees you doing the same with a five-minute time limit on top. They're fun, even if they're not necessarily as well-suited to this style of game compared to, say, a shoot-em-up.
In terms of options within the game itself, you get quite a rich amount. Difficulty options, save states, virtual button configuration and layout, rapid-fire switches, display settings, and more. It has just about everything a person could ask for, and easily blows Dotemu's offerings out of the water.  The game has support for external controllers, and you'll probably want to make use of one. While the virtual controls are as good as you could hope, it's always going to be a little tricky to use such methods with games designed around precise stick-and-button controls. The only way to play multiplayer is by making use of external controllers, as well.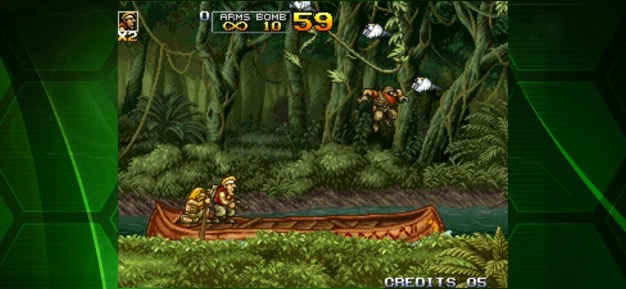 Still, if you're particularly deft with virtual controls or have access to an external controller you won't find much to be unhappy with in terms of Hamster's work here. This is an impressive, feature-rich package. The game itself is an enjoyable slice of action, if not quite up to the level of the Metal Slug games that have seen mobile releases so far. It's a promising start for Arcade Archives on the platform, and hopefully will lead to seeing some of the more esoteric NEOGEO games make their way over as well.
UPDATE: As pointed out in our forums, these ACA NEOGEO released DO in fact support physical controllers, it's just not very obvious. With a controller connected to your device, click the icon on the title screen that looks kind of like a USB cable with Wi-Fi signals coming out of it to enable the controller support.