When a genre has been around for more than four decades, as the vertical shooter genre has, it can be hard to come up with ways to make a game in that style feel unique. Arkfront, a passion project from developer Shamus Locke and his company Intensity Faucet Games, put its own spin on things when it arrived on iOS devices this past January.
One of its most unique features is hinted at right in its name. At the bottom of the screen is the Ark, your base that you'll need to protect by flying your ship in front of it and taking out wave after wave of enemies, asteroids, and other hazards. Both your ship and the Ark have their own health meters and part of the fun of Arkfront is trying to manage both in the face of all sorts of dangers.
It doesn't stop there though, as Arkfront features a full progression system with a number of items and weapons you can unlock and equip to your ship. It really is a neat blend of traditional shoot 'em up fast reaction skills mixed with character progression strategy.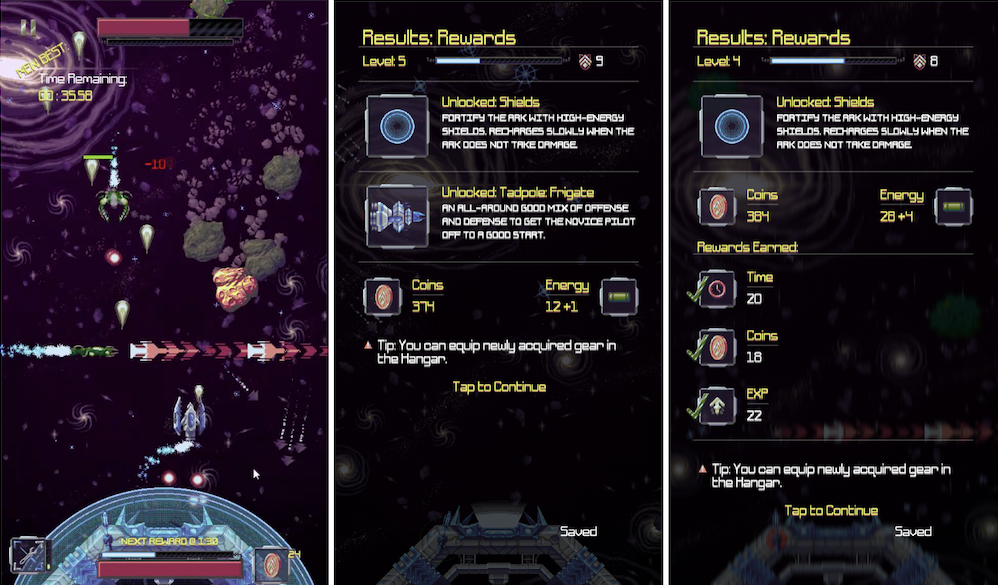 With the basics out of the way, let's dig into what is in Arkfront's massive Spring Update which just arrived this week. The main new feature is a Boss Rush mode, which as you can probably guess has you taking on all of the game's bosses in succession to see how many battles you can survive in a row, and this new mode also comes with a brand new Game Center leaderboard.
The update also adds new randomly generated, optional challenges called Bounties to each sector that you can choose to complete as an additional way to earn more resources and speed up your progression. Additionally, there is an ever-growing pool of levels that are used to construct a campaign each time you play, meaning Arkfront is never quite the same experience twice.
On the quality of life side of things, the Spring Update also delivers a ton of new stuff. Haptic feedback support has been added so you can feel the action like never before, complete with precise vibrations for bullets and explosions. Of course you can customize or disable the haptics altogether in the options if it isn't your thing. There's also numerous UI improvements as well as optimizations to ensure Arkfront runs more efficiently, using less battery so you can play even longer.
Perhaps what is most exciting about this week's update is the groundwork it lays for even more new content in the future. Intensity Faucet Games says they have a year's worth of content planned for Arkfront, with updates planned for each season this year. Over the course of the next few weeks new ship skins will become available that players earn or buy outright as a way to help support the game's development. Speaking of support, Arkfront also has its very own Patreon where backers can contribute ideas, get exclusive playable builds, and even get special say as to what new features and new content will come to the game, in addition to gaining access to an exclusive channel in the game's Discord.
Next up will be the Summer Update which will add Factions where you can "gain favor with one over another and gain allies as well as new foes", Mutators which will dynamically adjust difficulty and balance to create even more varied Campaigns, new asteroid types, and more interesting and diverse boss battles. Oh, and Android folks don't despair, as Arkfront will be heading to Android in the next couple of months.
This Spring Update really is just the beginning for what's in store for Arkfront. If you enjoy shooters with unique strategic twists then don't hesitate to give Arkfront a shot, you can find it on the App Store using this link here.
Sponsored Content
This article is sponsored content written by TouchArcade and published on behalf of Intensity Faucet Games to promote the Spring Update for space shooter Arkfront. For questions or comments, please email [email protected]