Hello everyone, and welcome to the week! It's time once again for our look back at the noteworthy updates of the last seven days. We're kind of between holidays at the moment, generally a quiet period for updates on mobile games. Still, some games will update one way or another and it is those games that fill out our list this week. Of course, you can keep an eye out for updates yourself using AppShopper or by participating in the TouchArcade forums. This weekly summary is just here to fill you in on the things you might have missed. Let's go for it!
Jetpack Joyride, Free We often start these articles by looking at Jetpack Joyride's latest version, and that's because the darned thing updates so much. Like, this game almost never misses a holiday and somehow jams other updates in between those holiday updates. This time around it's a St. Patrick's Day event, with three exclusive jetpacks, the returning Celtic Teleporter, a S.A.M. skin, and a whole bevy of costumes and other goodies. As ever, getting these treats without opening your wallet can be a near impossibility, but you should be able to get something for your troubles.
Disney Magic Kingdoms, Free Disney put out a new movie recently! That doesn't happen a lot these days, but I guess the machine is firing up again. Anyway, I'm sure the Disney apps have been hungry for new material to draw from because Disney Magic Kingdoms hasn't missed a beat in adding content from Raya and the Last Dragon to the game. Raya, Tuk Tuk, Sisu, Namaari, and Boun are all here in this new event. I have not seen the movie yet, so those names don't mean anything at all to me. But if they mean something to you, then you'll want to have a look at this latest version of Magic Kingdoms.
AFK Arena, Free This is another game that shows up all the time in these articles, but as with Jetpack Joyride it's because it has new versions showing up all the time. In this one, there's a new Lightbearer hero in the form of Eluard: Protector of Souls. Eluard is available to try out via test play, and there's a Bountiful Trials event ready as well. Outside of that, there are a number of small adjustments and additions in terms of content, UI, and so on. A lot of difficulty tweaking, by the looks of it. There's nothing wrong with that, I suppose. Unless that tweaking ends up nerfing your favorite strategy, anyway.
Subway Surfers, Free Hey, I'm surfin' here! The Subway Surfers tackle the most dangerous subway challenge yet in this new update: New York City. Well, I doubt the game is going to aim for realism on this of all occasions. Surf the bustling streets of the city that never sleeps and collect goodies in order to earn some rewards. There are new kids joining the team this time, Lana and Darryl, and a sweet new board called the UpRock. Otherwise, it's the usual business with a Subway Surfers update. The game has visited New York City a couple of times before, so the setting may or may not be familiar to you. But hey, it's fine.
ANOTHER EDEN, Free One could almost sense a theme to this week's article, but don't worry, I'm going to mix things up soon. I'm at the point with Another Eden where I often take it for granted, but it really is something I enjoy playing quite a bit. Not many of these service games loop me in for so long, particularly without the benefit of Spider-Man. In this latest update, there's a new quest called The Sign of a Vow that serves as a prerequisite for starting the sixth chapter of Song of Sword and Wings of Lost Paradise, so make sure to get it done as soon as you can. Hozuki (Another Style) is encounterable, along with a Fateful Encounter. Manifestation has some new weapons available for Shannon (White Knight) and Biaka (Kommandeur) if you're looking to juice those characters up.
Homescapes, Free The obligatory free-to-play matching puzzle update of the week sees us visiting the Austinverse once again. Homescapes has some weird new events going on in this newest version, so let's have a look and see what's what. The first sees Austin trying to win a contest and record an album. Give his domicile a rock star makeover and collect all the decorations to get a Gold Record. The next event has Austin putting on a magic show, and you'll have to complete tasks to win some prizes. Open your wallet and grab the Golden Ticket to get some other stuff like a magician's suit. Or don't. Why would you pay for something like that? Get your head in the game! The new puzzle element is the Picnic Blanket, which you can remove by making matches or activating power-ups near them.
PUBG MOBILE, Free Three years, eh? It feels a lot longer, to be honest. I guess the last few years have been a lot, eh friends? Well, let's see what they're up to for the celebrations. Some kind of special event called Hundred Rhythms that got started last week? You get special armbands that give you access to new skills and head into some special battlegrounds. The next chapter of Metro Royale also kicked off last week, titled Uncover. There are new rewards, extra elite enemies, and some new firearms and vehicles to enjoy. This new version also sets up for another event set to begin at the end of the month. It involves clowns, and as I rather dislike those fellows I think I'll just cut it here and put that award back on the shelf for something less clowny.
Assassin's Creed Rebellion, Free Awww, what adorable little assassins. I don't really look in on this game all that often, but maybe I should. It seems like it gets some neat new content now and then. Like in this update! It includes six new heroes, with Basim and Valka from Assassin's Creed Valhalla among them. Apparently there's some kind of new thing called Desync Tokens you can use to advance your campaign and get rewards more quickly. Basim has some Legendary Hidden Blades that seem to kill people very well, and perhaps he turned them on some of the bugs in the game because plenty of those have been fixed as well. Those Desync Tokens seem suspicious, but otherwise this looks like a nice update.
Legends of Runeterra, Free The big news in the latest version of Legends of Runeterra is that the Empires of the Ascended expansion has hit. What does that mean? Well, in short: a new region called Shurima, 110 new collectible cards with nine new champions, and a new event pass to go with all of this. Basically, if you've enjoyed the game up until now, you've got more of it to enjoy. That is what an expansion pack does, after all. By explaining something everyone already knows about, I can fill out this paragraph a little bit to make up for the fact that I foolishly briefly summarized something I could have stretched out a little instead. Live and learn!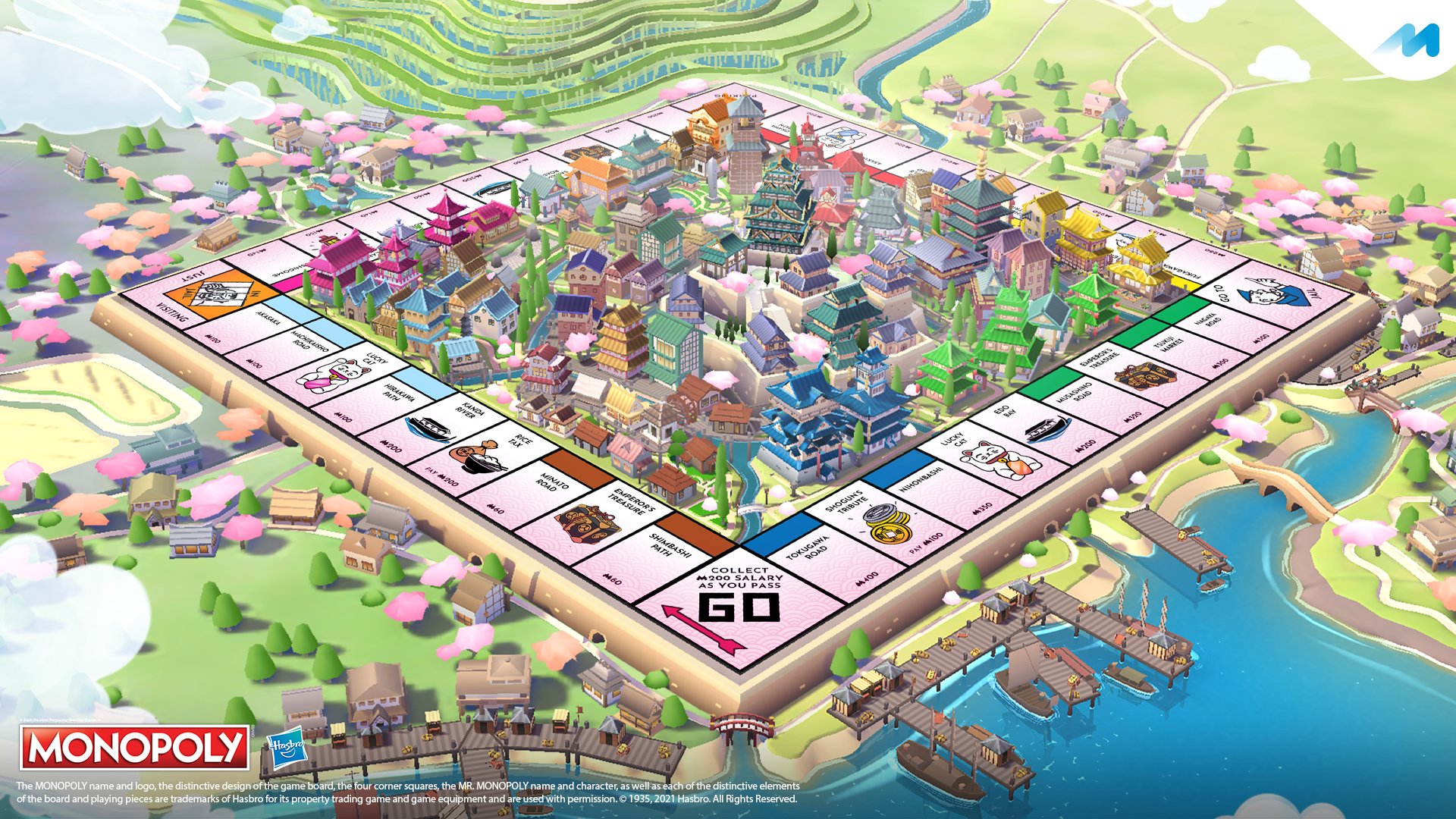 Monopoly - Classic Board Game, $3.99 Uh oh, we've reached the end and I haven't given out you-know-what yet. I guess that means whatever game is last is a lucky fellow. And it's… Monopoly? Well, too late to change it now. This latest update adds the Cherry Blossom Tokyo theme to the game. I like cherry blossoms and I go to Tokyo now and then, therefore this is relatable content. Beyond that nice spring-fresh cherry blossom theme, you get some new tokens like the Origami, the Samurai Helmet, the Geta Shoe, and the Pagoda. The properties are similarly reskinned, so you can't say this did this in half measures. You can get this new theme via a $6.99 IAP, which I suppose is at least cheaper than buying a real themed Monopoly set. Fine, take your coveted UMMSotW award and get out of here, you rascals.
That about wraps it up for last week's significant updates. I'm sure I've missed some, though, so please feel free to comment below and let everyone know if you think something should be mentioned. As usual, major updates will likely get their own news stories throughout this week, and I'll be back next Monday to summarize and fill in the blanks. Have a great week!