There's a certain part of me that doesn't quite believe that the classic 2004 RPG Star Wars Knights of the Old Republic II: The Sith Lords, aka KOTOR 2, actually launched on mobile this week. I mean the original KOTOR was a big hit when it first arrived on mobile in 2013, and is still a consistent top seller even today. Bringing the sequel over to mobile seemed like a no-brainer, and also seemed imminent following a mobile listing leaked by the ESRB back in 2015. However, KOTOR 2 never came to mobile despite launching on some additional platforms back then, and I've certainly wondered on multiple occasions over the past 5 years what the deal was with that.
The answer is… I still don't know, but more importantly I no longer care because as of this week KOTOR 2 on mobile is a reality and that's all that truly matters. The original KOTOR was a critical darling and to this day is still considered one of the best Star Wars games ever made, so following up on that was no easy task. KOTOR developer BioWare tapped Obsidian Entertainment for KOTOR 2, and they successfully kept what worked in the first game while adding in a whole new story and some additional systems and features.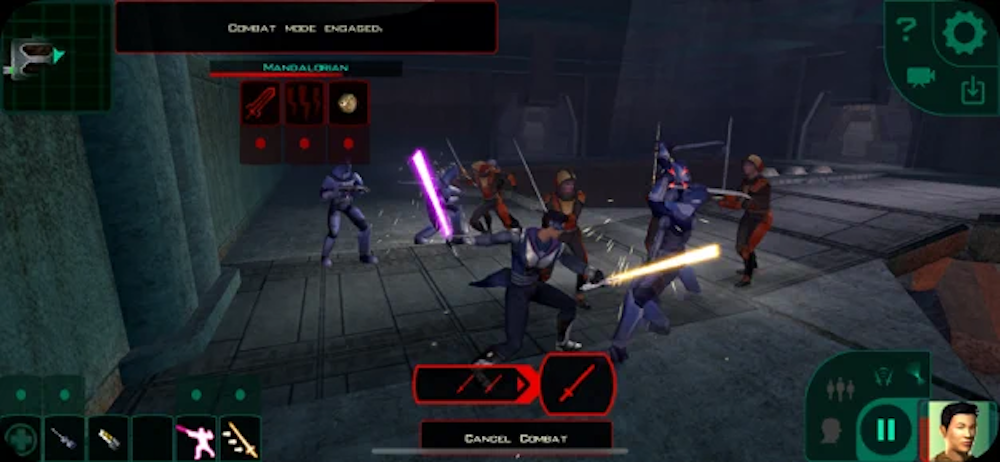 The only problem was, well, they were forced to rush KOTOR 2's development to make a holiday 2004 release date, and as such a lot of planned content never made it into the game. The version that DID release was still fantastic and offered up even more KOTOR goodness for fans, but it definitely felt like something was missing from the whole experience and a lot of unfortunate bugs and glitches made their way into the release version.
Over the years fans have come to the rescue, tracking down much of the missing content inside the game's files and restoring it, as well as fixing a bevy of the game's bugs, via downloadable mod packs. In the PC world it's pretty trivial using mods, and so pretty much anyone playing KOTOR 2 does so with a mod installed that features all of the previously cut content and new bug fixes. Not doing so would be borderline sacrilegious!
There was definitely a question as whether or not you'd be able to use a restored content mod with the mobile versions of KOTOR 2, especially on iOS where things are much more locked down than on Android, but upon the game's arrival this week it was confirmed that you can indeed use mods in the game. Specifically the MTSLRCM or Mobile The Sith Lords Restored Content Mod. It's also incredibly easy and seemingly risk-free to do so.
So that begs the question, do you HAVE to use the restored content mod with KOTOR 2 on mobile to enjoy it? I'm going to say… yes, yes you do. The game as released is a faithful port of the original release version, meaning it includes all of the bugs and other problems that came with it. There's still PLENTY to do and keep you busy with in the vanilla KOTOR 2, but seeing as how the mod is free to download and so easy to install, you'd be missing out not playing with the restored content and bug fixes that it offers.
You're basically playing a version that's much closer to the original vision of the developers with the modded version. As I've said before, having both KOTOR games tucked snugly into my pocket, ready to be busted out and enjoyed at a moment's notice is a true gift that was worth waiting years for, and I'm especially happy to do so with the most complete version of the sequel available.