Ever since Apple put their foot down in regards to allowing game streaming services to release their iOS apps through the App Store, the companies behind these services have been turning to their next alternative: The open web. Apple themselves said they are A-OK with companies providing their game streaming services through the Safari browser on iOS, and that's exactly what Microsoft's xCloud, Amazon's Luna, Google's Stadia, and Nvidia's GeForce Now are aiming to do. Or rather are already doing. Just shy of a month ago Nvidia launched GeForce Now on iOS through the web and I was thoroughly impressed with how closely the service running via Safari actually felt like a native app experience.
Amusingly, Nvidia launched that on the one-year anniversary of Google Stadia, and Google said at the time that they were very close to launching their service on Safari as well. Which brings us to today where Stadia has officially arrived on iOS via the Safari browser. Similar to how GeForce Now works on iOS, you simply navigate to stadia.google.com in Safari and then bring up the Share sheet which will give you the option of saving the page as a Bookmark on your Home Screen. Here's a quick demo.
Stadia is now available on iOS devices! Yes, you read that right. Starting today, you can sign into https://t.co/AoYhdVnzGu on your Safari iOS browser and begin playing your favorite games. Try it for yourself today! pic.twitter.com/iQhoAu8NtX

— Stadia (@GoogleStadia) December 16, 2020
I have a Stadia account with a few games on it so naturally I've tried this out for myself and, similarly to GeForce Now, the whole experience works incredibly well as a web app on iOS. The bonus with Stadia compared to GeForce now is that you don't have to wait in line to get a virtual PC or "rig" to play, a wait that has ballooned to 30 minutes or more since the service rolled out on iOS last month (unless you pay for the premium GeForce Now service that allows you to jump the queue a bit).
More in GeForce Now's favor though is that it works with the games that you already own through the various digital storefronts like Steam or GOG, whereas on Stadia you'll need to buy game's through their own storefront exclusively for use on Stadia. That's… a pretty big deal, but if you're already invested in the Stadia ecosystem then extending that experience to iOS is a really fantastic thing. You can pair your Stadia controller over WiFi and use that, or you can pair a compatible Xbox One, PlayStation 4, or MFi controller over Bluetooth and use that. OR, if you're really adventurous or perhaps in a pinch without a physical controller on you, you can use the onscreen virtual button overlay.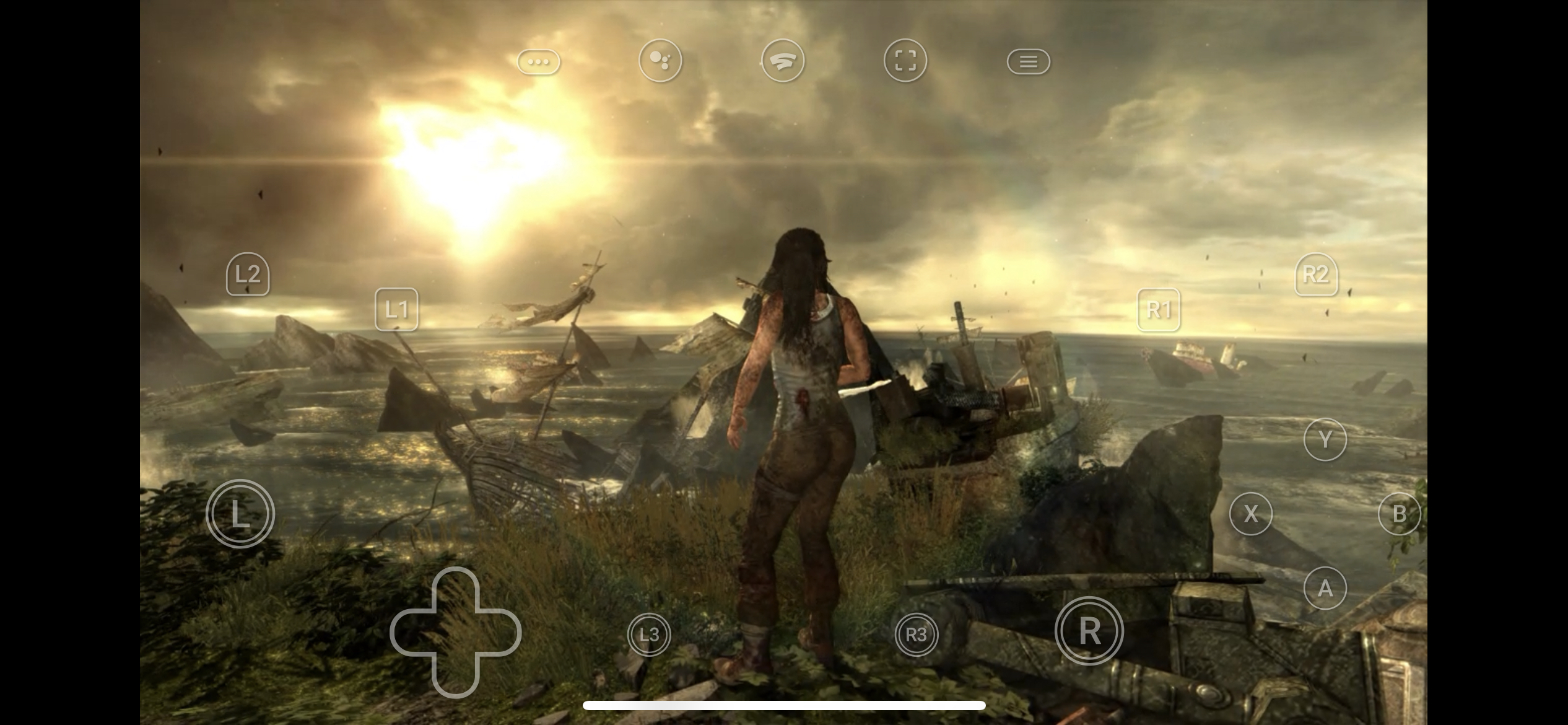 Yeah. That "works" but is certainly not a great experience. Great that it's included at all though. As for how actually playing games on Stadia through the iOS web app fared, it works incredibly well. In fact I think it was an even better experience than playing through the Stadium app as I did a few months back, but obviously your mileage will vary based on how good your internet connection is. The cool thing though is that unlike when Stadium launched in September, Stadia actually has a couple of games you can check out for free now even if you're not one of their premium Pro subscribers. That means that right now you can sign up for a free Stadia account and try out Destiny 2 or even the demo for Immortals Fenyx Rising through the new iOS browser app.
While these game streaming services still have their fair share of quirks and still have issues to iron out, when everything is dialed in and working it absolutely feels like the future. Google considers this new iOS support to still be a work in progress, and warns that it's still in development so you might have some bugs or issues while using it. But I absolutely recommend any iOS user to give Stadia a shot even with just a free game as I can't get over how cool it is to be playing full-blown console and PC games on my little iPhone.