Since the beginning of time video games have had a competitive component. The early arcade hits all featured scoring mechanics and leaderboards, and there was a certain point of pride in putting your initials down as one of the highest scoring players on a certain machine. Games have of course expanded into all sorts of territories but that competition and high-scoring factor has remained strong. This was true when the iPhone released and mobile gaming started to grow too. In the very early days the OpenFeint service brought an Xbox Live-like experience to mobile games that featured leaderboards, achievements, challenges, forums, and more. Some of my favorite memories of the early days of mobile gaming are getting hyper competitive with players on our forums in a variety of games, or just watching from the sidelines as score battles took place between other expert players.
There was one problem though. The number of people playing mobile games is significantly larger than most other pools of players on other platforms. You might achieve a score you're pretty darn proud of only to find out that you're in the 8 millions or so on the leaderboard. That's not very fun, and even if you do outperform your best score and move up even hundreds of thousands of spots, is being in the 7 millions all that more meaningful than being in the 8 millions? No. Well GameClub is hoping to solve this problem while revitalizing the competitive aspects of some of the classic mobile games in their catalog.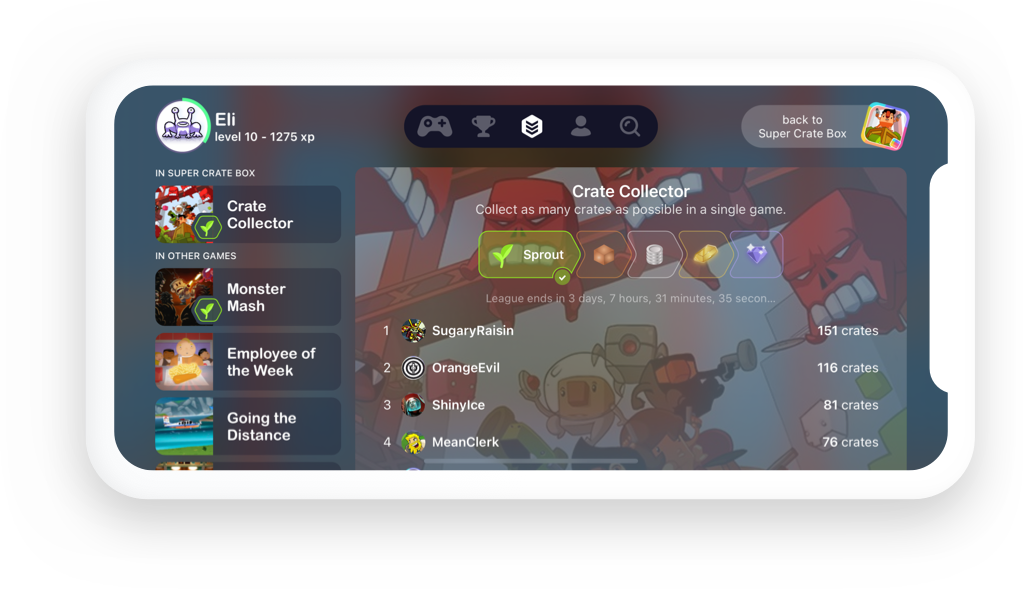 They're doing this with what they call Leagues. They describe the Leagues as "weekly leaderboards tailored to your skill level" so instead of hundreds of thousands or even millions of people all competing for spots on the same leaderboard, you'll be competing on leaderboards made up of smaller pools of players. There are 5 different leagues that you can move up (or down) in, and you'll do that by finishing in the top 10% of players for the week in your current league in which case you'll be bumped up into the next league filled with even stiffer competition. Likewise, if you finish in the bottom 10% of a league for the week, you'll be bumped down to the league below.
This is a smart way of doing things as it gives players who are hyper competitive and hyper skilled a chance to move up into the highest tier of league so they're all battling against each other. If you only kind of care about competition and if you aren't particularly skilled at a certain game, but still enjoy playing it, you can chill in whatever league you end up settling in based on your own skill level and still have a manageable pool of players to compare scores and compete with.
Leagues are live right now in eight GameClub games: Any Landing, Arcade Ball, Chippy, Flick Fishing, Hook Champ, Minigore, Neon Shadow, and Super Crate Box. You also don't necessarily have to be a GameClub subscriber to participate in them, as if you were a previous owner of any GameClub game you're entitled to the updated version of it for free without needing to subscribe, and that includes the new league functionality. So if you owned any of the games I just mentioned be sure to grab its updated version from the App Store and get those competitive juices flowing again, especially in some of the old TouchArcade community favorites like Hook Champ or Minigore, and expect many more GameClub titles to get support for leagues in the future.