Hello gentle readers, and welcome to the SwitchArcade Round-Up for August 13th, 2020. In today's article, we've got another excellent guest review from Mikhail, this time covering the brand-new Collar X Malice -Unlimited-. We've also got summaries of all of today's new releases, and let me tell you: there are some really cool new games today. Weird games, but cool games. We've also got all of the incoming and outgoing sales for the day. Let's get going!
Reviews
Collar X Malice -Unlimited- ($49.99)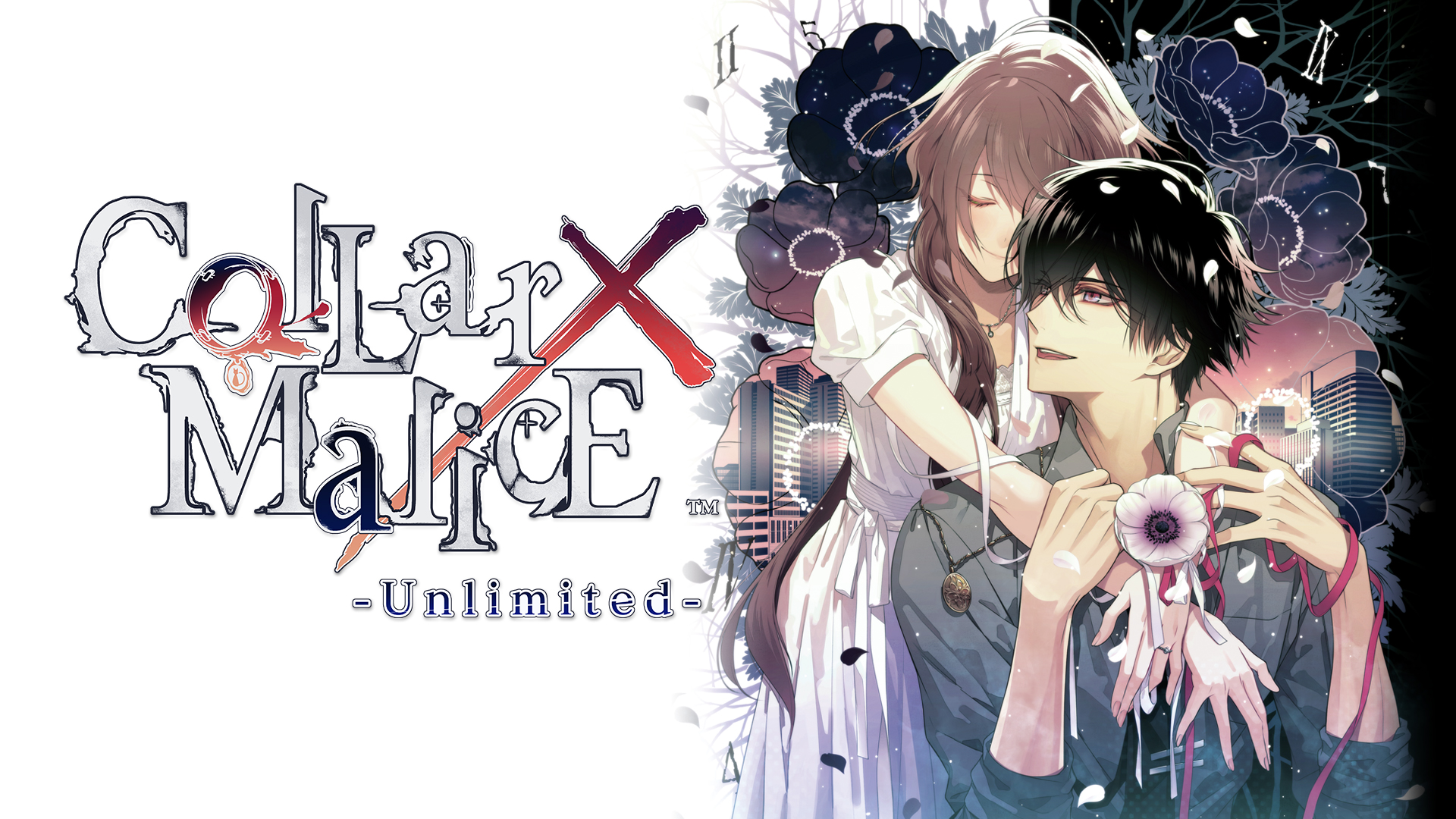 With the PS Vita fading away ever so slowly, most publishers and developers have been bringing the games and franchises they used to localize to more platforms. Many slowly started transitioning to PS4 and PC to bring games to larger audiences. I don't really enjoy visual novels on non-portable devices so I've always been hoping for more PS Vita visual novels to make their way to Nintendo Switch or iOS. Aksys Games has been consistently bringing otome visual novels to PlayStation platforms over the years and it is great to see them finally start bringing those games over to Nintendo Switch.
Code: Realize was just the beginning of Aksys bringing over older titles to Nintendo Switch. That is a fine way to get into the subgenre of visual novels but Collar X Malice is easily my favorite otome release. I played it on PS Vita a few years ago and replayed it on Nintendo Switch recently through its new port. It holds up well.
If you haven't played it yet, Collar X Malice is a thriller following the story of Ichika Hoshino who is a police officer in Shinjuku. She's investigating multiple crimes by a terrorist organization. She ends up with a poisonous collar around her neck that can kill her. The actual otome portion of Collar X Malice involves various potential bachelors who have their own developments and endings through different routes in the game. What I love about Collar X Malice is how the mystery and survival aspect of the story make it feel like more than just another otome visual novel. It also helped that the game had gorgeous art and excellent music.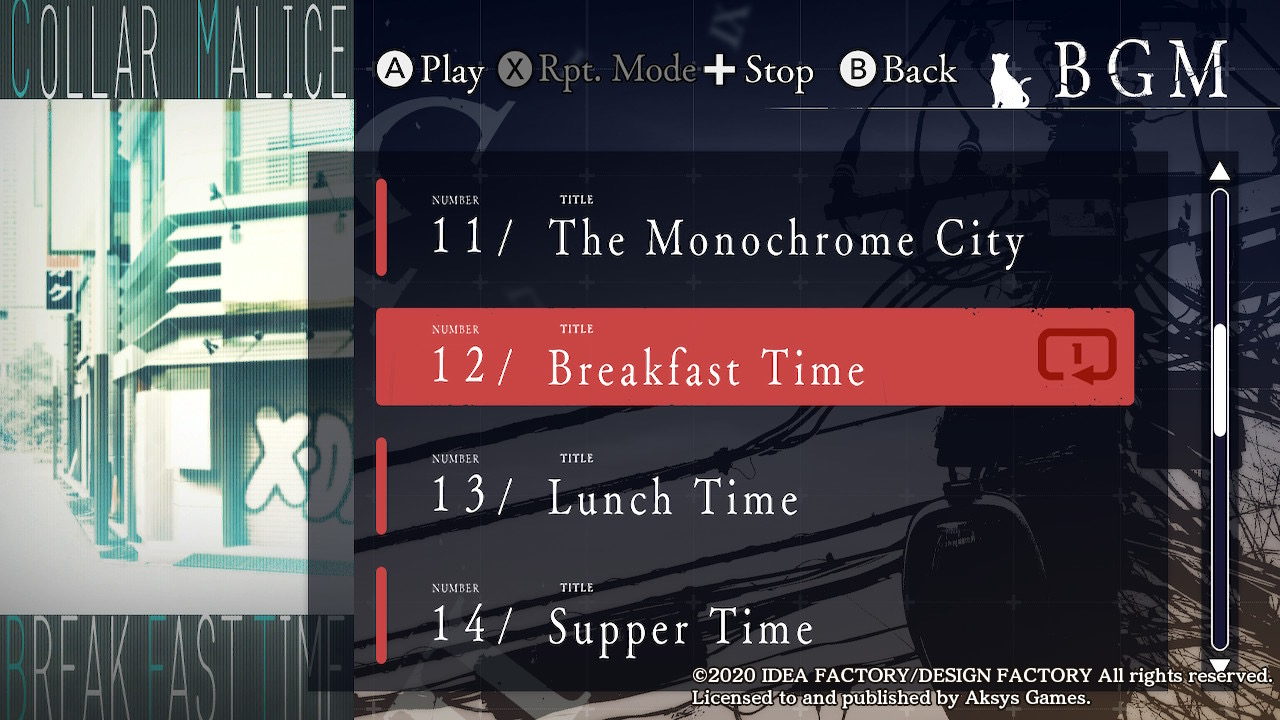 Collar X Malice Unlimited, on the other hand, is a fandisc and basically serves as a companion to Collar X Malice, so don't play it or even look into it until you've played and enjoyed the original. Publishers and developers usually release fandiscs as additional content to successful launches of media. As the name suggests, these are meant for fans of the original and they offer more endings, new story content, and epilogues to some prior stories. Collar X Malice Unlimited is the second of otomate's fandiscs to hit Nintendo Switch after Code: Realize Future Blessings and it adds a lot to the original story while bringing its own new story content. It assumes you have already played the original and even warns you when you begin.
While the original Collar X Malice wasn't just a pure visual novel and it had a lot of gameplay segments like QTEs, investigation, and more, Collar X Malice Unlimited is more of a pure visual novel that's meant to extend or serve as a conclusion for story arcs from the original. As a fandisc, Collar X Malice Unlimited more than lived up to what I wanted from it. This is essential if you already enjoyed Collar X Malice for sure.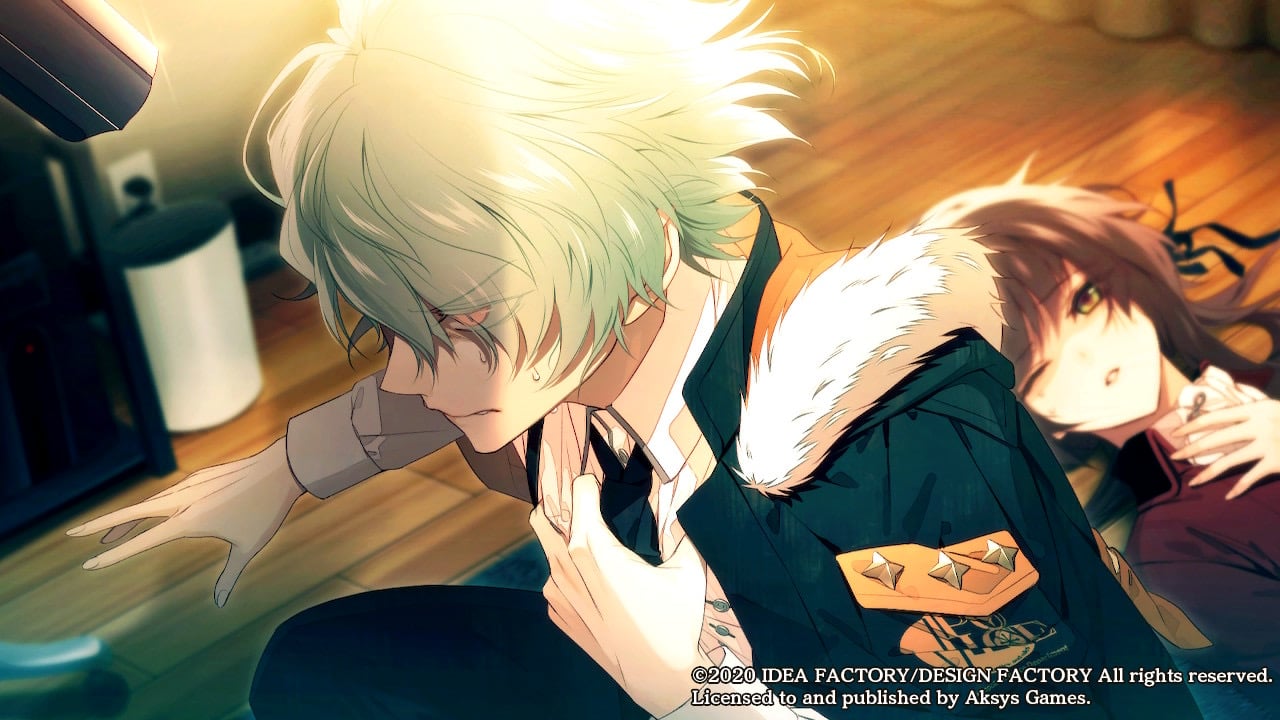 In terms of visuals, Collar X Malice Unlimited nails things again. Otome games developed by Otomate are known to have great art but Collar X Malice is easily the best of the lot. There's a lot of care put into the interface and animations as well. This feels like a very polished visual novel adventure game experience.
As with the prior otome ports to Nintendo Switch, you get the best of both PlayStation platforms here with high resolution visuals when played docked and full touchscreen support when played handheld. I mentioned port but Collar X Malice Unlimited is actually the first English release of this game on any platform and is the first Nintendo Switch exclusive otome release from Aksys Games. In terms of controls and visual novel specific features, this has everything I want in a Nintendo Switch release. I played it across my Nintendo Switch Lite and docked on the Nintendo Switch without any trouble thanks to quick cloud save backups.
Overall, I'm very pleased with Aksys Games's first new otome localisation for Nintendo Switch. With both Collar X Malice and Collar x Malice Unlimited available on Nintendo Switch, there's no real excuse to not check out the otome genre as long as you aren't opposed to visual novels in general. While Aksys seems to be done with prior ports (although I still would like Bad Apple Wars) and is focused on new localizations now, the future of the otome subgenre on Nintendo Switch is bright with Piofiore, Cafe Enchante, and more coming soon. -Mikhail Madnani
SwitchArcade Score: 4/5
New Releases
Faeria ($19.99)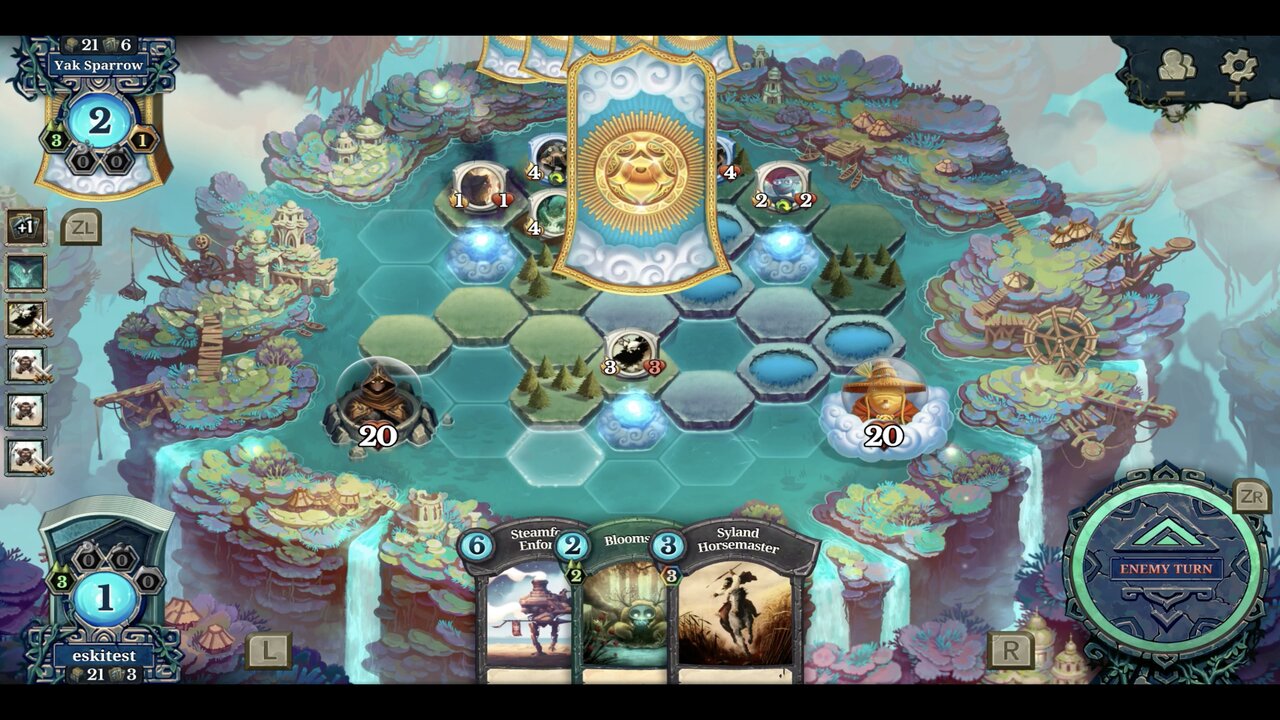 SwitchArcade Highlight!
The fantastic digital card game Faeria makes its way to the Switch, bringing its enjoyable, strategic gameplay to the platform in style. Like many games of this sort, multiplayer is probably where a lot of people will want to spend their time. This game fortunately supports online play, so you can get a game going wherever you may be. I mean, as long as that place has internet. But if it doesn't, don't worry! There's actually a large amount of highly satisfying single-player content in here too. It's not the friendliest of card games for new players, but if you enjoy digging into a nice deep card builder, you'll probably like this as much as I do.
Darkestville Castle ($14.99)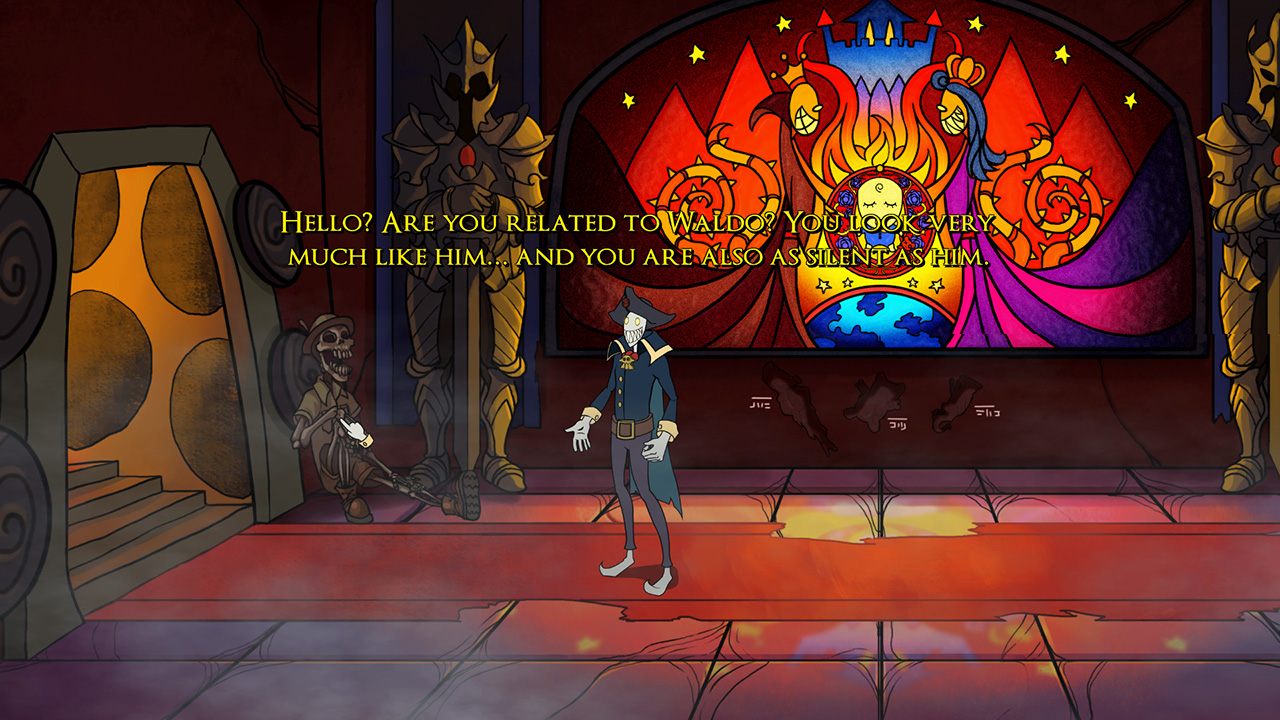 SwitchArcade Highlight!
Okay, look. If you decide to buy a castle in a place called Darkestville, you kind of deserve what you get. Anyway, this is a humorous point-and-click style adventure game that clearly has Monkey Island on its mind. You play as a trickster demon named Cid who terrorizes the town of Darkestville with his pranks. Everything is going great until some jerk brings in a bunch of expert demon hunters to stop Cid's reign of mild terror. What can I say? The game knows exactly what it's going for and it does a great job of accomplishing it. If you like 90s Lucasarts adventure games, you'll likely appreciate what Darkestville Castle is laying down. There are a few puzzles I wasn't super-happy with, but that too is part of the classic point-and-click experience, I suppose.
Double Kick Heroes ($21.99)
SwitchArcade Highlight!
A rather unique rhythm game with shooter elements, Double Kick Heroes definitely has style in its favor. Blast and shred your way through 30 levels, beefing up your Gundillac and earning new gear as you go. The kicking metal soundtrack, post-apocalyptic theme, and tongue-in-cheek humor all combine to make this a real winner of a rhythm game. As you'd expect from the generally quick pace of the musical genre, this one can be a bit tough. That said, it's packed full of silly surprises and didn't stop amusing me in some way or another through the course of the game. If you like the genre, you'll want to consider picking this up.
Zero Strain ($9.99)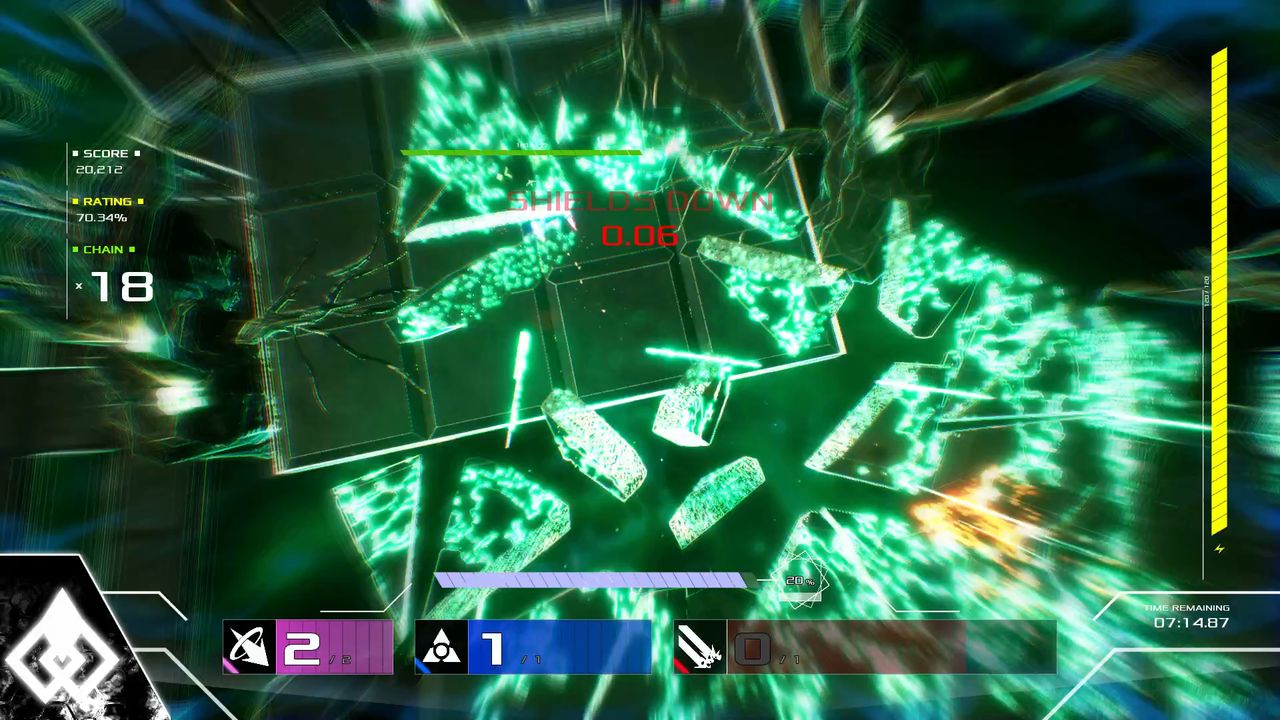 That's a good title. From now on, I'm going to say that instead of "no problem". Anyway, this is a shoot-em-up with an awful lot of story loaded into it. It's also free-roaming, which is something we kind of see a lot in shooters but also kind of don't, depending on how loose your genre definitions are. Each stage has boundaries, you have to stay inside of them, but you can go wherever you like within them. There are various objectives to keep things fresh, like having to defend a structure or taking down a particular foe. It's also got a bit of MOBA baked into its design, with each ship having its own set of abilities and passive skills. A little different from the norm, to be sure, but not too bad at all.
Big Dipper ($4.99)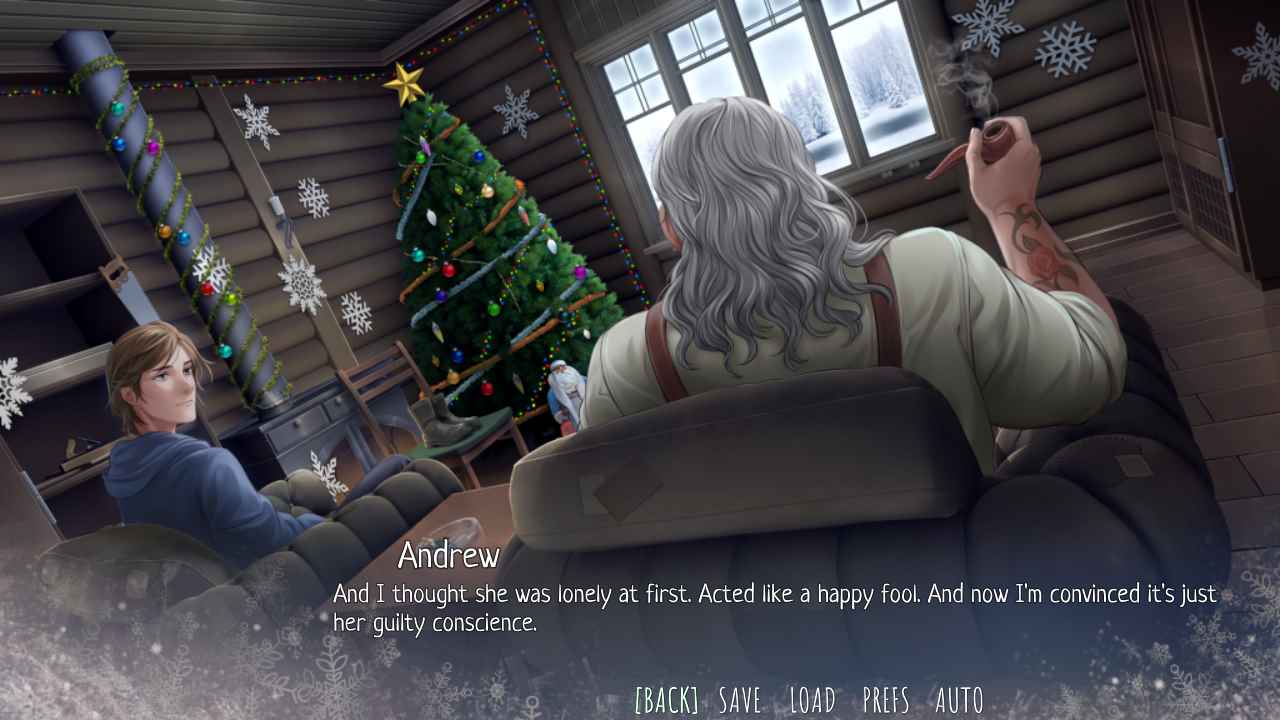 Big Dipper is a short and sweet visual novel about two people who come together one New Year's Eve. It's only a few hours long even if you read at a leisurely pace, so it's a relatively quick play. The artwork is quite good, and while the story isn't exactly going to win any awards for innovation or anything, it's well-written enough. For five dollars, I think it's fine for what it is. Note that there aren't any choices to make here. You're just buckling in for the ride. But it's a really cozy romance story, and a good choice to curl up with on an evening where you're too tired to deal with anything particularly active.
Pool Pro GOLD ($9.99)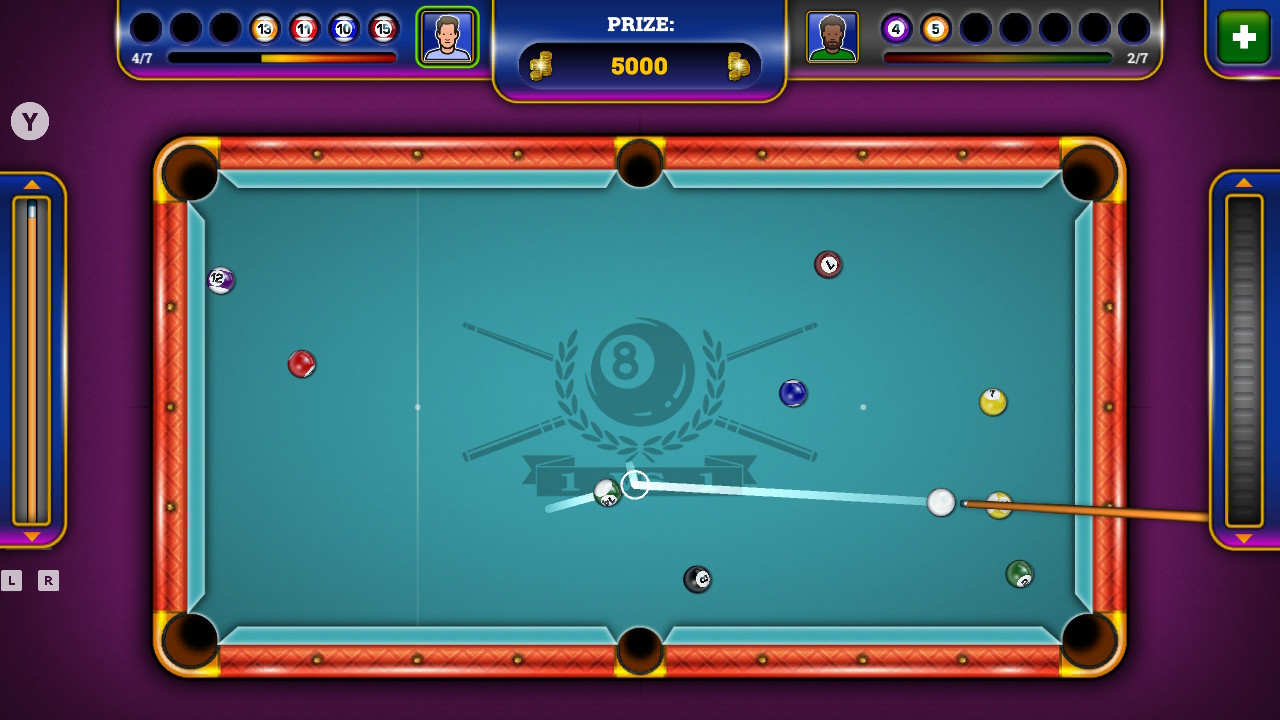 Hey, it's another pool game. Play a round or two of classic 8-Ball in this relatively simple take on the game. This game promises a variety of modes, and offers new cues and avatars you can buy with winnings from playing tournaments. Unfortunately, it's single-player only. That's not very golden, now is it? You know, I'm going to be real here: this doesn't look much more substantial than, like, Data East's Side Pocket. And that was made in 1986. There are definitely better takes on this sport on the eShop, so I wouldn't really advise spending ten bucks on this one.
Bite the Bullet ($14.99)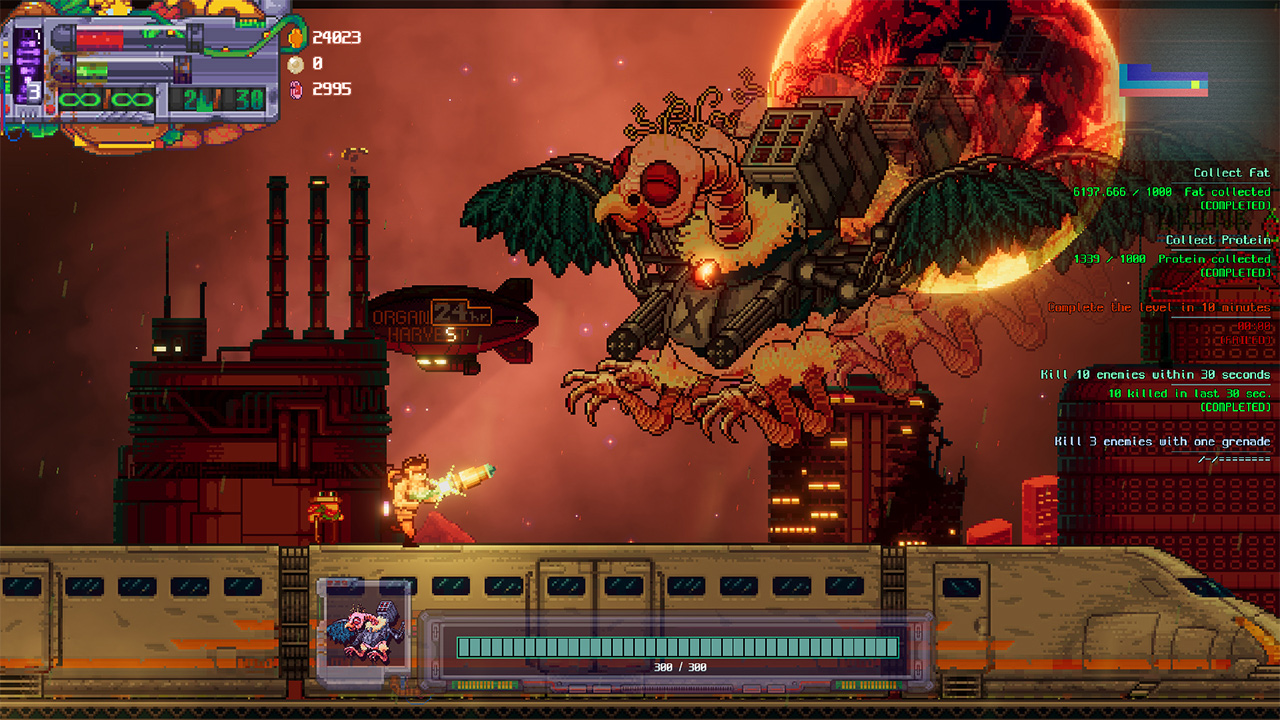 Nom, nom, nom, bullets. Kids, don't try this at home. This one comes from Mega Cat Studios, the makers of Coffee Crisis. Like that, it seeks to put its own oddball spin on a familiar genre, this time the run-and-gun platformer. There's plenty of tense shooting action through a variety of locales, but the main gimmick here is in how you power up. You see, this game has a ton of RPG elements, all the way up to and including skill trees. How do you get experience points? Eating your enemies. Eating things you find in the levels. Just… eat it all. But be careful about what you're stuffing in your mouth, because if you consume too much fat, your character will get a lot harder to move. I'm working on a review of this one, but so far my main concerns are the teeny-tiny text that is almost unreadable in handheld mode, and some performance issues when the action gets hot. I also have some concerns about the level designs thus far, but hey, we'll save that talk for the review.
We Are Doomed ($7.99)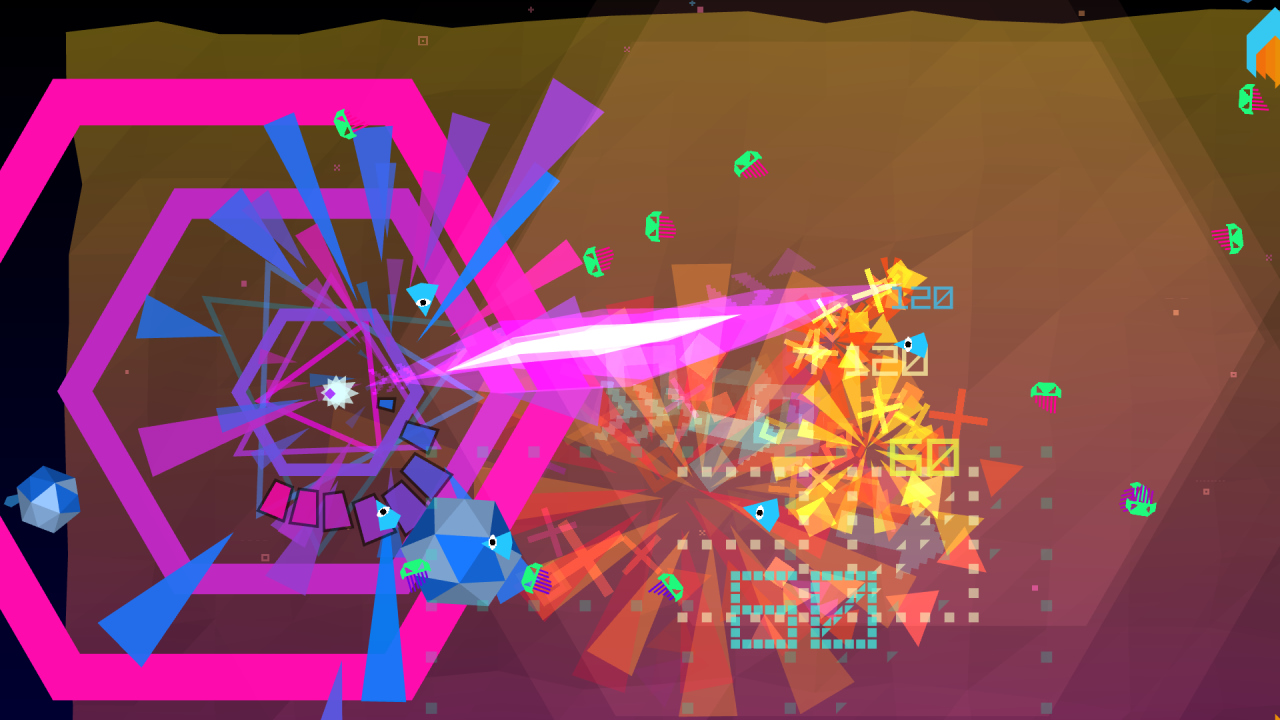 Hey, it's another twin-stick shooter. This single-player action game has you playing as a little geometric object with a big laser. You zap baddies, charge up your Superbeam, then let fly. That's pretty much all there is to it. There's a Waves mode where you have to battle through 30 waves, and an Endless mode to keep you playing after you do that. Kind of surprisingly bare-bones, but there's a certain joy in simplicity with this sort of game. It's enjoyable enough to play, but if you already have a go-to game to fill this need I'm not sure what this game would do to displace it.
The Ambassador: Fractured Timelines ($14.99)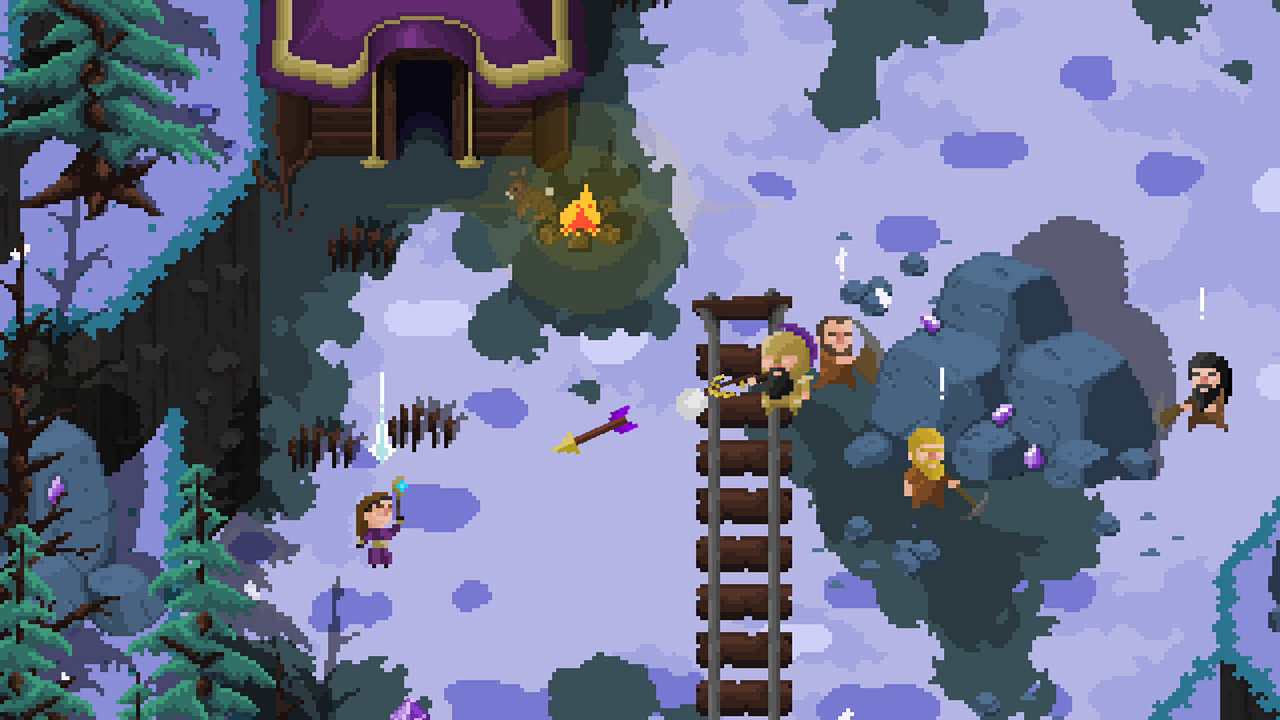 Hey, it's another twin-stick shooter. Battle in arenas and defeat all the enemies before moving on to the next one to do the same. Sometimes maybe you can fight a big fella? The main twist in this one is that you have some time manipulation powers. Unfortunately, it really just amounts to a time freeze ability. You can use it to get a leg up on your foes or to solve some light puzzles, and that's about it. It's fine, I guess. I can't say it's a poor effort but it doesn't really make an impact either, and in a genre this crowded I'm not sure that's enough. It's single-player only, as well. Not that I particularly mind that, but you might.
Devious Dungeon Collection ($12.99)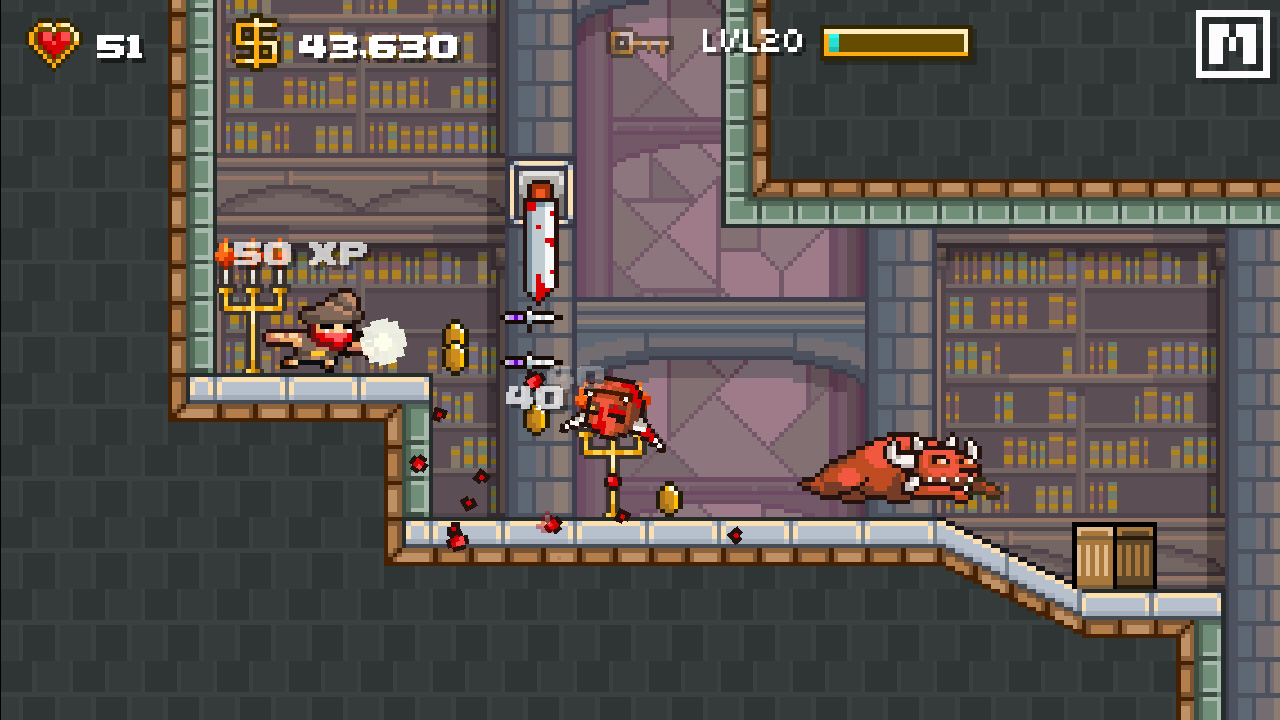 Exactly what it says on the tin. This brings Devious Dungeon and Devious Dungeon 2 together in one bundle for a fair discount off the normal price. Usually each game goes for eight bucks, so you're saving a few dollars by picking this up. Note that since this is from Ratalaika Games and not, say, Digerati, you probably won't be seeing a steep discount on this bundle anytime soon. And as always, be sure to check the prices of the individual games before picking up the collection as sales will sometimes make buying them separately the smarter move. Like right now, for example.
Boomerang Fu ($14.99)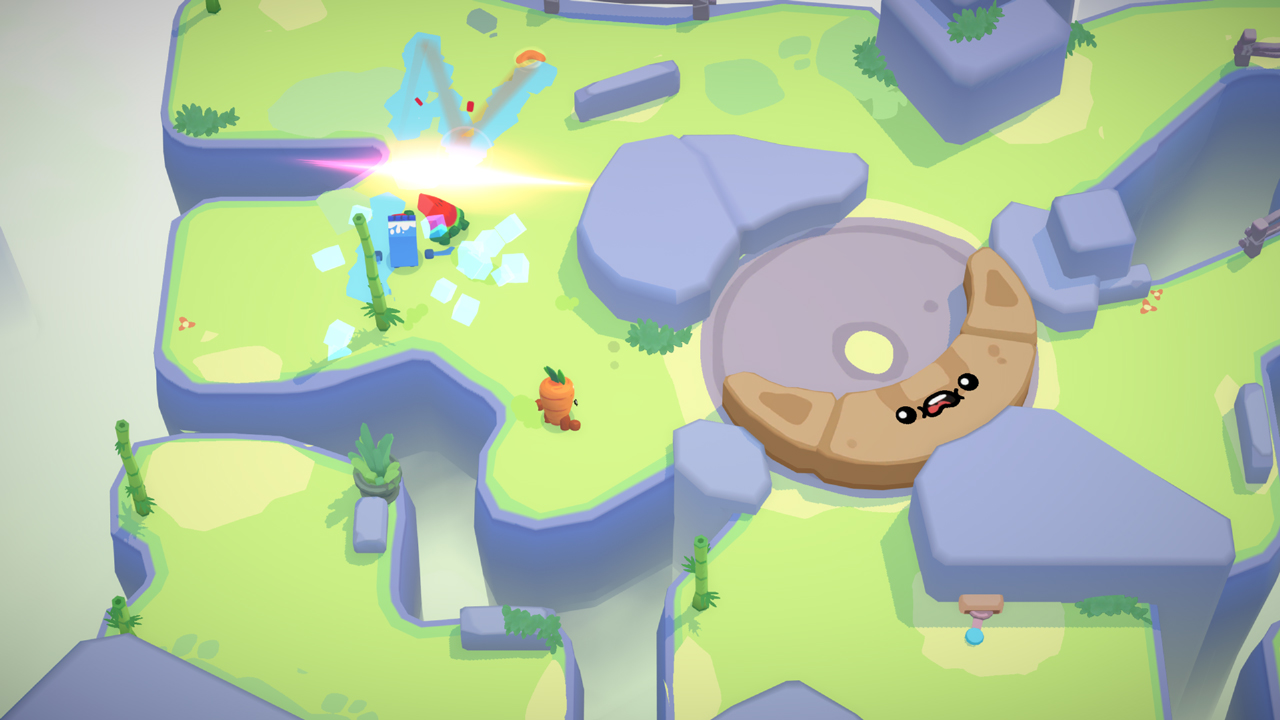 Hey, it's another multiplayer party game. Local only, of course, but it does support up to six players. The idea here is that everyone plays as a food of some sort and you try to take each other out using boomerangs. Honestly, some of these games are starting to feel like they were born out of a game of Mad Libs. There are lots of arenas to battle in, and the boomerang mechanics have a bit of nuance to them that is fun to master. There's also a system for combining the power-ups you'll find to create new effects. Not bad to play with friends in short bursts, but don't even bother if you don't have people over to play regularly. Oh, and I love the whole aesthetic of the thing. Very cute.
Collar X Malice -Unlimited- ($49.99)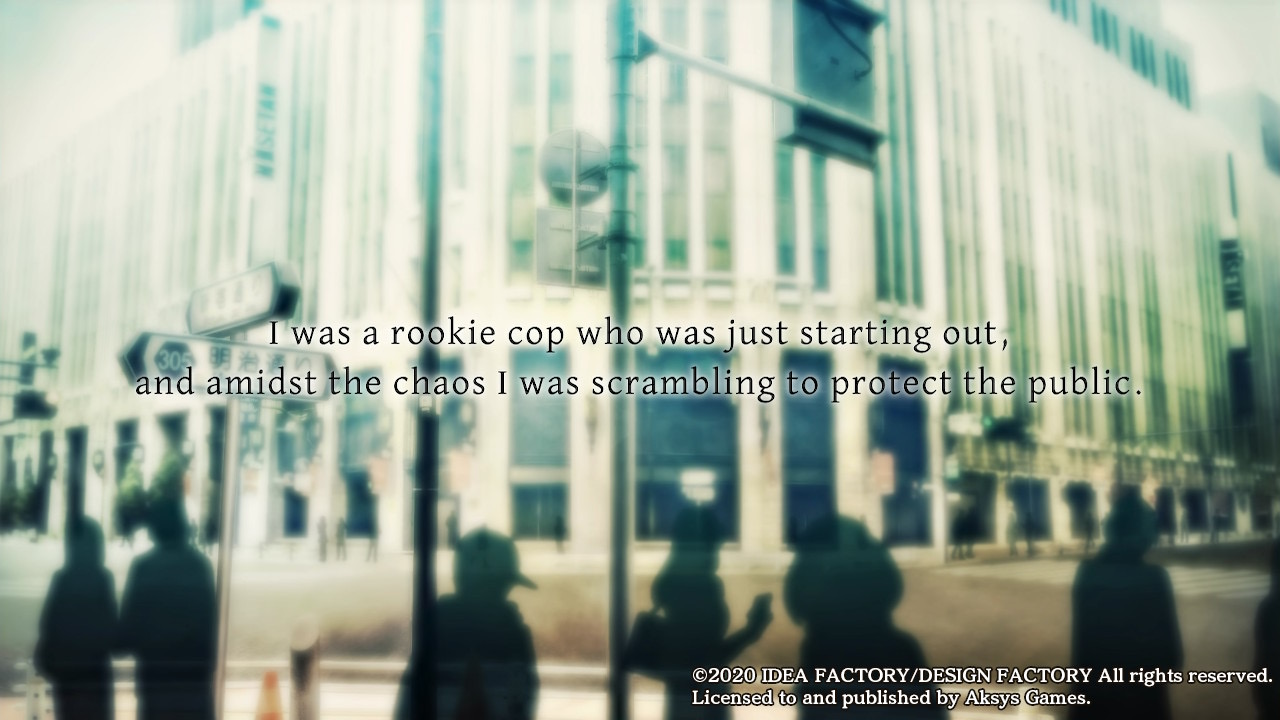 Mikhail's review up there should tell you pretty much all you need to know about this one. It's a follow-up to the popular visual novel Collar X Malice that adds on to the story and fleshes out characters and situations from the original. You absolutely will not want to play this before you play the original Collar x Malice, but if you enjoyed that one you'll probably be quite happy with what you get here.
Sales
(North American eShop, US Prices)
As usual, there isn't a whole lot to look at yet as of this writing. There will certainly be a lot more sales by the time this goes live, but we'll catch up on them tomorrow as always. For today, 2K has a few of its games on sale with the discount on the Civilization VI Expansion Pack perhaps being of interest to some. KEMCO is also having another sale, with the rather solid Marenian Tavern getting an exceptionally rare discount. Finally, the well-done Metro Redux titles are both on sale for very nice prices. As for the outbox, action game fans may want to grab the Battle Princess Madelyn games, RPG nuts will want Earthlock and The Warlock of Firetop Mountain, and adventure game lovers may want to buy the extra-cheap Secret Files titles.
Select New Games on Sale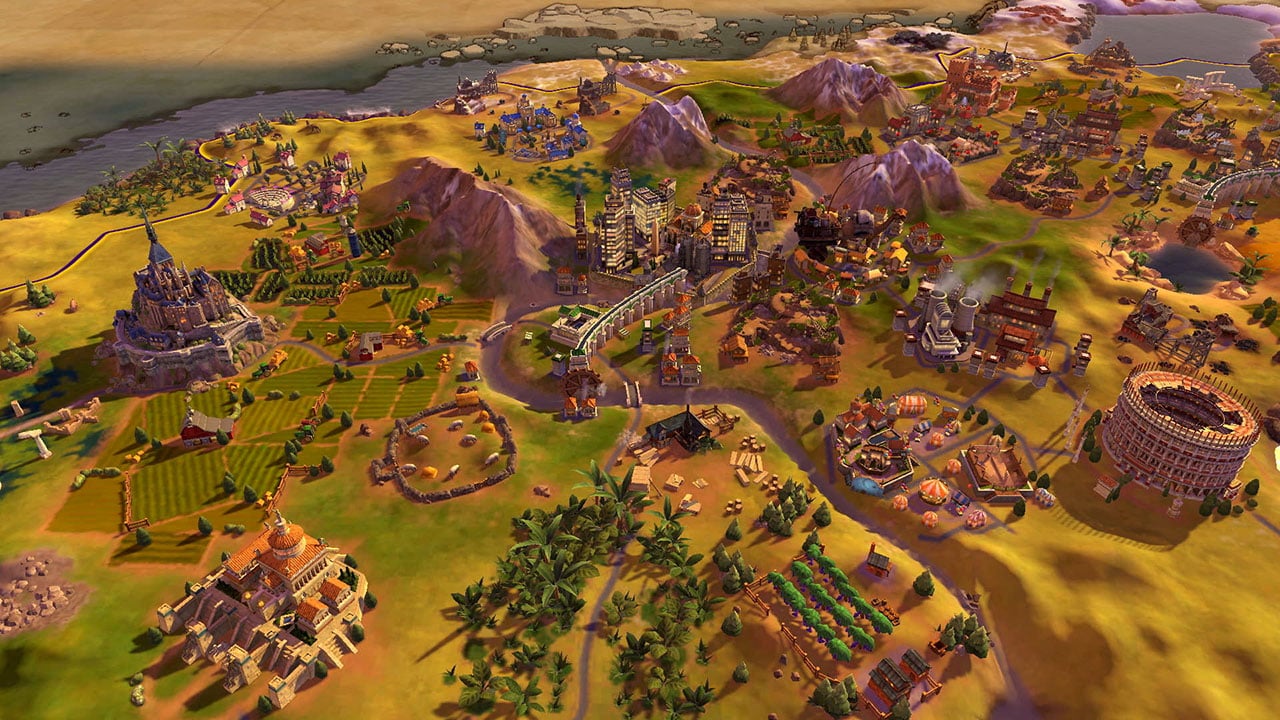 Sid Meier's Civilization VI ($29.99 from $59.99 until 8/19)
Civilization VI Expansion Pack ($32.49 from $49.99 until 8/19)
Cannibal Cuisine ($6.49 from $12.99 until 8/18)
WWE 2K18 ($19.79 from $59.99 until 8/19)
NBA 2K Playgrounds 2 ($7.49 from $29.99 until 8/19)
Carnival Games ($9.99 from $39.99 until 8/19)
Lines XL ($0.69 from $1.99 until 8/31)
Marenian Tavern Story ($11.99 from $19.99 until 8/27)
Sephirothic Stories ($8.99 from $14.99 until 8/27)
Monochrome Order ($10.49 from $14.99 until 8/27)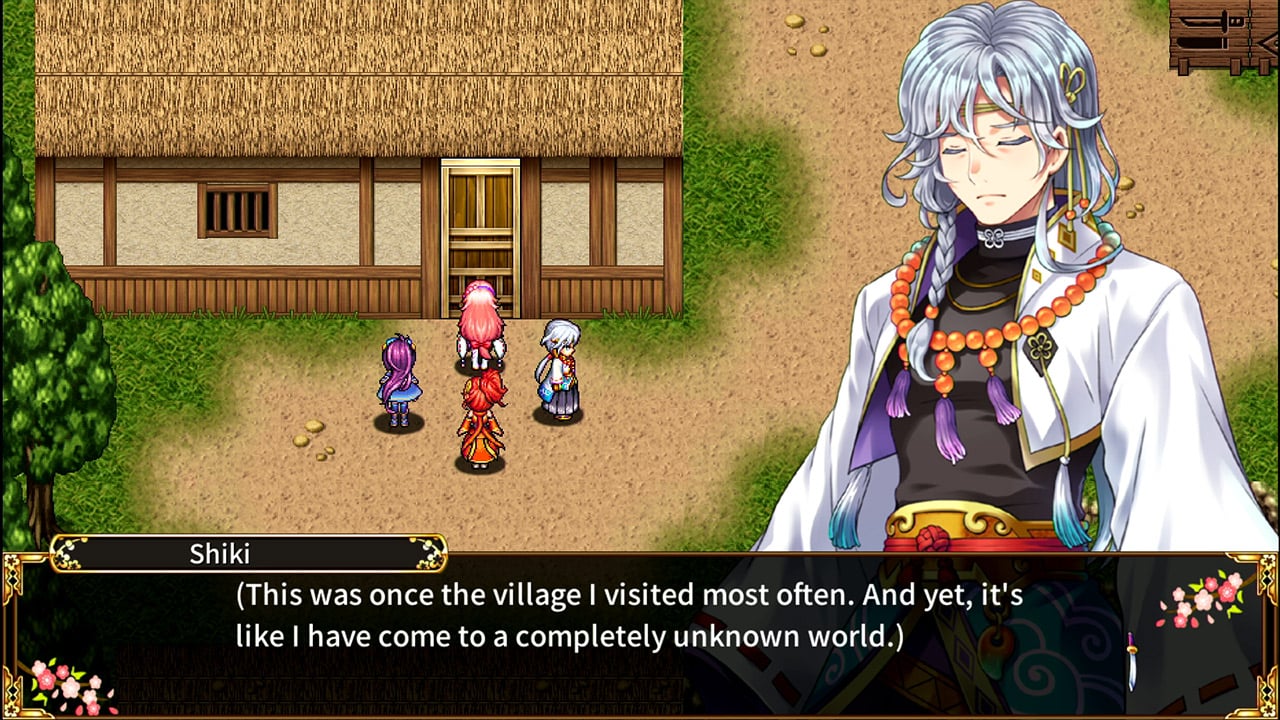 Asdivine Kamura ($10.49 from $14.99 until 8/27)
Monster Viator ($11.99 from $14.99 until 8/27)
Yuoni Rises ($9.09 from $12.99 until 9/1)
Metro: Last Light Redux ($14.99 from $24.99 until 8/21)
Metro 2033 Redux ($14.99 from $24.99 until 8/21)
Table Top Racing World Tour ($4.99 from $24.99 until 8/28)
Blue Rider ($2.99 from $9.99 until 9/3)
Kawaii Deathu Desu ($3.49 from $4.99 until 9/3)
Task Force Kampas ($4.19 from $5.99 until 9/3)
Stone ($7.49 from $14.99 until 8/20)
Many Faces ($3.49 from $4.99 until 9/3)
Sales Ending Tomorrow, Friday, August 14th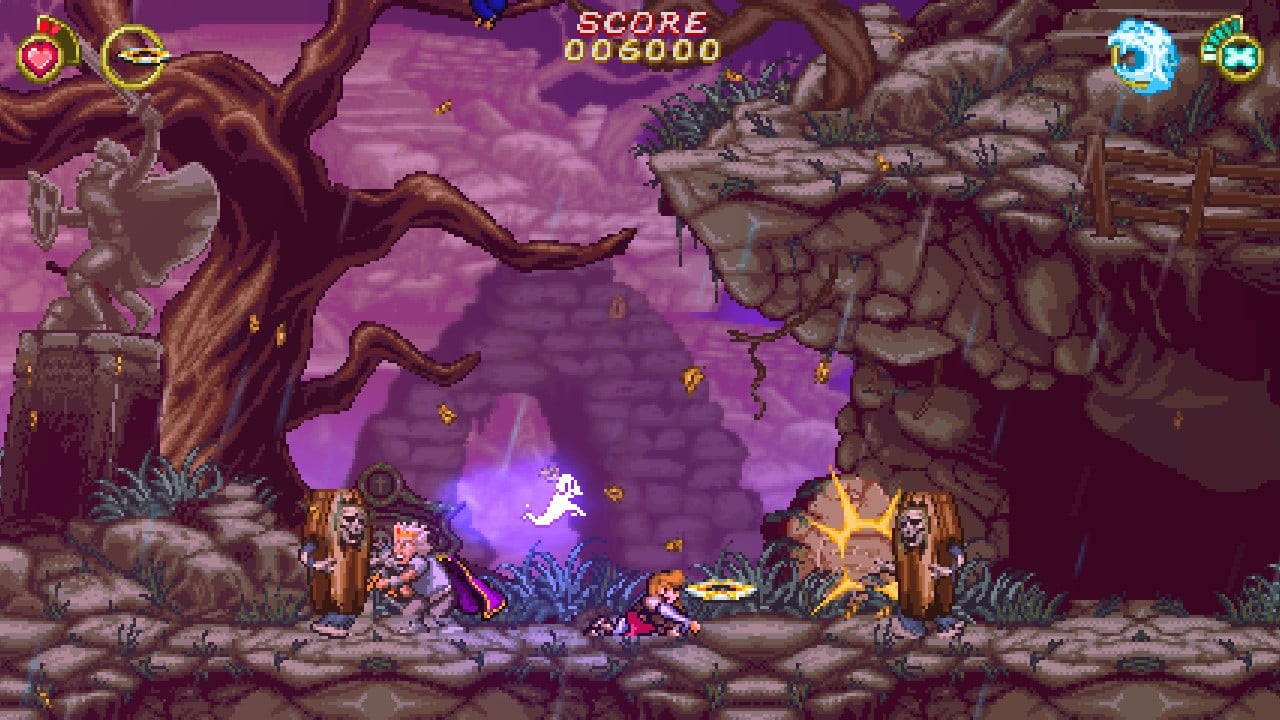 Battle Princess Madelyn ($4.99 from $19.99 until 8/14)
Battle Princess Madelyn Royal ($7.49 from $14.99 until 8/14)
Dracula's Legacy ($15.99 from $19.99 until 8/14)
Earthlock ($5.98 from $29.90 until 8/14)
Figment ($4.99 from $19.99 until 8/14)
Green Game: TimeSwapper ($0.29 from $2.99 until 8/14)
Island Flight Simulator ($15.99 from $19.99 until 8/14)
Lost Horizon ($5.99 from $14.99 until 8/14)
Lost Horizon 2 ($5.99 from $14.99 until 8/14)
Midnight Evil ($0.99 from $9.99 until 8/14)
Paper Wars: Cannon Fodder ($0.99 from $9.99 until 8/14)
Secret Files 2: Puritas Cordis ($2.99 from $14.99 until 8/14)
Secret Files Sam Peters ($2.99 from $6.99 until 8/14)
Secret Files: Tunguska ($1.49 from $14.99 until 8/14)
Shadow Bug ($5.84 from $8.99 until 8/14)
The Warlock of Firetop Mountain ($2.99 from $29.99 until 8/14)
That's all for today, friends. Tomorrow will see the rest of the week's releases, and we'll summarize all of them. Nothing too huge on the schedule, but hey, surprises happen all the time. We'll also have a big list of sales, I'm sure, and that will probably be it. But that's fine, I'm sure we'll be up to our elbows in new stuff to talk about once the summer draws to a close. I hope you all have a great Thursday, and as always, thanks for reading!