JOYCITY is hosting a special event for its modern warfare title, Gunship Battle: Total Warfare, offering content creators the chance to win thousands of dollars in cash prizes.
The contest, which will run until the end June, is open to all YouTubers able to create video content for the popular strategy title which puts players in command of fleets of air, land, and sea units in epic 3D battles. All that's required is for entrants to play through specific quest lines which show off the game and provide tips on how to play and earn special achievements. Just for entering the contest you'll receive hundreds of dollars worth of promo codes, and the chance to win $1,000 cash prizes for any entries that finish in the top 7 places.
That's not all though, participants that finish in the top 8 to 18 places will receive a brand new Silver iPad, and the overall winner of the contest will take home a $5,000 grand prize. On top of that, entrants who finish in the top 3 will have their names added to special in-game event items that will be seen by players around the world, and have their videos promoted on the game's official Facebook channel. All participants will also be entered into a raffle, with the chance to win a new iPad, $1,000 cash, and a host of other goodies!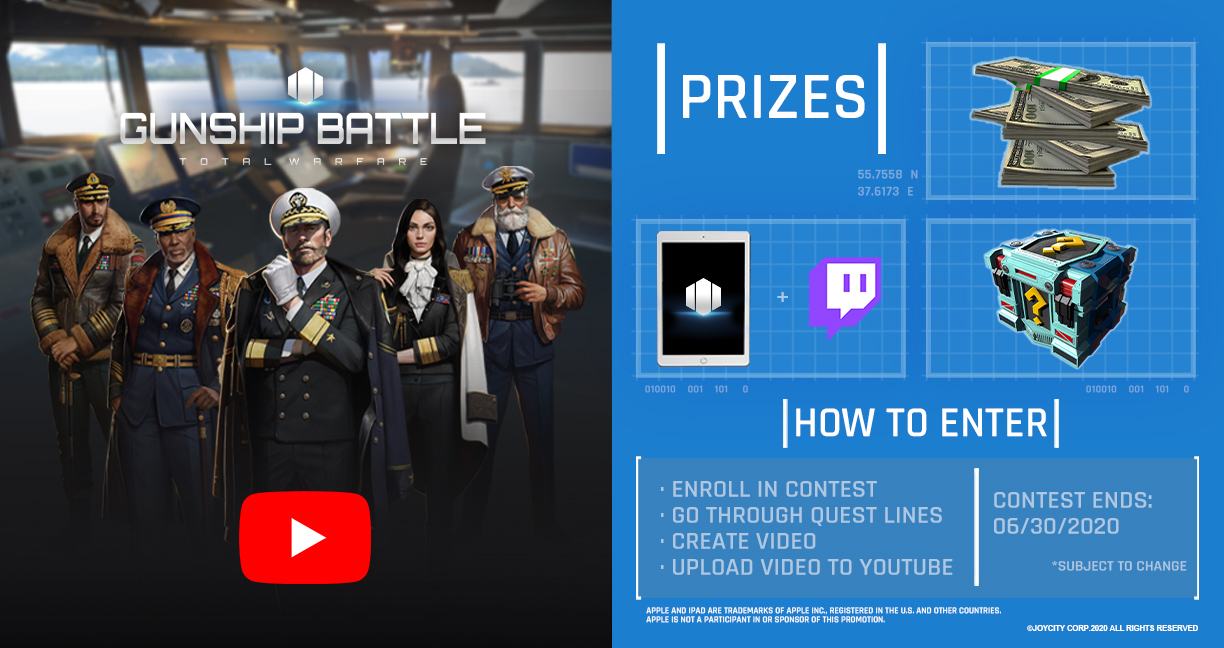 Entries and will be ranked by Gunship Battle: Total Warfare's staff according to creativity and presentation. The top 7 entries will then be shared on the game's official Facebook account where fans will vote for the overall winner.
The contest is already underway and is open to anyone with a YouTube account, regardless of whether you're a seasoned content creator or just starting out. To enter, simply head to the contest's Opera Event page and follow the rules for submission.
Sponsored Content
This article is sponsored content written by TouchArcade and published on behalf of JOYCITY to promote the content creation contest for their mobile military strategy game Gunship Battle: Total Warfare . For questions or comments, please email [email protected]