Pirates of the Caribbean: Tides of War first dropped anchor in mobile waters three years ago, and it's celebrating the milestone in style. Developer JOYCITY is rolling out new content throughout May to mark the game's latest anniversary, and players will even have the chance to win Apple hardware in a sweepstake.
As part of the birthday update, the Cherry Blossom Event will run throughout this month. This is a springtime event that gives players the chance to complete special missions in exchange for Pirate Coins, which can be cashed in for Cherry Blossom Boxes and various other bonus items.
JOYCITY is also introducing the Caribbean Pass Season 2 this month. This is basically Tides of War's version of a battle pass, with which players can complete missions to unlock tier rewards. The final reward is a Cherry Blossom-themed base nameplate and a decorative base effect to go with it.
Also coming via the anniversary updates is the new tier 5 tactician, Erin Rogers, and plenty of level-up rewards to plunder. Players will now receive special gift boxes when they hit a new level, and inside them, they will find everything from resources and speed-ups, to ship blueprints and more.
As well as the new content, Tides of War players in the US are being invited to take part in a sweepstake between now and 14th June for the chance to win Apple booty. There are three 128GB iPads up for grabs and one set of AirPods Pro.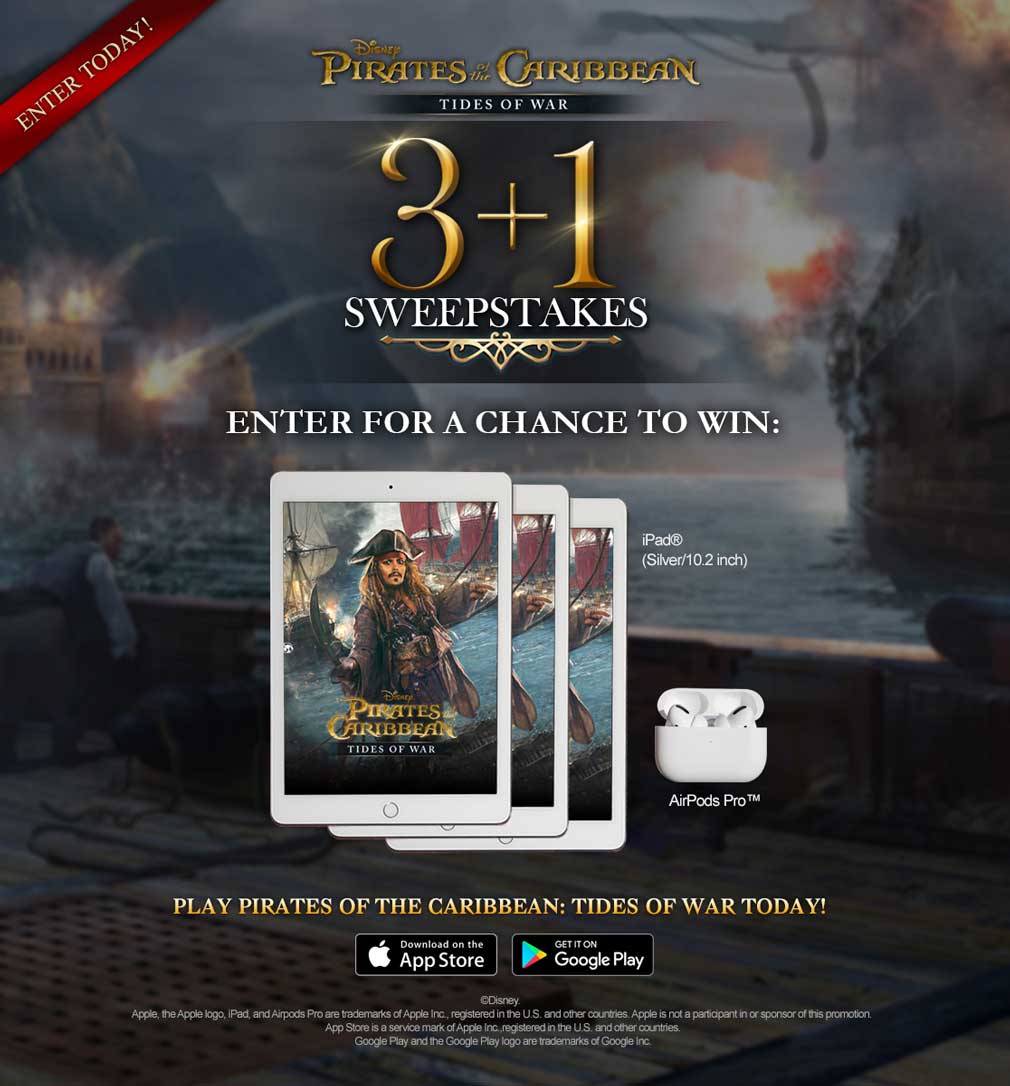 To enter, you will need a Tides of War account – which is free to set up if you don't already have one – and access to Facebook or Twitter. Facebook users must like and share the relevant post, tag in two friends and include their IGN and server, while Twitter users can throw their name into the hat by retweeting the relevant post from the game's official account, mentioning two friends and including their IGN and server in the retweet.
Pirates of the Caribbean: Tides of War and its anniversary content are available as a free download from the App Store and Google Play.
Sponsored Content
This article is sponsored content written by TouchArcade and published on behalf of JOYCITY to promote the third anniversary of Pirates of the Caribbean: Tides of War . For questions or comments, please email [email protected]