It's hard to believe that it's been over a year since Bethesda launched their built-for-mobile Elder Scrolls spin-off game The Elder Scrolls: Blades (Free) on the App Store. The lead up to that launch was a bumpy road to say the least. The game was originally a surprise announcement during Bethesda's E3 showcase in June of 2018, and was planned for launch that following September. As that date approached, Bethesda quietly pushed the date back to December, and then as that date approached, changed the date once again to the more nebulous "early 2019." As the calendar turned to March last year, Bethesda announced that they'd be running a brief closed beta test for Blades and then launching the game in "early access" that spring. Nobody really knew what early access for the game would mean, but before the month was out Blades did indeed launch in the App Store in a limited invite-only fashion.
Not too long after that the invitation restrictions were eased and, like I said in the beginning, The Elder Scrolls: Blades has been out and playable by all for more than a year now. So yeah, you'd kind of forget that it's technically been in "early access" this entire time if it didn't remind you of that on the loading screen every time you played. Over the past year Bethesda has been excellent about addressing problems with the game based on player feedback as well as adding all sorts of new content to play, including new quest lines and new gear, as well as the biggest additions of all in the form of the PvP Arena mode and the ability to create and join Guilds in an update this past December. Bethesda also nixed the Clash Royale-like timers for unlocking chests in the game, which was one of the biggest points of contention for players.
Blades has been updated a few times in 2020 as well, and in fact the development team has consistently updated the game about once a month since its release last year. Today they've released the newest update for the game brining it to version 1.7 and with that they've officially dropped the early access status. Anyone who played in early access will receive a gift of gems and a large decoration for their town, and there's a new big Gladitorial quest line to play through that'll net you the Grand Champion Sword and Helm as a victory prize. There are also 6 new quests aimed at both high and low level players, and a leaderboard has been added to the Guild system so you can see how your Guild stacks up to others. The Arena leaderboards are also being reset with this update, but additional prizes will be given out to people based on their leaderboard positions prior to the reset, and obviously the higher up you were the greater your rewards will be.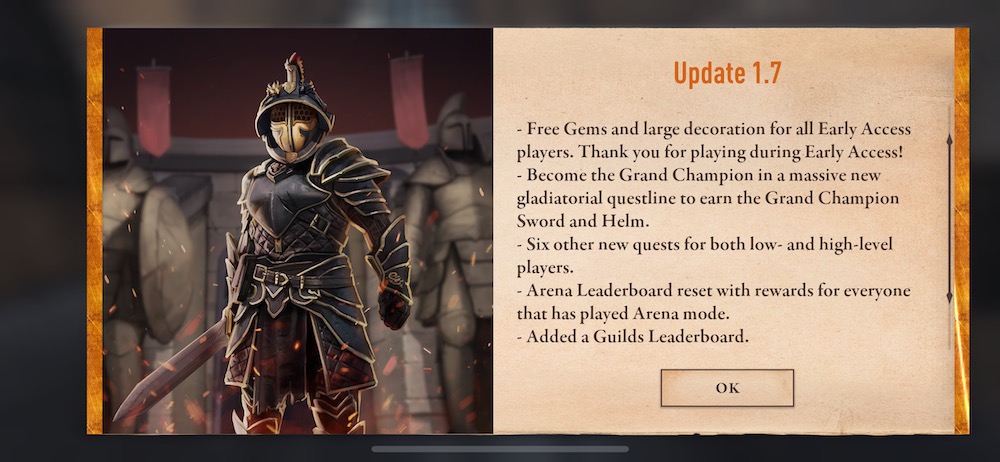 The Elder Scrolls: Blades has certainly had a bit of a tumultuous rollout since last year, but it's really impressive to see how dedicated the developers have been to smoothing out the experience and adding tons of new content and features over the past year of early access. While there are certainly those who would rather have a full-fledged Elder Scrolls open world RPG on mobile, I think Blades does a wonderful job of providing an experience that fits the bite-sized nature of the mobile platform well and comes with a progression system that sees you always having something cool to do. If you're like me and really dug Blades when it first came out but eventually got turned off by the chest timers and haven't picked it back up for a while, or if you've never checked it out before at all, now would be a perfect time to dive back in and see what The Elder Scrolls: Blades has to offer.