Mobile gamers who enjoy a good interactive story almost certainly know the name Choice of Games (Free). The company's ChoiceScript engine has powered a huge variety of choice-based adventures across a wide range of genres and themes. By working with a bunch of extremely talented authors, Choice of Games has kept a constant, fresh stream of cool games coming for pretty much as long as I can remember having an iPhone. The company has just made an announcement that represents the turning of a new page in its history, and we've got the first word on it. Choice of Games and Paradox Interactive, the owners of the World of Darkness brand, are teaming up to create three gamebooks based on the Vampire: The Masquerade IP.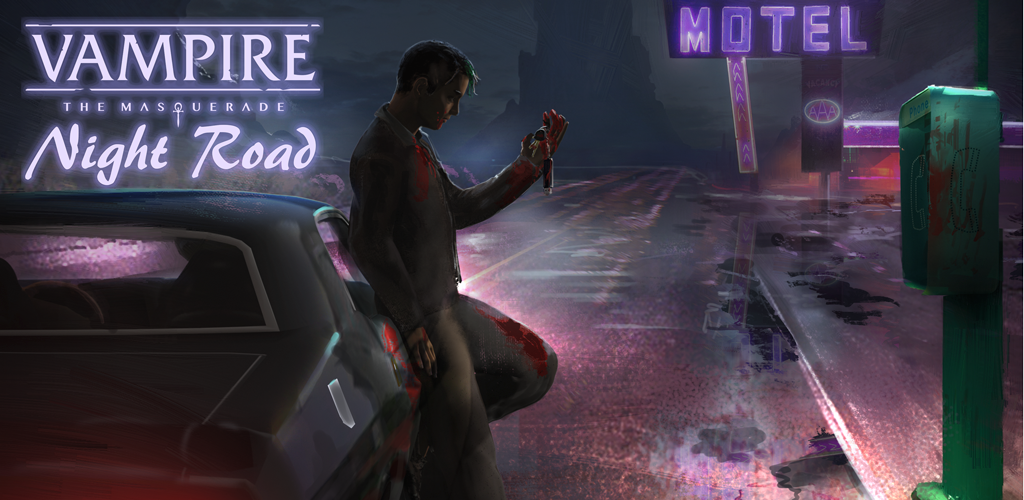 The first title, arriving sometime this summer, is Vampire: The Masquerade – Night Road by Kyle Marquis. You may remember his name from the excellent Empyrean, one of my favorite mobile games of 2016. Night Road sees you playing as an elite vampire courier who has been entrusted to deliver some of the most important secrets of the elders. It's a pretty dangerous job, as you could imagine. You'll have to use all of your vampiric powers and a whole lot of clever thinking to stay ahead of those who would pursue you.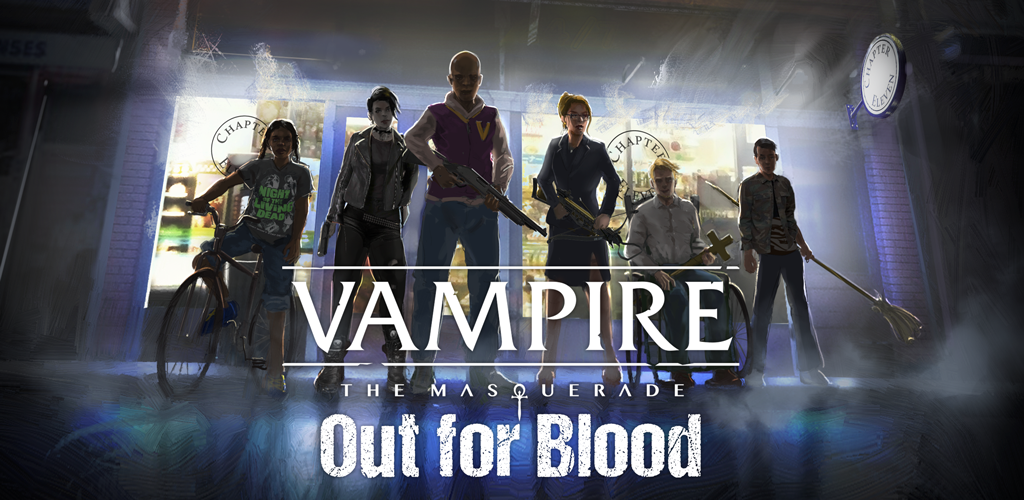 The second in the series will be arriving in the spring of 2021. Vampire: The Masquerade – Out for Blood is written by Jim Dattilo, the author responsible for the popular Zombie Exodus titles in the Hosted Games (Free) line-up. In Out for Blood, you play as a vampire hunter who needs to protect their town from a hundred-year-old vampire named Chastain. When a pack of young vampires pick a fight with Chastain, you and your town are thrust into the middle of a deadly feud. Will you choose a side, play them against each other, or just throw down against all comers? Be careful with your choices, or you might find yourself joining the undead ranks.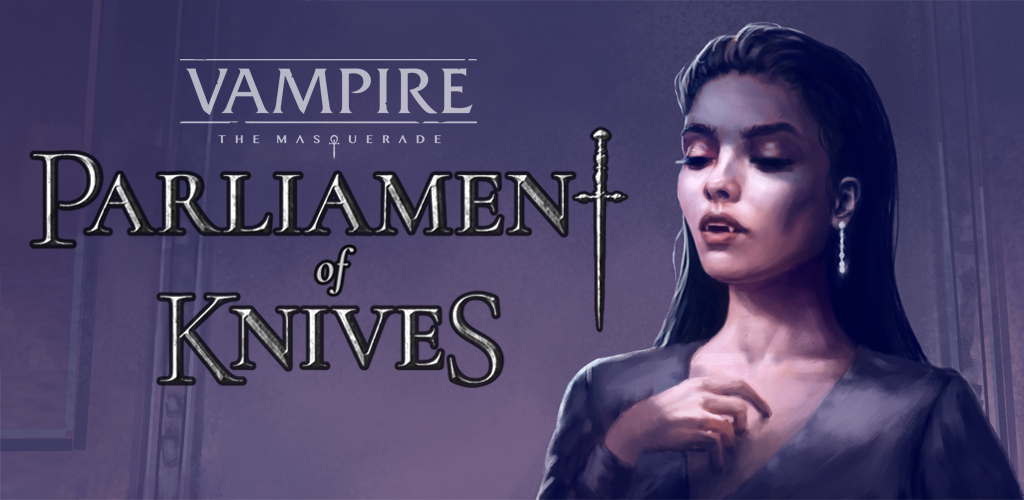 The third of the announced titles is set for a release in the fall of 2021. Wow, that's a ways away. Vampire: The Masquerade – Parliament of Knives comes from Jeffrey Dean, who is no stranger to the supernatural thanks to his work on Werewolves: Haven Rising. Parliament of Knives digs heavily into political world of Vampire: The Masquerade, always one of the more intriguing parts of the universe. A prince goes missing, and accusations and rumors are flying around about his second-in-command. She happens to be the vampire who Embraced you, bringing you into this world. Will you seize the chance to improve your standing even if it means betraying your superior? Or will you defend her and try to rise through the ranks that way? Whatever you do, you'll have to exercise caution: these monsters are never so monstrous as when there's a chance to grab power.
Hey, those all sound pretty great. But I wanted a little more information, so I used all of my vampire hunting skills to find Jason Stevan Hill, the managing editor of these three projects at Choice of Games. He was kind enough to answer a few questions and in return I decided not to stake him. Well, this time, anyway.
TouchArcade (TA): Can you tell us a little bit about how this partnership came about? Who approached who?
Jason Stevan Hill (JSH): When Paradox brought the World of Darkness in-house just about a year ago now, they stated their desire to license the property. I reached out to them and we made it happen.
Of course, getting these games written in a timely fashion has been a heroic effort on the part of the authors. Balancing game design, World of Darkness lore, and a good story has been a challenge; Kyle, Jim, and Jeffrey should all be commended for their work here.
TA: Why the World of Darkness/Vampire brands? What do you feel they specifically bring to the type of games Choice of Games makes?
JSH: Dan Fabulich and I grew up playing Vampire together, so this material is very close to our hearts. More specifically, the Storyteller system has always been about telling good stories where the mechanics enhance play, rather than dominating it. That philosophy aligns very closely with the Choice of Games line of products: interactive novels where decisions impact outcomes, where you'll always have a good story — even when you "fail."
Moreover, we're excited to give our core Choice of Games audience an opportunity to play in the World of Darkness. Many of our fans are already their fans, so we're giving them what they've been clamoring for.
TA: Is this deal just for three gamebooks, or is there the possibility for more?
JSH: More games are definitely possible!
TA: Can players expect a similar range of customizability in shaping their character with these games as with Choice of Games's other titles? Does the license impose any limitations in that regard?
JSH: Yes, in keeping with the Choice of Games brand standards, questions of gender and sexuality are open to the player.
However, each of the authors are interpreting the Storyteller-system rules differently. Kyle is staying very close to the table-top rules — going so far as to include the infamous "dots" on the stats page! — while Jim is taking a looser interpretation.
As with any adaptation, however, there are some compromises that have to be made for the sake of balance. The Clan banes, for example, are something we've had to fiddle with to have a substantive yet balanced effect on the game.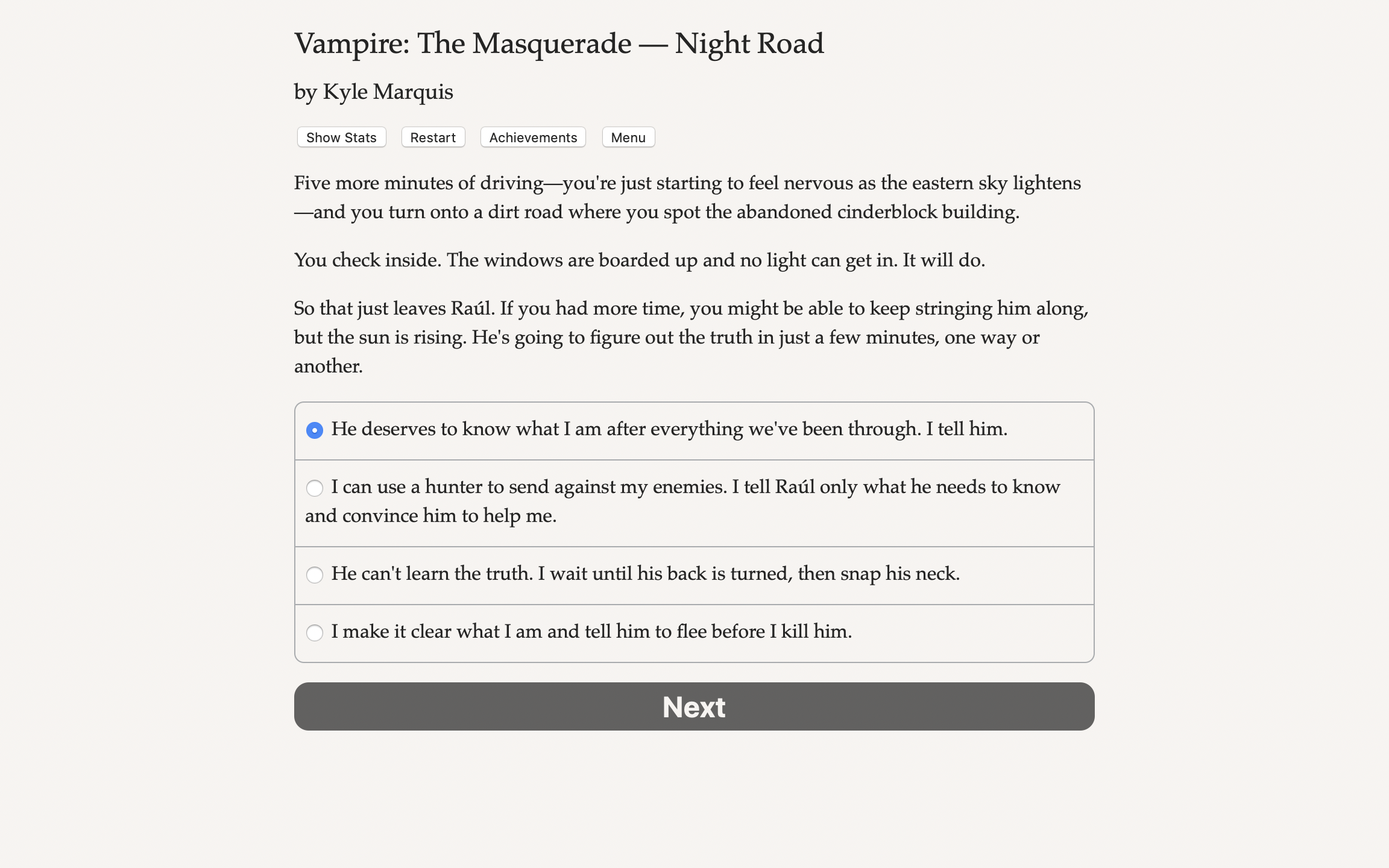 TA: Some fans of the World of Darkness may not be familiar with what Choice of Games does. What's your pitch for them?
JSH: Sometimes you can't get your table-top group together, or it's Tuesday so there's no LARP happening, or you don't have access to a desktop for a video game. You can carry us with you in your pocket and have an interactive World of Darkness experience anytime, anywhere. We think that the World of Darkness fans will feel right at our home amid our multiple choice, choose-a-path games.
TA: The first book is set for a summer 2020 release. Is that early summer or late summer?
JSH: Probably late summer, but you never know.
TA: Any additional message you want to give our readers?
JSH: If it's been a while since you've looked at the Choice of Games library, I'd say it's a good time to look again. The stability and design of our "Choice of Games" app has improved by leaps and bounds over the past year — since Apple forced the change on us — and at the same time we now have over 120 games in our library, and the "Choice of Games" app is now available for Android devices on Google Play.
Due to the pandemic, a number of our games have even been converted to "ad supported" (i.e. entirely free-to-play) for the indefinite future. In addition, we launched the Heart's Choice app in December, which contains shorter interactive romance novels in the Choice of Games style.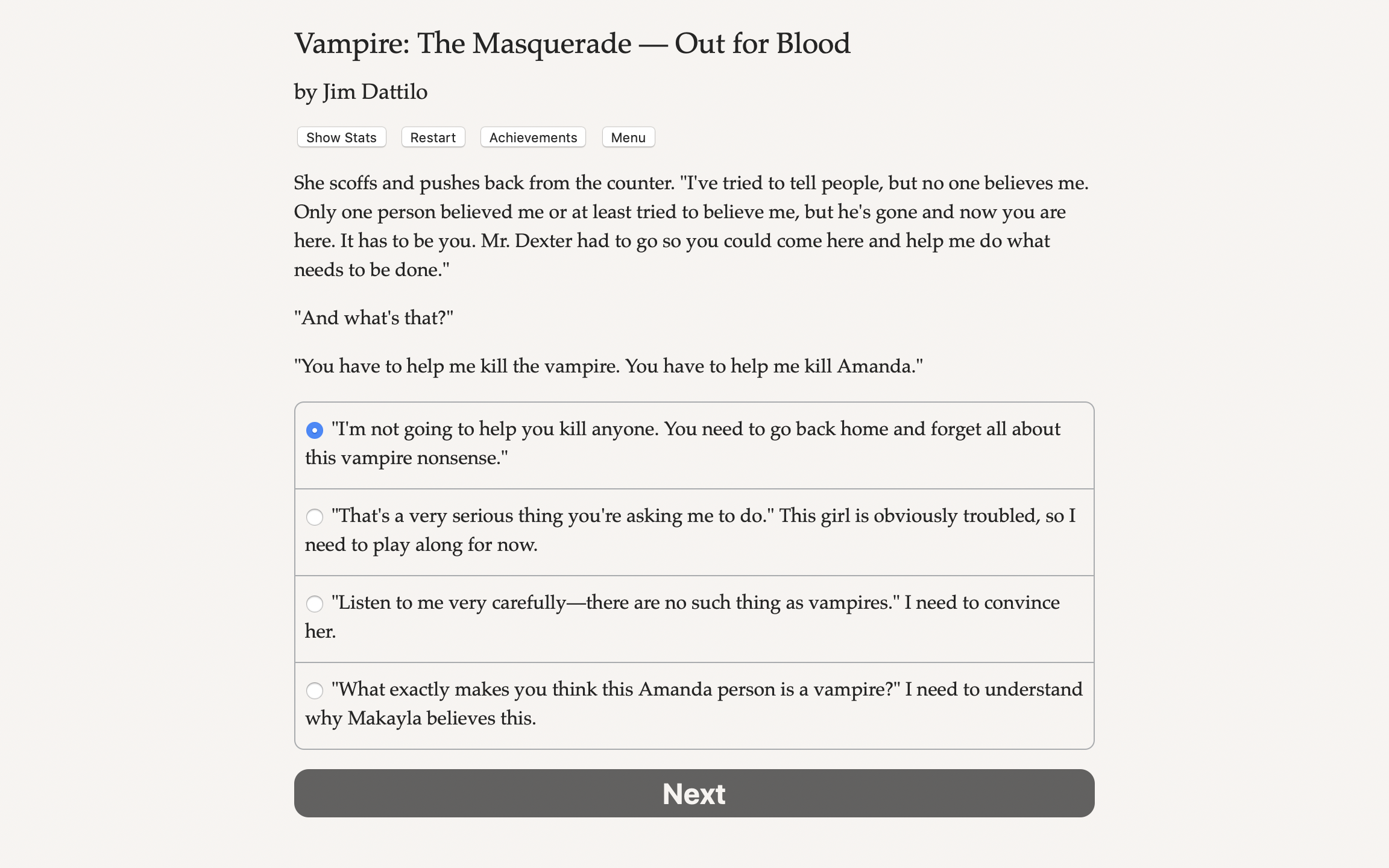 A big thanks once again to Jason Stevan Hill for answering our questions. I don't know about all of you, friends, but I'm pretty excited for this deal. Choice of Games has been putting out some of the finest stories in video games for several years now, and the World of Darkness is an outstanding playground for story-telling. I'll be keeping my eyes peeled for that first title this summer, and will be looking forward to hearing about any further collaborations between Choice of Games and Paradox. And hey, while you're waiting, why not check out some of the many other fine adventures available in Choice of Games's three hub apps?