The idea behind the TouchArcade Game of the Week is that every Friday afternoon we post the one game that came out this week that we think is worth giving a special nod to. Now, before anyone goes over-thinking this, it doesn't necessarily mean our Game of the Week pick is the highest scoring game in a review, the game with the best graphics, or really any other quantifiable "best" thing. Instead, it's more just us picking out the single game out of the week's releases that we think is the most noteworthy, surprising, interesting, or really any other hard to describe quality that makes it worth having if you were just going to pick up one.
These picks might be controversial, and that's OK. If you disagree with what we've chosen, let's try to use the comments of these articles to have conversations about what game is your game of the week and why.
Without further ado…
Door Kickers: Action Squad
Many of you may remember the original Door Kickers, which launched on desktop way back in 2014 before making its way to the iPad the following year. It was a top-down tactical strategy game where you played as a SWAT team breaching into rooms, clearing out enemies, and saving hostages. It was an incredibly strategic game that required a lot of forethought before you made any moves, and if you burst into a situation guns blazing without thinking about things first you were sure to have a rough time. Well, if Door Kickers had a little brother who liked drinking cheap beer and watching cheesy '80s action movies, it would be Door Kickers: Action Squad.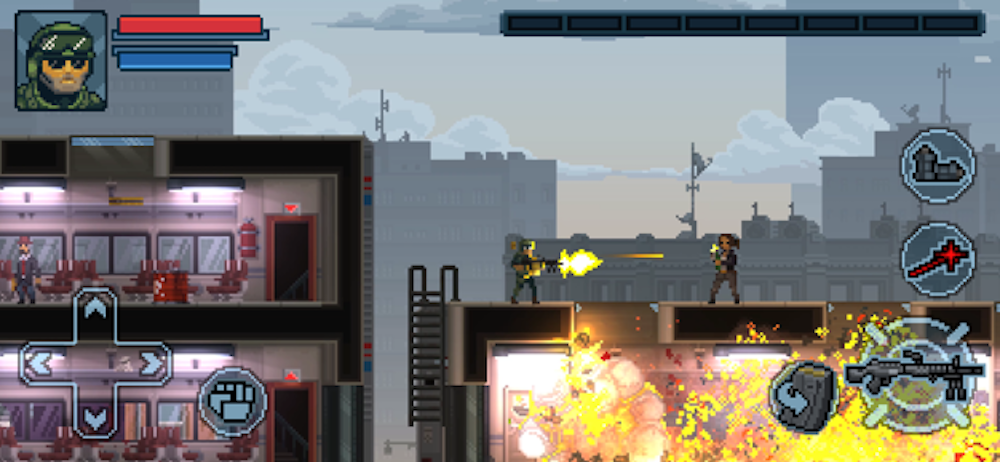 This is a spinoff of the original Door Kickers concept but instead of taking place from a top-down perspective it is a side-scrolling game. It also has some seriously fantastic pixel art and animations, and while it's purposely not as serious as its older brother in tone, it's still got plenty of strategic chops. You might look at screens and think you're getting something akin to Broforce, but you'd be sorely mistaken. While the switch from top-down to side-view does take away the literal depth from the areas you're playing in, you'll still need to use a lot of forethought and tactics in order to be successful in Door Kickers Action Squad.
I actually don't want to drone on for too long here because our own Shaun Musgrave reviewed Door Kickers Action Squad in the SwitchArcade Round-Up back in November, so give that a read for even more insight. However, the iOS version is lacking any form of multiplayer at the moment, but developer Killhouse Games is extremely active in our forums and is gauging what sort of features to focus on for this version of the game, so head over there and let them know if things like local or online multiplayer are important to you. But if you're just looking for more than 80 levels of door-kicking action with 6 distinct playable characters, a whole mess of awesome weaponry, and upgrades coming out the wazoo, Door Kickers: Action Squad will fit that bill.