The idea behind the TouchArcade Game of the Week is that every Friday afternoon we post the one game that came out this week that we think is worth giving a special nod to. Now, before anyone goes over-thinking this, it doesn't necessarily mean our Game of the Week pick is the highest scoring game in a review, the game with the best graphics, or really any other quantifiable "best" thing. Instead, it's more just us picking out the single game out of the week's releases that we think is the most noteworthy, surprising, interesting, or really any other hard to describe quality that makes it worth having if you were just going to pick up one.
These picks might be controversial, and that's OK. If you disagree with what we've chosen, let's try to use the comments of these articles to have conversations about what game is your game of the week and why.
Without further ado…
The White Door
If you're a regular reader of TouchArcade then you no doubt have heard us singing the praises of developer Rusty Lake, who are responsible for a whopping ten Cube Escape puzzle games and three titles in the deeper, more point-and-click style Rusty Lake series. Everything they do is of a stunningly high level of quality and has their very unique and creepy signature style. So when they began teasing a new project way back in March of last year, it was noticeably a departure from their previous work, and knowing that they even founded an in-house publishing label called Second Maze which would serve as the home for this step outside of their comfort zone. This past August it was finally revealed that the new project was called The White Door ($2.99) and this week the game launched on iOS, Android, and desktop.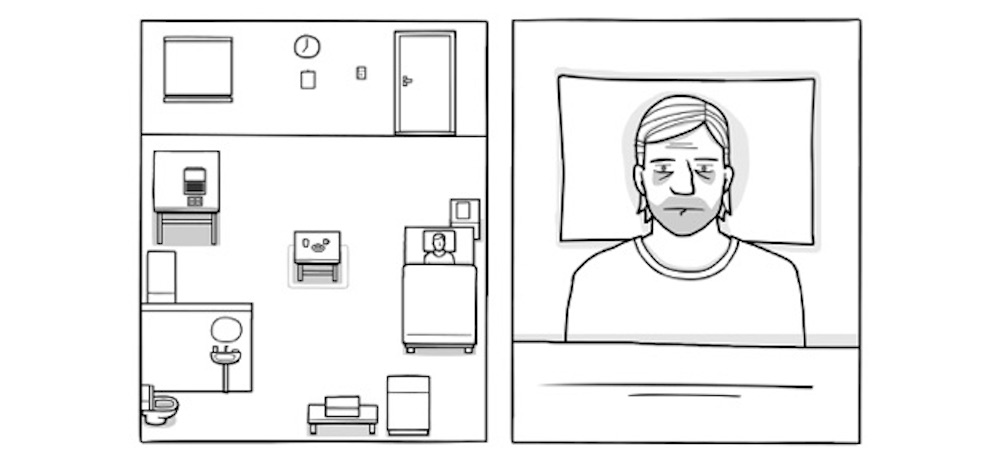 If you're a hardcore Rusty Lake fan, you really need to go into The White Door expecting something quite a bit different from what you're used to. If you're expecting more of the same then you'll likely be disappointed, but if you have an open mind to something new I think you'll find yet another incredible experience from the Rusty Lake crew. The White Door is more akin to an interactive visual novel that takes place simultaneously on two different screens which are always offering two different perspectives on what's happening. It centers around a man named Robert Hill, who eagle-eyed fans may recognize as a bit character in previous games, as he wakes up in a Mental Health facility with no recollection of what's going on, and it's your job to try and adhere to the boring regimen of each day and hopefully find a way to help him recapture his memories and bring the color back into Robert's life.
The White Door features less emphasis on traditional item-based puzzles than previous Rusty Lake games, but there is plenty to figure out in terms of riddles and brain teasers. The illustrative style of the graphics has a familiar feel though it's much cleaner and less macabre as in previous games. There's also not quite the element of horror, if you could call it that, than previous Rusty Lake games have, but there's still that "unsettling" feeling to the game that makes it undeniably a Rusty Lake release. I feel a little silly comparing it to previous Rusty Lake games when these folks went out and released it under the completely new Second Maze label in order to make certain people knew it was something different than the norm, but I also think it's important to know what to expect from The White Door and with the right expectations there is a lot to fall in love with here.
As the developers have pointed out on their blog, they've certainly received some mixed reactions to The White Door since its release. For those that aren't digging how different it is, they reveal that they actually had four different projects in the works at once, and so if The White Door wasn't quite your cup of tea then there will be plenty more of "the old stuff" on the way too, so don't worry. I for one am really digging this change of pace and, while I certainly want to see more of that old stuff myself, I also would really love to see even more experimental releases under the Second Maze label, as it's apparent that there's some really amazing talent at Rusty Lake and it would be a shame to confine them to one specific area. If you're ready to experience an emotional tale with a unique split-screen perspective, definitely consider giving The White Door a shot whether you're a fan of previous Rusty Lake games or are new to them altogether.