Hello everyone, and welcome to the week! It's time once again for our look back at the noteworthy updates of the last seven days. Well, perhaps it might be more accurate to say "of the last fourteen days", as I had to skip out last week due to an unexpected kaiju attack. That means that this week's selection is a bit more star-studded than usual, and there's nothing wrong with that. Of course, you can keep an eye out for updates yourself using AppShopper or by participating in the TouchArcade forums. This weekly summary is just here to fill you in on the things you might have missed. Let's go for it!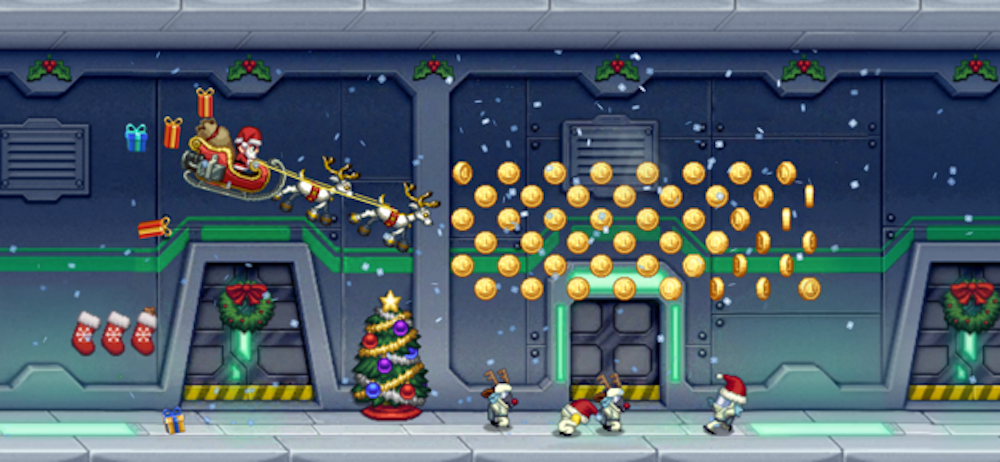 Jetpack Joyride, Free It's time for another big holiday, and that means it's time for Jetpack Joyride to kick off another event. Christmas is nearly upon us, and for Barry Steakfries, that means a wild assortment of Christmas costumes, special vehicle skins and a big old Santa sleigh. A lot of these come from previous years, but there are a few new goodies to check out. There's a new workshop elf costume, a snowglobe jetpack, and an ice wyvern vehicle skin. Collect the flying Christmas baubles to earn a wide variety of rewards that may or may not include these!
Dan The Man, Free And yes, Dan the Man has a Christmas update rolling in as well. There isn't quite as much stuff here as there is in Jetpack Joyride, but new goodies are new goodies. There's an update to the survival mode, adding in the Snow Soldier and the new Snowy Countryside area. There's also a special winter deal you can pick up that will score you the Frosty Plains and the Holiday Costume Pack in case you missed them in previous years.
SEGA Heroes: RPG Match 3 Games, Free SEGA Heroes is deep into its next set of characters, this time adding in more Sonic characters. The first week saw Vector make the scene, and in the last week Espio joined the roster. Charmy is sure to be the third, but who will the fourth be? No idea. But I can tell you that this latest update made it easier to unlock new characters by reducing the amount of shards required, but ultimately you'll still have to gather up a bunch of shards to make them useful in combat. Still, it's nice to have almost a full roster to look at, even if I'm only using eight of them.
Minecraft, $6.99 Minecraft has other things on its mind than Christmas presents and anthropomorphic heroes. It has bees on its mind. Wow, that would be absolutely terrifying if it were literal. Imagine bees, but in your head. Um, anyway. Minecraft has bees now! They produce honey, as bees do, and you can collect that honey to make honey blocks. Why the heck would you want honey blocks? I'll leave that to you to sort out. Bees also help flowers and crops grow faster. Which makes sense, as that is also something bees do. Bees are awesome, as long as they stay outside of your head.
Dungeons of Chaos REVAMPED ED., $5.99 Oh wow, a new update for Dungeons of Chaos. Now that's a present I wasn't expecting. This Shipwreck update makes the shipwreck in the north east of Tartessos accessible, and it's got tons of goodies inside. Treasure! Secret puzzles! An arena with special rewards! Pirates! Are those goodies? Why not! The ultimate arena award is a new unique item, and it really is best left as a surprise for those who can pull off what is required to earn it. I think I'll give this the coveted UMMSotW award for the week. Nice work, Volker!
Black Paradox, $3.99 This is also a really good update, though. There's a brand new game mode called Darkness with a new secret boss to battle. The Darkness mode includes seven boss variants, new enemy waves, and more. Do check it out. The shop has a Restock function, and there's a new weapon and new drone to mess around with. New power-ups? Check. New combos? You bet. New backgrounds? Definitely. And yes, some new tunes as well. A very impressive update, so make sure you check it out. If you haven't played this game yet, perhaps this will convince you to give it a go.
Dr. Mario World, Free I have no idea how this game is doing, but it feels like once Mario Kart Tour came out, everyone forgot about it. If you're still playing it, however, you may appreciate this update. It makes it so that you can earn some doctors by beating special stages, and you can get new Doc Tokens that can be used in Doc Staffing. The difficulty of some stages has been adjusted, and the number of times you can use items in each stage has been adjusted. Also, bug fixes and performance improvements! Who doesn't like those things? Nobody, which is why they always write about it in the notes.
Marvel Contest of Champions, Free The big Fantastic Four event in Contest of Champions is coming to a close, but one character who has always been near and dear to Marvel's First Family is flying in the door before everything wraps up. The Silver Surfer himself joins the roster, and if you think pitting someone with the power cosmic against, like, Spider-Man isn't fair, you've never read the classic story in Amazing Spider-Man #269-270. Anyway, he's a popular character whose star is likely going to rise whenever Marvel Studios decides to pull him into the MCU, so you might as well get on the train right now. There's some other stuff in here, but I'll let you check it out on your own.
AFK Arena, Free Really thinking about the title of this game, because it's fascinating. Technically speaking anytime you're on your smartphone, you are exceedingly likely to be away from keyboard. So if you're playing AFK Arena, by definition you are probably AFK. Especially if you're at work. Pretty clever. This update adds free-to-play game favorite Arthur – Pendragon to the game. He can be obtained from the Labyrinth Store or purchased from the Merchants page. There's also something about soul-fusing dimensional heroes, but I don't play this game so I'll leave that to you to read up on so that I don't mess it up.
PUBG MOBILE, Free The winter season is also a thing in PUBG Mobile, and that means some new season-appropriate things to play around with. The new Snow Paradise area allows you to check out cable cars on snowy mountains and go snowboarding. Some healing options are now available while moving at the cost of some of your speed, and bandages can be automatically used one after another for those really big boo-boos. There's also some kind of new mode called RageGear that adds some vehicular mayhem to the festivities, and a new loadouts screen that you can access from the TDM Selection or Inventory screens. This is just scratching the surface of all of the new and changed things, so be sure to hit those notes yourself if you want to get the full details.
ANOTHER EDEN, Free You'll never see it coming! Another Eden is rocking a Persona 5 cross-over in its latest update, allowing the Phantom Thieves and the Another Eden gang to cavort with each other and engage in adventures of questionable scruples. A new character, Rosetta, has been added, and a number of bugs and writing mistakes have been adjusted. It's nice to see this game landing a big brand cross-over like this one, and I hope to see more of them in the future.
That about wraps it up for last week's significant updates. I'm sure I've missed some, though, so please feel free to comment below and let everyone know if you think something should be mentioned. As usual, major updates will likely get their own news stories throughout this week, and I'll be back next Monday to summarize and fill in the blanks. Have a great week!