The idea behind the TouchArcade Game of the Week is that every Friday afternoon we post the one game that came out this week that we think is worth giving a special nod to. Now, before anyone goes over-thinking this, it doesn't necessarily mean our Game of the Week pick is the highest scoring game in a review, the game with the best graphics, or really any other quantifiable "best" thing. Instead, it's more just us picking out the single game out of the week's releases that we think is the most noteworthy, surprising, interesting, or really any other hard to describe quality that makes it worth having if you were just going to pick up one.
These picks might be controversial, and that's OK. If you disagree with what we've chosen, let's try to use the comments of these articles to have conversations about what game is your game of the week and why.
Without further ado…
R-Type Dimensions EX
As someone who's pushing 40, I love classic games. And I love remakes of classic games, granted their done with respect to the original work. My very favorite thing is when a company remakes a game and provides the original in the same package, giving players the best of both worlds. One of the best examples of what I'm talking about is R-Type Dimensions EX ($4.99) from Tozai Games, which surprise-launched on iOS this week. This is a package that contains both R-Type and R-Type II, two groundbreaking horizontal shoot'em ups from Irem that were originally released three decades ago. You can play them in their original form, but the big draw here is that both games have been fully remastered with gorgeous 3D visuals, and it's a lot of fun to go back and see these iconic ships, enemies, and environments through more modern lens.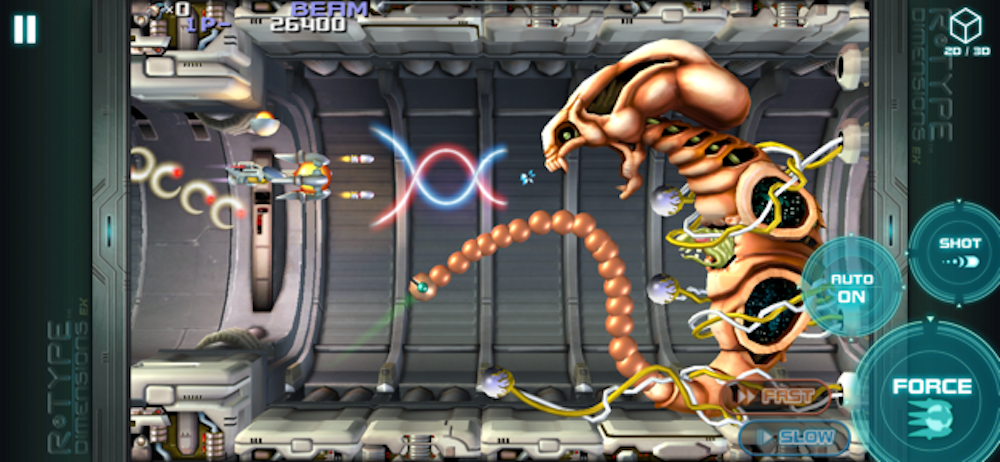 Best of all is that there's a lot of fun additional visual options. There are two different "retro" filters, both with an 8-bit variant as well, that gives these modern, smooth, 3D visuals a more pixelated, jagged look. In fact my favorite way to play is with the Retro 2.0 filter on, as it still has a bright, old-school look but with graphical effects that would have never been possible on the hardware of the late '80s. On top of all of this you can swap between the updated visuals and the original pixel art on the fly with the press of a button, and I absolutely love swapping back and forth and seeing a game I love from two different angles at the drop of a hat.
That's a whole lot of talk about visual stuff, but really these games are so well-known and play so faithfully to their original versions that if you're familiar with the R-Type series you're probably already knowing what to expect here. HOWEVER, a total game changer option in R-Type Dimensions EX is the ability to play in Infinite mode. R-Type and its sequel are notorious for being… well, let's just say soul-crushingly difficult. For some conquering these games is a badge of honor, but for many it simply means they've never advanced past the first couple levels in the game. Infinite mode is a clever solution that should please both camps. You have unlimited lives, and pick up right where your ship was destroyed anytime you die. That's it! Less capable players can simply brute force their way through the game and be able to experience it all, even if it takes hundreds of lives to do it. Expert players can show off their skill by beating the game with as few lives as possible. Everybody is happy, and of course you can play through the regular way too in Classic mode.
Yes, Dotemu released the original R-Type and R-Type II on iOS way back in the day, and while those versions aren't updated for modern devices they both do still run just fine. Perhaps that's all the R-Type you need in your mobile life, and that's fine. But if not, I can't recommend R-Type Dimensions EX enough. It contains the original games just as you remember them, as well as some fun options to play in different ways that should please a wider variety of players and skill levels. Then you have the graphics which look awesome in their completely remastered mode, and can be tweaked with some fun filters, but those glorious original visuals are there for you at the tap of a button and it's a lot of fun to swap back and forth just for the heck of it. This is a really lovely modern treatment to two of the best shooters of all time, now available to carry around in your pocket.