I've never really dived into the skating world. I dislocated my knee by basically just standing up, so I didn't want to raise the stakes by using a wooden board. Maybe you're like me, and you still want to experience skating one way or the other. If that's the case, maybe you should try Skate City.
Skate City is a skating game developed by Agens and published by Snowman exclusively on Apple Arcade. As you guess, the game is all about skating. You'll skate around the world in the streets of each city you go to.
Sadly, I'm using "around the world" lightly here. You can only travel to a total of 3 cities: Los Angeles, Oslo, and Barcelona. However, each city brings its own style, music, and obstacles. Don't get me wrong, these cities are pretty, but I would've loved having more places to visit.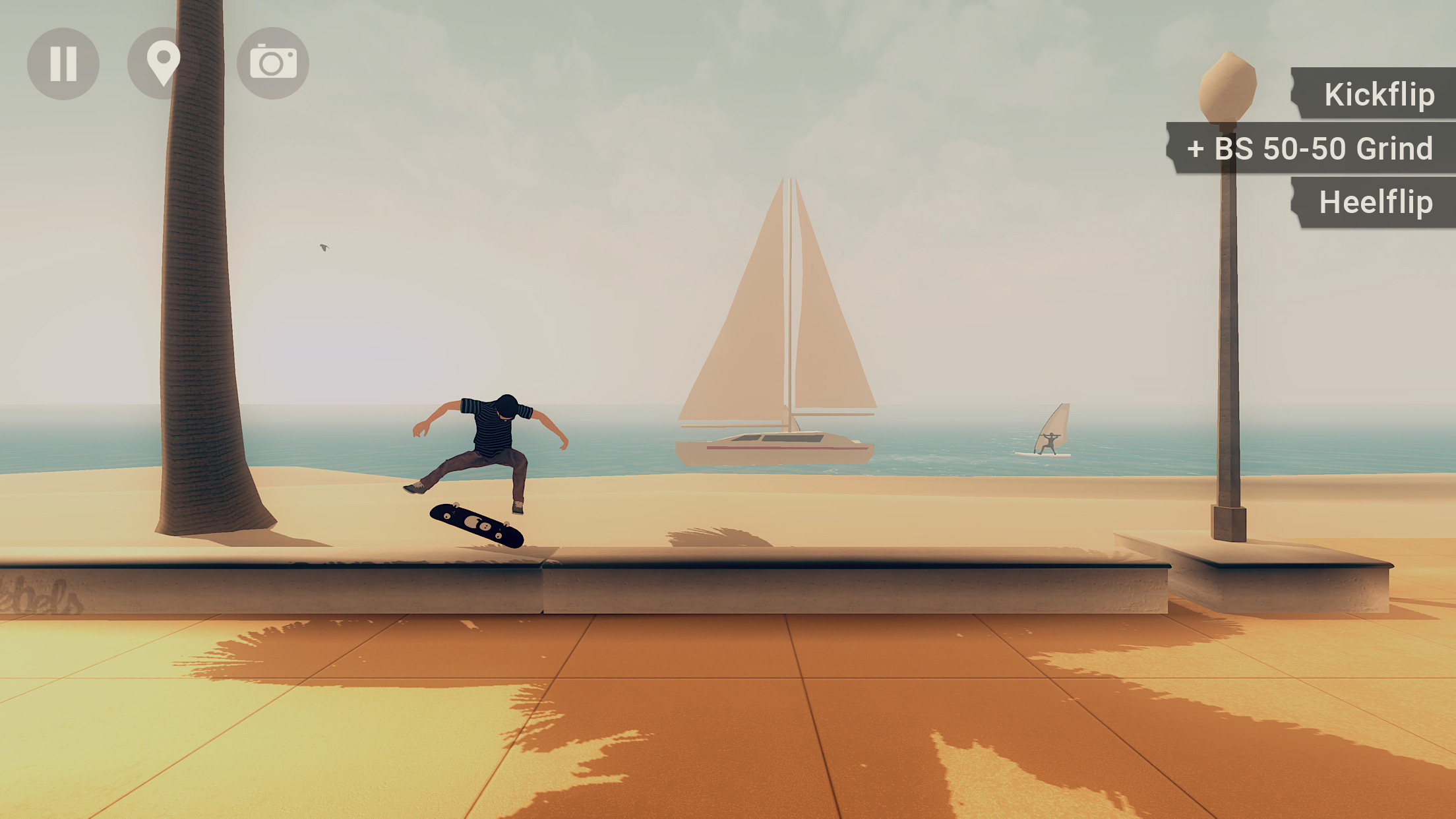 Each city has a number of challenges and an Endless mode. The Endless mode is pretty straightforward. You can play around the streets of the city you're in, and you can get some money by doing different tricks and completing specific requirements. The money you get can be used to buy new clothes and gear or to unlock another city.
The challenges are a little more difficult. There are a lot of challenges available. Some are really different, like avoiding people in your way or escaping the police, and others are your typical skating challenges like doing different tricks at a certain time.
The challenges are the most interesting part of the game, but sadly, they get old fairly quickly. Plus this is a short game, and unlocking each city won't take that long. This is not a game for you to play endlessly. Instead, it is a game for you to casually chill while trying to kill some time.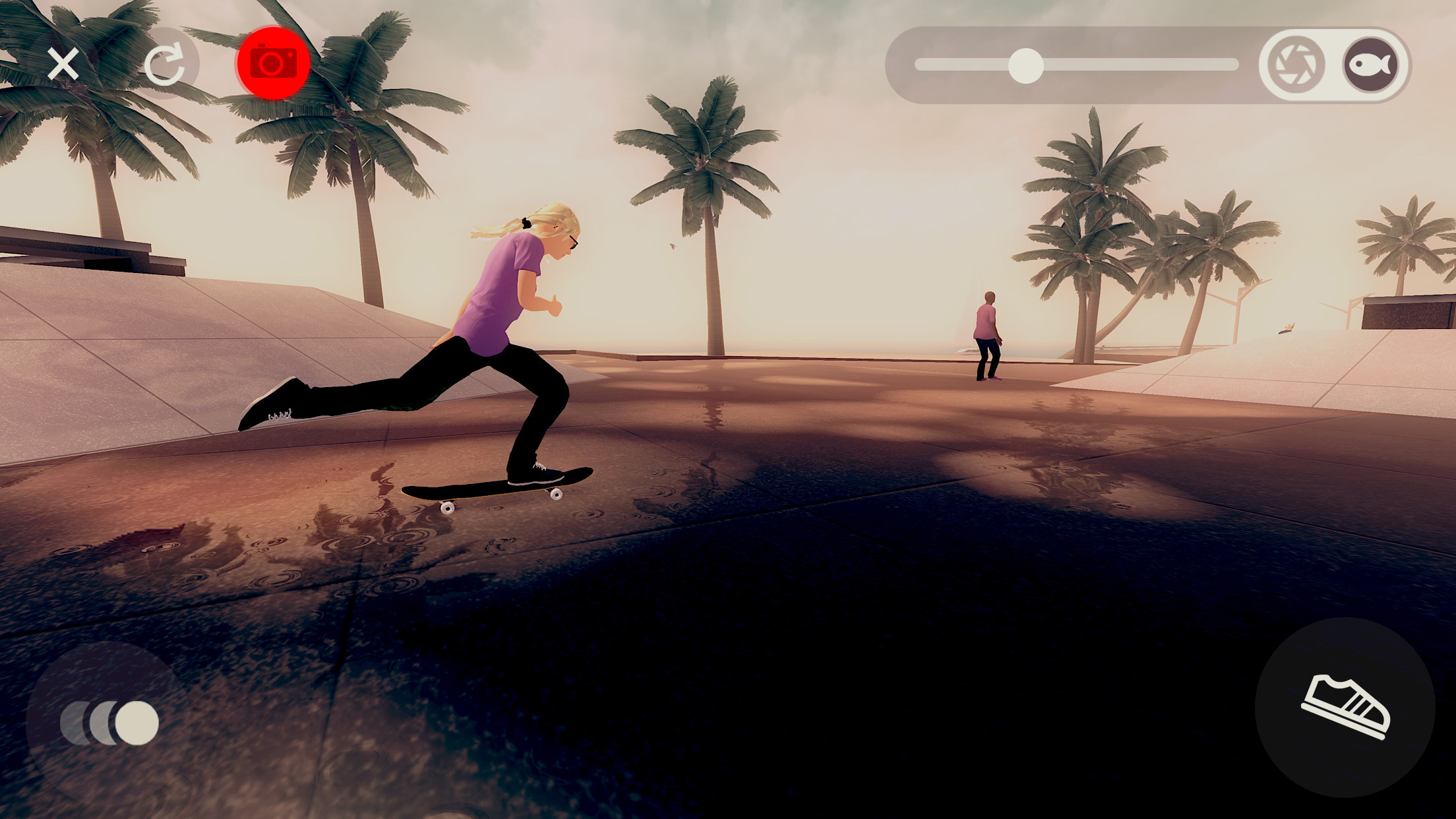 Speaking of chilling, Skate City's soundtrack is great for this. It gets you excited while playing a challenge or relaxed while skating around. Also, the animations and 3D models are simple and accurate.
The game runs smoothly, but I did have a small problem with the tutorial at the beginning of the game, where it would get stuck while doing a 50-50 grind, but it probably was because I was using an old device (iPhone 6S).
When it comes to the gameplay, Skate City has a couple of things to improve, at least with the on-screen controls. You do tricks by sliding on the left or right side of the screen. These are the most simple tricks, but when you have to do something more complicated, you'll need to also touch the corners of the screen.
The main problem is that sometimes it won't respond the way you wanted. This is especially frustrating when you're doing a challenge where you need to do a trick in the exact moment the game tells you to.
If you're using a BlueTooth controller, you won't have these problems. It will make the gameplay more responsive and fun, but there is a learning curve involved since you need to use both joysticks and a lot of buttons. It'll take some time to get a hold of it, especially if you're not used to a physical controller.
While being like any other skating game, Skate City stands out as a good option for the people interested in skating. Its several challenges, different cities, and excellent music make this game a great game to enjoy. Just try to use a BlueTooth controller when playing to improve the experience.
🤔 Like this article?
We pride ourselves on delivering quality, long-form articles like this one instead of the SEO-driven click bait that is slowly taking over the internet. Unfortunately, articles like these rarely generate the traffic (and as a result, the ad revenue) of listicles, cheat guides, and other junk.
Please help us continue producing content like this by supporting TouchArcade on Patreon, doing your Amazon shopping by first visiting toucharcade.com/amazon, and/or making one-time contributions via PayPal.
NOTE: Skate City is available on mobile exclusively as part of Apple Arcade, a premium gaming subscription service from Apple. Without being a subscriber to Apple Arcade you cannot download and play this game. Apple Arcade is $4.99 per month and does come with a free one month trial, you can learn more about it on Apple's official website or by visiting our dedicated Apple Arcade forum.