Dear Reader is a game I expected to like. Believe it or not, that's a rarity for me. I'm not huge on puzzle games and to be honest, I don't read all that much, either. I found the graphics in the preview both simple and sharp which led to me being interested. I figured that I may as well try it out, and boy am I glad I did.
The game starts out rather simplistic. In short, it's about as easy as can be. You'll be introduced to a series of short paragraphs in which you'll be selecting words to be switched around to make sense. But the game is bigger than that. It'll go through the entirety of books, poems, and short stories with choices from science to religion to children's books and more. You're not just doing puzzles, you're reading excerpts from a story. I found this a brilliant approach because it not only gives you entertainment from the game but also from the story itself.
The game is very relaxed, depending on your selected difficulty, which is perfect for any puzzler.  The music in the background doesn't ever take your attention away from the story and the graphics make it feel just like you're reading a real book. The puzzles themselves can range anywhere from easy in which you simply look for spelling mistakes, to medium, for instance having to swap two words around to make sense, and the hardest of things like swapping entire phrases around or removing phrases entirely. There is a huge amount of variety in the game thanks to this system and in my 10 hours or so of playing, I've only unlocked six of the twenty-four different WordPlay options available and am happy with each and every one.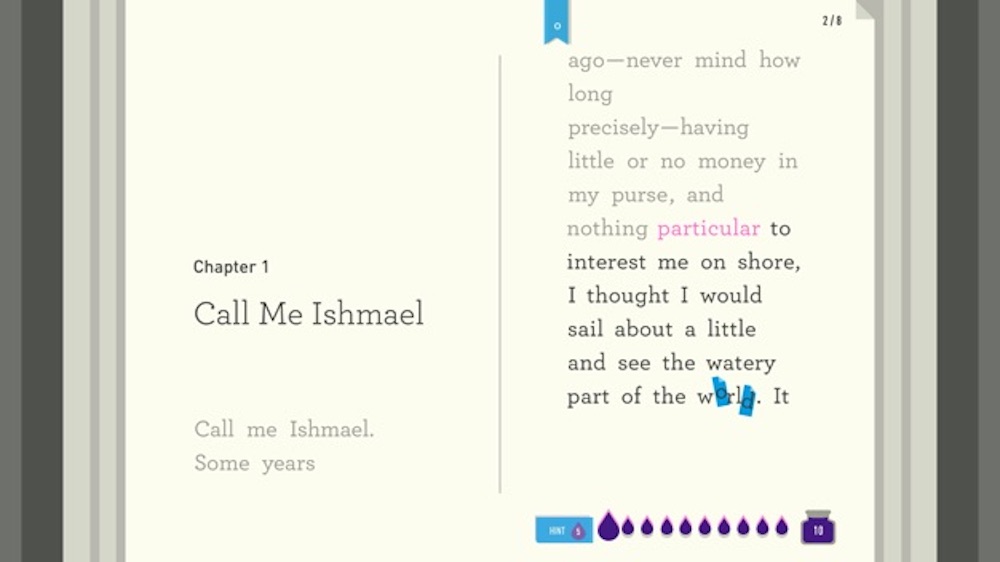 There are also a good amount of ways to earn Ink, this game's currency. You can play one of the harder difficulties, for starters. You can also earn more by completing sets of chapters, though it'll earn you only 100 Ink. There's the option of playing the daily challenges, and there's also just playing normally. Each chapter and book you complete will earn you more than enough Ink to buy another book.
As far as difficulty goes, you've got three options. There's Relaxed, Page-Turner, and Speed Reader. I found myself gravitating towards Relaxed simply because I found the story much more enjoyable than the challenge of the other two modes. In relaxed, you'll have no time pressure at the expense of not earning extra ink at the end of the section compared to the other two modes. Note: You'll still earn ink, just not an added bonus. Page-Turner will offer you a time limit for each page. You'll have to complete it in around 15 seconds per page to not lose any of your 10 ink drops for a +10 ink bonus. Lastly, Speed Reader will be the real challenge. You'll have only ten seconds per page until you start losing ink drops and will earn a hefty +25 ink bonus at the end.
Ink can be spent in the store for books or hints if you find yourself stuck on a chapter. There's a good variety of books in there that seem to change every week so it's doubtful that you'll find yourself running out of material soon. Personally, I chose my next book to be 20,000 Leagues Under the Sea and I'm certainly excited to try it out. In fact, I enjoyed completing Pride and Prejudice so much that I'm actually planning on picking it up, myself. That's another big plus in the game — you end up enjoying the many snippets so much that you'll  actually want to buy the book and read it in full!
Daily Challenges offer many of the same puzzles but of a random book in the library. At the end of each one, you'll also be tasked with guessing the correct book it is from for extra ink. Daily challenges are another way you might earn yourself some WordPlay options or even find yourself a book you may be interested in, so I definitely advise checking it out.
The final feature in this game I'd like to tell you about are notes from the editor. After each chapter, you'll receive a small note about what you've just read. These help to illuminate the story more and give us insight into the book that we otherwise would be without in this game. Some are simply rereadings of important parts while others are telling us about the situation as a whole or even celebrating some of the important moments with us. It's a nice little addition that definitely adds value, in my opinion.
Dear Reader hit every tick I had for it. It was always entertaining, the puzzles were fresh and varied, the content was interesting, the features are all helpful. There's enough options in it for anyone from those that seek challenges to those that just want to read to be satisfied. The game itself took up little battery and can be played for five hours or five minutes. The best part? This is the perfect game to scoop up for your kids as they'll learn not only more about reading and spelling but also writing and story while having fun doing it.
🤔 Like this article?
We pride ourselves on delivering quality, long-form articles like this one instead of the SEO-driven click bait that is slowly taking over the internet. Unfortunately, articles like these rarely generate the traffic (and as a result, the ad revenue) of listicles, cheat guides, and other junk.
Please help us continue producing content like this by supporting TouchArcade on Patreon, doing your Amazon shopping by first visiting toucharcade.com/amazon, and/or making one-time contributions via PayPal.
NOTE: Dear Reader is available on mobile exclusively as part of Apple Arcade, a premium gaming subscription service from Apple. Without being a subscriber to Apple Arcade you cannot download and play this game. Apple Arcade is $4.99 per month and does come with a free one month trial, you can learn more about it on Apple's official website or by visiting our dedicated Apple Arcade forum.