The idea behind the TouchArcade Game of the Week is that every Friday afternoon we post the one game that came out this week that we think is worth giving a special nod to. Now, before anyone goes over-thinking this, it doesn't necessarily mean our Game of the Week pick is the highest scoring game in a review, the game with the best graphics, or really any other quantifiable "best" thing. Instead, it's more just us picking out the single game out of the week's releases that we think is the most noteworthy, surprising, interesting, or really any other hard to describe quality that makes it worth having if you were just going to pick up one.
These picks might be controversial, and that's OK. If you disagree with what we've chosen, let's try to use the comments of these articles to have conversations about what game is your game of the week and why.
Without further ado…
Powerpuff Girls: Monkey Mania
I don't really watch the Powerpuff Girls, either the original or the reboot, but the clips I've seen here and there are actually quite entertaining. I really should get around to watching it someday. However, what I have enjoyed from the Powerpuff Girls over the years has been some of their video game outings, here on mobile and other platforms, and their newest mobile game is no exception. It's called Powerpuff Girls: Monkey Mania (Free), and it's by the talented folks at Juicy Beast, who you probably know from their Burrito Bison games. In fact, that's an important point.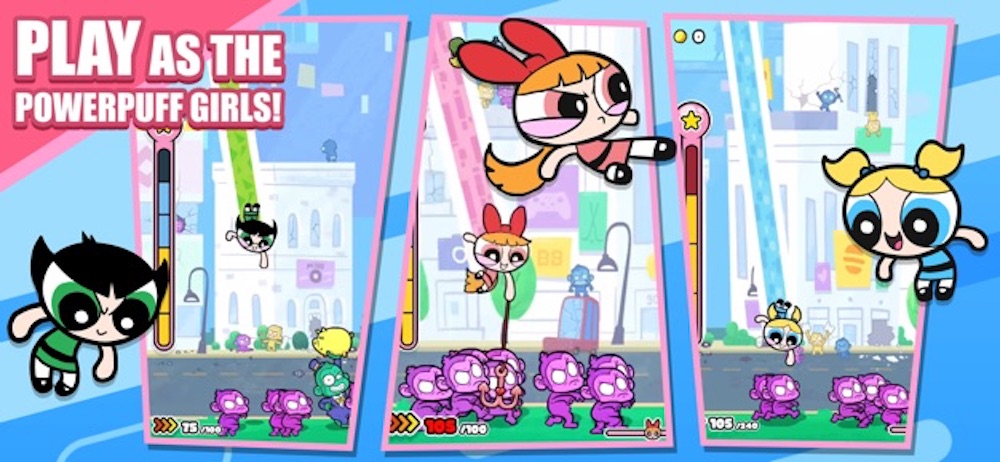 Powerpuff Girls: Monkey Mania is more or less Burrito Bison dressed up in Powerpuff Girls clothing. That's probably not doing the game justice as there are a number of tweaks and improvements in this version, but the concept is the same. Launch your Powerpuff Girl, bounce across the heads of Mojo Jojo's "army of manic monkeys" and try to make it as far as possible. This is a launcher game through and through. But of course, just like Burrito Bison, there's a lot more to it than that in terms of crazy power-ups, upgrades, special characters, and more to make each launch just a wee bit better than the last.
In fact, that's the part that makes Powerpuff Girls: Monkey Mania get under your skin in the best way. There is SO MUCH stuff to unlock and upgrade that it has the same sort of compulsion loop of an idle game or a clicker, but it's all strung together with these really fun runs where you're trying to bounce as expertly as possible across everything in your path. And while there's a heavy dose of luck involved, there's also a surprising amount of strategy. It's just one of those games that's really hard to stop playing because you just KNOW that "one more run" could be your best one yet.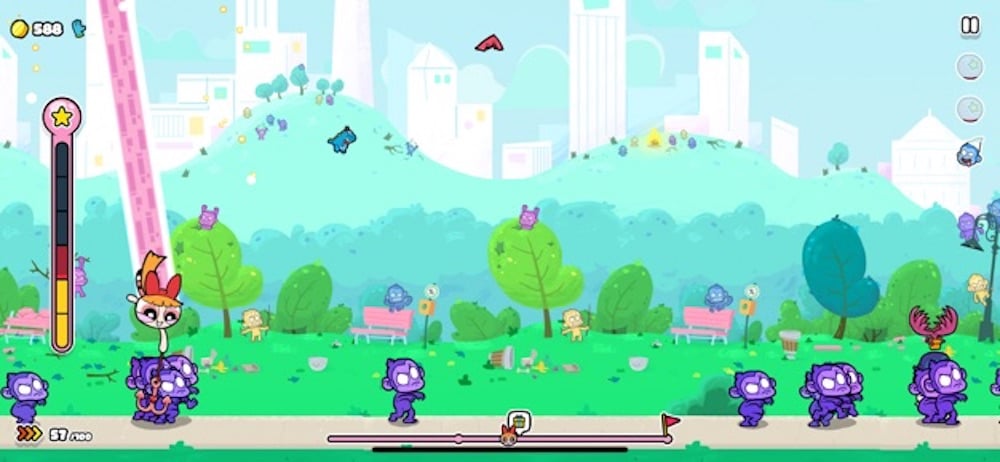 While the original Burrito Bison on iOS has been lost to the sands of time, its 2016 free to play follow-up Burrito Bison: Launcha Libre is still going strong. And like that game, Powerpuff Girls: Monkey Mania is also very free to play. But it actually works for this type of game where you're playing super quick rounds, and the unlock and upgrade grind is actually the point. And if you REALLY wanted, there's several permanent IAP options here that will make the game more or less premium, though they're pretty pricey. For my money (or no money, as it were) I enjoy playing games like this without spending a dime as most the time a payment will mess with the progression that I enjoy.
If you feel the same and enjoy the launcher game genre, whether you're a fan of the show or not, Powerpuff Girls: Monkey Mania is a breezy good time that's worth a look.