It's Valentine's in Summer out in Alberia, and the prince's closest friends are all hard at work preparing gifts to thank him for his efforts. The Dragalia Lost Valentine's Confections event is live for the second time this year. That's right; it's a revival (or repeat). But there is a slight difference for those lucky enough to have had access to the game when this event first came around. For those who didn't, we'll be detailing how it all plays out down below.
Valentine's Confections Dates
Unlike most previous events, the Valentine's Confections event is only here until the end of the month. It ends on the night of August 30. It's a 7-day story event that shouldn't affect your usual playstyle too much. It's almost like there's no event at all!
Ardent Admirer's Summon Showcase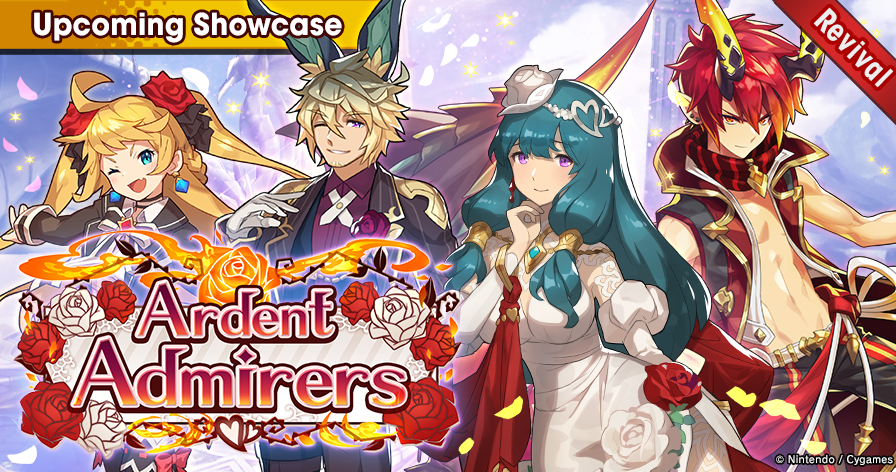 The relaunch of the Valentine's Confections event brings with it a repeat of the Ardent Admirers summon showcase. Former event-specific adventurers have, thus, returned to the summon pool for a limited time.
Those who missed or otherwise weren't around for the first iteration of this can now summon for characters like Valentine's Hildegarde, Valentine's Orion, and Valentine's Ezelith. The banner also marked the first appearance of the 5-star dragon Prometheus, who's appearance rate has been boosted for the event.
There isn't too much point blowing Wyrmite or tickets on the Ardent Admirers banner unless you're particularly new to the game. Ezelith and Orion are easily beaten in most use-cases by other, more readily available summons, and Prometheus is a permanent fixture in the regular summon pool. Valentine's Hildegarde, on the other hand, is a very helpful Flame-attuned healer. Though anyone with Verica already on their team won't see much benefit.
Valentine's Confections: Wyrmprints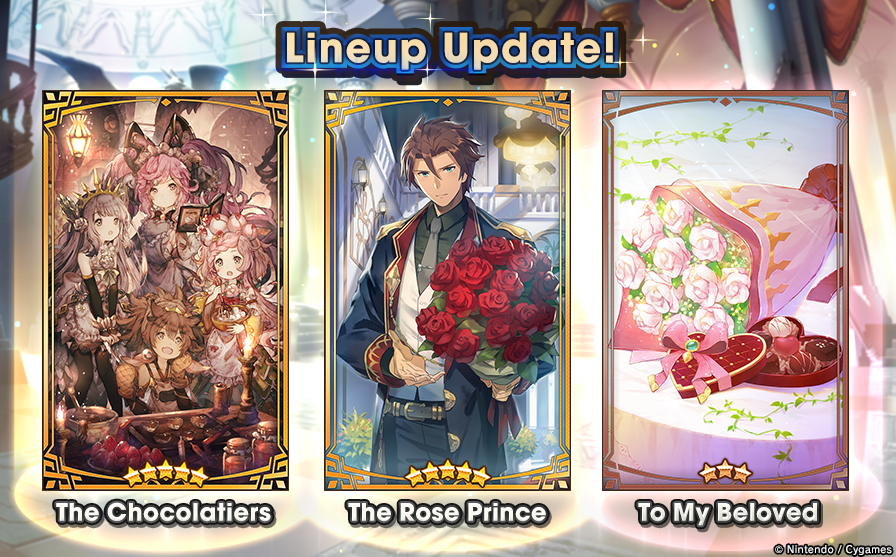 This event brings plenty of new and old wyrmprints both into the shop and in the event rewards box and drops. Some are relatively useless, but others – like The Chocolatiers – have been staple recommendations for powerful adventurer for some time. Though its usefulness as diminished in the face of certain newer wyrmprints, it's absolutely worth using this event to pick up The Chocolatiers if you don't already have it.
New and returning wyrmprints and MUB skills include:
Wyrmprint Shop
The Chocolatiers (5*)

Skill Prep +100% (Max 100%)

The Rose Prince (5*)

(Flame) Affliction Guard III (Max 3 Times)
Shield Prep III (Max III)

To My Beloved (3*)

Skill Prep +20% (Max 100%)
Treasure Trade
Event Rewards
The following two 5* wyrmprints are obtained by completing both sets of initial stories and come max unbound and leveled up:
Valentine's Venture (5*)

Last Offense +50% (Max 60%)

A Heartfelt Gift (5*)

Loving Heart (10% Player EXP Boost) (Max 10%)
Valentine's Confections: Story
We're going to keep this one brief as the entire event is just one big story. Spilling the beans here would invalidate it entirely; and that's not something we want to do given the time and effort that goes into making these events.
Simply put, the Valentine's Confections event revolves around Valentine's Day – naturally. Only it's based upon the slightly tweaked Japanese tradition which typically has girls give chocolate to the boys they admire. It's a general holiday of thanks, and the Prince's main companions are heading off in groups to find and make presents that will help them express their gratitude toward our hero.
Additional stories will unlock over the duration of the event, but for now, there's Cleo & Elisanne and Luca & Ranzal tales to read through.
Note: Specific to this run of the event, the initial two stories trees with Luca & Ranzal and Cleo & Elisanne have alternate versions available. The stories remain identical, but the characters and backdrops are swapped to use the swimsuit and summer locales of the last event.
These still cost additional Ravishing Roses to unlock, but will award Wyrmite upon completion.
Valentine's Confections: Rewards
Like any good Dragalia Lost event, there's loot flying here, there and everywhere over its duration. Handy upgrade materials like Dragonscales, weapon tablets, and rupies are up for grabs, with very rare items like Twinkling Sands, Golden Keys and 5* Ingots up for grabs. Well… one of each.
How to Farm Ravishing Roses
All of these rewards can be exchanged with the event-specific token currency "Ravishing Roses". These can actually be obtained in any quest in the game, so you're not limited to spending stamina on the event to get these tasty rewards.
In fact, there are no event quests at all! The Valentine's Confections event is purely story-based. It's a nice and relaxing time for our favorite cast of characters to share their feelings without getting slapped around by fiends.
Coinciding with a Void Battle Event, it's probably still a good idea to use the brunt of your stamina clearing Void Quest endeavors; just to maximize your gains.
It's worth noting any Double Drop events, like the Void Battle and Flame Adventurer Upgrade bonus currently in effect, will not result in double-drop Ravishing Roses. If you don't have any other endeavors to work toward, farming Ravishing Roses from the higher difficulties of Imperial Onslaught and Dragon Trials is the way to go