Remember our old friend Dashy Crashy? Well, if not, Dashy Crashy is more or less a lane-based endless runner but dressed up in the trappings of an over-the-top '90s arcade racing game. The really clever thing about it is that you can swipe upwards to increase your speed, and thus increase your score but also increase your chances of running into another car and ending your run. The sense of speed is absolutely fantastic and this risk/reward dashing system makes for some very exciting moments. Of course it also doesn't hurt that Dashy Crashy is a bright and colorful game that just exudes fun vibes, and it's easy to find yourself with a big old smile on your face while playing. Just check out its trailer and see what I mean.
So one of the best parts about Dashy Crashy is its Crossy Road-inspired unlock system that sees you trying to unlock a huge roster of cars by collecting coins and opening up gift boxes for a random unlock. The cool part is that almost every single vehicle in the game has some unique gameplay mechanic, and so switching vehicles isn't just an aesthetic choice but can also provide different experiences with each one. Dashy Crashy originally launched way back in December of 2015 and over the years has received numerous updates adding in new vehicle types and running special new events. The most recent one was last December when they ran an event where you could unlock the Crossy Road chicken as a playable vehicle.
After a bit of a hiatus, developer Dumpling Design is back with another new event called simply the Stunt Car Event. By utilizing the new Stunt Car you can launch off of ramp trucks in the road and then swipe in the air to perform various stunts, really similarly to the cool stunt driving game REKT. The more tricks you can pull off before landing the more points you'll earn, and if you earn 13337 of these stunt points before August 31st then you'll permanently unlock the Stunt Car for free. Also you have the ability to actually bounce off of other cars on the road, so if you're skilled enough you can keep a combo going by bouncing off of the traffic and racking up huge points. It's extremely satisfying, I must say.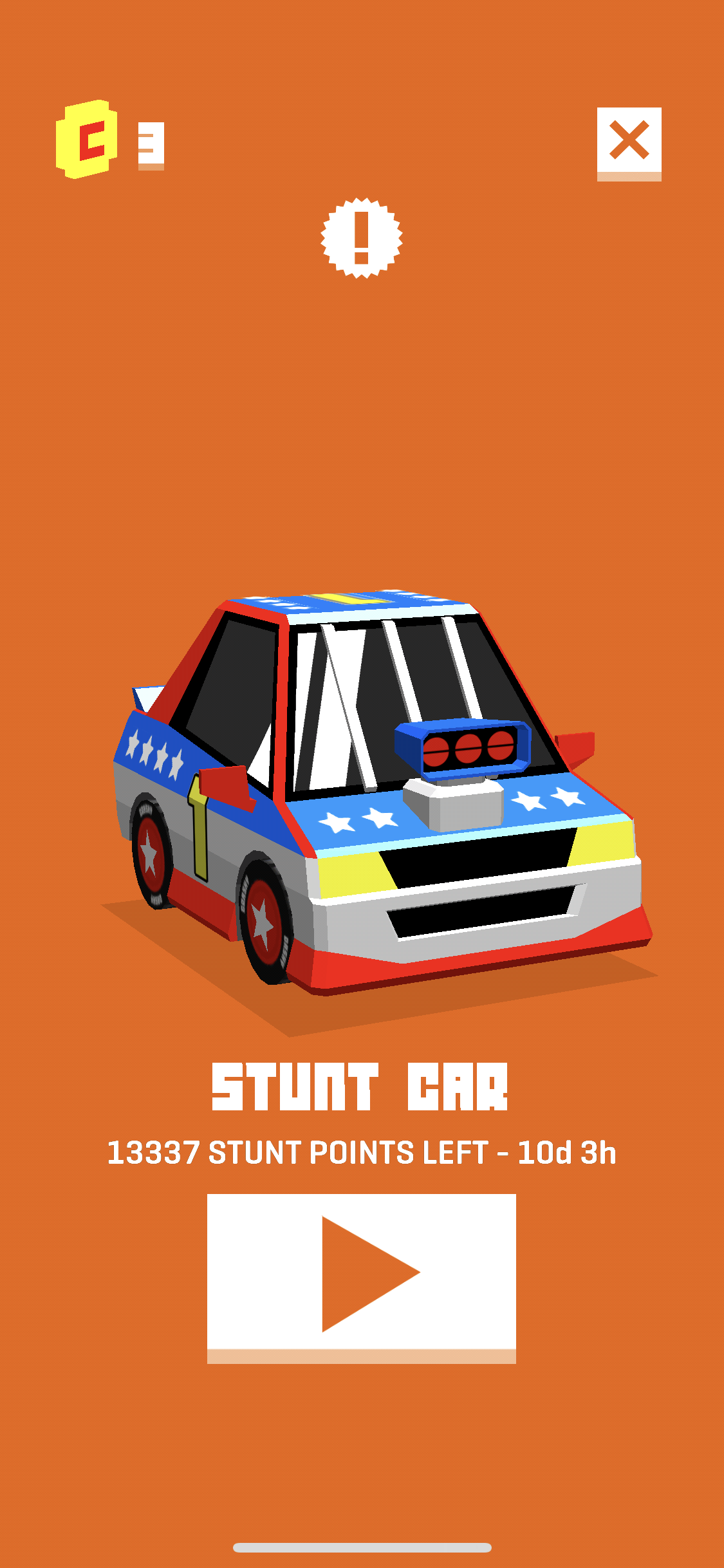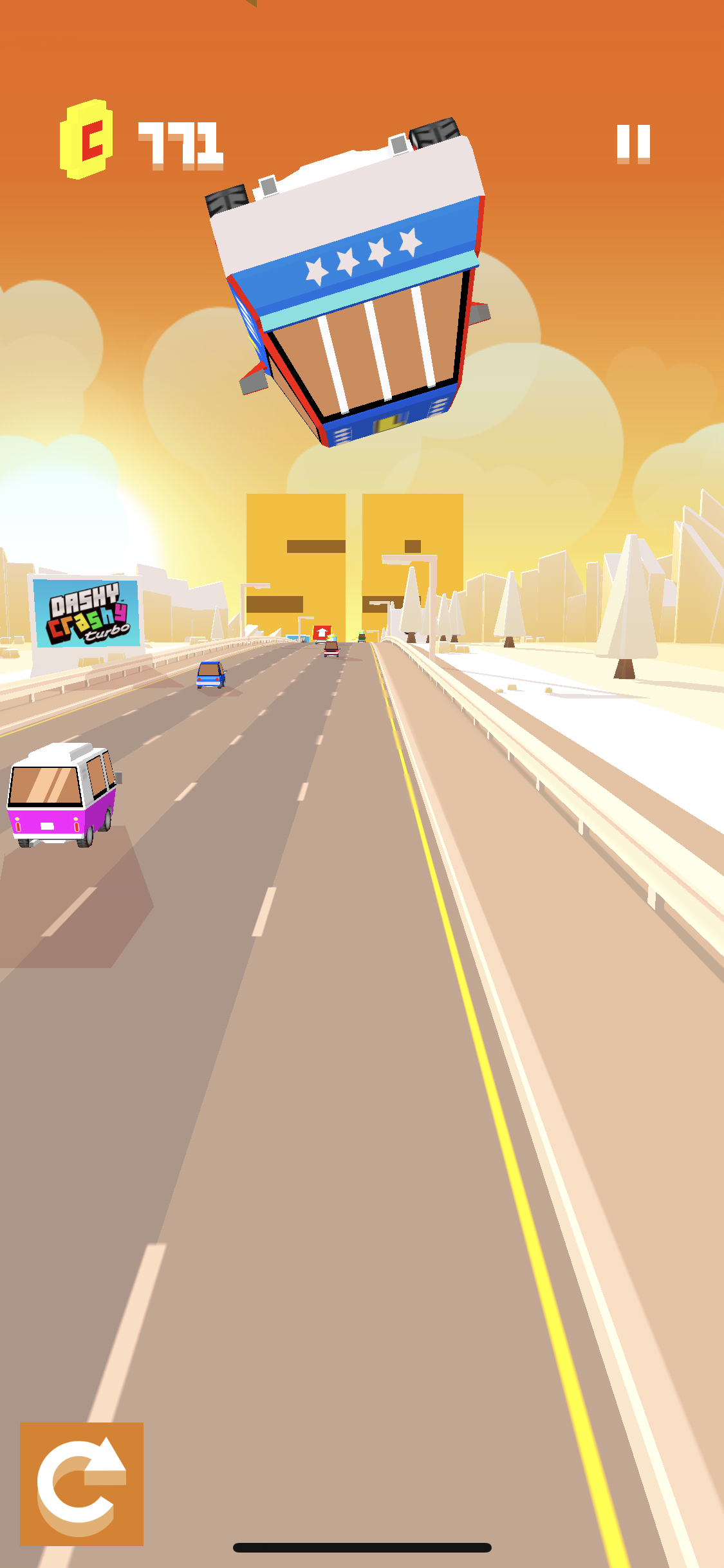 The Stunt Car Event isn't the only new thing in this week's update, as Dumpling has actually made quite a few big changes. First off they've now reduced the price of buying any new vehicle outright with IAP to just 99¢ per vehicle. Previously cars ranged from 99¢-$2.99, so now if you don't want to wait around to try and get the vehicle of your dreams through the gacha gift box system you know you'll only need to fork over a buck per vehicle for the privelage. Otherwise all vehicles in the game can still be earned totally for free just by earning coins and unlocking gifts boxes.
Related to that, there are a few new permanent IAP unlocks called "Quality of Life" keys. One will simply double your coins earned every run you play, and another will ensure that you never receive duplicate vehicles through the gift boxes so you're guaranteed to always be unlocking a new vehicle. Each of those cost $1.99. Then there's an Unlock All Cars key available for $9.99 that will unlock EVERY vehicle in the game, even the secret vehicles. That's actually a darn good deal but also kind of removes one of my favorite incentives to playing, which is slowly unlocking and collecting all the cars. Still, the option is now there if you want it.
This update also adds new Daily Rivals which allow you to beat a different rival each day to earn extra coins, a new checkpoint system that breaks a run into different stages and a new leaderboard that tracks how many stages you've managed to play through in a run, new paint jobs available for select vehicles for 50 coins each, and you now have the ability to watch some video ads in exchange for trying out any vehicle in the game as well as trying out the double coins and guaranteed new car IAP keys. And finally Missions have been disabled in preparation for a new Daily Mode coming down the pipe.
All in all it's a pretty great update to an already great game, and I still can't believe this sucker is getting new updates nearly 4 years after its original release. If you're already a fan be sure to grab the Stunt Car by completing the new event before August 31st, but if you're new to Dashy Crashy then definitely give it a download for free to check it out for yourself.