Hello gentle readers, and welcome to the SwitchArcade Round-Up for August 14th, 2019. It's an overcast day here in my neck of Japan, but it's still ridiculously hot and humid. Well, what can you do but stay inside near a fan and play some games, right? In today's article, we've got a review of the lovely Pix the Cat, some news about upcoming games and updates, summaries of the three new releases, and some sales information to round things out. Let's have a gander, shall we?
News
NISA Bringing 'Psikyo Shooting Stars' to the West in Early 2020
For a small handful of years, game developer Psikyo was making some of the best shoot-em-up games around. With the Switch being the new home of shoot-em-ups new and old, it wasn't too surprising when some of Psikyo's classics started popping up on the eShop. They were collected into three retail volumes of four titles each for the Asian market a while ago, and recently were released in Japan in the form of two six-title physical sets. Thanks to NISA, those six-title sets will be seeing a release in the West under the titles Psikyo Shooting Stars Alpha and Psikyo Shooting Stars Bravo. Collector's Editions will be available for both on NISA's online store as well. They'll be coming in early 2020, but if you just want to play the games most of them are available on the eShop right now in digital form.
Lord Zedd is Now Available in 'Power Rangers: Battle for the Grid'
For those who are still playing Power Rangers: Battle for the Grid, a nice update just hit that adds some more goodies to the game. After a thin and troubled launch, this one-on-one fighter has come quite a long way and should at least satisfy the Rangers fans out there. Today's update adds the third and final act to the game's story. Can the Rangers and a most unlikely ally finally put a stop to Lord Drakkon? I mean, it would be funny if they couldn't. Also in this update, the Emperor of Evil himself, Lord Zedd, has been made available as a playable character. You can get him if you own the $14.99 Season One Pass that also includes two other characters and an exclusive skin, or you can buy him all on his lonesome for $5.99.
Gotta Go Fast With the Latest 'Super Smash Bros. Ultimate' Event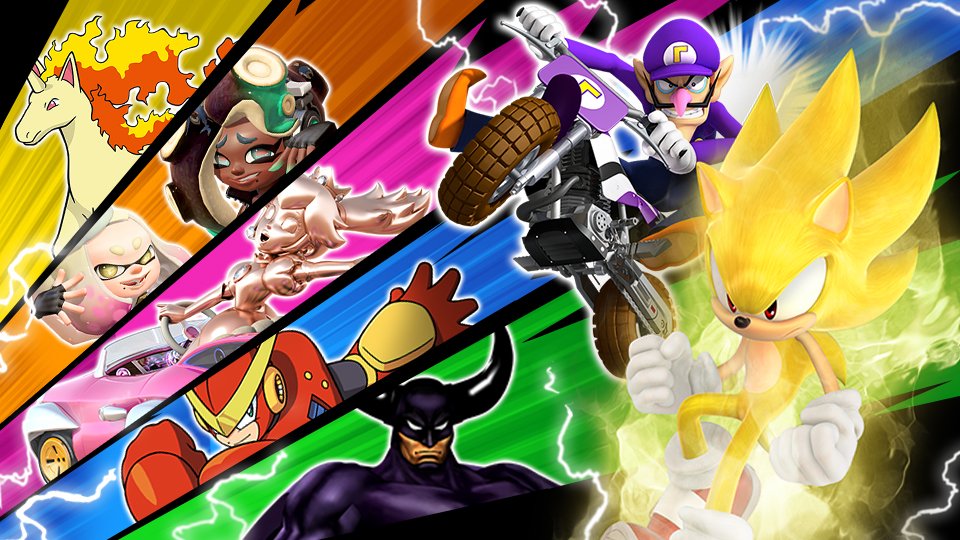 Yes, it's that time of the week again already. Time to announce this weekend's Super Smash Bros. Ultimate Spirit Board event. This time around, the theme is speed. Speedy spirits will be appearing more often than usual, and if you defeat them you'll earn extra gold. The event kicks off on Friday and will run throughout the weekend. In addition, the Link's Awakening spirits that were event-exclusive a while ago have been added into the regular rotation and can be obtained through normal means. So that's all very good news, I suppose.
Reviews
Pix the Cat ($9.99)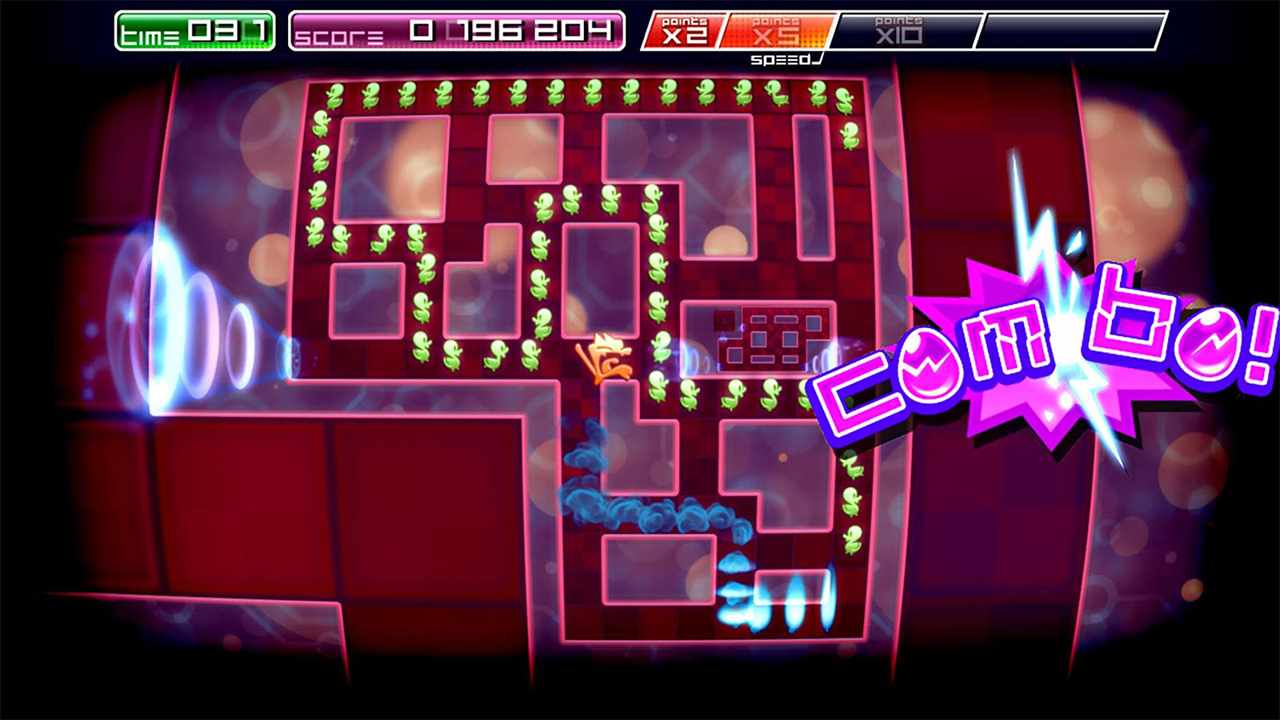 There's only so far some gameplay concepts can be pushed before the returns aren't worth the added push. When that moment arrives, the best way to increase the value of a game is to pile as much as you can on top, and that's kind of how Pix the Cat goes. Each of its modes is decent if not terribly exciting, but when you put them all together and throw in a bunch of unlockables, you end up with a rather filling meal. The overall aesthetic calls to mind the brilliant Pac-Man Championship Edition, combining retro gameplay and style with a flashy, more modern twist.
The main gameplay mode sees you playing a series of interconnected top-down stages, collecting eggs and depositing them at marked areas to hatch them. The eggs trail behind you as you go, and if you run into any of them or hit a hazard, they'll all break. That costs you some time and stops your combo meter dead in its tracks, and neither of those things are good since your overall goal is to rack up the highest score you can in the allotted time. Pix is a bit like Pac-Man in that he's always moving, so you need to plan ahead of time where you're going and which turns you'll be taking. On top of that, you get more points if you collect all of the eggs before depositing any of them, which requires a rather careful strategy.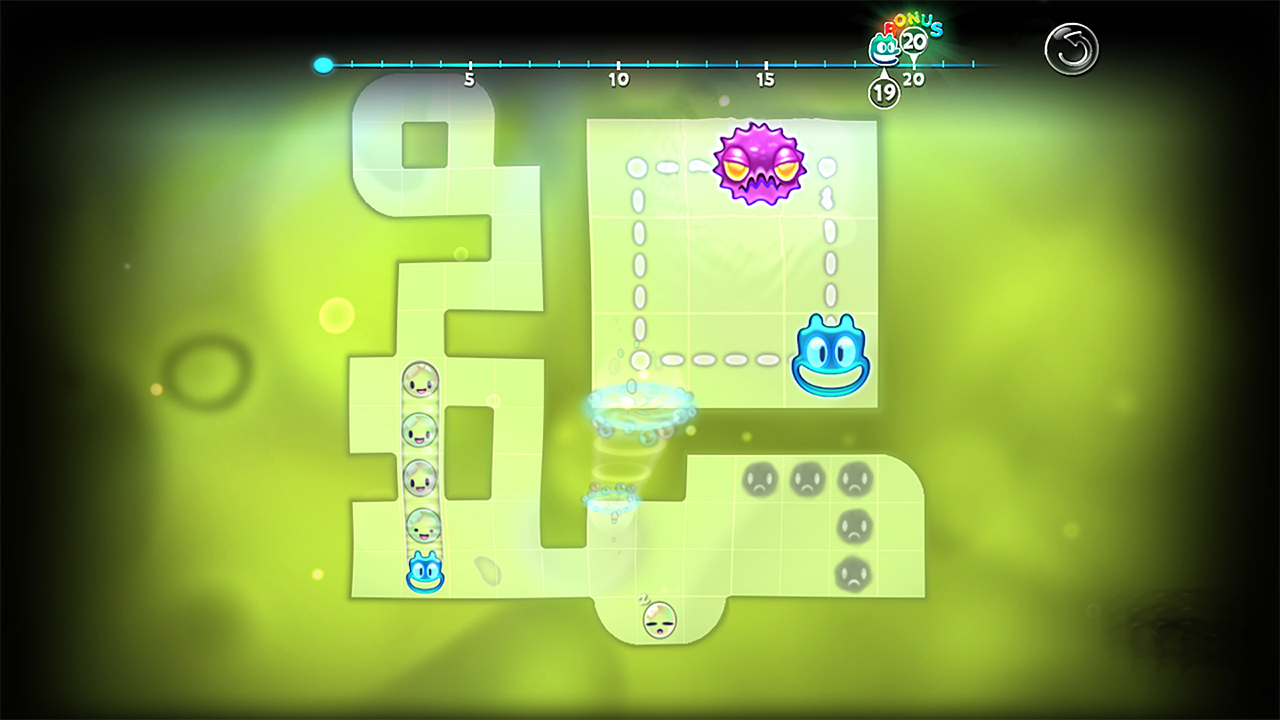 Playing this mode will unlock a variety of goodies including new narrator voices, ghosts to race against, and so on. You'll also unlock some new modes, including a multiplayer arena where you and up to three other players collect eggs to use as ammunition against each other. There's also the Laboratory, which is basically a puzzle-style take on the main game. Move one turn at a time, pick up all of the eggs, then drop them off at the marked locations. Make as few moves as possible to meet the bonus target for each level. It has a very different feel from the main game, even if it more or less amounts to those ice block puzzles from the Zelda games. The last mode is Nostalgia, which trades in the slick, fluorescent visuals for an old-timey black-and-white look. It's pretty close to the main mode, but there are a few twists here that make it an interesting variant.
Individually, I'm not sure if any of these modes would really push Pix the Cat above an average score, but when taken all together and combined with all of the minor unlockables, they make for a solid package. It's a little Flicky, a little Pac-Man, and a whole lot of Snake, presented with an amazing sense of style and playfulness. Fans of fast-paced arcade games will be in heaven here, and it may even pick up a few people who didn't know they were into stuff like this.
SwitchArcade Score: 4/5
New Releases
Fell Seal: Arbiter's Mark ($29.99)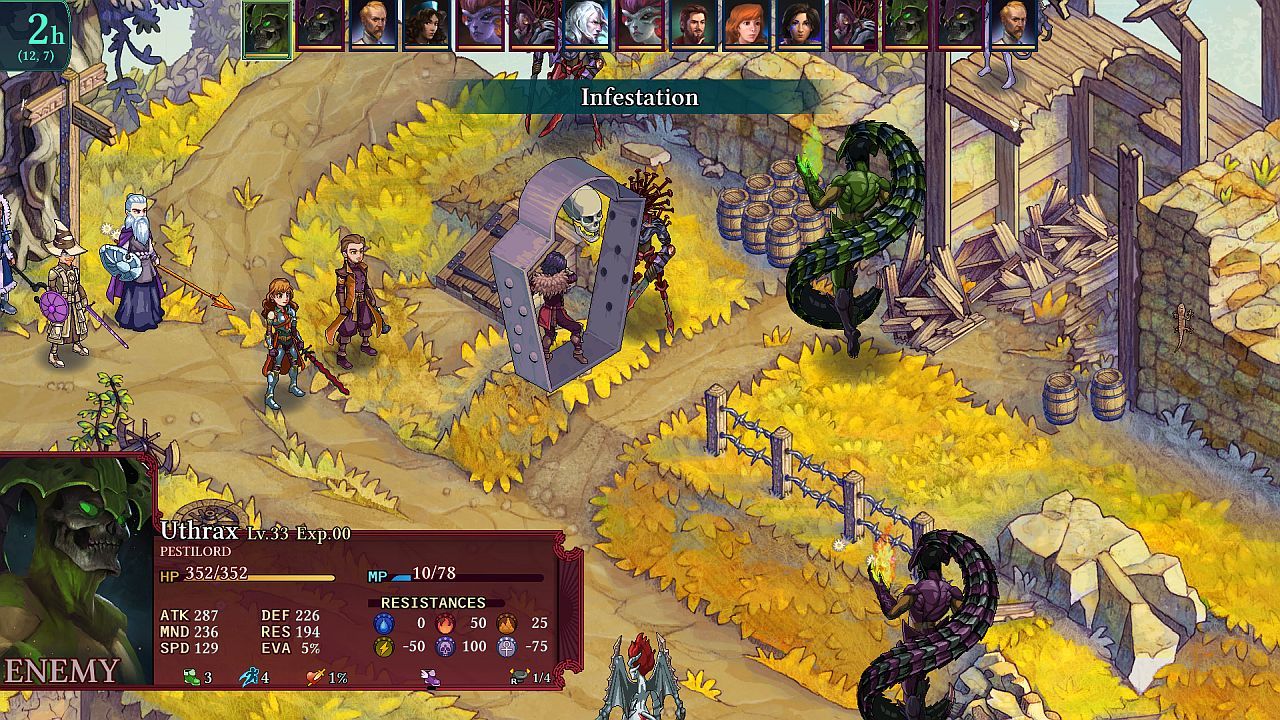 SwitchArcade Highlight!
For the life of me, I can't figure out why so many strategy RPGs have opted to release on Switch so near to the launch of Fire Emblem: Three Houses. These aren't the kinds of games most people can juggle, so they're not likely to start a new one until they've finished the one they're playing. By that time, Fell Seal may well be a few weeks old and could be missed by many. And that would be bad, because Fell Seal is a really strong example of the genre. It takes a lot of cues from Final Fantasy Tactics, and while it doesn't quite measure up to the source of its inspiration, it's very good. The biggest thing I can knock it for is that it never really gets out of homage mode to grow into its own thing.
PC Building Simulator ($19.99)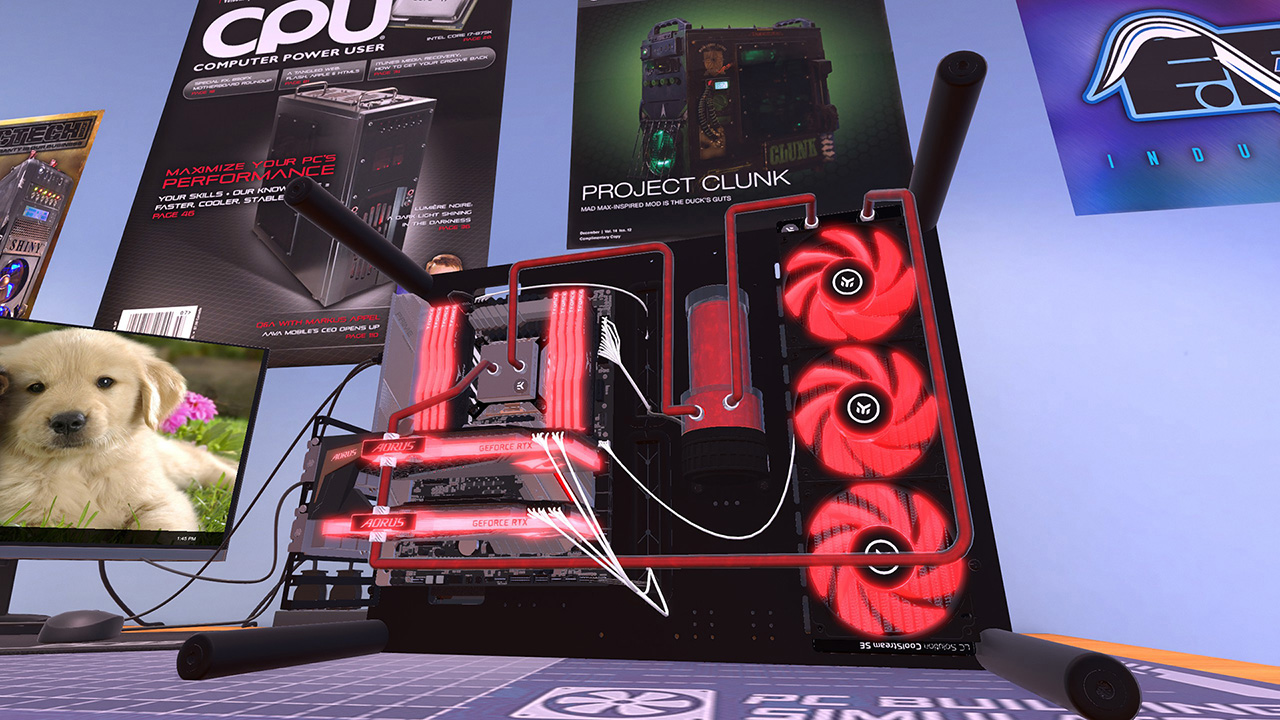 While this isn't the cheap sort of thing that most games with the word 'Simulator' in their titles tend to be, it takes a somewhat similar approach to its topic as most of its peers. Disassemble, assemble, and troubleshoot computers to get them looking and running as spiffy as can be. It cuts out some of the less fun elements of the process but keeps things just complex enough that you can feel like you're learning something along the way. There's a career mode where people drop off their busted computers and pay you to fix them, and that pretty much goes like it does in other games like this. It's a little fiddly to play with a controller, but the concept is cute and I give the developer top points for actually going out and licensing most of the major brands for the parts. It's a bit of authenticity that makes a big difference.
Edna & Harvey: Harvey's New Eyes ($19.99)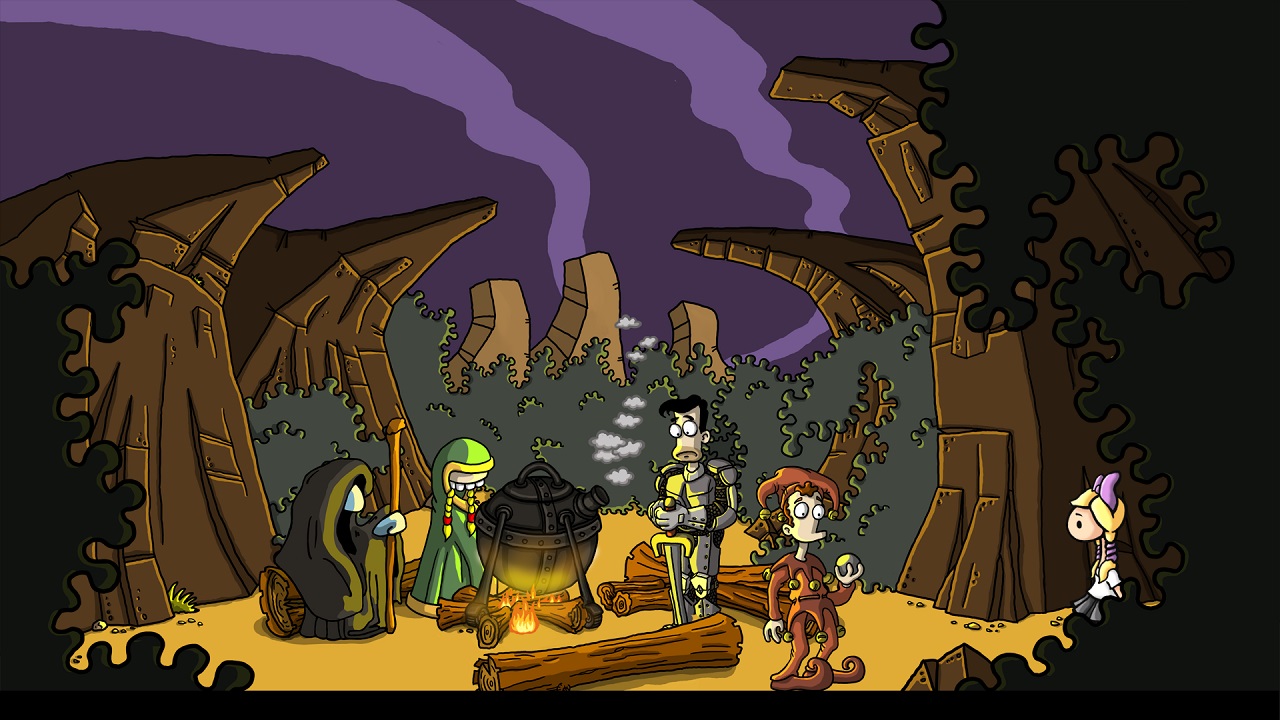 Neat story, nice art, so-so adventure game. That's Edna & Harvey: Harvey's New Eyes in a nutshell. You play as a messed up kid named Lilli who lives at a convent school under the strict rule of the Mother Superior. Her friend Edna has disappeared and Lilli needs to try to get her back. On the way, the full extent of just how damaged Lili is becomes quite apparent. This game looks like it's going to be cute and bright. It's not. There's a really dark undercurrent to it all, and Lilli's adventure goes places you would never expect from the rather simple start of the story. The puzzles are often quite poor, the animation comes off as a bit cheap, and some of the dialogue is a little clunky. The plot is interesting but not always well-told, which hurts the game's strongest element. Still kind of worth it just for how weird and morbid it ends up being. And hey, at least Daedalic isn't tossing in a ridiculous surcharge for Switch owners this time.
Sales
It's mostly pre-order or launch sales in the new stuff today, so I don't have a whole lot to say about any of that. I'll instead turn my attention to the outbox. First of all, if you like shoot-em-ups, you should buy the Vasara Collection. I'm going to be reviewing it, but it's an absurd value at five dollars. Those who like Contra-style mega-boss battles would do well to grab Mechstermination Force, while fans of slightly more deliberate but equally challenging experiences will surely like Monster Boy. Lastly, if you want a decent Japanese-style roguelike starring cute girls but don't want to pay sixty dollars for Omega Labyrinth, Brave Dungeon + Dark Witch Story is a nice pick-up.
New Games on Sale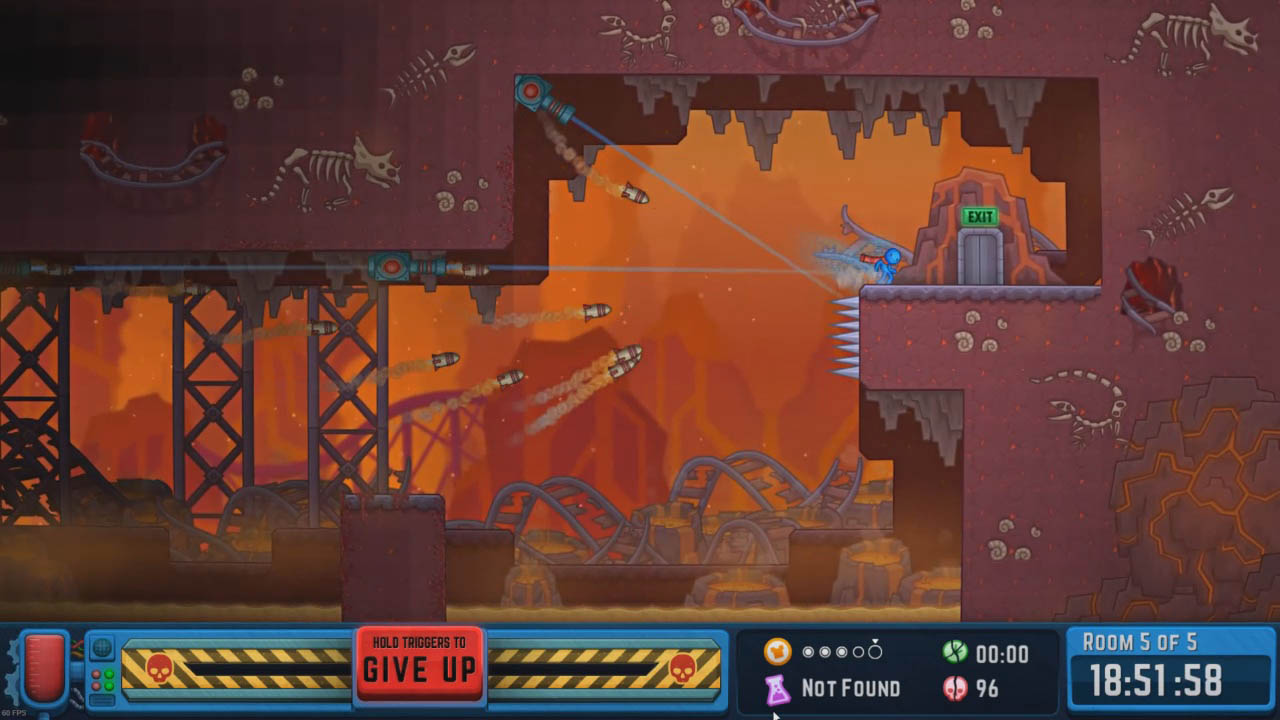 Never Give Up ($13.49 from $14.99 until 8/20)
Sudoku Universe ($4.89 from $6.99 until 8/31)
PC Building Simulator ($17.99 from $19.99 until 8/20)
Eight-Minute Empire ($12.74 from $14.99 until 9/4)
Sales Ending Tomorrow, Thursday, August 15th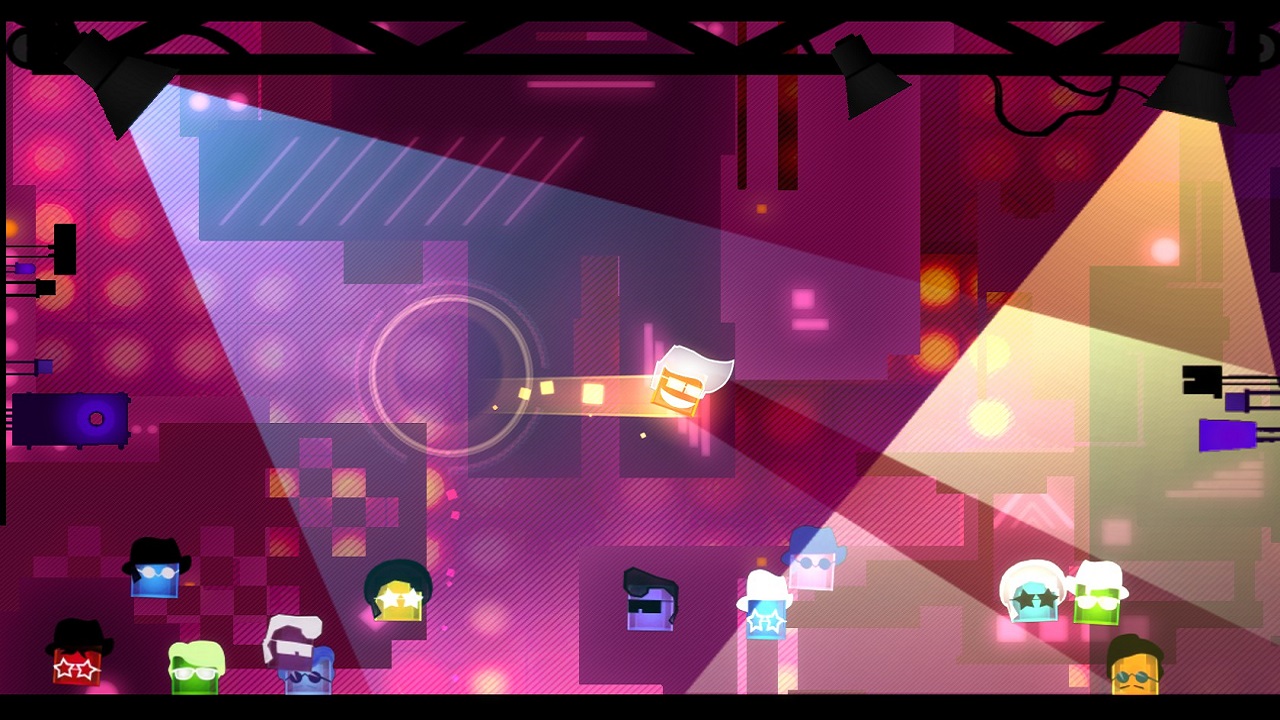 A Ch'ti Bundle ($6.39 from $15.99 until 8/15)
Alien Cruise ($9.04 from $11.30 until 8/15)
Brave Dungeon + Dark Witch Story ($6.29 from $8.99 until 8/15)
Car Mayhem ($1.49 from $9.99 until 8/15)
Caveman Warriors ($3.24 from $12.99 until 8/15)
Dead Fun Pack: Penguins and Aliens ($0.97 from $6.99 until 8/15)
Desktop Baseball ($5.83 from $7.29 until 8/15)
Double Cross ($11.99 from $19.99 until 8/15)
Dynasty Warriors 8: Xtreme Legends ($31.99 from $39.99 until 8/15)
Ethan: Meteor Hunter ($3.99 from $9.99 until 8/15)
Flowlines VS ($0.99 from $4.99 until 8/15)
Forest Home ($10.49 from $14.99 until 8/15)
Ice Cream Surfer ($1.60 from $8.00 until 8/15)
Inside My Radio ($3.99 from $9.99 until 8/15)
Joggernauts ($7.49 from $14.99 until 8/15)
Late Shift ($6.49 from $12.99 until 8/15)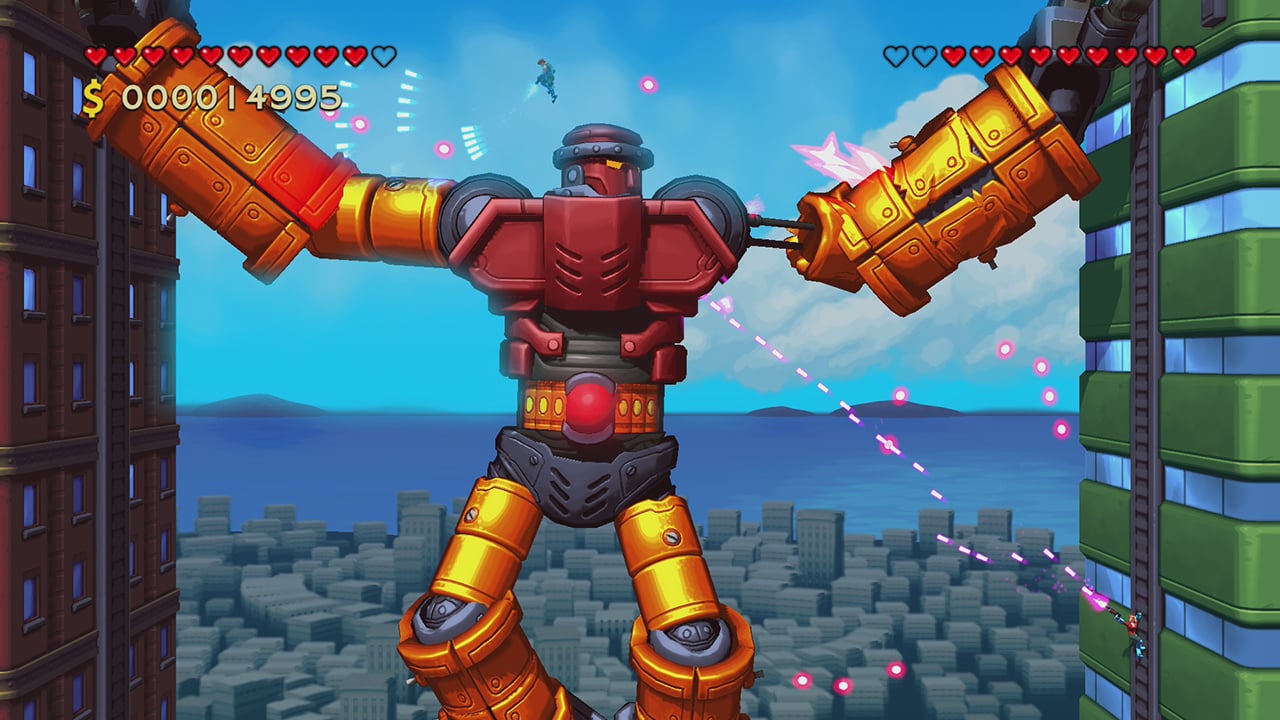 Mechstermination Force ($9.59 from $11.99 until 8/15)
Monster Boy and the Cursed Kingdom ($33.99 from $39.99 until 8/15)
Neonwall ($6.99 from $9.99 until 8/15)
Nights of Azure 2 ($35.99 from $59.99 until 8/15)
Party Planet ($9.99 from $19.99 until 8/15)
Pillars of Eternity: Complete ($39.99 from $49.99 until 8/15)
Rad Rodgers Radical ($17.99 from $29.99 until 8/15)
Rooms: The Adventure of Anne & George ($8.84 from $14.99 until 8/15)
Semispheres ($0.49 from $9.99 until 8/15)
Shalnor Legends: Sacred Lands ($7.49 from $9.99 until 8/15)
Steamburg ($2.49 from $4.99 until 8/15)
Swim Out ($2.99 from $5.99 until 8/15)
Terrorhythm TRRT ($8.09 from $8.99 until 8/15)
The King's Bird ($11.99 from $19.99 until 8/15)
Vasara Collection ($4.99 from $9.99 until 8/15)
Vosaria: Lair of the Forgotten ($3.74 from $4.99 until 8/15)
Warriors Orochi 4 ($35.99 from $59.99 until 8/15)
Woodle Tree 2: Deluxe ($11.04 from $12.99 until 8/15)
That's all that's good for today, friends. We'll be back tomorrow with summaries of all the new releases, and probably not much more than that. It's a holiday week in Japan, and I have some particular obligations to take care of tomorrow that will likely occupy much of my day. I will at least put together the new releases for you all, however, so do come around and check it out. As always, thanks for reading!