Hello gentle readers, and welcome to the SwitchArcade Round-Up for July 25th, 2019. Sadly, my knee troubles continue so I suppose I'll drag myself over to the hospital tomorrow. Getting old, friends: never once. At any rate, my lack of mobility meant that I was able to whip up a really nice bunch of new release summaries today. There are a lot of new games, friends. Tomorrow will only add to the bounty. On top of that, it looks like Koei Tecmo is running a sale on some of its games. Let's dig through it all and see what we come up with!
New Releases
The Original Mobile Games ($1.99)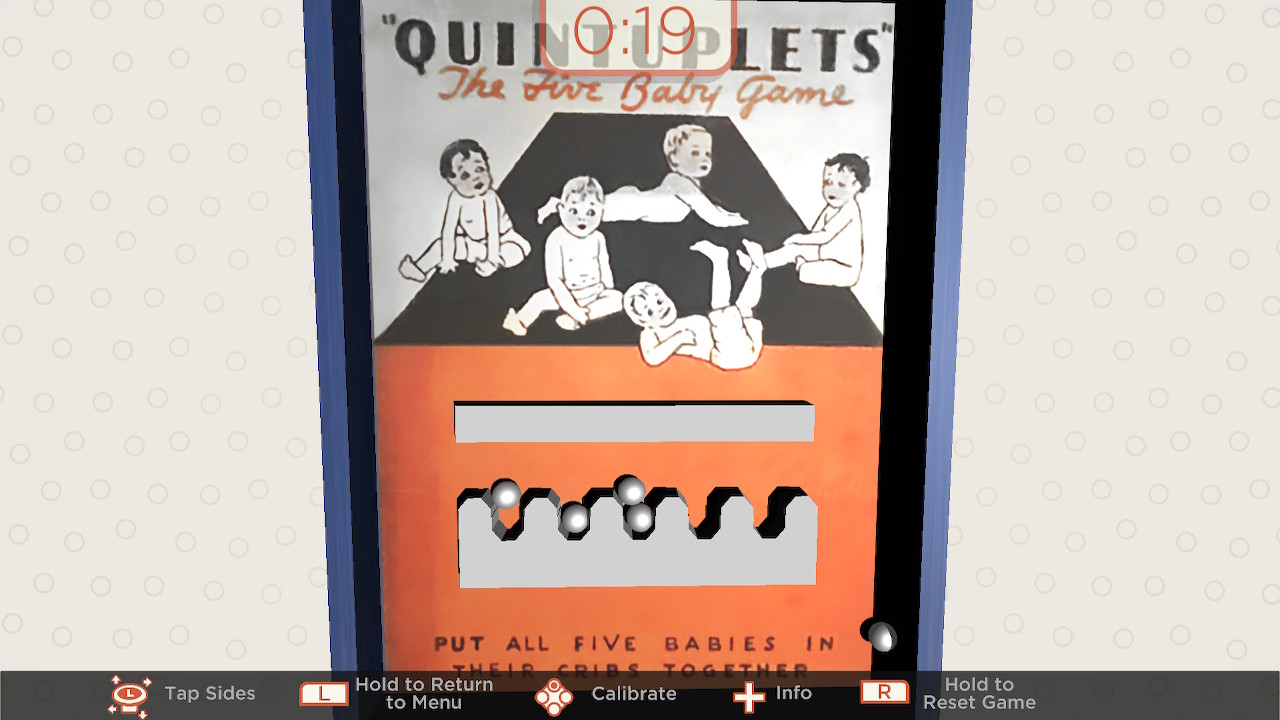 SwitchArcade Highlight!
The title isn't quite as clever on Switch as it was on mobile, but the value of the game remains more or less the same. Created in conjunction with the Strong National Museum of Play, this is a collection of digital versions of historic puzzles and games of dexterity. The games themselves lose their novelty pretty quickly and will make you thankful for what we have today, but the extra background information, art, photos, and so on included for each game make this a wonderful thing to pick through for those interested in gaming history. Keep in mind that if you want to own every game available in this collection, you'll need to splash out for an additional five DLCs that cost $0.99 each. I think it's a very fair price even with those included, albeit only for the historical material. The games aren't very good at all.
Fantasy Strike ($29.99)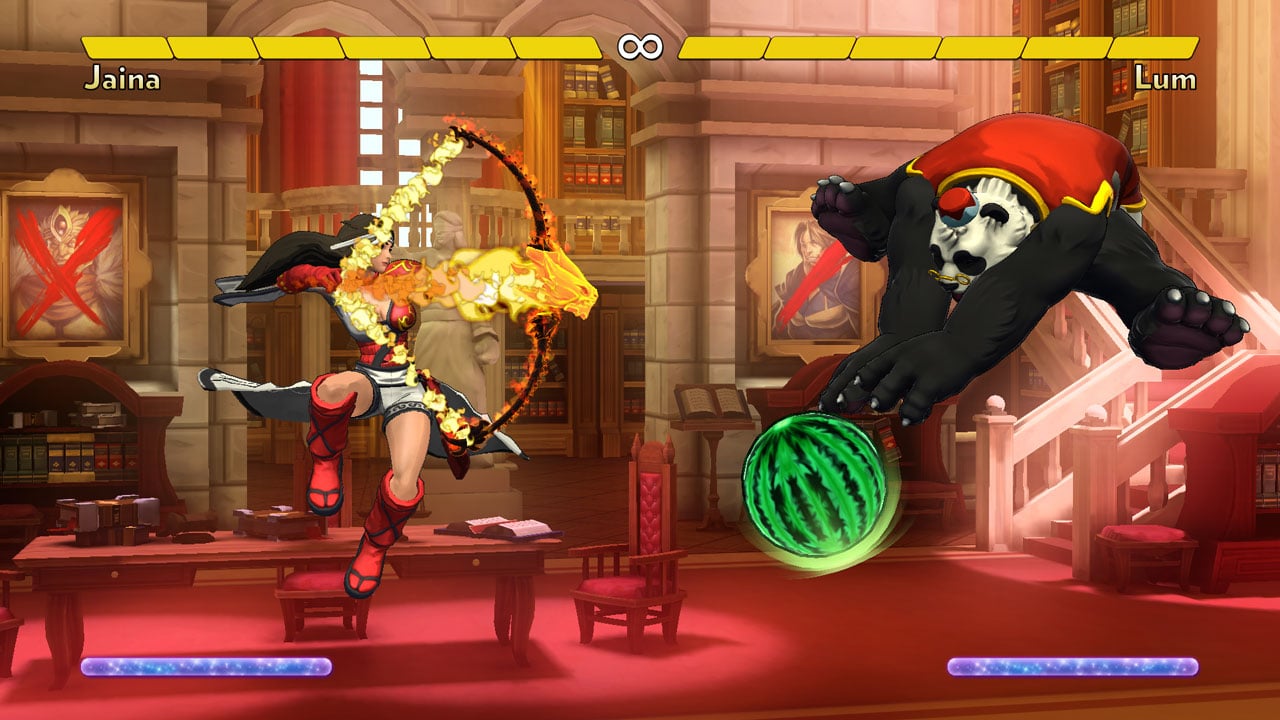 SwitchArcade Highlight!
Whether you agree with it or not, there are a lot of developers out there right now trying to solve the perceived issue of fighting games being too esoteric and inaccessible for more casual players. Fantasy Strike is one of the products of that line of thinking, coming by way of David Sirlin and the rest of the folks at Sirlin Games. Nothing was assumed or taken as given in putting this game together, and the end result is something that nails down a lot of the appeal of fighting games while cutting out things you may not have even had the slightest thought of cutting. It features plenty of modes whether you prefer single or multiplayer, but as with most fighting games the single-player side of things runs pretty dry in a hurry. The characters designs are kind of lame but otherwise it's a neat game. I'll have a full review of this one in a few days.
Raiden V: Director's Cut ($29.99)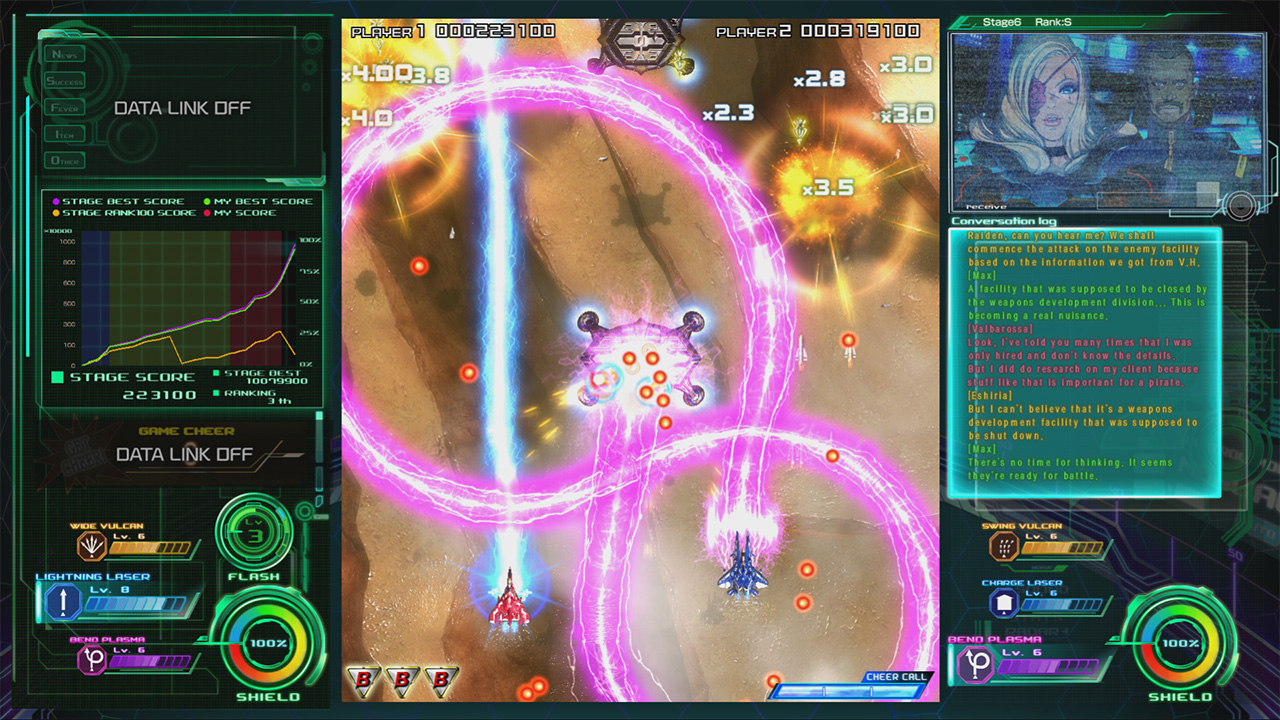 SwitchArcade Highlight!
This is very much a case of "what you see is what you get". Developed by MOSS, the successor company to Raiden's now-defunct original developer Seibu Kaihatsu, this is certainly a fifth Raiden game, and that's really it. On the positive side, it stays very true to the classic and beloved Raiden franchise. The games were some of the most popular shoot-em-ups in their day for good reason, and this one doesn't let that legacy down at all. In an era where bullet-hell has been the trend for the genre for quite a while, it's nice to get a traditional shoot-em-up that isn't hopped up on Pixi Stix. On the negative side, the attempt at adding a fairly extensive story falls largely flat, and the price is probably a bit on the high side relative to other Switch shoot-em-ups of similar heft. That said, if you love the Raiden games, you'll easily get your thirty bucks' worth from Raiden V: Director's Cut.
Super Mega Baseball 2: Ultimate Edition ($29.99)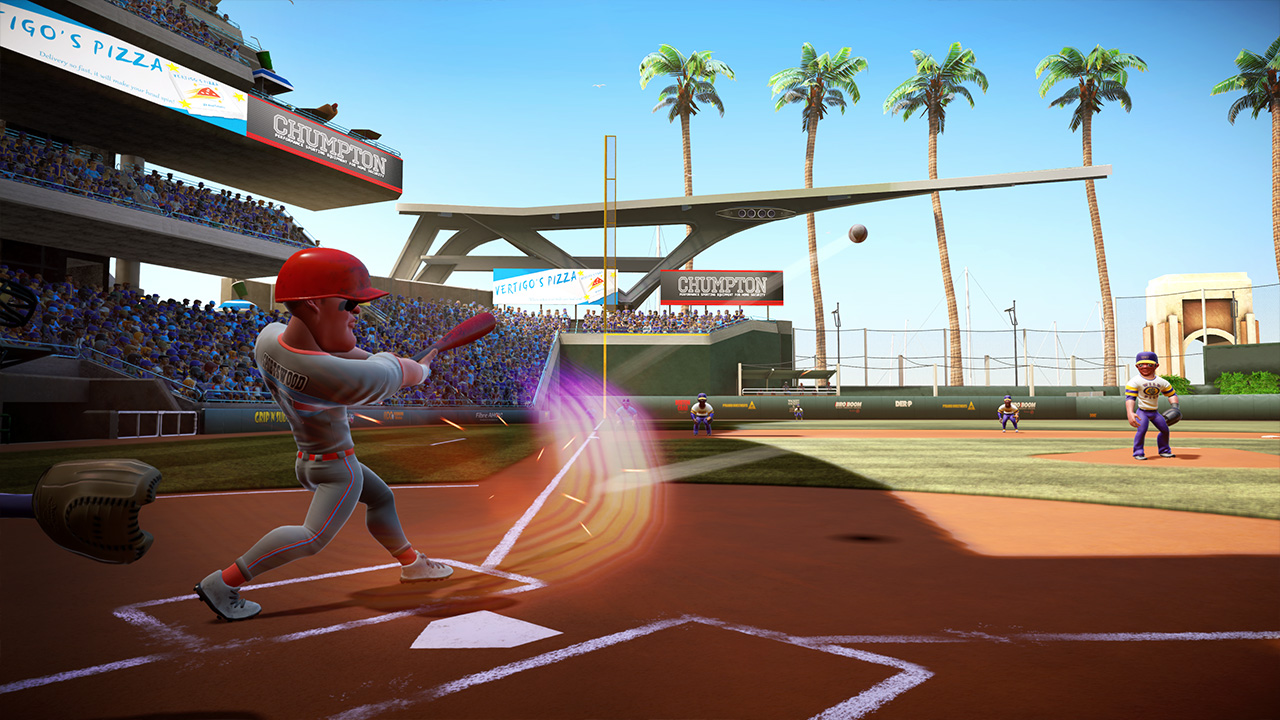 SwitchArcade Highlight!
Yeah, this is a really great baseball game. Like, I think this might be the first actual Western-released baseball game on the Switch I can whole-heartedly recommend. There are plenty of modes and ways to play here whether you want single-player, local multi, or online. The actual gameplay is super-fun, and it has all the depth you could want without flying off into the weeds. The game runs excellently docked or in handheld mode, hitting that 60 FPS that so many Switch games seem to have trouble keeping up with. If you've been waiting for a quality baseball game to hit the Switch, this really has everything but a Major League license. Now can we get someone to do this kind of job for hockey?
Songbird Symphony ($16.99)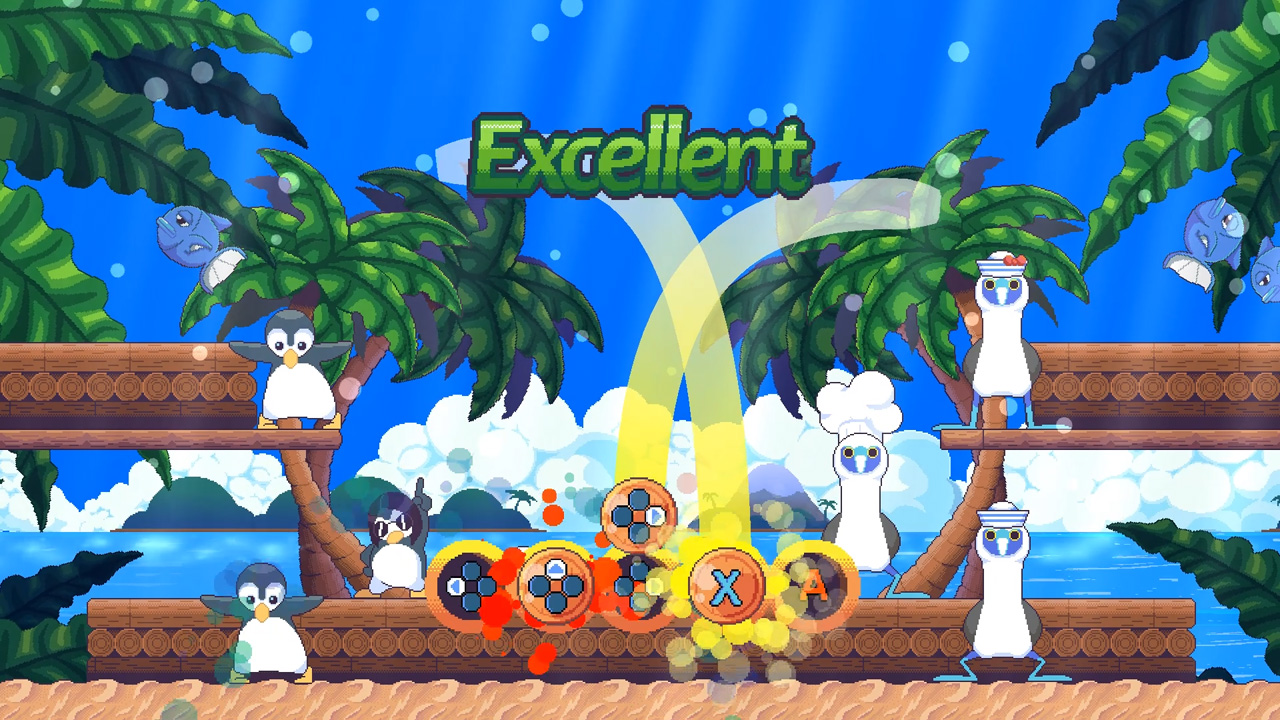 SwitchArcade Highlight!
Aww, this game is really cute. It's about a little bird who just can't seem to fit in and goes on a quest to find his true origins. Normally it's a 2D puzzle-platformer, but you'll often have to engage in rhythm battles that naturally play out like a Simon-style rhythm game. Just a really nice experience that feels well-polished and full of loving care. The only drawback is that it's over within a handful of hours, but it's definitely worth the trip. There's a free demo you can try out before you buy the game to see if it's your thing. At the very least, give that a shot.
Mighty Switch Force! Collection ($19.99)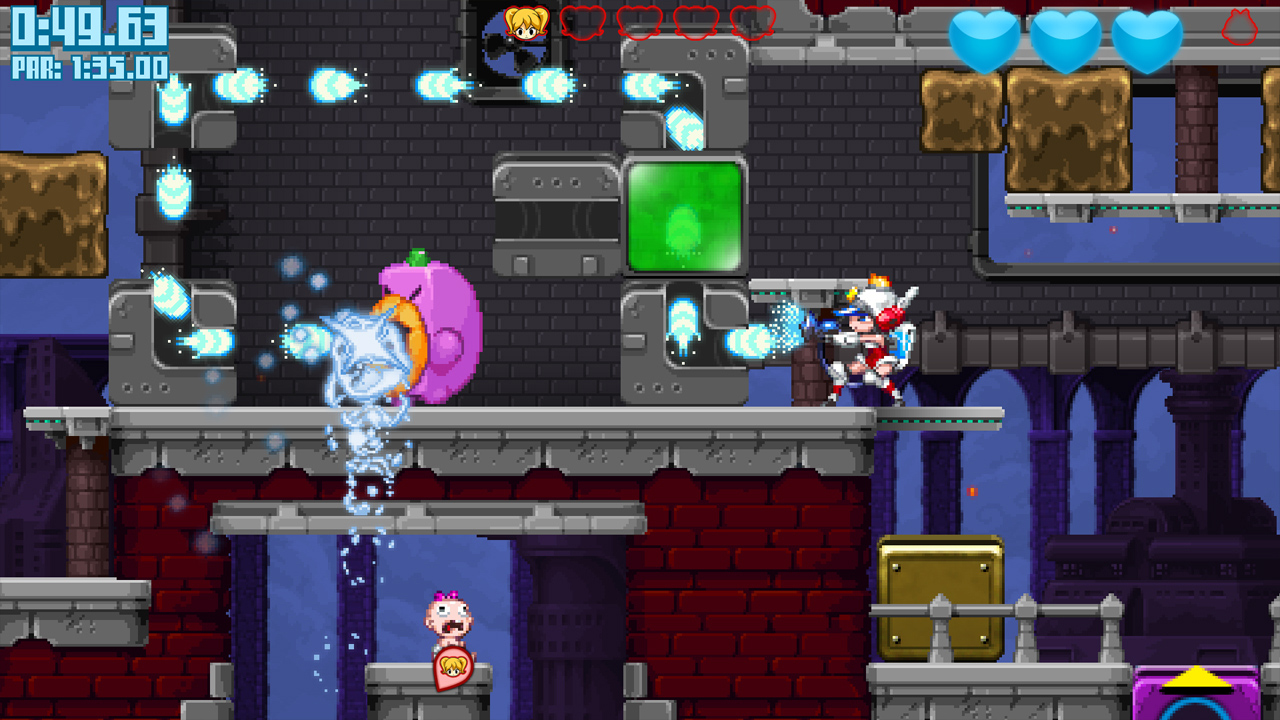 SwitchArcade Highlight!
If you have somehow not played any of the Mighty Switch Force! games before, this collection is an incredible value. You get Mighty Switch Force!, Mighty Switch Force! 2, Mighty Switch Force! Hyper Drive Edition, and Mighty Switch Force! Academy all for one very reasonable price. These are awesome puzzle-platformers, and if you want my honest opinion this series is some of WayForward's best work. I like it even better than Shantae. If you have played some or all of these before, it might still be worth picking this collection up just to have them all spiffed up and in one place. Keep in mind that Hyper Drive Edition is an HD remake of the first game, so it's really more like three different games rather than four.
Gunpowder on the Teeth Arcade ($4.99)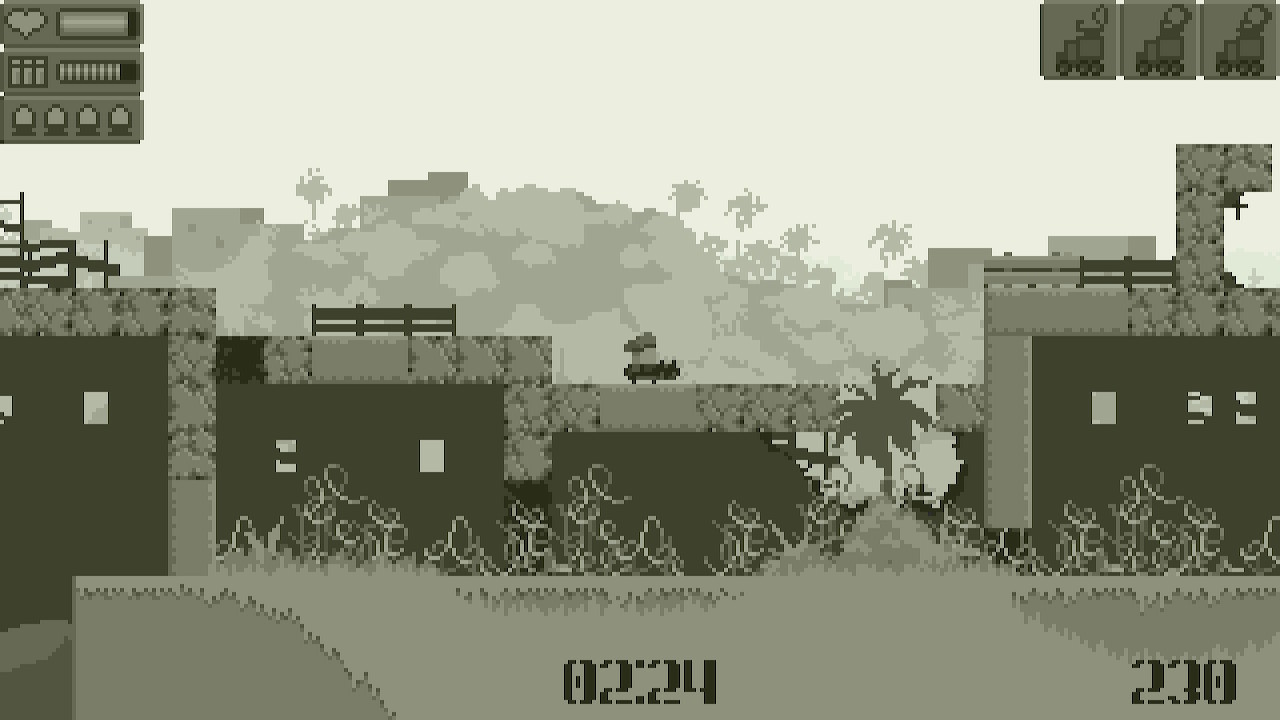 Hoo boy, is this not going to be for everyone. This game is stupidly hard. You are going to die a ton of awful, unfair deaths, and that's just how it is. But you know what? That happens in a lot of run and gun games, so I'm not going to be too hard on the game just for that. As long as you are okay with meat grinder difficulty in games, you'll probably find a lot to like in Gunpowder on the Teeth. It has a cool monochrome look, there are some fun vehicle-based extra sections, and the price is really good for how much you get out of it. But you have to be okay with games that are jerks, because this game is absolutely one of those.
Picross Lord of the Nazarick ($9.99)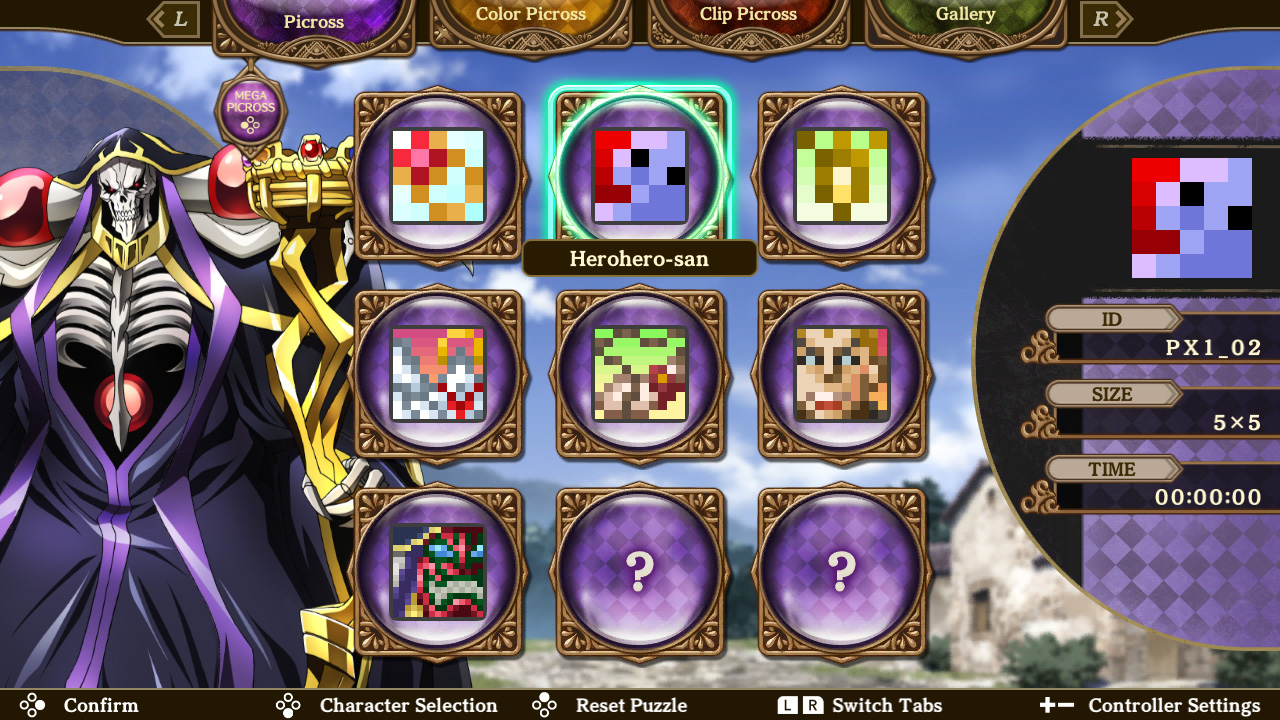 Well, this is an easy one to assess. A Picross game from Jupiter is almost always going to be one of the most reliable and consistent products around, so you really just need to ask yourself a few questions. First, do you want more Picross puzzles? Next, do you have any particular affinity towards the anime Overlord? Finally, do you have ten extra dollars you would part with? If the answer to all three of those questions is yes, then there you go. If you're sick of Picross, this will do nothing to change your mind as it has all the usual modes and nothing more. If you hate Overlord for whatever reason? Well, this is all Overlord. Maybe grab a different Picross game if that's the case. Over 500 puzzles all-in, still no touchscreen controls. Not sure what else I can say.
Caged Garden Cock Robin ($12.99)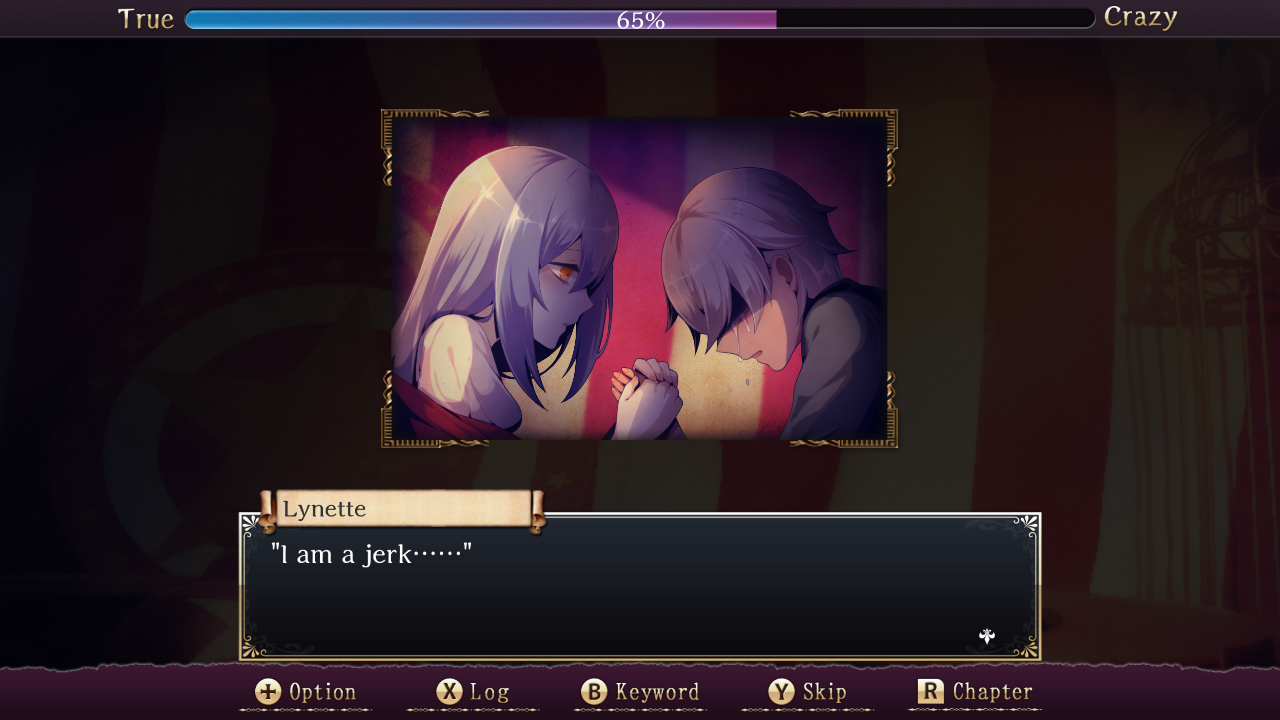 Okay, everyone get your guffaws and titters out before we try to move on. Yes, the title sounds ridiculous. It, and the game itself, is a play on the classic children's song "Who Killed Cock Robin", which told the tale of a robin being struck down in a garden by an arrow. Then all the other animals claim credit for various duties involved in the robin's death, and the whole thing kind of stretches to make sure things rhyme. Whatever, it's like a thousand years old. This game, on the other hand, is a relatively new visual novel that has multiple endings depending on the choices you make. This came out last month on mobile and seems to have been reasonably well received. You can try that version out for free to see if you like it.
Smoots Summer Games ($9.99)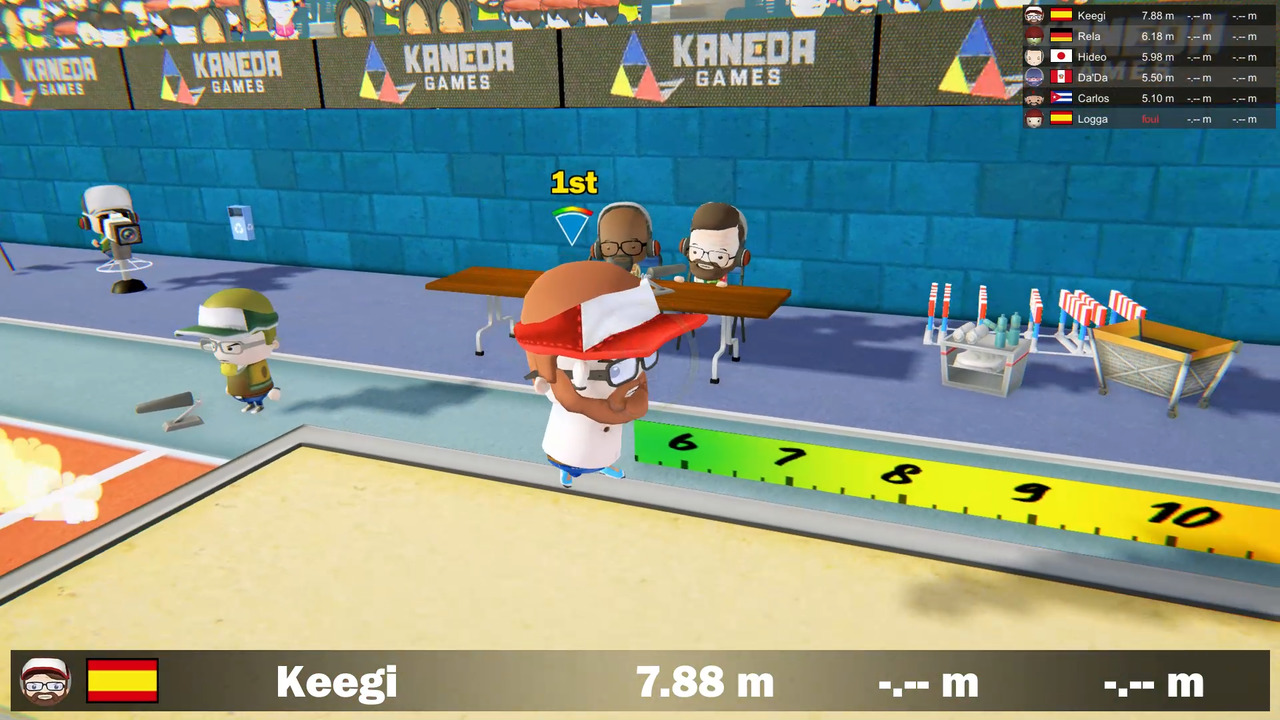 Okay, I have no idea what the heck a Smoot is, but I know a Track and Field-type game when I see one, and that's what this appears to be. Take a Smoot into eighteen different events against up to three other players locally to see whose Smoot is the best. The best Smoot. Smoot hammer throw! Smoot 50-meter dash! Smoot long jump! If you can dream it, you can Smoot it. Honestly, this looks alright for what it is. If you want a cheaper alternative to SEGA's official Olympic offerings and have people to play with locally, you could probably find a lot worse in this category than Smoots Summer Games.
Zombie Driver Immortal Edition ($14.99)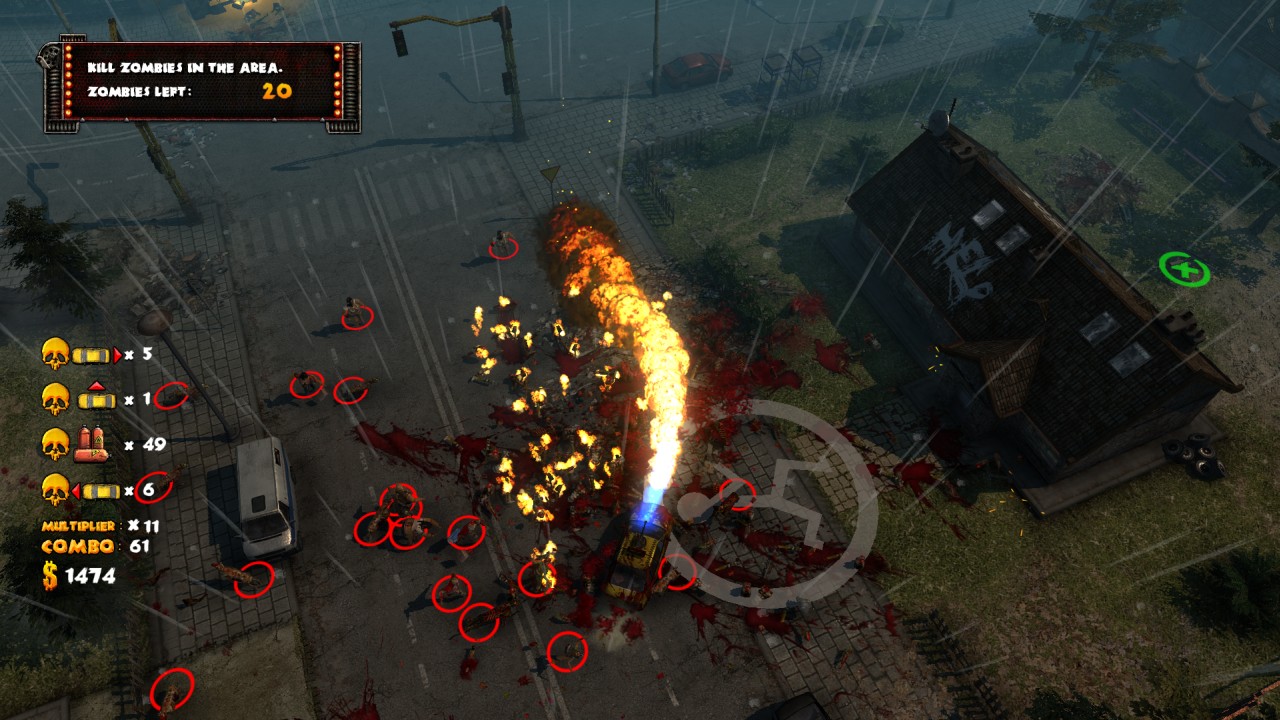 Hello, I am a person who is very tired of zombies in games. We've done it straight, we've done ironically, we've done it as last-minute censorship, we've done it every which way but Sunday. And yet… and yet… I kind of like Zombie Driver. It's shameless. It's over-the-top. But it's fun in a very trashy way, and this version of the game includes all of the DLC and extra bits of the Zombie Driver experience you could ask for. Drive around in a top-down view splatting zombies with various weapons up to and including your car itself. Play through the zippy main campaign and then head to the other modes to see if they stick to your bones. I personally recommend Slaughter Mode. Sure, it gets old after a bit, but it's something worth firing up now and then just to blow off some steam with some utterly mindless violence. Great for handheld play. Shame about the tiny text.
Collide-a-Ball 2 ($4.99)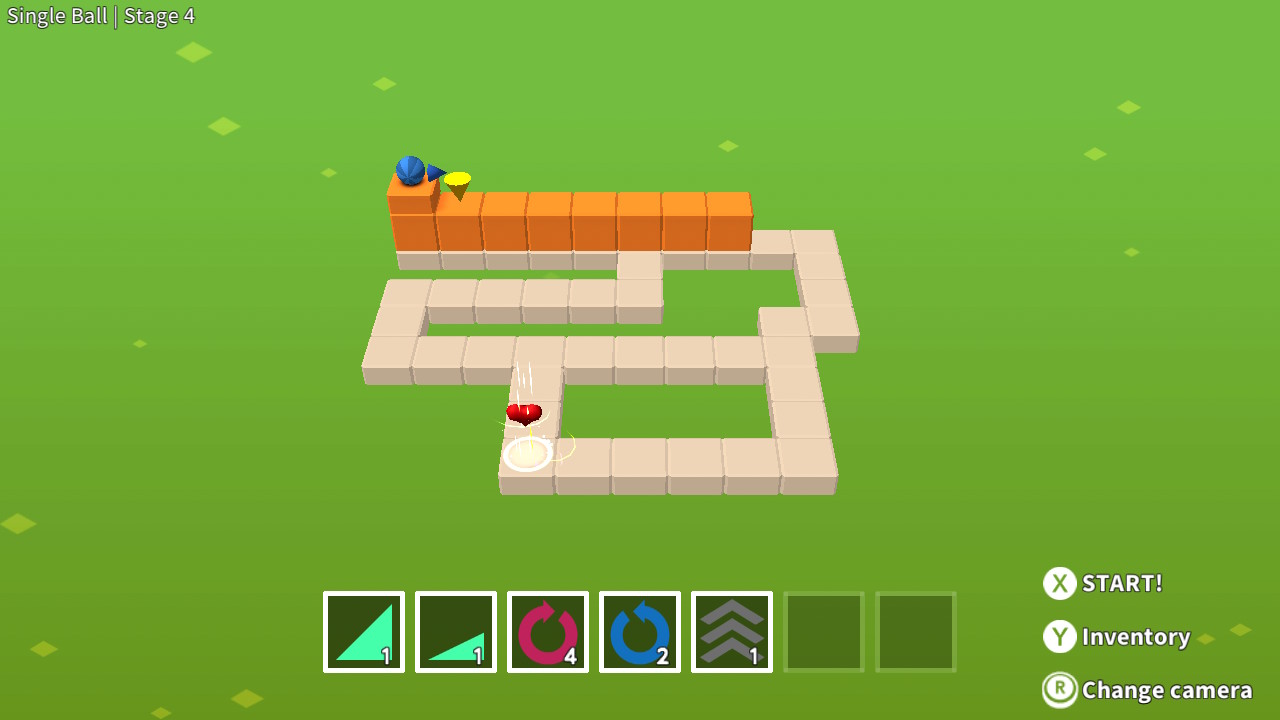 No doubt this is the sequel everyone has been waiting for. The original Collide-a-Ball was released on the Nintendo 3DS. The premise behind it and this is that you have two balls in different parts of the stage and you need to place objects such that they'll crash into each other at the goal. Honestly, not the worst little puzzle game around. I find it a little aggravating at times, but that's the genre for you. If you enjoyed the first one or are just on the look-out for something a little different in a puzzle game, this isn't a bad way to spend a fiver.
Woodle Tree 2: Deluxe ($12.99)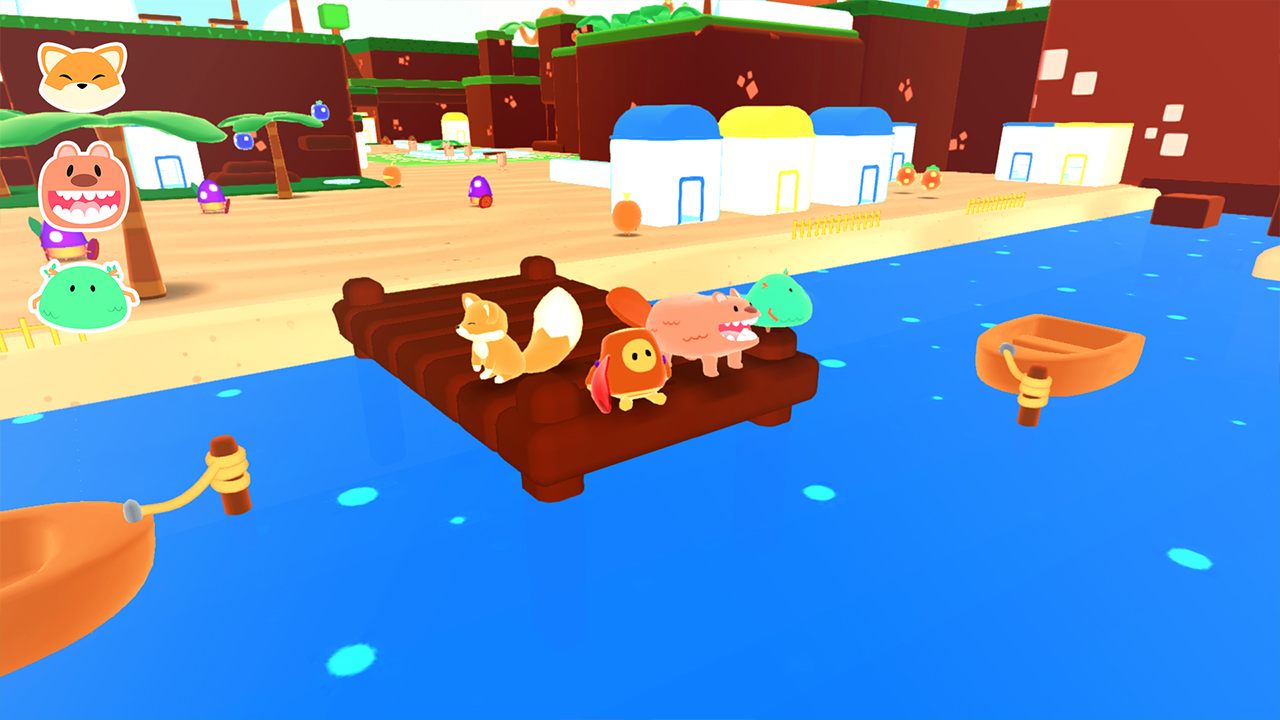 Not a big fan of the first Woodle Tree Adventures, and I'm perhaps even less a fan of the second. I wish there were more decent 3D platformers on the Switch. This isn't one of them. It's dull, listless, and doesn't expect very much of the player at all. The new, more open approach to the world design just waters things down even more when compared to the first game. The only nice things I can say about it is that it's pleasantly colorful and it supports up to four players simultaneously locally. I wish Nintendo would do a remaster of Super Mario 3D World so that four players could enjoy a fun 3D platformer, but let's give Woodle Tree 2 what we can here.
Arcade Archives Road Fighter ($7.99)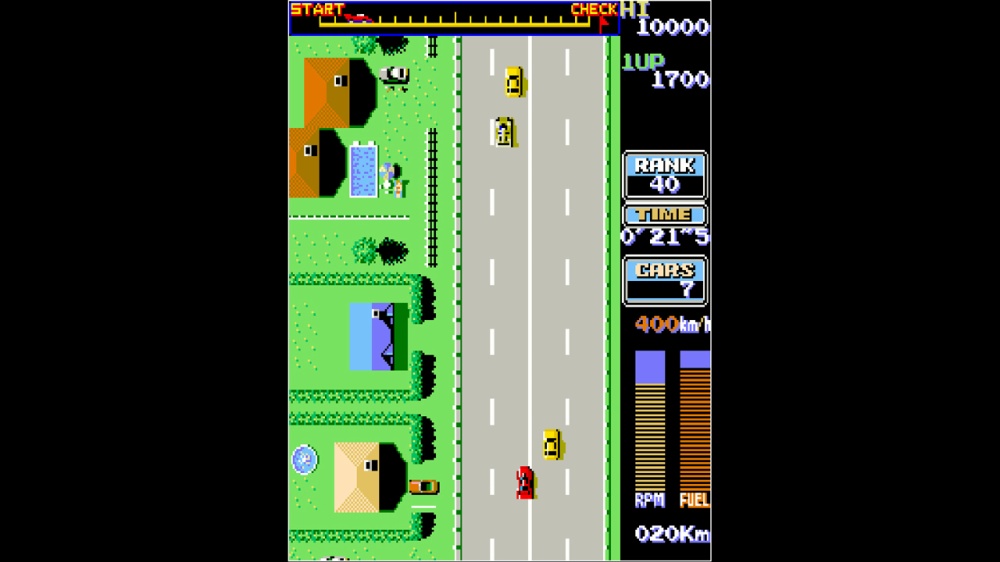 Developed by Konami in 1984, Road Fighter is a top-down racer with simple but challenging gameplay. You need to reach the checkpoint in each area before you run out of fuel, passing as many rival cars along the way as possible. The controls offer two buttons for acceleration, one that serves as the lower gear and one that kicks things into high. If you hit any other vehicles or run into an oil patch, you'll start to skid. If you can successfully counter-steer, you might avoid a crash that will cost you precious fuel. Special bonus cars will give you a bit more fuel if you touch them. Maneuvering is easy at the slower speed but you'll never reach the goal in time that way. The higher speed covers ground very quickly but it's like trying to steer a rocket. Not a lot to it, but it's still surprisingly fun to play in short bursts. Hamster has done its usual fine job with the conversion, of course.
Sales
As usual for a Thursday, I'm sure a ton of sales will come in after I've already submitted today's article. But even so, we've got a pretty decent list of new discounts to look at here. If you like Koei Tecmo's Warriors games, you can grab some of them at a lower price right now. Mom Hid My Game is on sale for a price that is probably more reasonable for the amount of content you get, and a couple of upcoming games have their pre-purchase discounts in place now. As for the outbox, it's another big one today. Plenty of these games rarely go on sale, so just as with yesterday's list, you'll want to comb through it carefully to see if there's anything you really want.
New Games on Sale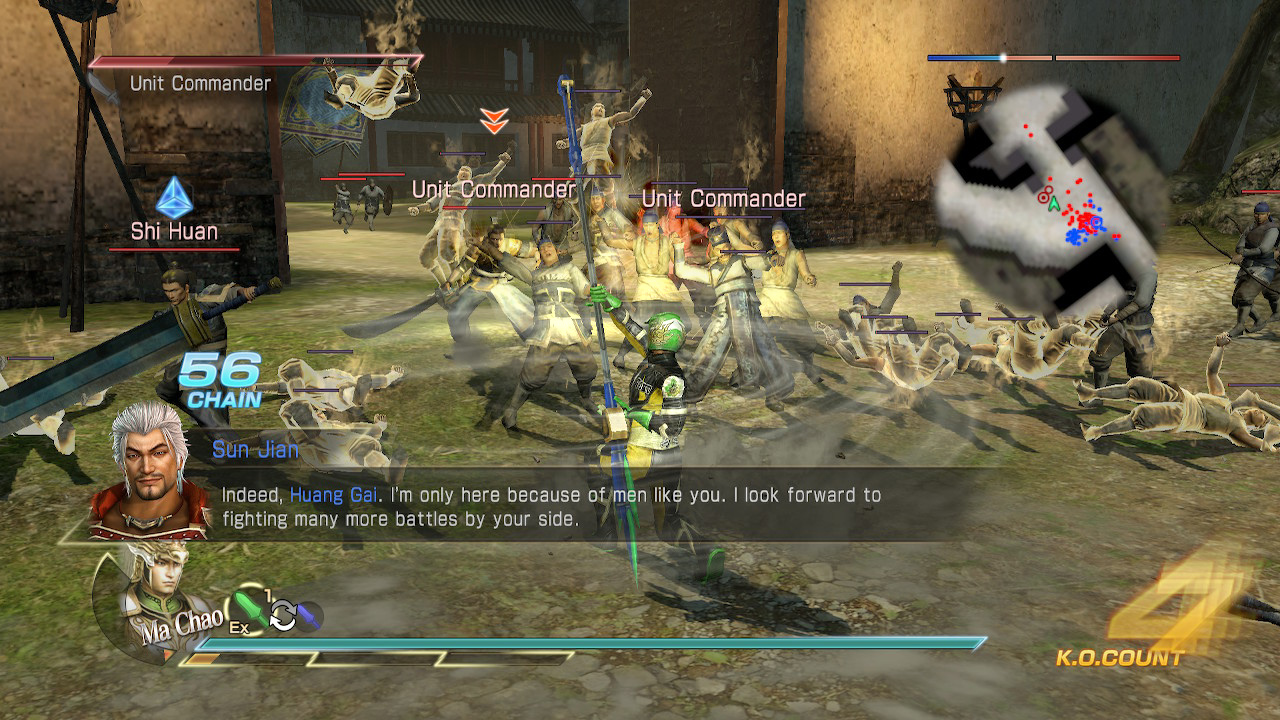 Dynasty Warriors 8: Xtreme Legends ($31.99 from $39.99 until 8/15)
Warriors Orochi 4 ($35.99 from $59.99 until 8/15)
Rooms: The Adventure of Anne & George ($8.84 from $14.99 until 8/15)
Mom Hid My Game! ($2.99 from $4.99 until 8/8)
Nights of Azure 2 ($35.99 from $59.99 until 8/15)
Subdivision Infinity DX ($11.99 from $14.99 until 8/8)
Desktop Baseball ($5.83 from $7.29 until 8/15)
Happy Words ($6.99 from $9.99 until 8/5)
Assault on Metaltron ($1.49 from $6.99 until 8/12)
Alien Cruise ($9.04 from $11.30 until 8/15)
Figment ($9.99 from $19.99 until 8/13)
Space Ribbon ($0.99 from $4.99 until 8/13)
Santa Tracker ($0.99 from $2.99 until 8/13)
Sea King ($3.99 from $4.99 until 8/8)
Driving School Original ($11.99 from $14.99 until 8/13)
Damsel ($14.44 from $16.99 until 8/7)
Sales Ending Tomorrow, Friday, July 26th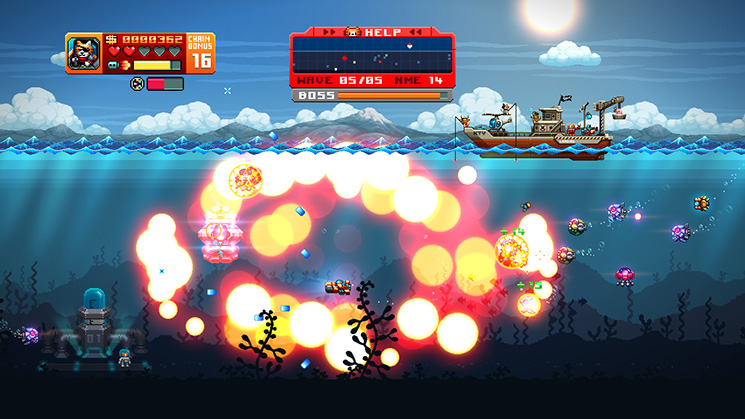 Aqua Kitty UDX ($4.49 from $8.99 until 7/26)
Battle Princess Madelyn ($9.99 from $19.99 until 7/26)
Battle Supremacy ($5.99 from $9.99 until 7/26)
Death Road to Canada ($8.99 from $14.99 until 7/26)
Debris Infinity ($3.49 from $4.99 until 7/26)
Ding Dong XL ($0.19 from $0.99 until 7/26)
Distrust ($9.59 from $11.99 until 7/26)
Dream Alone ($2.99 from $9.99 until 7/26)
Dusty Raging Fist ($7.99 from $9.99 until 7/26)
Elemental Knights R ($20.47 from $22.75 until 7/26)
Everspace – Stellar Edition ($27.99 from $39.99 until 7/26)
Exorder ($3.89 from $12.99 until 7/26)
Hiragana Pixel Party ($6.29 from $8.99 until 7/26)
Hunter's Legacy: Purrfect ($3.49 from $6.99 until 7/26)
Iron Crypticle ($4.99 from $9.99 until 7/26)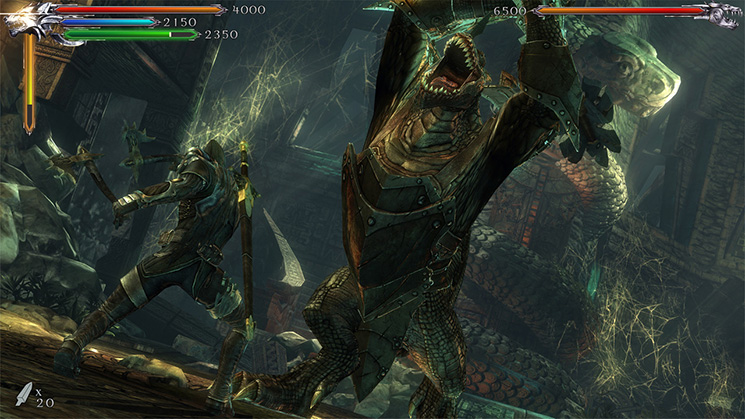 Joe Dever's Lone Wolf ($4.99 from $9.99 until 7/26)
Leisure Suit Larry – Wet Dreams Don't Dry ($31.99 from $39.99 until 7/26)
Mulaka ($9.99 from $14.99 until 7/26)
Mutant Mudds Collection ($1.49 from $14.99 until 7/26)
Nuclien ($2.79 from $3.99 until 7/26)
Outlast 2 ($11.99 from $29.99 until 7/26)
Outlast: Bundle of Terror ($9.99 from $24.99 until 7/26)
Overwhelm ($6.99 from $9.99 until 7/26)
Radiation Island ($5.99 from $9.99 until 7/26)
Reverie: Sweet As ($8.70 from $12.99 until 7/26)
Rock Boshers DX: Director's Cut ($2.79 from $6.99 until 7/26)
Sausage Sports Club ($6.00 from $15.00 until 7/26)
Secret Files: Tunguska ($10.49 from $14.99 until 7/26)
Shadow Fight 2 ($9.99 from $14.99 until 7/26)
Sky Gamblers – Afterburner ($11.99 from $19.99 until 7/26)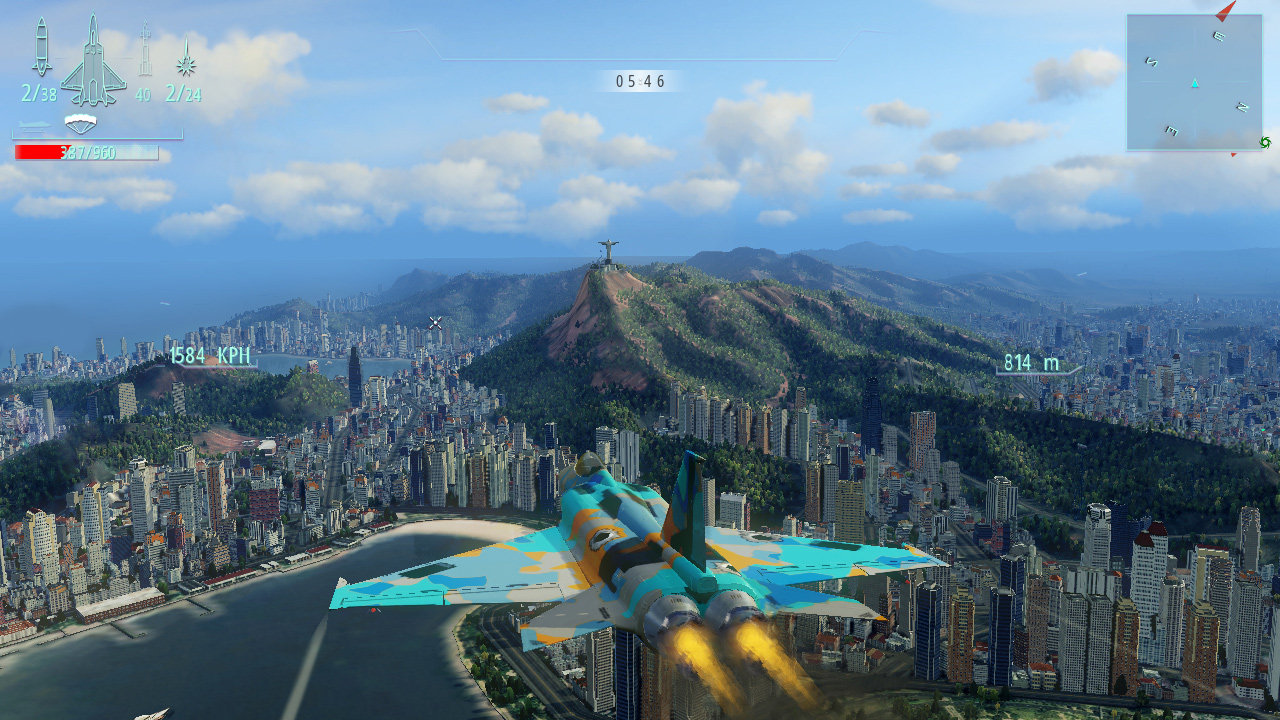 Sky Gamblers: Storm Raiders ($5.99 from $9.99 until 7/26)
Soccer Slammers ($0.99 from $9.99 until 7/26)
Space Lift Danger Panic! ($0.99 from $4.99 until 7/26)
SteamWorld Dig ($2.99 from $9.99 until 7/26)
SteamWorld Dig 2 ($9.99 from $19.99 until 7/26)
SteamWorld Heist: Ultimate ($6.59 from $19.99 until 7/26)
Streets of Red – Devil's Dare Deluxe ($6.99 from $9.99 until 7/26)
Super Meat Boy ($9.74 from $14.99 until 7/26)
Surgeon Simulator CPR ($7.79 from $12.99 until 7/26)
The Legend of Evil ($5.59 from $7.99 until 7/26)
ToeJam & Earl: Back in the Groove! ($13.39 from $19.99 until 7/26)
Totes the Goat ($0.49 from $4.99 until 7/26)
Ultra Hyperball ($5.99 from $9.99 until 7/26)
WorldNeverland – Elnea Kingdom ($20.99 from $29.99 until 7/26)
Xeodrifter ($0.99 from $9.99 until 7/26)
That's everything for today, friends. Tomorrow is the most glorious of days: Fire Emblem day! And for me, going to the hospital day! Bah. Oh well. There should be an article tomorrow regardless of my failing meat-form. We have to summarize those new releases and round up the news and sales, right? So if you come back here tomorrow, I promise I will too. As always, thanks for reading!