Hello gentle readers, and welcome to the SwitchArcade Round-Up for July 3rd, 2019. Thursday and Friday are looking as wild as ever, so let's take a moment to enjoy a bit of peace before the rain starts to fall. Ah, that was nice. As for today? Two compelling new releases! Two not-so-compelling new releases! A review of Red Faction Guerrilla Re-Mars-tered! And ever so much more, friends. I hope you've settled into your chair, sofa, bathtub, or toilet, because it is time to do a bit of reading. Let's slide on in!
News
'Cuphead' DLC 'Delicious Last Course' Now on Track for 2020 Release
Cuphead stands tall as a great game all on its own, but I don't think anyone is going to say no to another helping. Studio MDHR has been hard at work on DLC for the game called Delicious Last Course, and though they once hoped to have it ready sometime in 2019, it looks like we'll all have to wait just a little bit longer. The team wants to make sure the new content is up to the quality level players are used to and are willing to take however much time it needs to get it there. Perhaps more importantly, Studio MDHR is trying to keep the work environment healthy for its staff. We'll likely get more details on Delicious Last Course when it gets closer to release, but for now please enjoy that tasty new trailer.
'Layton's Mystery Journey' Comes West on November 8th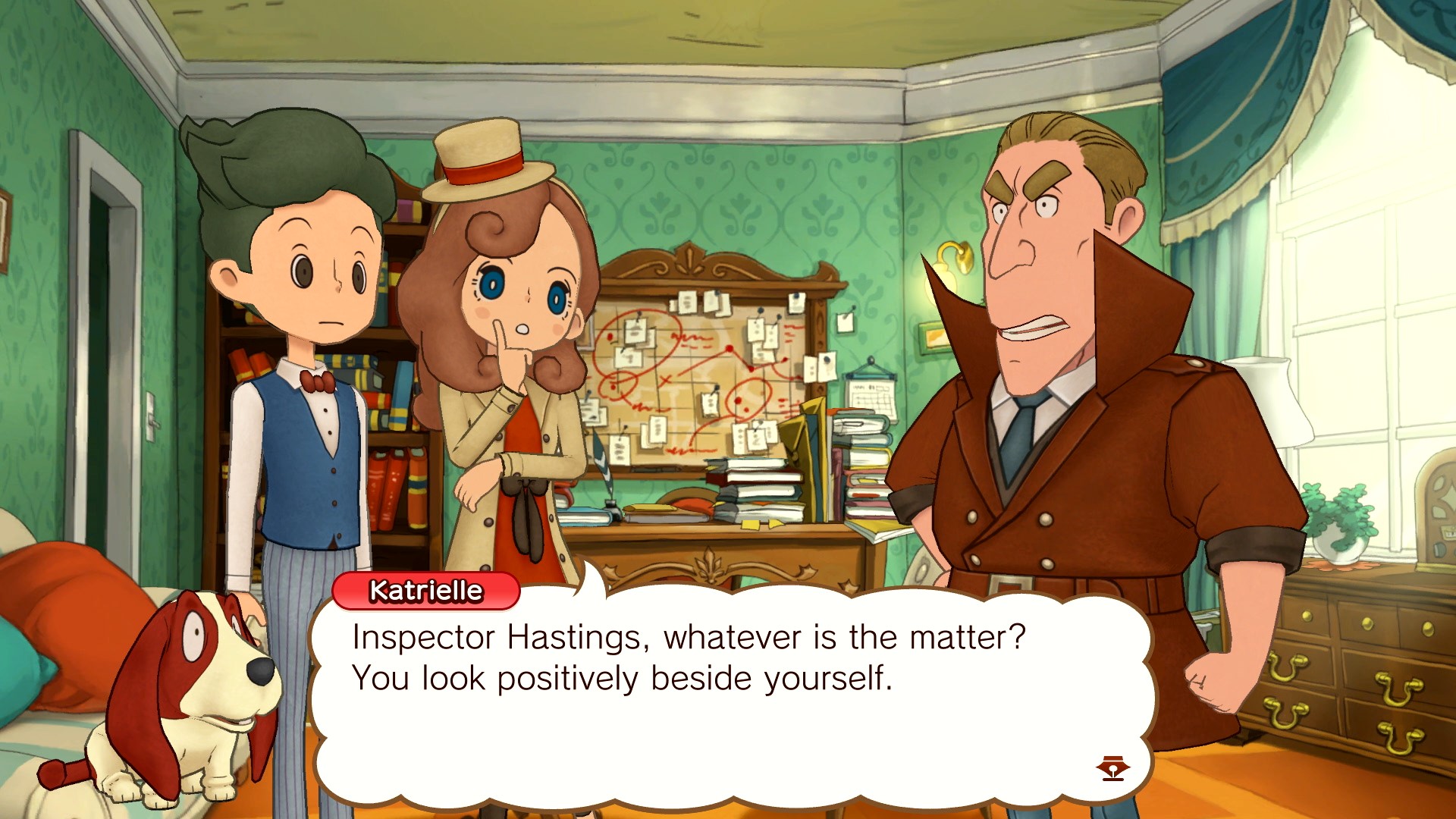 The latest and perhaps last entry in the once-popular Professor Layton series of puzzle adventures will be coming West this November in a special Deluxe Edition with a bunch of new puzzles to solve, new outfits to unlock, and all the DLC from previous releases included. Layton's Mystery Journey first launched on mobile and 3DS in 2017, with a Switch version following in Japan about a year later in August of 2018. Western fans who missed this one can now look forward to the ultimate incarnation when it arrives on November 8th. It has a mixed reputation with a lot of players, but I rather enjoyed it. Perhaps you will too?
'Harvest Moon: Friends of Mineral Town' Gets a Remake This Fall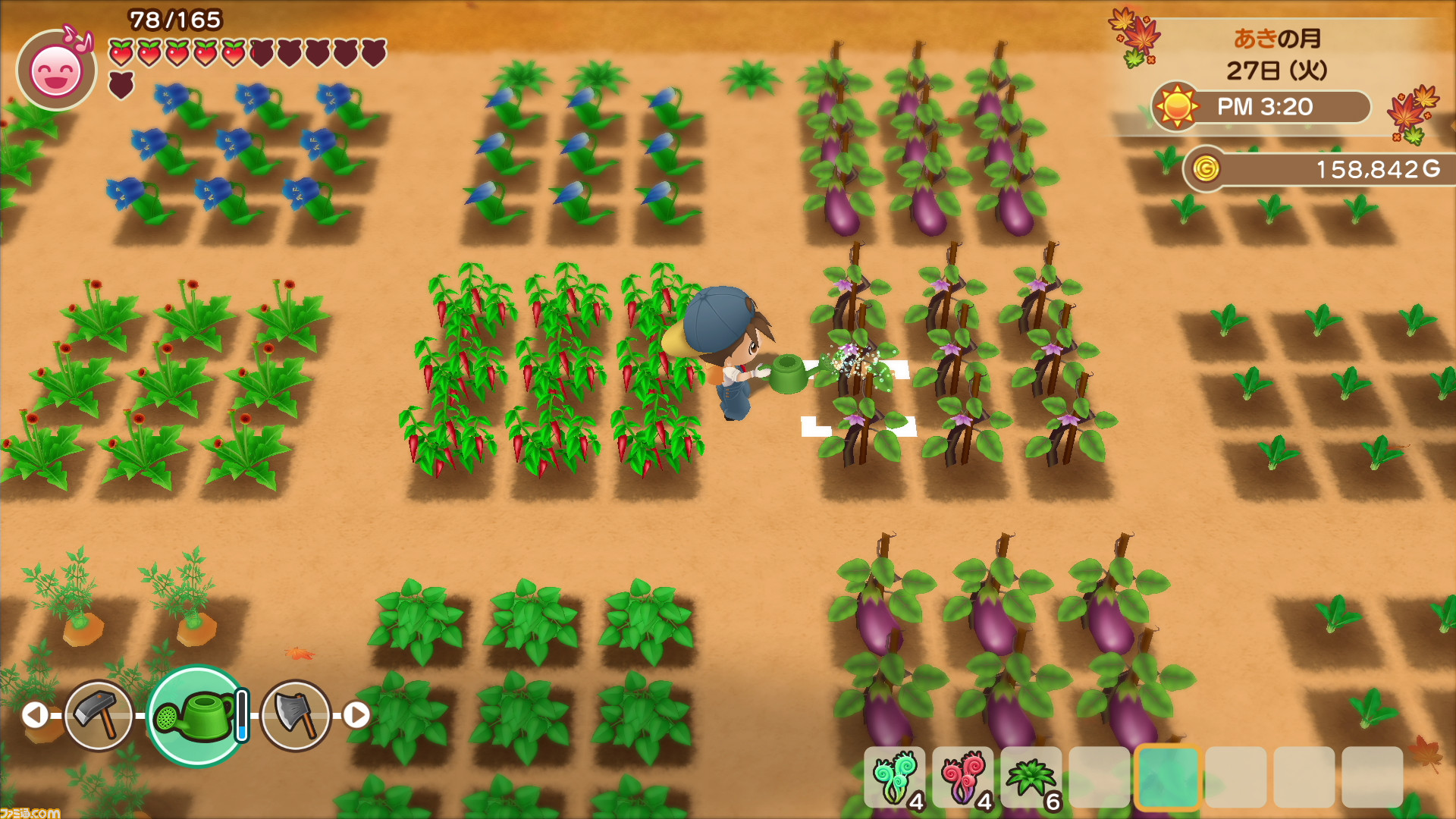 Before Stardew Valley came and knocked over the proverbial apple cart, Harvest Moon more or less ruled the farm-life sim genre with an iron fist. Within that series, some entries are praised more than others, but one of the best-liked was the 2003 Game Boy Advance title Harvest Moon: Friends of Mineral Town. Marvelous will be giving players a chance to go back to Mineral Town this fall when it releases a full remake of the game for Nintendo Switch. The game will release in Japan on October 17th, and although there's no word yet on a Western release, it's extremely likely that XSEED will localize it under the Story of Seasons banner sooner or later.
This Week's 'Super Smash Bros. Ultimate' Event Makes a Good Point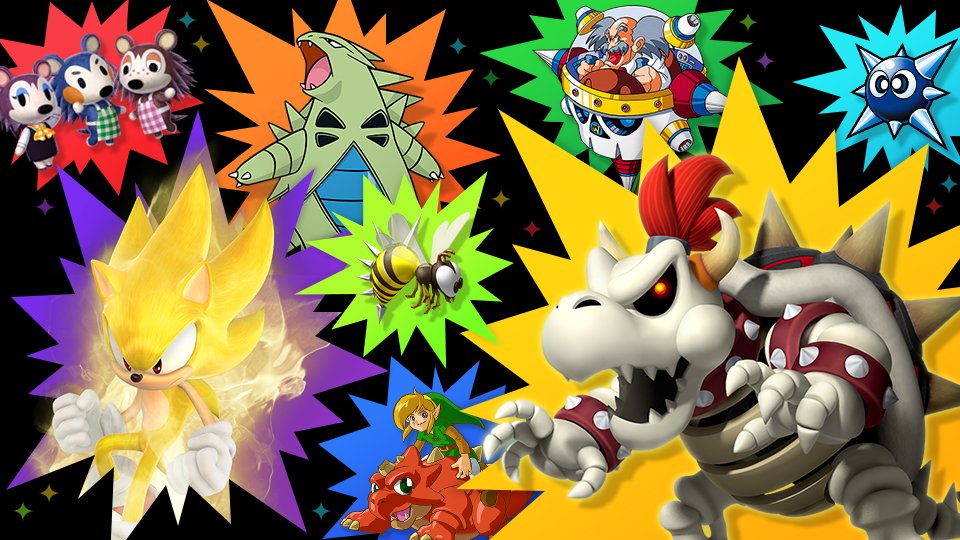 Okay, so next week's Spirit Board event is going to tie in to the final Splatfest, but what about this week? I'd recommend putting on your gloves, friends, because things are about to get a little prickly. This weekend's event will focus on the spikier things in life. Spirits with prominent spikes, needles, thorns, or other sharp bits will appear more often, and by beating them down you will get some extra snacks. Seems like a pretty good deal to me! The event kicks off this Friday and as usual will run through the weekend.
Reviews
Red Faction Guerrilla Re-Mars-tered ($29.99)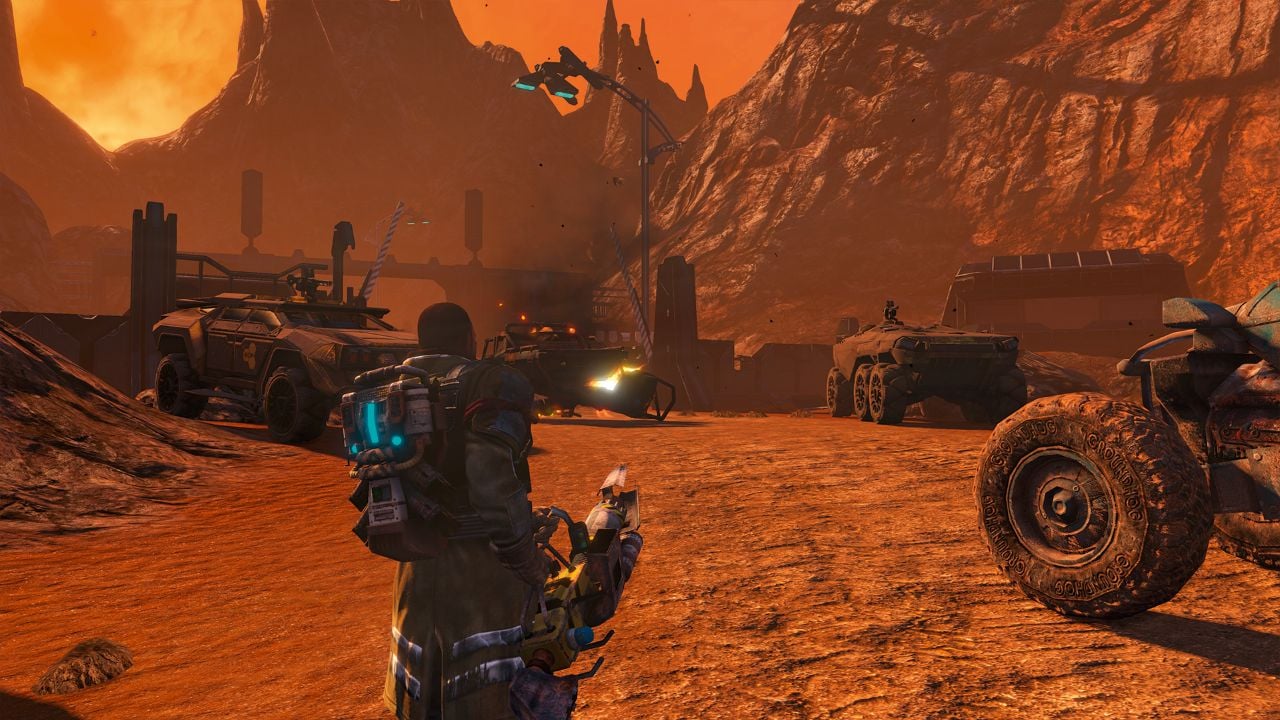 There have always been two ways to come at Red Faction Guerrilla. From one angle, it can be viewed as an open-world action game. Back in 2009 when the game first released, it wasn't the flashiest example of the genre, but it wasn't far behind the pack either. It was a clever game in that it covered up some of its shortcomings with its setting. Of course Mars would have some barren areas. Why wouldn't you have to cross expanses with very little happening on the way in order to reach points of interest? The setting still provides some smokescreen, but there's no two ways about it: open-world games have come quite a ways in the last decade, and Red Faction Guerrilla feels about as old as it is in that respect.
But there's another way to look at the game where it still comes up quite favorably. Yes, this does take place in an open world environment, but set that aside for a second. Because do you know what this game is really about? Breaking things. Breaking big things, sometimes. Break them however you want, from whatever angle you want, with whatever means you feel like using. This isn't Grand Theft Auto. That's a battle Red Faction was never going to win. Instead, this game channels the same joy that classics like Wrecking Crew and Blast Corps brought to the table. The joy of smashing. Destroying critical structures and watching things collapse. This is a game about tearing things down, and I'm not sure if any others have surpassed it in that regard since.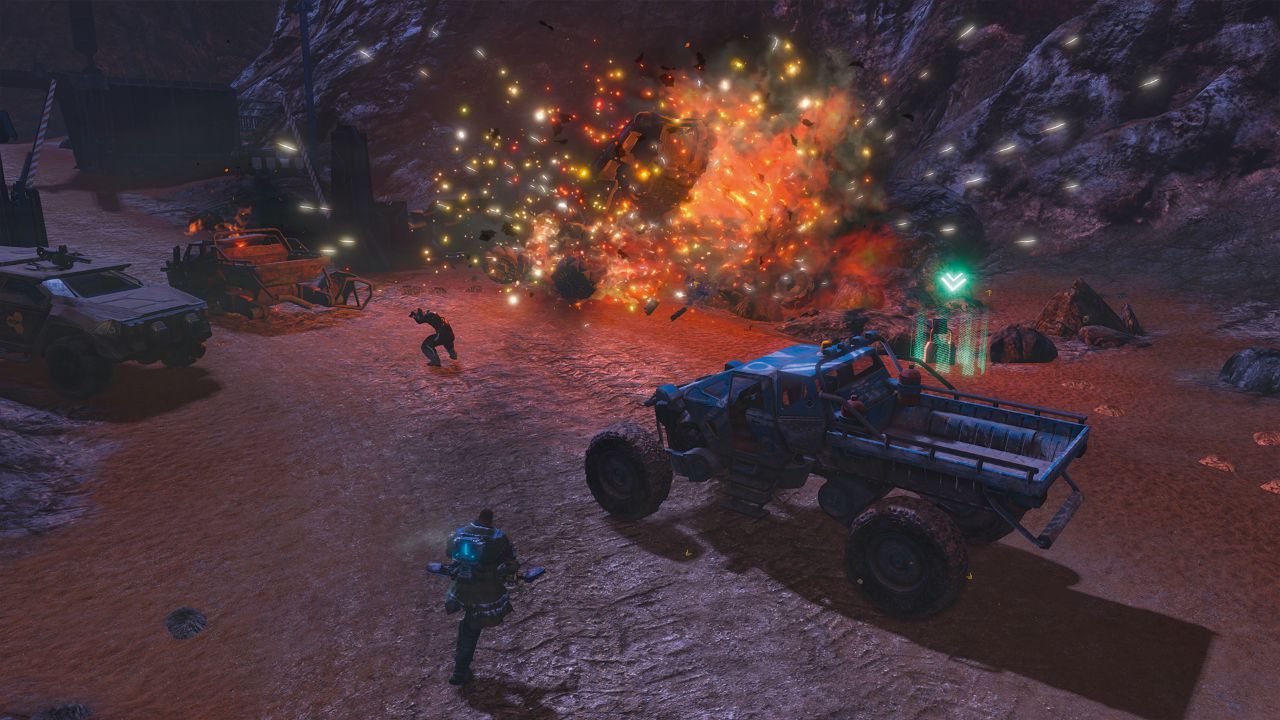 You play as Alec Mason, a mining demolitions expert who is trying to make a new life for himself. When the oppressive EDF murders his brother and brands him an outlaw, Mason really has no choice but to become one. He joins up with the Red Faction, a resistance group. He'll put his talents with explosives and his trusty sledgehammer to use in order to try to bring freedom to the people of Mars. Conveniently, this is done by solving a bunch of missions. The game's map is broken up into six areas, and you've got to try to overthrow the EDF in each of them. By finishing missions and doing certain actions, the Red Faction will gain support in each region and EDF presence will decline. Once things progress to a certain point, you'll get a story mission that, if completed, will essentially drive the EDF out of that area for good.
Until you do that, however, you need to be on your guard. Any unnecessarily aggressive actions will get attention, and you really don't want that in this game. The enemy AI in this game can be brutally clever, and you are almost always going to be heavily outnumbered. See the title? That 'Guerrilla' bit isn't just there for show. As you gain support in each region, locals will pick up arms and help you out, but you should never really count on having anyone other than yourself most of the time. There are plenty of weapons to earn during the course of the game, but you can only ever bring three with you, and that includes your demolition tools. Be smart, plan well, and hope nothing goes too ca-ca. Sometimes it will. Sometimes that's the best part.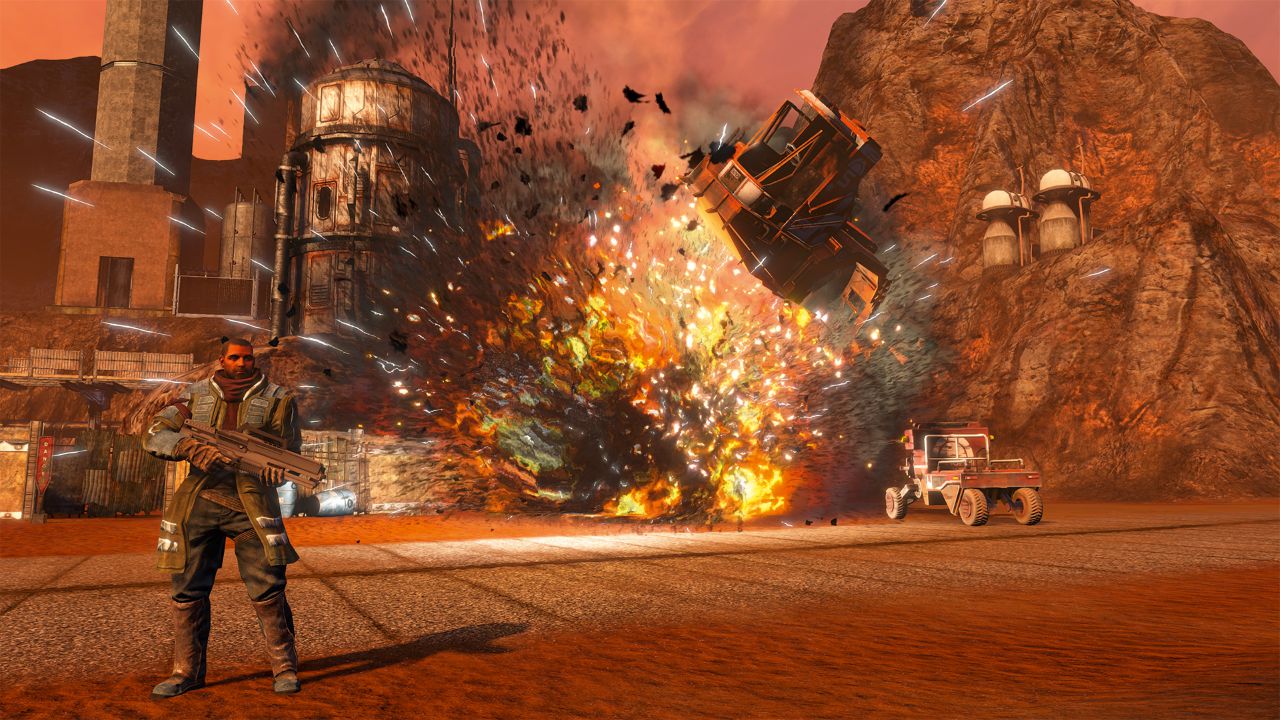 A lot of your missions involve breaking things, and that's where the real fun comes in. How will you collapse a structure? Take out the supports in one corner? Drive a vehicle into it? Just fire a rocket at it? Or maybe you want to really show off and use your sledgehammer to bring it down with your bare hands. However you go about it, the game will behave in surprisingly realistic and realistically surprising ways. Try not to drop a house on top of yourself. Oh, and if you think the EDF might come running, there are worse plans than taking out the stairs and walkways around you before starting the real dirty work. Get to your destination, do your job, collect whatever scrap drops from your mayhem, and then get back to a safe house in one piece. Use that scrap you collected to unlock new goodies, then head back out and do it all again.
Repetitive? Yeah, occasionally. But I can't say I ever got tired of watching a building collapse after I worked my magic. Doubly so if it lands on a bunch of those fascist EDF jerks. It's the one bit of the game that has absolutely stood the test of time, and whatever you get out of this game is probably going to depend on how much enjoyment you get out of it. In every other way, Red Faction Guerrilla is competent but not particularly great. I will say that this Switch port is excellent. It runs like a dream even in handheld mode, and if you're willing to trade a bit of performance in exchange for some shinier graphics via the in-game option, it really is quite beautiful in places.
Red Faction Guerrilla was one of those games that all the cool kids seemed to tout the merits of in the last generation of consoles. Some of the shine has come off since then, but I think the game still has plenty to offer. Particularly on the Switch, a console that some of the more famous examples of the open world genre have passed on for reasons I cannot fathom. Red Faction Guerrilla Re-Mars-tered won't be giving the latest and greatest in the genre a run for their money anytime soon, but it doesn't have to. It has a unique hook of its own and those dudes by and large didn't show up to the fight anyway. Just as well, I suppose. Mason probably would have dropped a tower on them or something.
SwitchArcade Score: 4/5
New Releases
OVIVO ($6.99)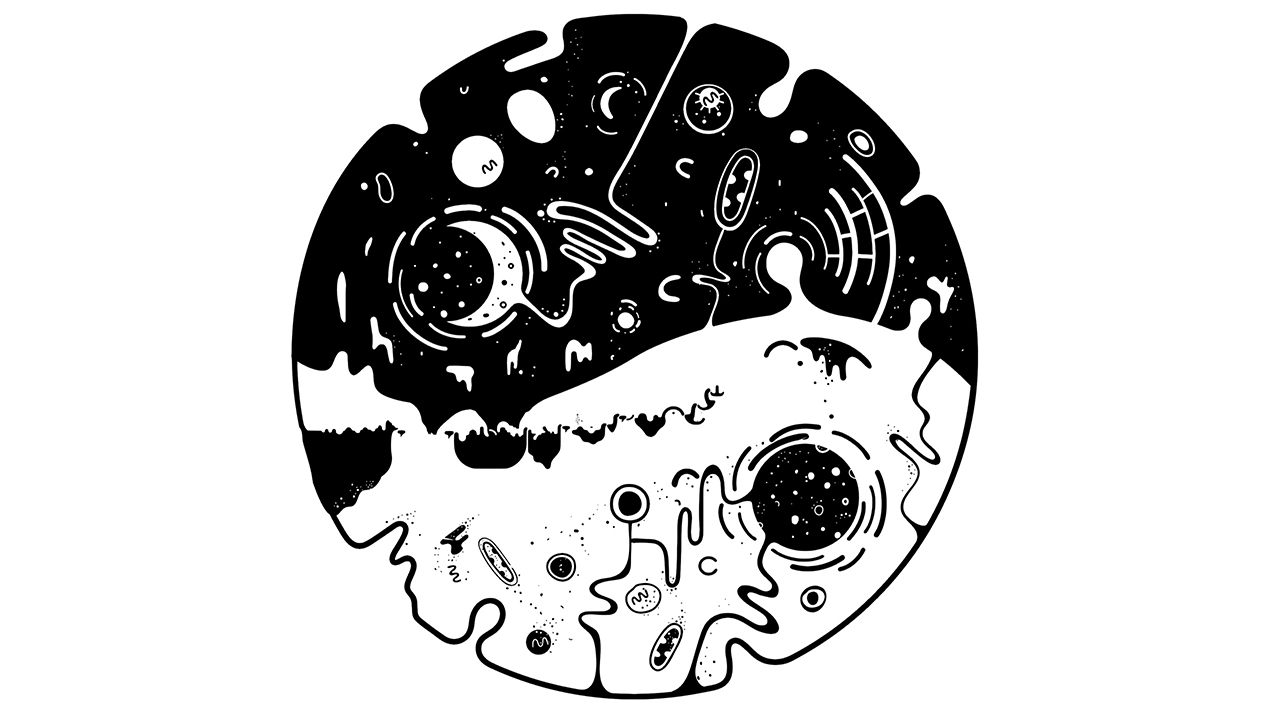 SwitchArcade Highlight!
This is a stylish, fun platformer with an interesting gameplay hook and some genuinely sweet level designs. You can get it a good bit cheaper on mobile if you're down with that, but I feel like seven dollars is a pretty fair price for what you get here. The main gameplay twist is in how you can manipulate gravity and the way that connects to your little dot characters. Gravity reversal is a well-worn mechanic these days, but OVIVO does something slightly new with it and pairs that with a very attractive presentation. I'll have a proper review of this one in the next few days sometime, but you can always check our review of the mobile release as an appetizer.
Lucah: Born of a Dream ($14.99)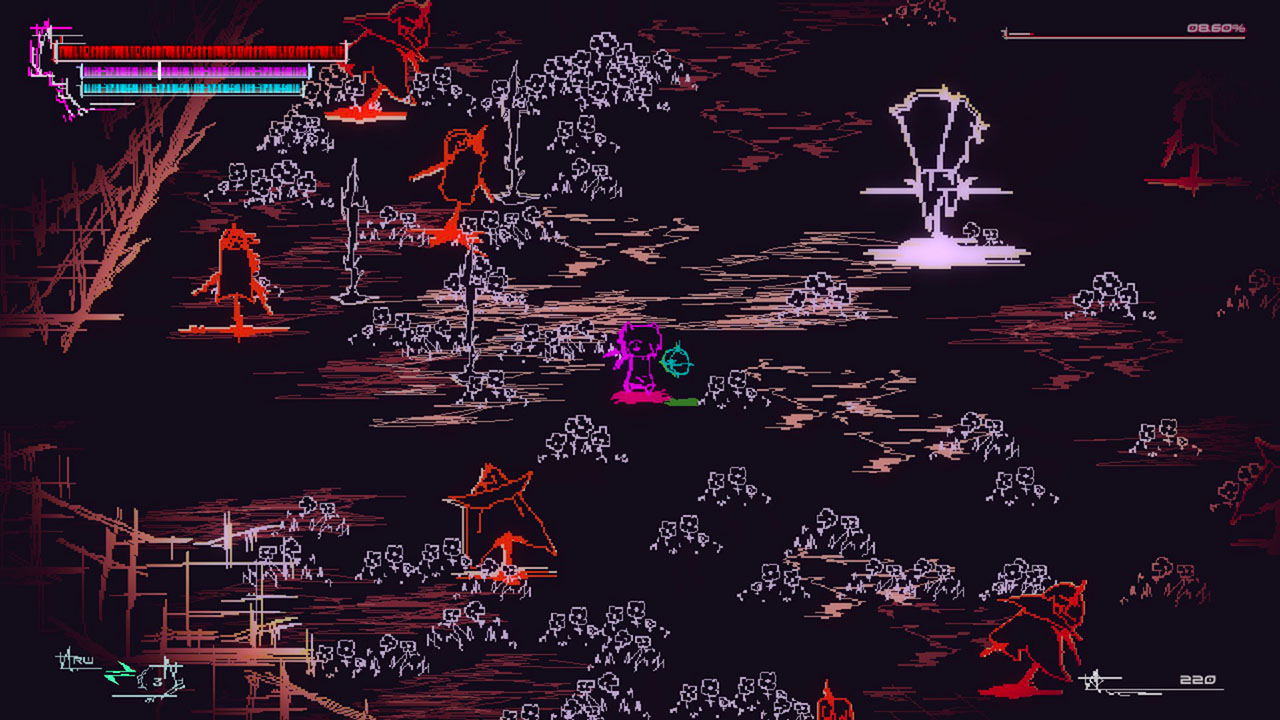 SwitchArcade Highlight!
Lucah is an interesting action-RPG whose best point of comparison is a game that anyone writing about video games is not allowed to compare things to anymore. Its most immediately striking feature is its unique chalk-on-blackboard style of visual presentation, but its staying power comes from its solid, challenging, no-nonsense action. This game gets pretty good reviews everywhere it lands, and I'm happy to say that the Switch version is just as good as the rest. If you like games that broadly follow the set-up of a certain game whose title rhymes with Bark Bowls, you'll want to shine a bit of your attention on Lucah: Born of a Dream.
World of Riders ($8.99)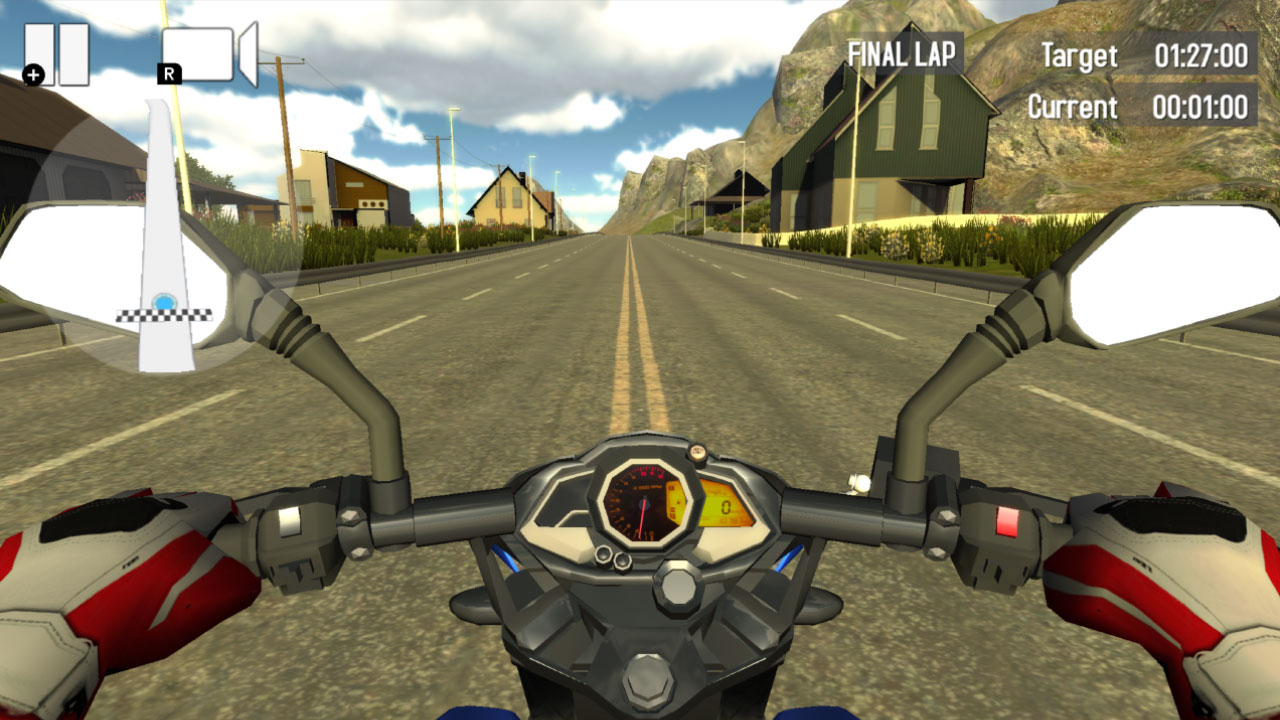 Well, it's another port of a free-to-play mobile game I've never heard of before that has had its IAPs stripped out, ads disabled, and an upfront price tag stuck on it. And while I don't want to be too mean, it definitely looks the part. This single-player motorbike racing game offers two tracks, twelve different stages, and a number of different bikes. Grind the time trial mode to earn credits to buy those bikes, and play the career mode to grind experience points in order to reach a high enough level to be allowed to buy them. I'm not going to tell you how to live your life, but there are probably better options for motorbike racing games on Switch, and they probably won't cost you much more than this.
Bus Fix 2019 ($5.99)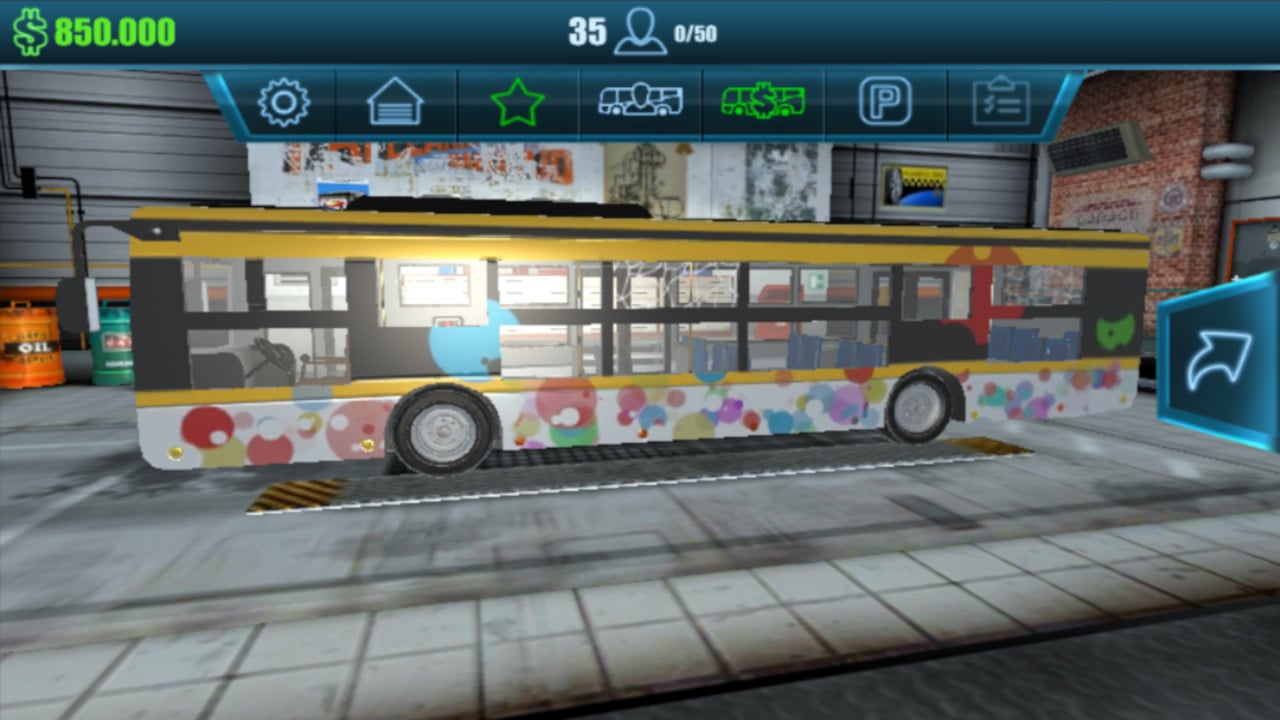 On the other hand, World of Riders is starting to look positively princely right about now. Yes, this is a mobile port, too. One of those simulation-type games where some menial task is ever-so-slightly game-ified and shoehorned into a pre-built engine, then fired into the void and forgotten as its creators move on to the next inane thing that might become an ironic hit. Bus Fix 2019, as you might guess by the title, is a game about repairing buses. There are six different buses included, and more than fifty components that you can replace. While this isn't very expensive and it is arguably the finest bus repair game available on the Nintendo Switch today, I nevertheless must recommend that you keep a firm grip on your wallet.
Sales
Ah, Wednesdays. Every once in a while, we get some decent sales on a Wednesday. Usually we just get a bunch of the usual stuff. Sometimes, however, we get almost nothing. Such is today. We've got a pre-order discount for the upcoming Super Mutant Alien Assault, and a really enticing price on Burnstar, a decent little Bomberman-style puzzle-action game. The outbox has a lot of interesting titles in it, so make sure to take a good look through it. Almost all of that stuff will be back on sale again eventually, but a fair bit of it likely won't be discounted again for a couple of months or more.
New Games on Sale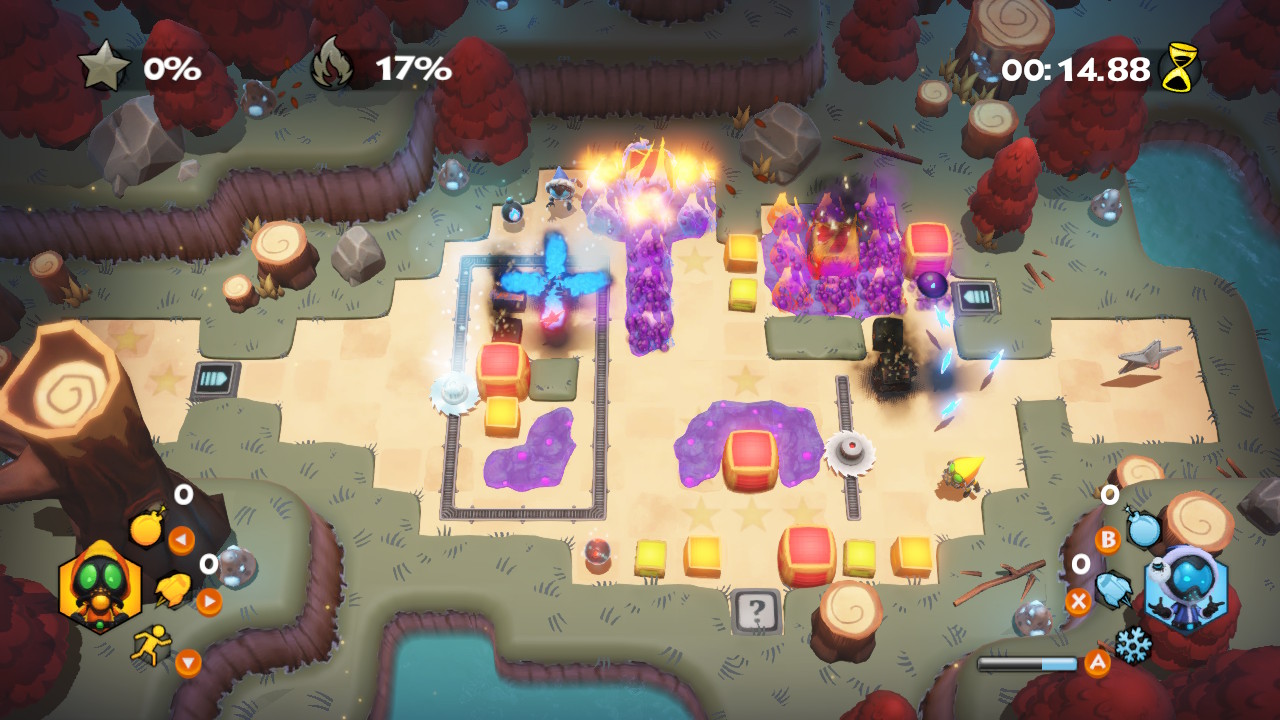 Burnstar ($0.99 from $19.99 until 7/16)
Super Mutant Alien Assault ($8.99 from $9.99 until 7/19)
Sales Ending Tomorrow, Thursday, July 4th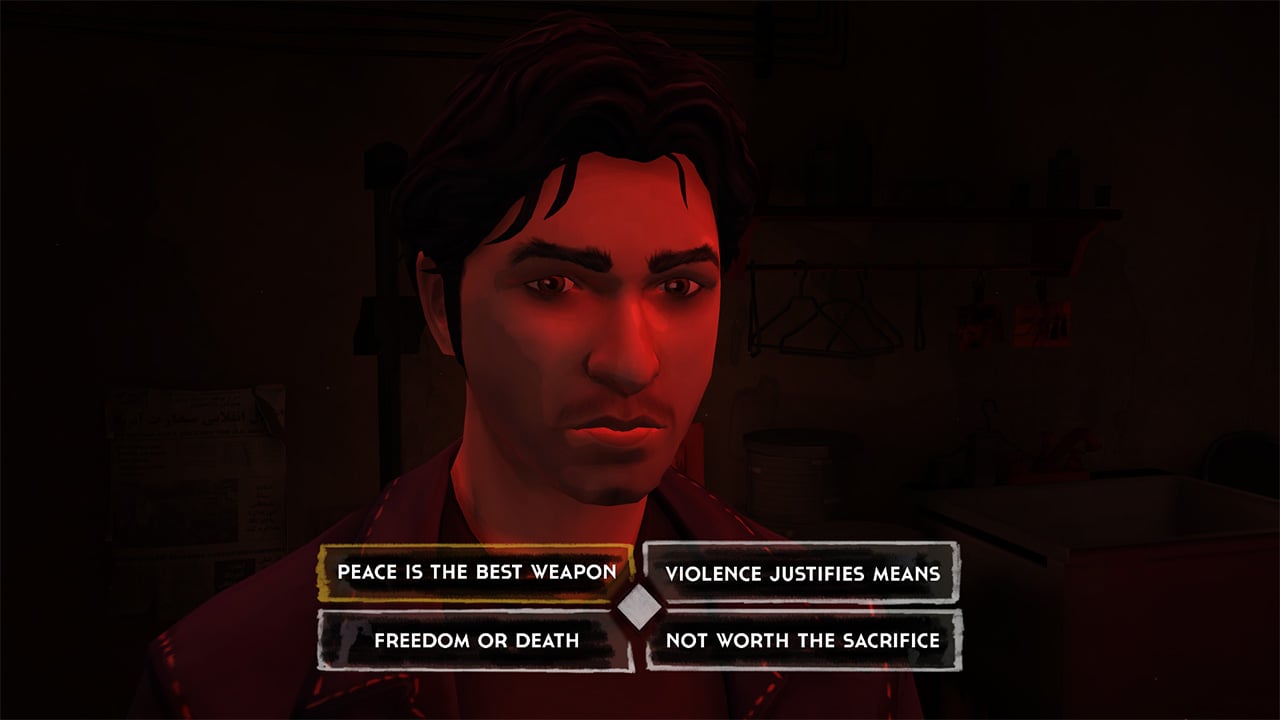 1979 Revolution: Black Friday ($3.59 from $11.99 until 7/4)
Ambition of the Slimes ($3.00 from $5.00 until 7/4)
Asdivine Dios ($11.69 from $12.99 until 7/4)
Black Paradox ($7.49 from $14.99 until 7/4)
Blacksea Odyssey ($3.24 from $12.99 until 7/4)
Bleed ($3.59 from $11.99 until 7/4)
Bleed 2 ($4.49 from $14.99 until 7/4)
Captain StarONE ($6.99 from $9.99 until 7/4)
Digerati Indie Bundle ($2.24 from $14.99 until 7/4)
Don't Die, Mr Robot! ($1.34 from $8.99 until 7/4)
Fairune Collection ($6.99 from $9.99 until 7/4)
Fall of Light: Darkest ($3.74 from $14.99 until 7/4)
Forgotten Tales – Day of the Dead ($11.99 from $14.99 until 7/4)
Frost ($3.89 from $12.99 until 7/4)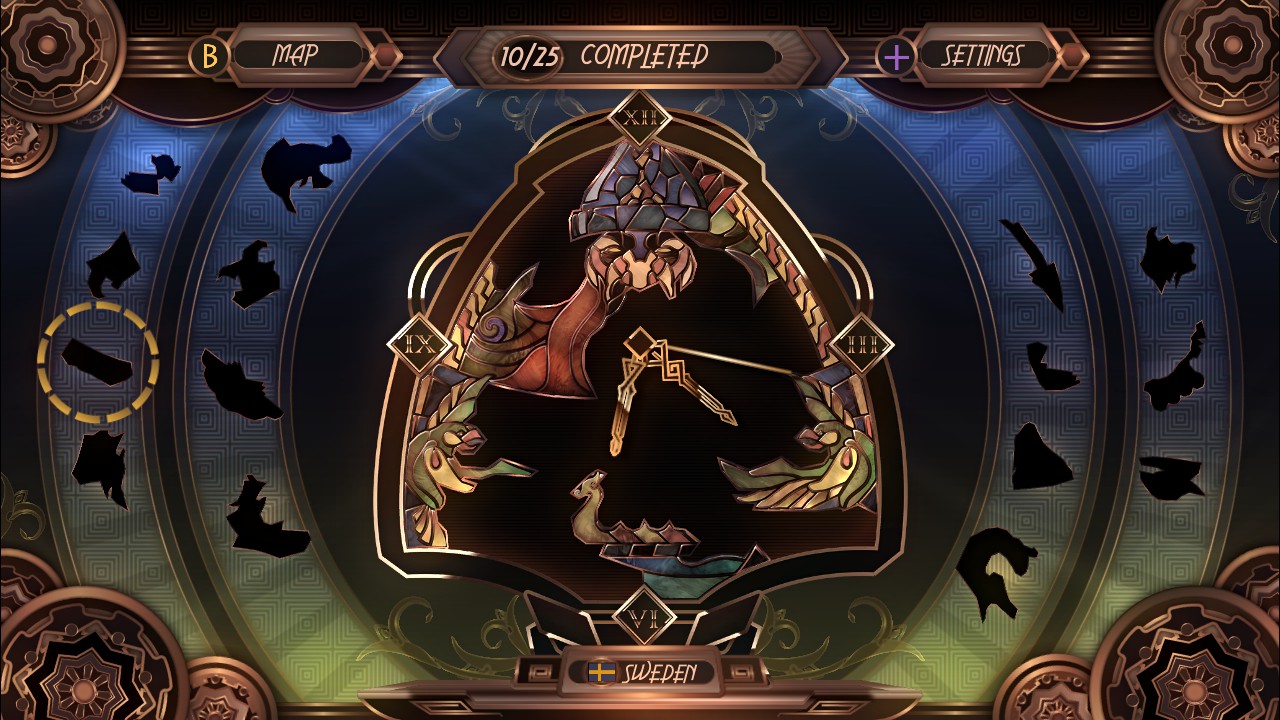 Glass Masquerade ($5.99 from $11.99 until 7/4)
Hacky Zack ($1.99 from $9.99 until 7/4)
INK ($2.69 from $8.99 until 7/4)
Kamiko ($1.99 from $4.99 until 7/4)
Kid Tripp ($0.79 from $3.99 until 7/4)
Lanota ($8.99 from $14.99 until 7/4)
Letter Quest Remastered ($2.99 from $10.99 until 7/4)
Moai VI: Unexpected Guests ($15.19 from $18.99 until 7/4)
Monster Slayers ($7.49 from $14.99 until 7/4)
Nefarious ($4.49 from $14.99 until 7/4)
Ninja Striker! ($1.99 from $3.99 until 7/4)
Odallus: The Dark Call ($5.99 from $11.99 until 7/4)
Omega Strike ($4.49 from $14.99 until 7/4)
Oniken: Unstoppable ($4.99 from $9.99 until 7/4)
Overdriven Reloaded ($0.99 from $7.99 until 7/4)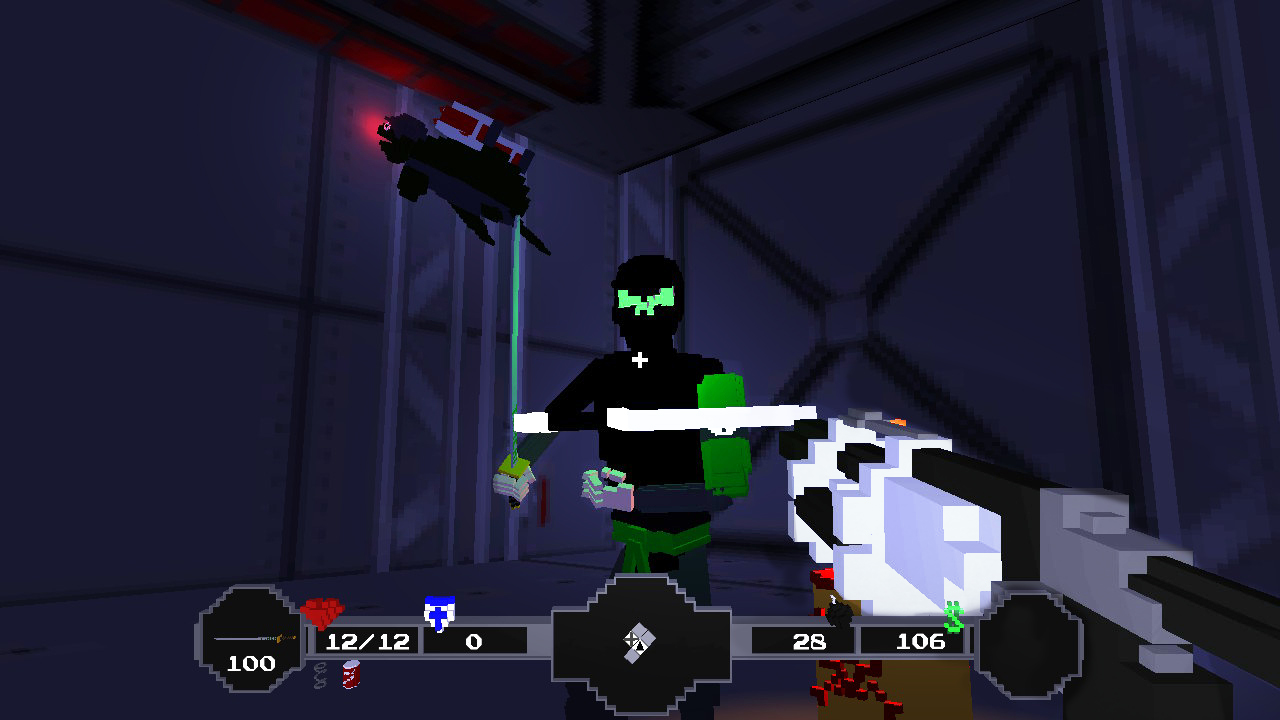 Paranautical Activity ($1.59 from $7.99 until 7/4)
Pipe Push Paradise ($4.39 from $10.99 until 7/4)
President F.net ($3.99 from $4.99 until 7/4)
Reverse Crawl ($6.49 from $12.99 until 7/4)
RiME ($14.99 from $29.99 until 7/4)
Saboteur! ($1.84 from $8.00 until 7/4)
Samurai Defender: Ninja Warfare ($3.99 from $7.99 until 7/4)
Shikhondo – Soul Eater ($4.75 from $13.99 until 7/4)
Slain: Back From Hell ($5.99 from $19.99 until 7/4)
Slayaway Camp: Butcher's Cut ($4.49 from $14.99 until 7/4)
Slime Tactics ($8.99 from $9.99 until 7/4)
Spectrum ($2.99 from $11.99 until 7/4)
Spider Solitaire F ($3.00 from $5.00 until 7/4)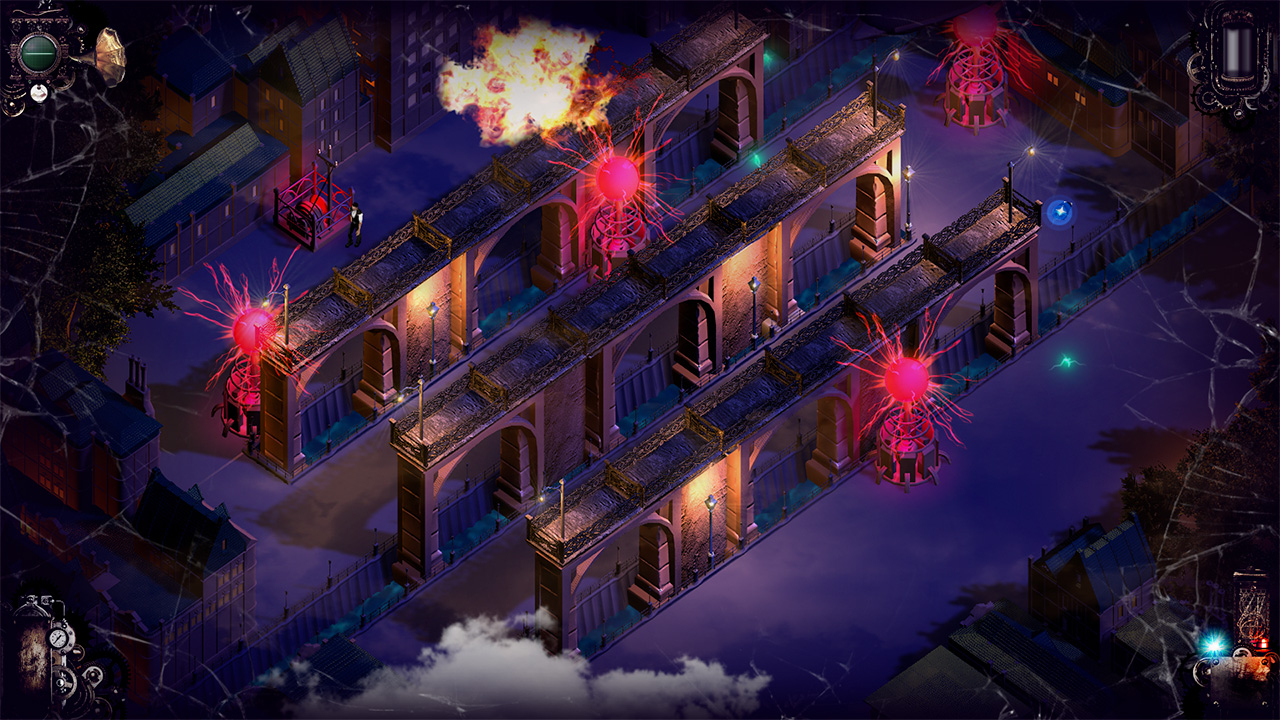 Steamburg ($2.49 from $4.99 until 7/4)
Stellar Interface ($9.74 from $12.99 until 7/4)
SubaraCity ($2.50 from $5.00 until 7/4)
Tales of the Orient – The Rising Sun ($11.99 from $14.99 until 7/4)
The Aquatic Adventure of the Last Human ($3.89 from $12.99 until 7/4)
The Bunker ($6.49 from $12.99 until 7/4)
The Coma: Recut ($5.99 from $19.99 until 7/4)
Three Fourths Home ($1.79 from $8.99 until 7/4)
Uncanny Valley ($3.39 from $9.99 until 7/4)
Unexplored ($4.50 from $15.00 until 7/4)
Venture Towns ($9.80 from $12.00 until 7/4)
Verlet Swing ($11.99 from $14.99 until 7/4)
Vertical Drop Heroes HD ($2.49 from $9.99 until 7/4)
That's the business for today, friends. Come on back tomorrow to see the big ol' list of new releases and my summaries of each of them. Will there also be news and sales information? I hope so! Either way, there will be plenty of content to chew on. I'll see you all tomorrow. As always, thanks for reading!