Are you a member of the BTS ARMY? If so, there's a good chance you already know all about BTS World (Free), the mobile game from Netmarble that makes you, yes, you, the manager of the insanely popular seven-member Korean group. Played out as an ongoing narrative, the game sends you back in time to the far-flung past of 2012, when the group members first signed to Big Hit Entertainment, and gives you the task of not messing things up so that they come together to form BTS.
While much of BTS World involves simply enjoying the story, which plays out as written and voiced dialogue, as well as in-game text messages, phone calls, and media posts, there are indeed some simple but actual game mechanics in the mix as well, as you need to collect cards of all seven members and pick the right ones to pass Mission Stages based on four stats: Empathy, Passion, Stamina and Wisdom. In-between challenges, you can also assign the members to tasks at the Agency, which can level up those stats for the entire Group, giving you a bonus no matter which cards you decide to play in Mission Stages.
So while there's nothing too complicated going on here, there's at least enough different things to keep track of that you might want a little guidance. Or at least a guide, which just so happens to be what this is. Let's start with the basics …
How to Clear Mission Stages
Every Mission Stage in BTS World has a target score you have to beat to clear it. You're asked to choose one or more cards to reach that score, and the sum of your card or cards' four stats is simply compared to the target score to see if you can beat it.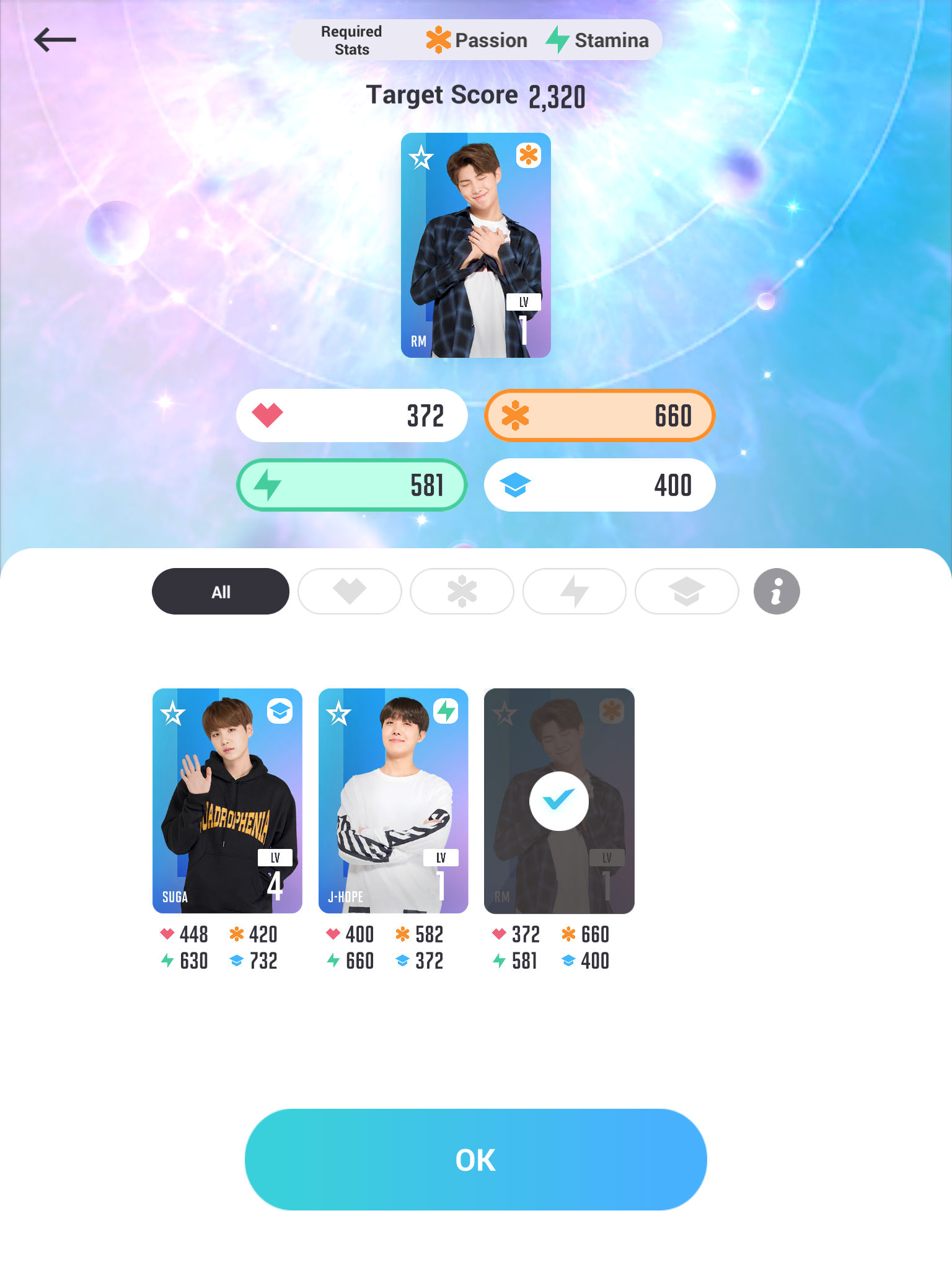 There are a couple other factors that go into it too. One or more stats will always be the required stat, which gives you a bonus toward your overall score. With that in mind, choosing cards that are high in the required stats is always a good initial strategy.
You also get bonuses from your group stats, which can sometimes be the difference between clearing a Mission Stage and falling just short. You can tap on the 'Agency' icon in the main game screen to check out your current group stats.
As in many mobile games, there are three stars up for grabs in each Mission Stage, reflecting whether you just barely squeak past the target score (one star), beat it pretty handily (two stars) or fill up the entire score bar (three star). You can receive bonus rewards for accumulating stars in each chapter of the game's BTS Story mode, so you want to get as many as possible, and may even want to consider going back and replaying Mission Stages you've already beaten once you have better cards.
Playing a Mission Stage requires Wings, an energy system named after BTS' 2016 album. You can also auto-clear Mission Stages you've already cleared to receive Gold, Blossoms, and occasionally items you can use to restore the condition of members in the agency, which we'll discuss a bit later.
How to Get Free Wings and Gems
If you're playing a lot of BTS World, you can go through Wings pretty quickly. Fortunately, they refill on their own at a rate of one Wing for every six minutes. You can also buy some for Gems; either 10 Wings for 10 Gems or 30 Wings for 30 Gems. Gems can be purchased in the Shop, which you'll find in the bottom navigation bar of the main screen.
That said, there are a few ways to grab some free Wings and Gems too:
Play daily – The Daily Check-In Calendar provides you with a variety of rewards the first time you log in each day, including Wings every week or so and Gems a few times a month.
Complete Daily Missions and Achievements – This should be a pretty familiar concept to anyone who's spent some time playing mobile games, but just in case: Daily Missions are tasks you need to complete within a single day, while Achievements are cumulative goals you are working toward all the time. Both of them can offer Wings as rewards, as well as experience toward leveling up, Gems, Blossoms and more. To find both Daily Missions and Achievements, tap on the checklist icon in the upper-right portion of the main game screen.
Complete Quests – The Quest icon looks like a book with a bookmark in it and can also be found in the upper-right portion of the main screen. While you can only have one Quest active at a time, you may very well find that you have completed the requirements for subsequent Quests just by continuing to play. Quest rewards tend to include experience and Gems.
Level up – The meter that tracks your progress toward your next level as a manager is in the upper-left corner of the main screen. Leveling up will get you a full refill of Wings and may bump up the maximum amount of Wings you can have at one time as well.
Bonus tip: Wings that you receive as rewards can put you past your cap, or maximum number of Wings, so go ahead and claim them — you won't lose them. Just keep in mind that you won't start generating Wings again every few minutes until you go down below your maximum level by playing more stages.
How to Get Rare Member Cards
Every Member Card has a rarity rating from one to five stars. Though you can level up any Member Card by using blossoms to increase its stats, the higher rarity cards start with higher values and have higher maximum values as well. Also, 5-star cards have video elements, which loyal ARMY types will certainly enjoy.
You can unlock some Member Cards just by playing through the game, but you can also get them by tapping on the 'Draw' icon and heading to the Draw shop. There you'll find two types of draws available:
Gold Draw – Will get you one 1 to 3-star Member Card for 5,000 Gold or 11 for 50,000 Gold. Since these are the least powerful cards, Gold Draws are best for collectors who just want to get as many cards of their favorite member or members as possible.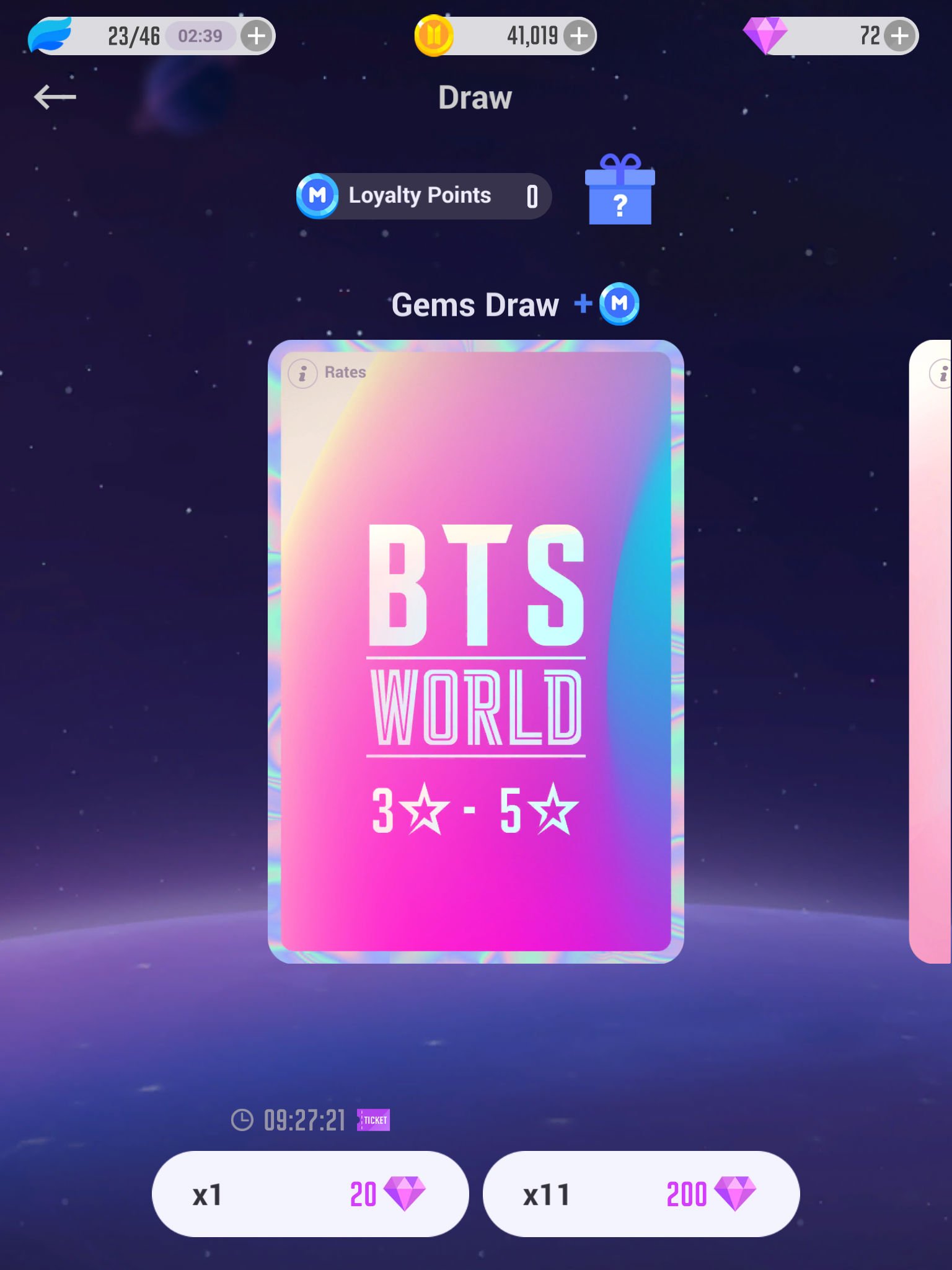 Gems Draw – This is where the best stuff is. Here you'll get one 3 to 5-star Member Card for 20 Gems or 11 for 200 Gems. The 11-card Gems Draw is arguably the best value in the game, and something you should always be working to buy when you accumulate Gems.
How to Level Up Group Stats in the Agency
In the Agency, you'll find all seven members of BTS willing to perform various training tasks for you and the good of the group. They're remarkably good-natured about it too, providing you keep them in good condition.
To start a task, simply tap on the Agency and pick from one of the four choices, which correspond to one of the four stats. Then tap on one or more members and tap on the button below. You'll have to pay a specified amount of Gold and wait for the time indicated to complete the task, after which you'll see your progress toward leveling up in that group stat.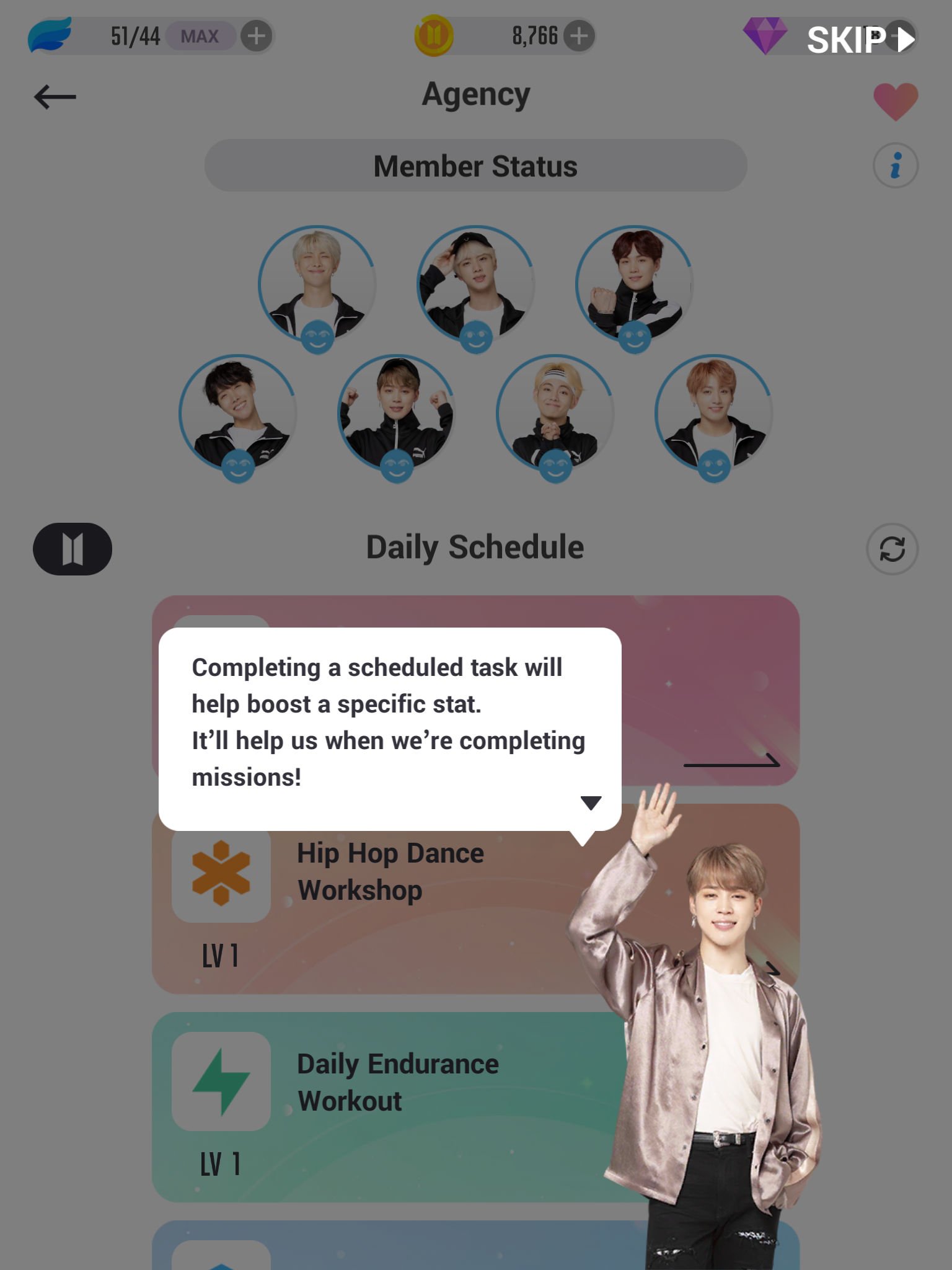 Occasionally, you'll see Priority tasks in the Agency, indicated by a flashing timer showing how long it will be around before vanishing. Priority tasks require all seven members of BTS to tackle, so keep that in mind before attempting to start one.
After completing a task, all members will suffer a drop in their condition, which is indicated on a five-point scale from 5 (Great) down to 1 (Very Bad). At level 1 condition, the BTS guys will no longer be quite so cheerful and can't be assigned to any more tasks. To avoid this, you can use recuperation items specific to each member that you'll earn as rewards in Mission Stages.
What is the Another Story Mode?
Along with the main BTS Story mode, there is Another Story, a mode that unlocks once you've cleared chapter one. In the finest BTS Universe tradition, Another Story is set in an alternate universe where the seven BTS members aren't a group, and in some cases aren't even actively pursuing musical careers. This gives you a chance to interact with each one in his own story.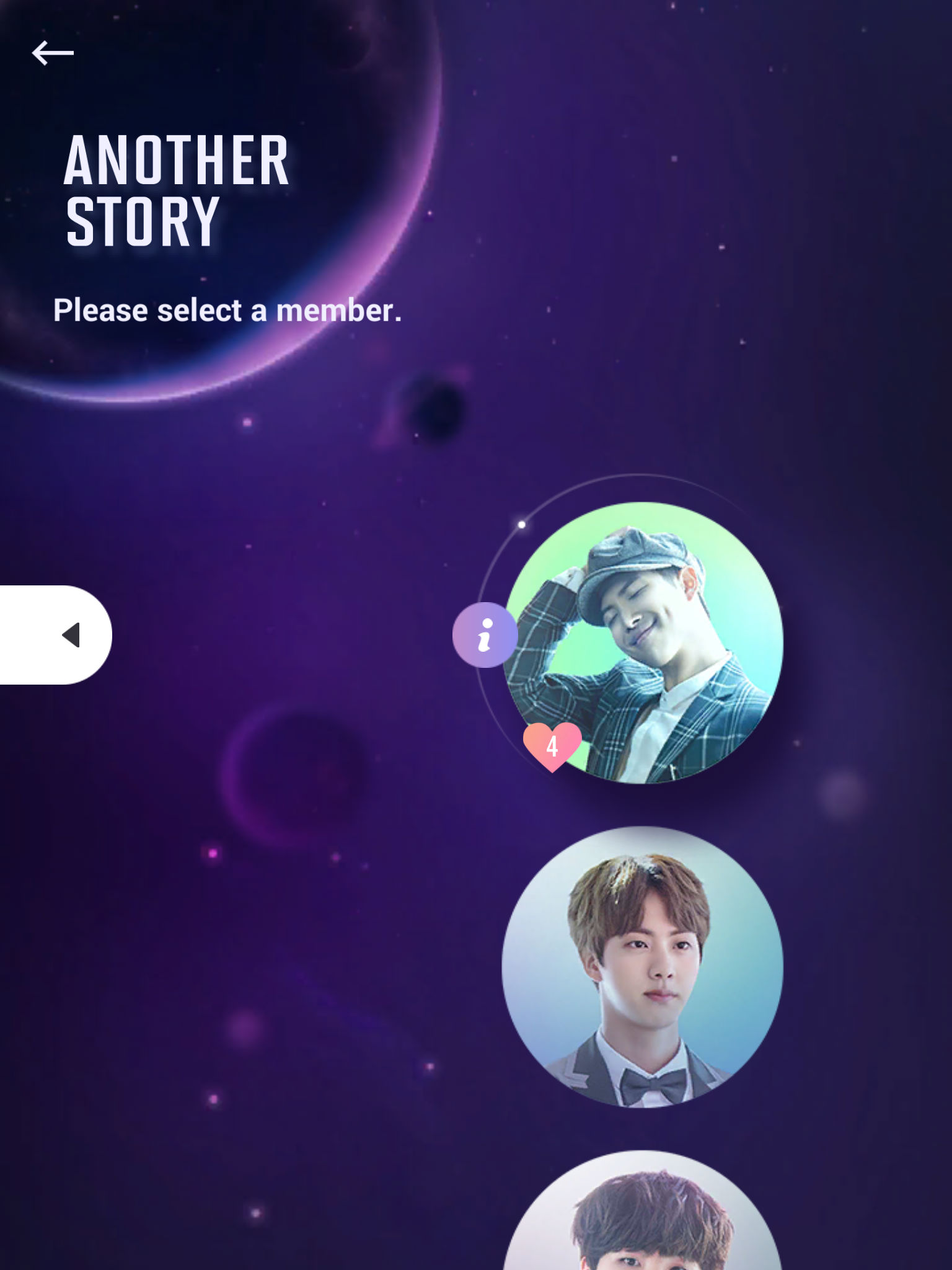 Every part of Another Story is useful for earning rewards, but they're especially noteworthy as a source of Upgrade Stones, which are specific to each member. Any 3 to 5-star card can be powered up by using Upgrade Stones, so it's a good idea to play through the Another Story chapters of the members for which you have powerful Member Cards.
Which BTS Songs are in BTS World?
It wouldn't be much of a BTS World guide if we didn't talk about the music. BTS composed a number of songs specifically with the game in mind, including "Heartbeat," a mid-tempo ballad that premiered exclusively in the game before it was released on a wider basis on June 28, 2019. You can hear "Heartbeat" in the main menu screen, but only after clearing stage 1-14 of the BTS Story mode.
Here's the full BTS World soundtrack track listing:
"Heartbeat"
"Dream Glow" (with Charli XCX)
"A Brand New Day" (with Zara Larsson)
"All Night" (with Juice Wrld)
"Captain (Namjun Theme)"
"Cake Waltz (Jimin Theme)"
"Shine (Yunki Theme)"
"Not Alone (Jeongguk Theme)"
"Friends (Hoseok Theme)"
"Wish (Seok Jin Theme)"
"Flying (Taehyung Theme)"
"LaLaLa" (by Okdal)
"You Are Here" (by Lee Hyun)
"You Are Here" (instrumental)