Hello gentle readers, and welcome to the SwitchArcade Round-Up for May 7th, 2019. In today's tasty feature, we've got a review of the awesome bartending visual novel VA-11 Hall-A. We also take a quick look at today's new releases, which include such illustrious titles as Shakedown: Hawaii and Puyo Puyo Champions. On top of that, we've got a few news nuggets and a nice list of new sales for you to mull over. Let's go!
News
The Original 'Devil May Cry' Heats Up the Switch This Summer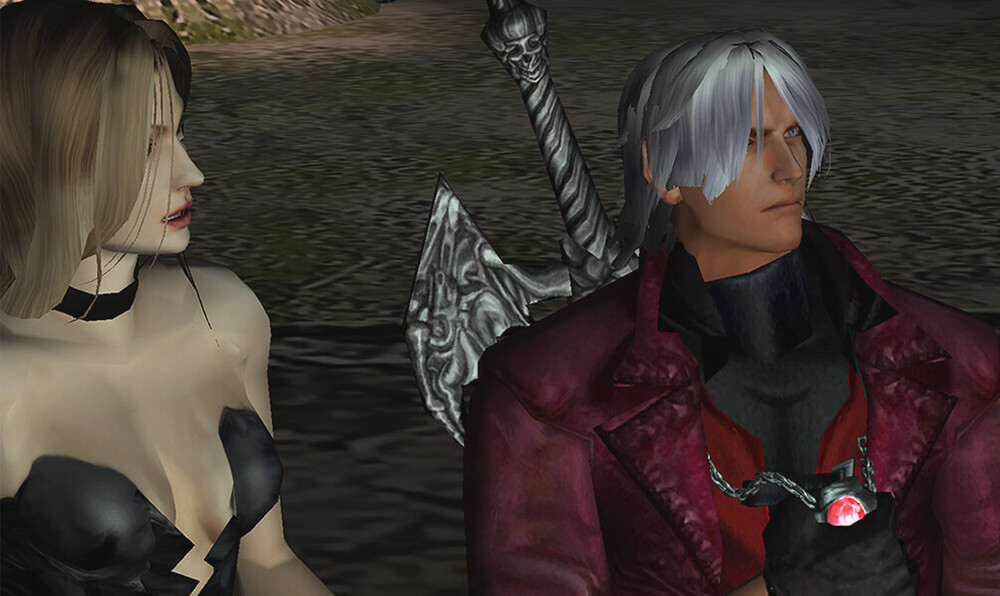 Capcom has found a lot of success on Switch. Not with new games, per se, but by making a large assortment of its classic titles available on the platform, many of which are in handheld form for the very first time. We've seen Okami, Onimusha, Ace Attorney, and Mega Man and Street Fighter collections already released, plus a number of Resident Evil games that will be coming in the weeks ahead. Well, add one more to the list: Devil May Cry is coming to Switch this summer. It's going to be digital only, even in Japan, and if I know Capcom (and I believe I do) we're probably going to be paying almost as much for this version of Devil May Cry 1 as the other console owners pay for the first three games combined. But, you know, this one can be played on your toilet. There's a tax for that!
'Puyo Puyo Champions' Launches Today, and SEGA's Going to Teach You How to Play
Puyo Puyo has had a few releases in the West over the years, but SEGA is really interested in helping the popular puzzle series catch on with players all over the world the way that it has in Japan. With the launch of the multiplayer-focused Puyo Puyo Champions today, SEGA has also released a tutorial video that will help you understand how to play the game effectively. It might seem more complicated than games like Tetris or Bejeweled at first, and in some ways it is, but it's not too tough to pick up the basics that will send you on your way to burying your opponents in an avalanche of adorable amoebae.
Reviews
VA-11 Hall-A ($14.99)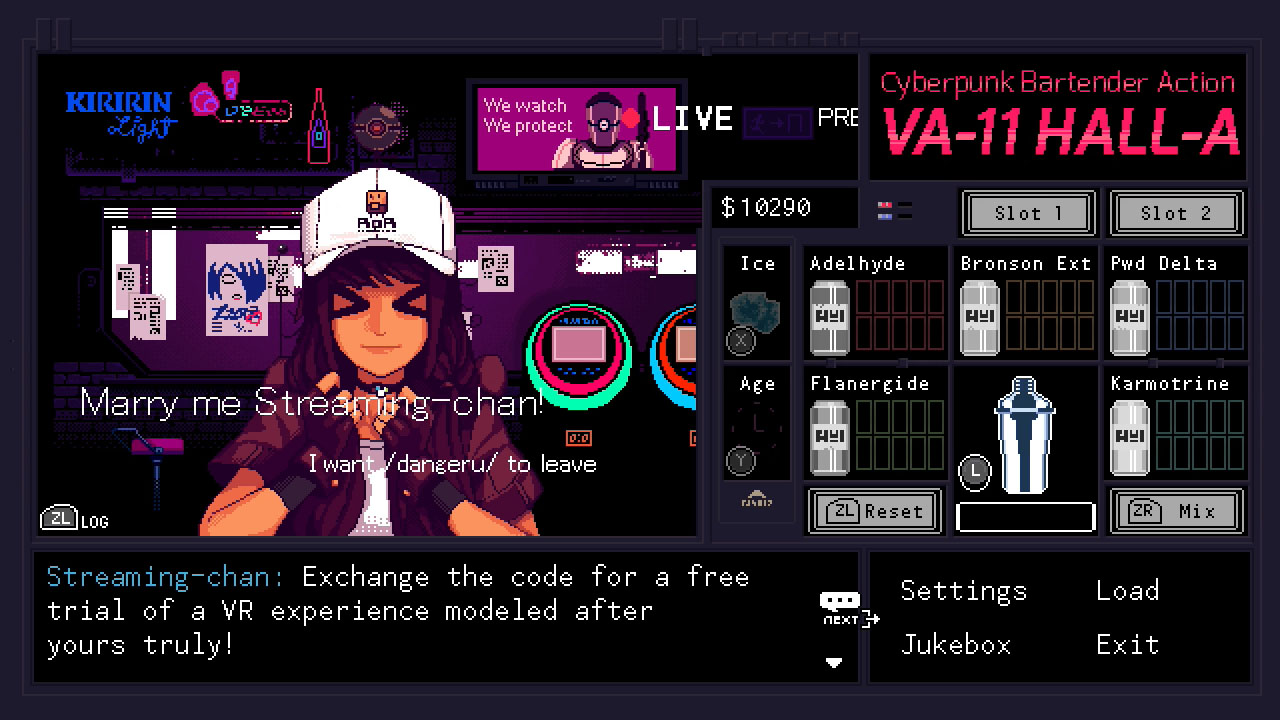 I'm the sort of person that believes that if a visual novel has a great story, it doesn't really need to do anything mechanically interesting to appeal to me. But it never hurts if it does, does it? And that's what you get from VA-11 Hall-A, a bartending visual novel where not all of the twists involve citrus fruits. You play as a bartender in a somewhat seedy establishment. You have two main duties in this position. First, to mix and serve drinks to the customers. Secondly, and perhaps more interestingly, you have to listen to whatever thing they feel like blabbing on about. The game has several different endings, but in rather fitting fashion you don't reach them through dialogue choices but rather by drink choices.
It's a little odd, but to be honest, in the world of visual novels a cyberpunk bar full of wacky clients is relatively grounded. Strangely enough, so is this game. Some of the people you'll meet are very unusual, to be sure. Some of the things they'll tell you will make your head spin. But the quality of the characterization is such that the vast majority of these sad sacks and miscreants feel decidedly down to Earth no matter what their problems may be. There's a weirdly calming vibe to it all, like a comfy chair.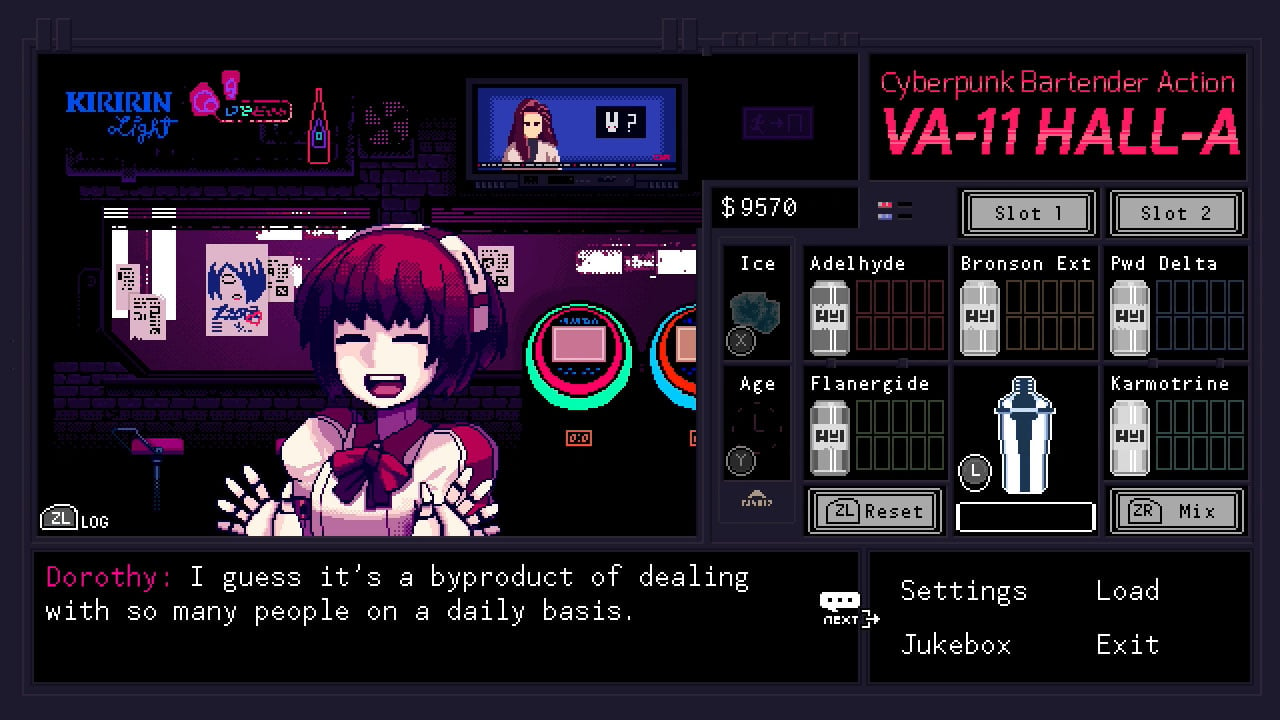 The game designers must have been quite aware of this, as the pressures are minimal here. Yes, you have to mix the drinks yourself. There are a few different ingredients to choose from, and you have to mix things just so in order to produce the correct drink. Customers will usually tell you what they want, but sometimes they just give you a hint. And it's up to you how big and alcoholic you want those drinks to be. But you have all the time in the world to fix that drink. You can check your recipe book, keep it open while you mix, and if you end up with something you didn't want to make, you can just chuck it and make another one. Nothing lost.
All you really need to worry about is making sure you bring in enough money to pay your rent. Make more than that and you can invest in a few decorations or items to make you happier and help you do your job better. You won't be seeing much of the world outside of the bar and your own apartment, but each new customer that you talk with will reveal bits of the setting. It's all done very cleverly and naturally. Again, I have to commend the writing in this game. The characters are so well-done and incredibly endearing, even the more prickly ones. It really does feel like you're hanging around in a local bar where everybody knows your name. At the same time, you get a good sense for how things are in the world at large, and they're not great.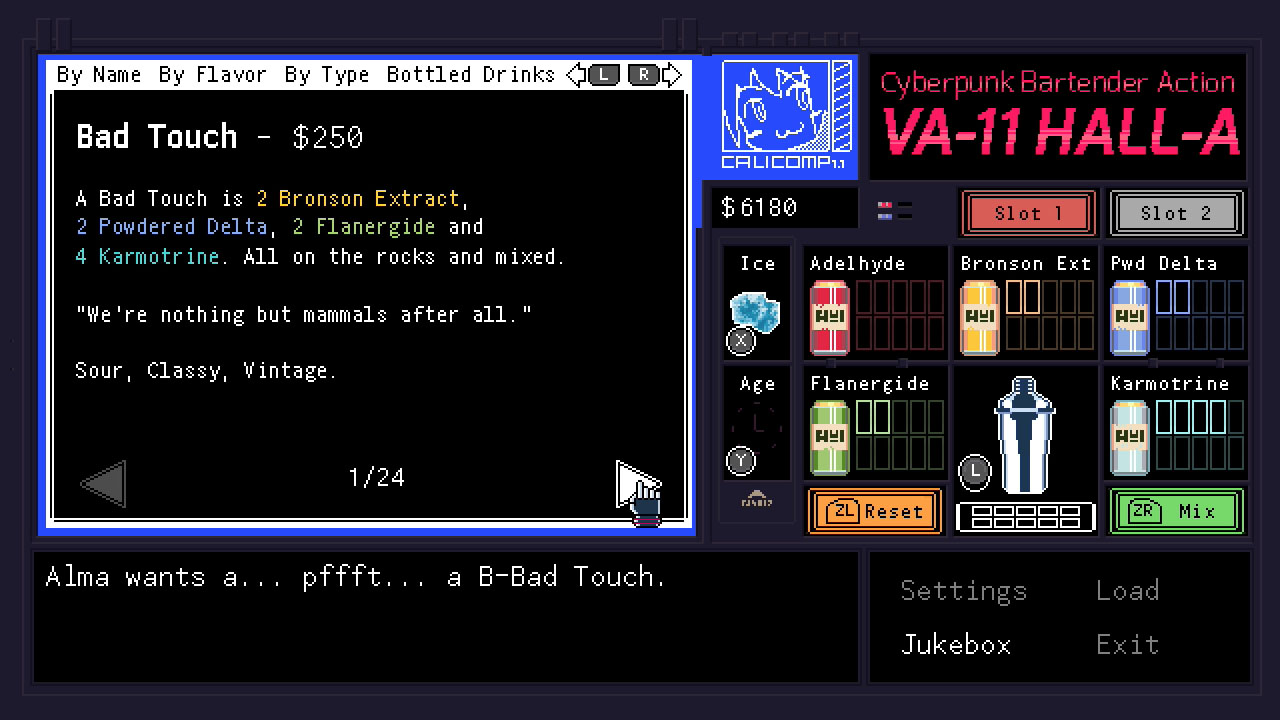 The game's runtime isn't terribly long, but it's not brief, either. You can expect to spend a bit over ten hours playing through it for the first time, and you'll obviously get more out of it if you're committed to seeing all of the endings. I'm satisfied with the length. I've played a few visual novels that managed to pull off a 20+ hour story, but I've played far more that crashed and burned trying to hit that length. I'd be lying if I said I didn't want this one to go on a bit longer, but I think that speaks to just how much I enjoyed my time in VA-11 Hall-A. The writing, the simple pleasure of mixing a drink, the intriguing characters, and the outstanding Japanese PC-style aesthetics all come together in a fantastic way. I'm already looking forward to the sequel.
SwitchArcade Score: 4.5/5
New Releases
Shakedown: Hawaii ($19.99)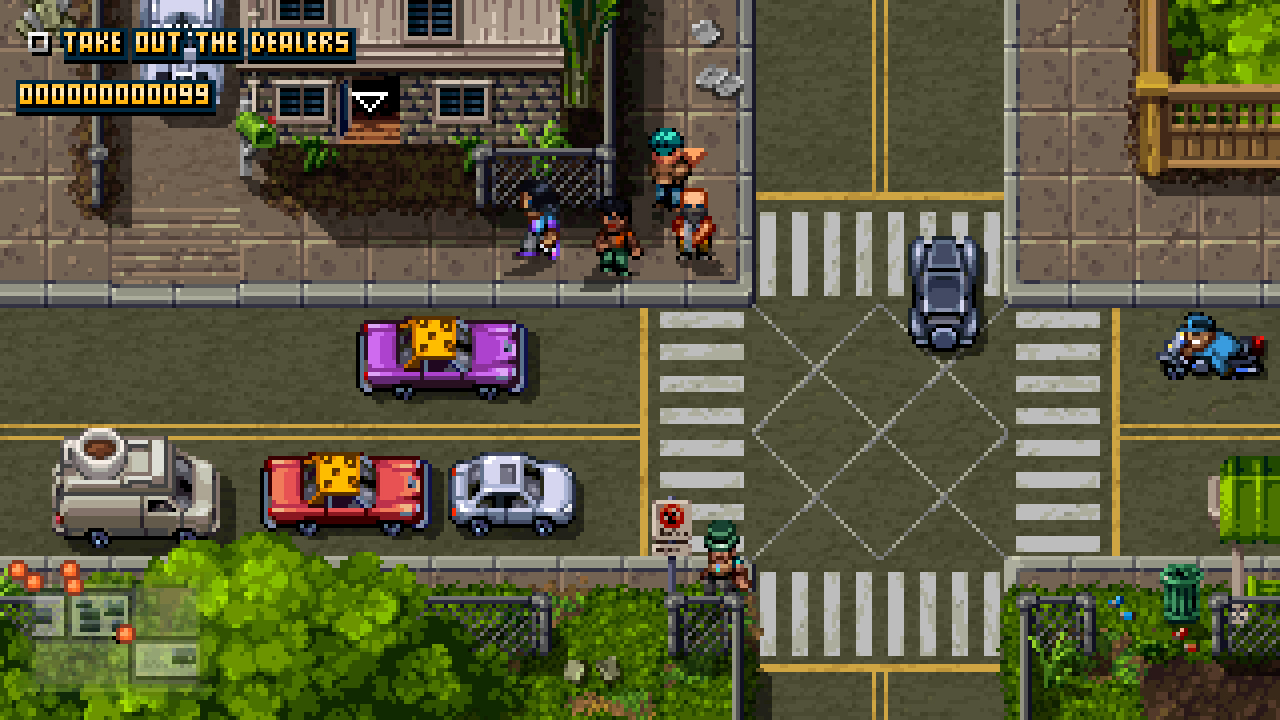 SwitchArcade Highlight!
From the maker of Retro City Rampage comes another top-down action game full of good old-fashioned anarchy. While you can definitely see where this game's roots are, it feels a lot less like like a parody and more like its own thing. The story follows three protagonists as they try to build and expand their totally-legit business through whatever means are available. Like its predecessor, there's an open world map to explore that is full of stuff to mess around with. Quite a bit more than last time, even. Overall, I'd say this looks similar enough to Retro City Rampage that if you liked that game, you'll probably be pretty happy with this one.
Puyo Puyo Champions ($9.99)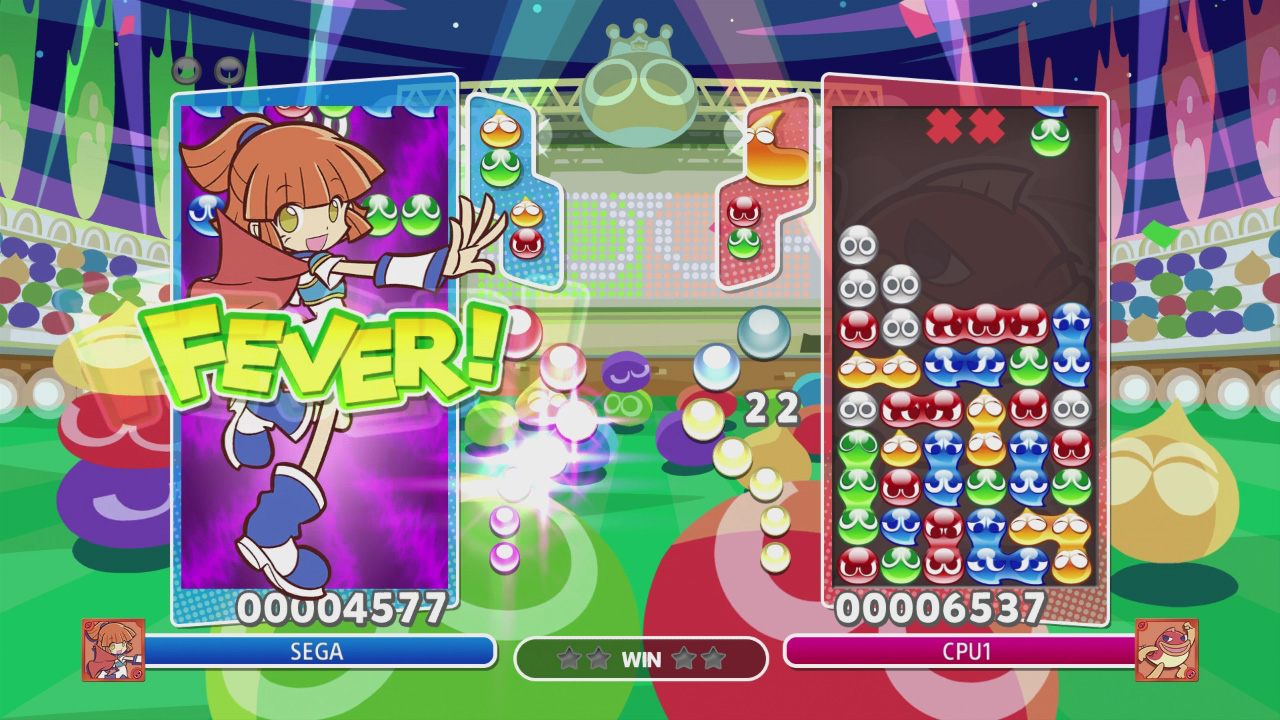 SwitchArcade Highlight!
Puyo Puyo is one of the more beloved long-running puzzle game series in Japan, and a lot of that comes from its intense multiplayer mode. So it's perhaps not surprising that while there are some single-player elements in Puyo Puyo Champions, the focus here is definitely on multiplayer. It incorporates the two most popular rule sets from previous titles, allowing you to play using the mechanics of Puyo Puyo 2 or Puyo Puyo Fever. You can play with up to four players locally or jump online to face off against the best the world has to offer. There are tons of characters drawn from earlier titles in the series, and if you don't have anyone to play with the CPU will be more than happy to fill chairs. Throw in a very nice price and you've got a good value for any competitive puzzle fan.
Car Mechanic Manager ($3.99)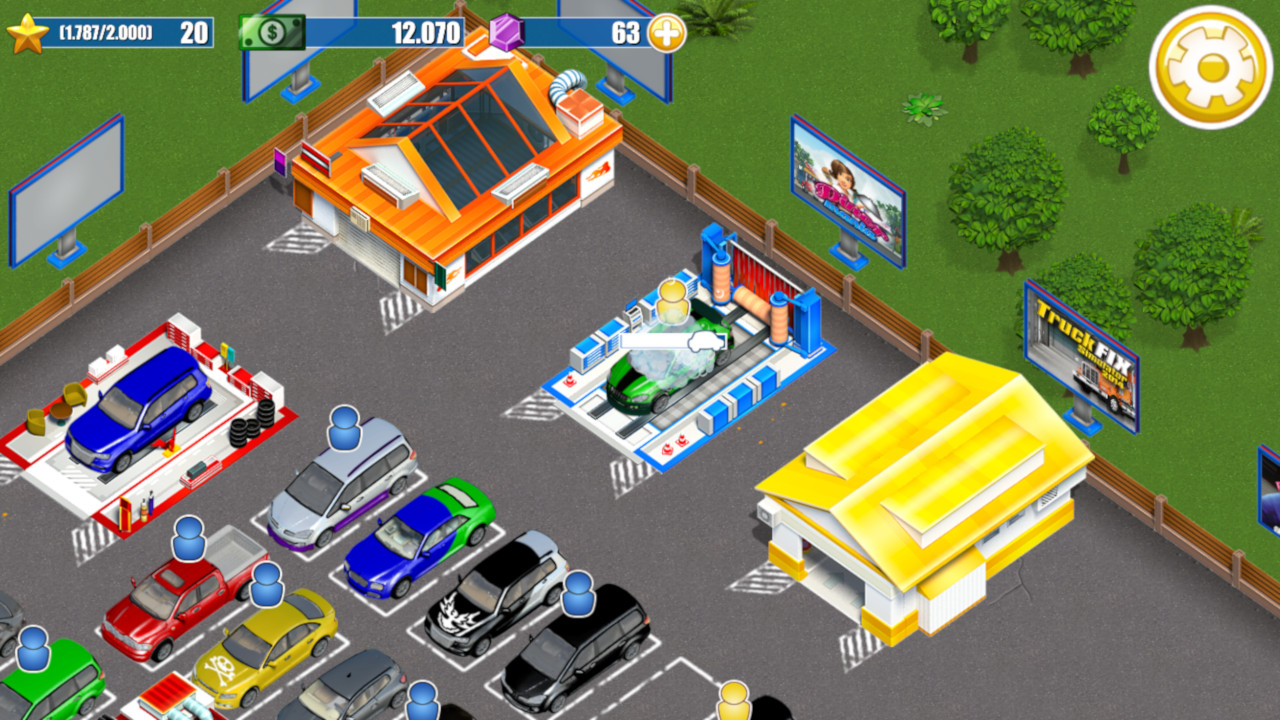 Well, this is a port of a free mobile game. The ads are stripped out but otherwise what you see is what you get. Which is to say that this is a relatively shallow game that you're meant to open up now and then, jab at a few times with your fingers, then close and get on with your life. Taken as a sit-down experience, it's just not substantial enough to keep a person interested for very long. It's hard to complain about just about any game when they're only a few bucks, but I'm not sure this is going to be a satisfying experience for most people. The good news is that you can just download it for free on your mobile phone and see what you think of it before buying the largely-identical Switch version.
European Conqueror X ($9.99)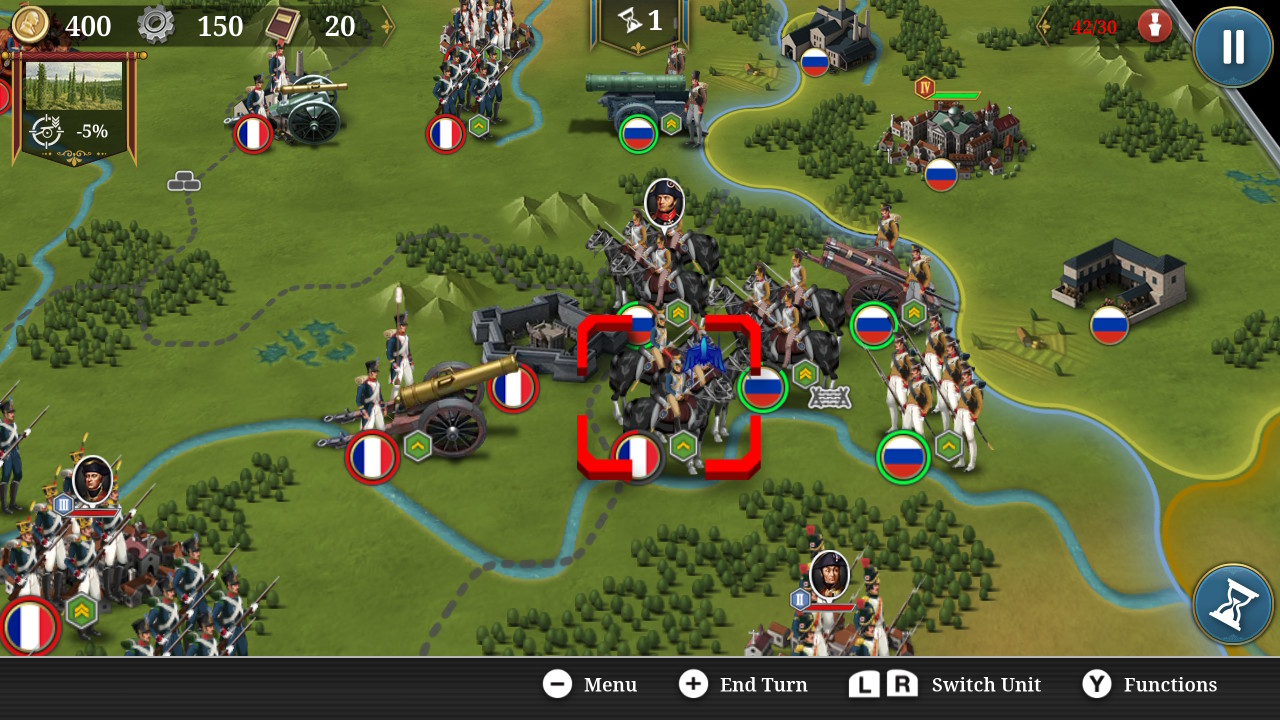 In the same way that Kemco satisfies demand for cheap, generic, not-bad-but-not-good JRPGs, so too does Circle Entertainment scratch the itch for tactical strategy games. The Mercenaries Saga games they publish do the job for Japanese-style TRPGs, but for something a little more Western in flavor, the publisher has the Conqueror series. Like the latest installment of its sister series World Conqueror, European Conqueror X follows up on a game released for the Nintendo 3DS. The improvements here are similar to the jump between World Conqueror and World Conqueror X, adding in more missions and a better presentation all around. It's a fair step up, particularly in terms of how much content is available. While its Risk-style gameplay has trouble deciding between being simple or complex, I suspect that for those who like to jump into historical battles in their gaming time, this will do the job for a little while.
Sales
Oh, there are a few interesting new sales today. Treasure Stack, the Wario's Woods-style puzzle game, is down to a very reasonable $9.99. The Rainsdowne Players is a very unique adventure game that is certainly worth two bucks and change. There are a few other games that have hit such low prices that you may want to consider them if they look interesting to you. Naturally, the outbox is also pretty hefty. This will probably be the last time Dark Souls: Remastered and R-Type Dimensions are on sale for at least a few months, at the very least.
New Games on Sale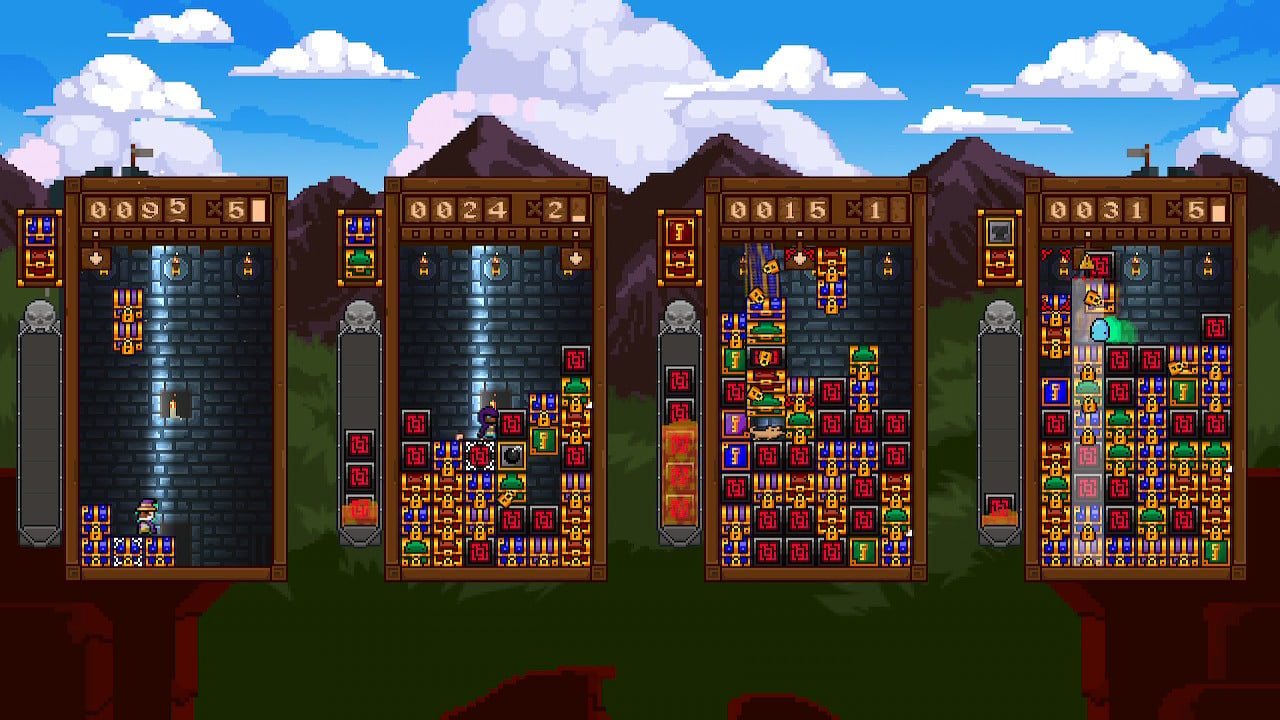 Treasure Stack ($9.99 from $19.99 until 5/14)
The Rainsdowne Players ($2.63 from $3.99 until 5/14)
Utopia 9 – A Volatile Vacation ($1.99 from $9.99 until 5/28)
Odium to the Core ($0.49 from $4.99 until 5/28)
Super Hero Fight Club ($0.99 from $9.99 until 5/28)
Koloro ($1.99 from $9.99 until 5/28)
Wondershot ($1.99 from $9.99 until 5/28)
Mana Spark ($1.99 from $9.99 until 5/28)
Coffee Crisis ($1.99 from $9.99 until 5/28)
Escape Doodland ($0.99 from $9.99 until 5/28)
One Strike ($0.49 from $4.99 until 5/28)
Brawl ($0.99 from $9.99 until 5/28)
Robonauts ($0.49 from $8.69 until 5/28)
Unit 4 ($2.99 from $14.99 until 5/28)
No Heroes Here ($3.74 from $14.99 until 5/18)
Monica e a Guarda dos Coelhos ($10.04 from $14.99 until 5/18)
Revenge of the Bird King ($0.99 from $4.99 until 5/20)
Dusty Raging Fist ($8.99 from $9.99 until 5/13)
Sales Ending Tomorrow, Wednesday, May 8th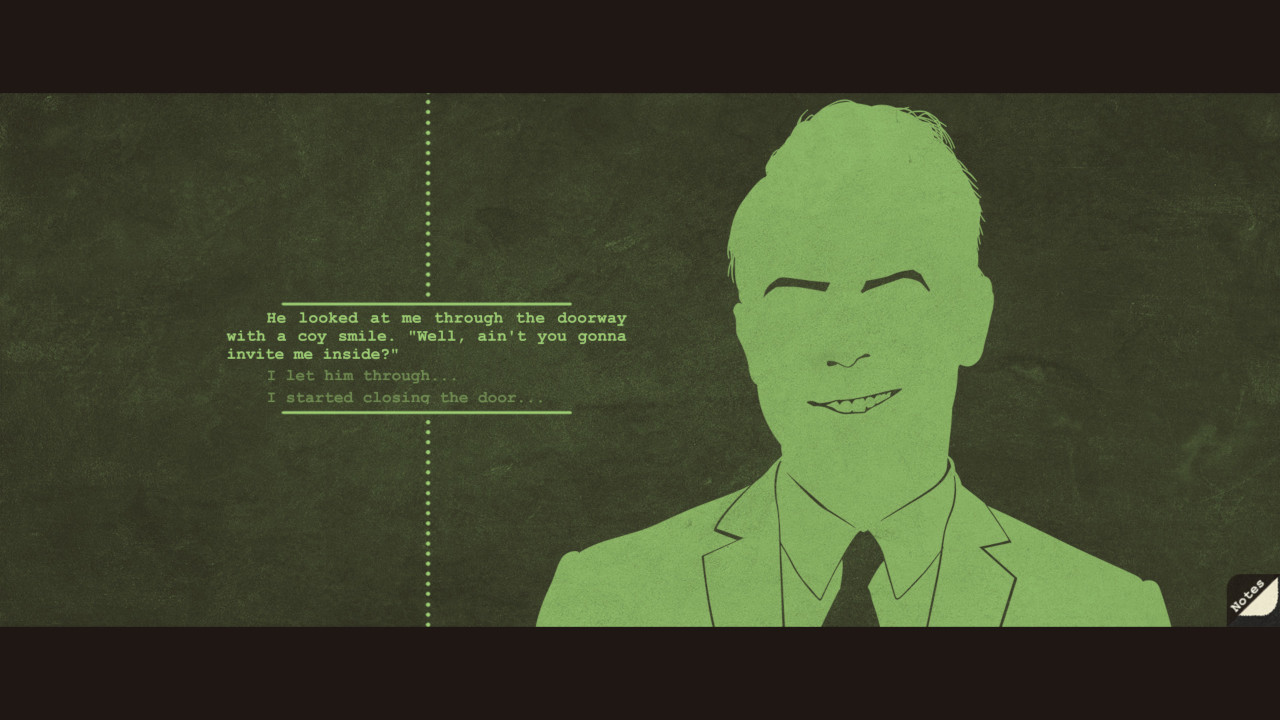 A Case of Distrust ($7.49 from $14.99 until 5/8)
Almost There: The Platformer ($6.99 until $9.99 until 5/8)
American Ninja Warrior: Challenge ($29.99 from $39.99 until 5/8)
Bad Dream: Coma ($4.99 from $9.99 until 5/8)
Big Buck Hunter Arcade ($11.99 from $29.99 until 5/8)
Cake Laboratory ($2.39 from $2.99 until 5/8)
Cartoon Network: Battle Crashers ($11.99 from $29.99 until 5/8)
Dark Souls: Remastered ($27.99 from $39.99 until 5/8)
Drift Legends ($6.99 from $9.99 until 5/8)
Fishing Universe Simulator ($4.99 from $9.99 until 5/8)
Glaive: Brick Breaker ($0.99 from $9.99 until 5/8)
Goosebumps The Game ($11.99 from $29.99 until 5/8)
Kid Tripp ($2.99 from $3.99 until 5/8)
Lifeless Planet: Premiere Editions ($7.99 from $19.99 until 5/8)
Lode Runner Legacy ($5.99 from $11.99 until 5/8)
Mech Rage ($2.49 from $9.99 until 5/8)
Meow Motors ($13.49 from $14.99 until 5/8)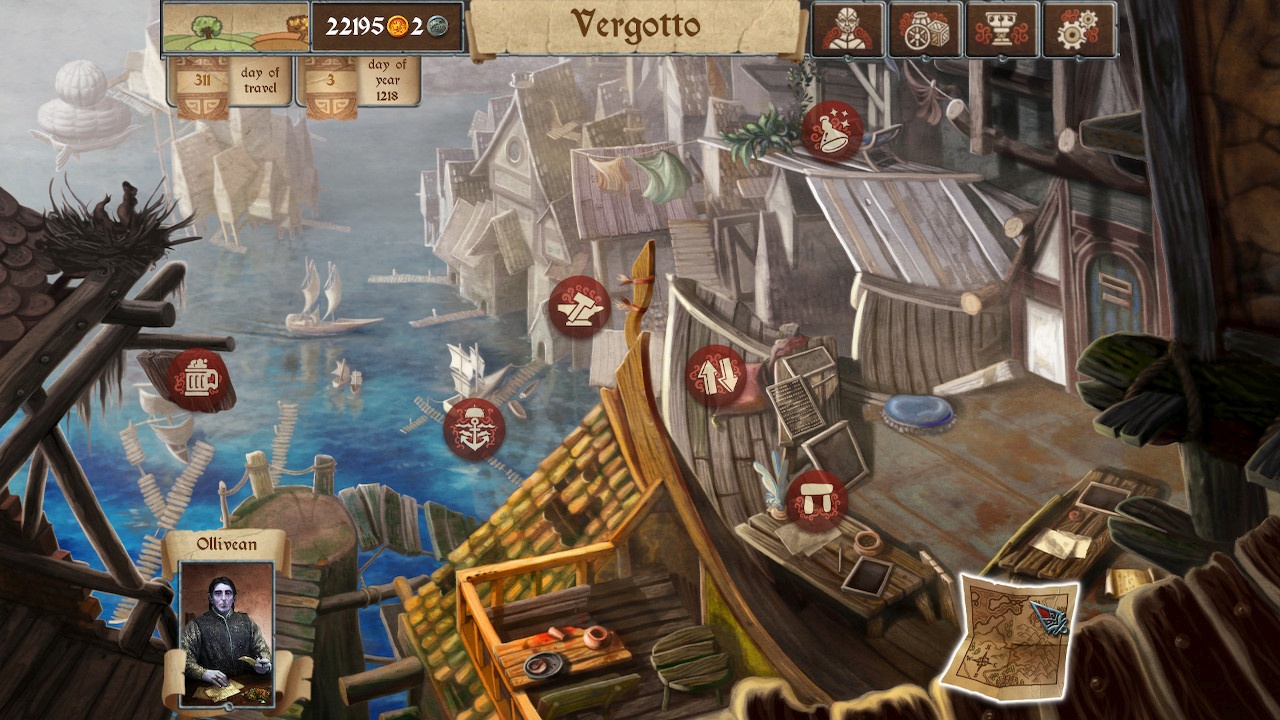 Merchants of Kaidan ($4.99 from $9.99 until 5/8)
Monkey Wall ($3.99 from $4.99 until 5/8)
Nickelodeon Kart Racers ($19.99 from $39.99 until 5/8)
NoReload Heroes ($0.99 from $9.99 until 5/8)
Pinstripe ($7.49 from $14.99 until 5/8)
R-Type Dimensions EX ($11.99 from $19.99 until 5/8)
Rapala Fishing Pro Series ($11.99 from $29.99 until 5/8)
Realpolitiks ($2.49 from $24.99 until 5/8)
Rotating Brave ($3.99 from $4.99 until 5/8)
Shut Eye ($0.39 from $3.99 until 5/8)
Sudoku Relax ($3.50 from $5.00 until 5/8)
Super Chariot ($7.99 from $19.99 until 5/8)
Syberia ($9.99 from $29.99 until 5/8)
Syberia 2 ($9.99 from $14.99 until 5/8)
Timberman VS ($0.19 from $1.99 until 5/8)
Tiny Hands Adventure ($0.79 from $7.99 until 5/8)
Trouserheart ($5.99 from $7.99 until 5/8)
Violett ($0.99 from $9.99 until 5/8)
WHIP! WHIP! ($6.99 from $9.99 until 5/8)
And that's business for today, friends. Be sure to check back in tomorrow, as I'll have a review for Puyo Puyo Champions and perhaps one more game as well. Naturally, we'll also be looking at the day's new releases along with whatever news and sales come our way. Until then, I'll be relaxing with a nice game or two outside of the work stuff. See you all tomorrow, and as always, thanks for reading!